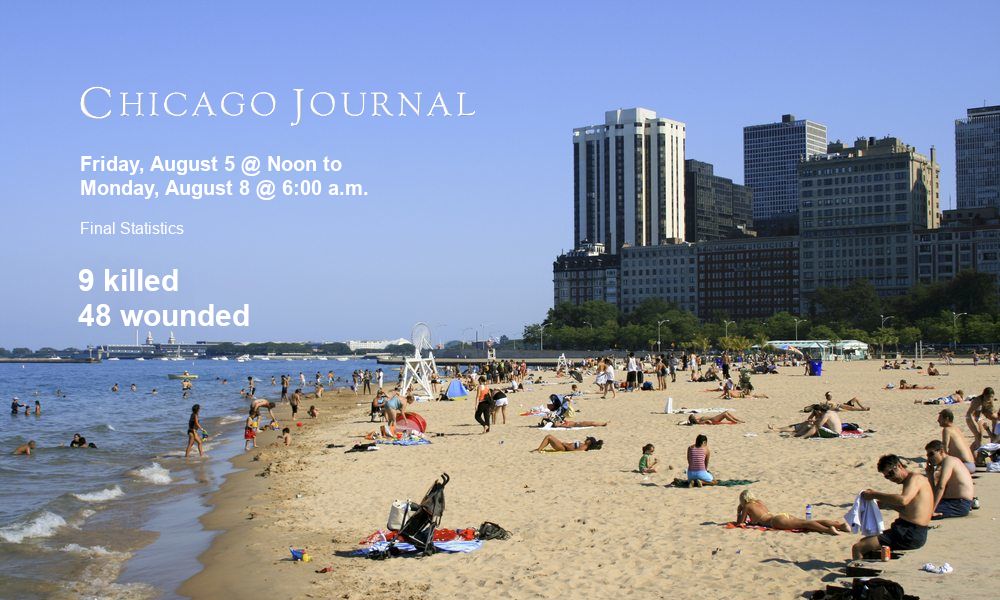 Update: Two late reports brought the final numbers up to 9 killed, 48 wounded for the weekend.
Rain, rain, go away...
Come again another day...
The same could be said for bullets, of course, but it was not this weekend. Then again, without that rain, the below numbers would have almost certainly been a whole lot higher.
Because when it wasn't raining these last few days it was HOT, and regular followers of Chicago violence know what that means (HINT: It's not good). A rise in the mercury tends to equal a rise in the anger in the blood and, as always when it's hot, a lot of blood is spilled into the streets as a result.
This weekend was no different.
With 9 killed and 48 wounded, it makes this weekend the third most violent for the weekend historically, falling behind last year's bloodbath and only barely losing out to 2016 by 1 gunshot victim. At least, those are the numbers since HeyJackass.com has been publishing their statistics. Which, again, while we have no affiliation, all crime stats used by the Chicago Journal can be found at HeyJackass.com, which is the best site for such things in the city.
Below are a curated selection of incidents that happened this weekend. We'll continue to highlight more stories we find throughout the day.
The first homicide of the weekend did not occur until shortly after 2:00 a.m. early Saturday morning. A man was shot and killed on the Red Line near the 79th Street station, which we outlined here:
Another man was shot and killed on a CTA Red Line train this morning.#ChicagoScanner #Chicago https://t.co/t0rsRSGXFR

— Chicago Journal (@chicagojournal) August 6, 2022
That incident prompted more calls from leadership that they were going to increase police presence on the CTA, as there's been a significant rise in violence on Chicago's CTA trains and buses: More police promised for Chicago trains after fatal shooting
A little over an hour later, a violent shoot-out took place in the Loop on the 400 block of S. Clark Street. CWBChicago highlighted the incident below:
Surveillance video shows a shootout that left 1 dead and 1 injured in the Loop yesterday morning. The footage appears to show the survivor also fired shots during the incident.https://t.co/TCZomDeXWH

— CWBChicago (@CWBChicago) August 7, 2022
You can also view the video itself on HeyJackass.com's Odysee page:
About 5:15 a.m. that same morning, a 30-year-old man was shot and killed in the Garfield Park neighborhood on the city's west side:
0-1-1-0.#Chicago #ChicagoScanner pic.twitter.com/dXX4RDIPEN

— Spot News (@SPOTNEWSonIG) August 6, 2022
Saturday afternoon, shortly before 2:00 p.m. a 41-year-old male was shot and killed in the 2600 block of S. Tripp in the Little Village neighborhood:
#Chicago #ChicagoScanner https://t.co/uvdlX8o9HP pic.twitter.com/tT2ggxZ62p

— ✨Emjay 📸 Phan✨ (@heyFATabbot) August 6, 2022
A bizarre incident occurred Saturday afternoon in which a 45-year-old party bus driver struck 15 parked cars. ABC7 Chicago has more:
Chicago police said a party bus driver has been charged for allegedly sideswiping 13 vehicles in Lakeview near Addison and Belmont on Saturday. https://t.co/I5QMKP1jBN

— ABC 7 Chicago (@ABC7Chicago) August 8, 2022
#Chicago #ChicagoScanner https://t.co/KmD6ZuDytU pic.twitter.com/6WxTttpQFl

— ✨Emjay 📸 Phan✨ (@heyFATabbot) August 8, 2022
While it's technically outside of the time for the weekend, Chicago Police announced on Sunday that they're looking for a man who pushed another man onto the CTA tracks on Friday morning. You can view the video below here:
Video: Man is pushed from the Blue Line platform at Illinois Medical District station on Friday.

Tips? Call Area Three Detectives at (312) 744-8261

Case # JF-345066 pic.twitter.com/IPQwNlTIjW

— CWBChicago (@CWBChicago) August 8, 2022
Shortly after midnight overnight between Sunday and Monday, a 22-year-old man and a 20-year-old woman were walking in the Albany Park neighborhood when two unidentified men approached on foot and began shooting:
Police said a 20-year-old female and a 22-year-old male were walking around midnight when they were approached by two men on foot who both pulled out pistols and began shooting.https://t.co/0DOl8UW8I5

— Chicago Journal (@chicagojournal) August 8, 2022
---
The Chicago Journal needs your support.
At just $12/year, your subscription not only helps us grow, it helps maintain our commitment to independent publishing.
---