Suburban Democrat Sen. Tom Cullerton resigns before guilty plea in federal embezzlement case
His trial was originally scheduled for early 2020 but had been repeatedly postponed. Cullerton previously plead "Not Guilty" and, until today, had denied any wrongdoing.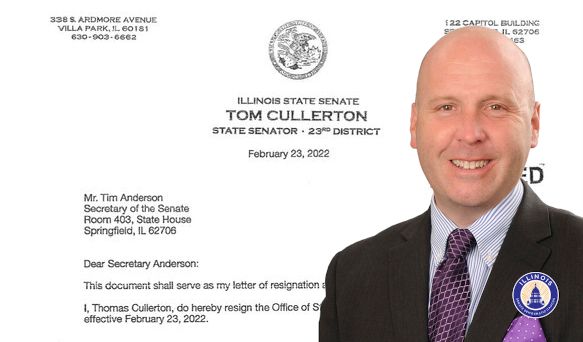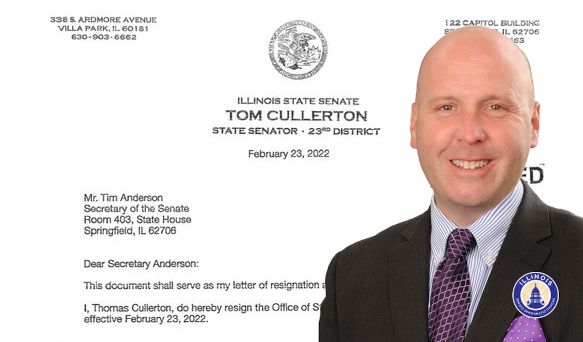 ---
Illinois State Senator Tom Cullerton (D-Villa Park) abruptly resigned from office Wednesday morning, shortly before his defense attorney, Dan Collins, informed U.S. District Judge Robert Gettleman in a phone hearing that Cullerton intended to plead guilty in the federal embezzlement case against him.
---
---
"This document shall serve as my letter of resignation as an Illinois State Senator," the document's first sentence read. "I, Thomas Cullerton, do hereby resign the Office of State Senator, 23rd Legislative District, effective February 23, 2022," the second sentence of the letter concluded.
In August of 2019, Cullerton was indicted on 39 charges of embezzlement alleging he received do-nothing pay and benefits from the Teamsters Union.[1] He was also charged with one count each of conspiracy and making false statements for a total of 41 counts.
His trial was originally scheduled for early 2020 but had been repeatedly postponed. Cullerton originally plead "Not Guilty" and, until today, had denied any wrongdoing.
The 2019 indictment alleged that, merely two months after taking office in 2013, John Coli, then-president of Teamsters Joint Council 25, hired Cullerton as a union organizer with a full-time salary, as well as health and pension benefits from Local 734.
DuPage County's Tom Cullerton proceeded to, quite literally, do nothing in the do-nothing job. He did so much nothing that Teamsters supervisors repeatedly requested he do...something...and, at the very least, show up. Which he continued not to do.
During the three years the indictment references, Cullerton reportedly received over $188,000 in salary, bonuses, cell phone and vehicle allowances, and received over $64,000 in health and pension contributions. Cullerton also fraudulently received $21,678 in medical reimbursement claims from the Union's health fund despite not showing up for the required minimum 30 hours.
Coli himself is currently awaiting sentencing after pleading guilty to extorting hundreds of thousands of dollars from the president of Cinespace Chicago Film Studios on the West Side.[2]
---
---
Tom Cullerton, 52, was first elected to the Senate in 2012 and was a former chairman of the Senate Labor Committee. He is part of a longtime Chicago political family, and a distant cousin of former Illinois House Speaker and Senate President John Cullerton, the powerful Chicago Democrat who retired in January 2020.
He becomes the second person from clout-heavy Illinois political dynasties in as many weeks to face federal consequences after Chicago Alderman Patrick Daley Thompson (yes, that Daley) was convicted of tax crimes and fraudulent statements just last week.[3]
The federal investigation that has hung over the city's power players for years now is one of the largest federal corruption investigations in state history. Three Democrat state senators, Tom Cullerton, Martin Sandoval, and Terry Link, have all been caught up in the investigation and there are, so far, at least three dozen politically connected people and businesses that have been tied to the still ongoing scandal. That number includes the aforementioned former Teamsters boss John Coli, from one of Chicago's most powerful union families, who tried to flex the type of old school political muscle normally seen in a Hollywood production.
Judge Gettleman set Cullerton's change of plea hearing for March 8, 2022.
Democrat leaders in Cullerton's DuPage County senate district will choose a replacement to complete Cullerton's term which expires in January 2023.
Cullerton declined comment through a spokeswoman until all legal proceedings are finalized.
---
The Chicago Journal needs your support.
At just $20/year, your subscription not only helps us grow, it helps maintain our commitment to independent publishing.
---
---
Notes & References
---
Meisner, Jason. "State Sen. Thomas Cullerton Pleads Not Guilty to Federal Embezzlement Charges." chicagotribune.com. Chicago Tribune, August 17, 2019. https://www.chicagotribune.com/news/criminal-justice/ct-arraign-state-sen-thomas-cullerton-20190816-l2s35dqrtbdcbpxknf5zbcl4ea-story.html. ↩︎

Meisner, Jason. "Politically Connected Ex-Teamsters Boss Pleads Guilty to Extorting Chicago Film Studio, Agrees to Cooperate." chicagotribune.com. Chicago Tribune, July 31, 2019. https://www.chicagotribune.com/news/criminal-justice/ct-teamsters-boss-guilty-extort-20190730-eaxqre3b2vaufl36abcfypxgky-story.html. ↩︎

Press, Associated. "Jury Convicts ALD. Patrick Daley Thompson of Tax Crimes and Fraudulent Statements." Chicago Journal. Chicago Journal, February 15, 2022. https://www.chicagojournal.com/jury-convicts-ald-patrick-daley-thompson-of-tax-crimes-and-fraudulent-statements/. ↩︎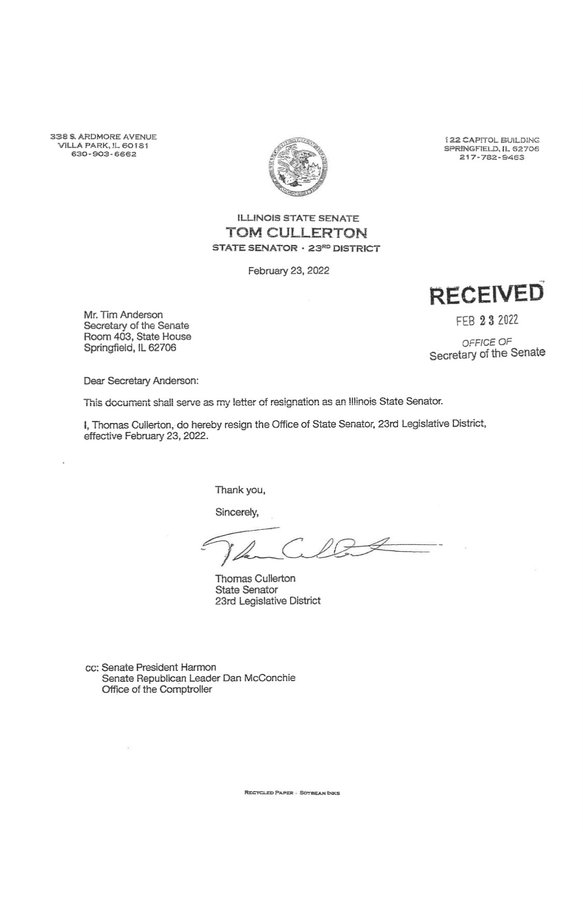 Chicago Journal Newsletter
Join the newsletter to receive the latest updates in your inbox.