Retired officers angry at board's delay on gun-carry law
The ILETSB said conflicting laws render the board powerless to issue CCL's to sheriff's deputies who worked the jails or monitored courtrooms. But it waited until Jan. 11 — more than a week after the law's effective date — to seek an opinion from the attorney general as to how to proceed.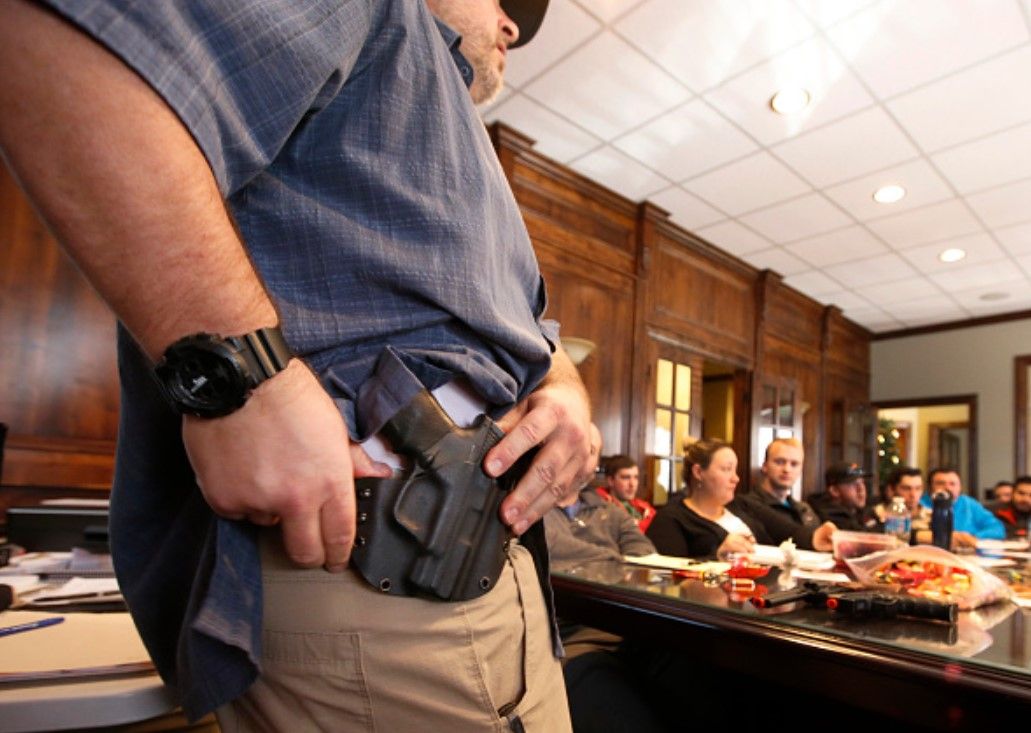 By JOHN O'CONNOR | AP Political Writer
SPRINGFIELD, Ill. — Thousands of law enforcement officers left out when Illinois adopted a federal law allowing police agency retirees to carry concealed weapons saw their fortunes reversed Jan. 1 with a state law granting them permission.
But two months later, they still await the OK to carry firearms in public because the regulatory agency that runs the retiree program isn't complying with the law.
The Illinois Law Enforcement Training and Standards Board said conflicting laws render the board powerless to issue concealed carry permits to sheriff's deputies who worked the jails or monitored courtrooms. But it waited until Jan. 11 — more than a week after the law's effective date — to seek an opinion from the state attorney general as to how to proceed.
That has drawn the ire of the law's sponsor, Sen. Bill Cunningham, a Chicago Democrat who fired off a blistering letter this month to the board, urging compliance.
"They don't get to pick and choose what laws to implement and not implement," Cunningham told The Associated Press. "This is simply a case of a state agency not liking a law and just deciding on their own they're not going to enforce it."
Sean Smoot, the chairperson of the law enforcement board, said the law doesn't mention the standards board, its duties or a discrepancy in state rules that have disallowed certain retirees from carrying weapons for two decades.
Gov. J.B. Pritzker said Wednesday he would look into the matter.
"Any law on the books should be complied with, obviously," Pritzker said.
The federal Law Enforcement Officer Safety Act of 2004 allows retirees — up to 10,000 in Illinois — who spent at least 10 years as law enforcement officers with arrest powers to carry concealed weapons in retirement. But for two decades, additional board rules have precluded county sheriff's deputies who were correctional officers and state prison guards.
While the 2004 act requires a 10-year career, the standards board also stipulates that the officer's work consist primarily of crime prevention and detection. Officials also contend correctional officers spend less time in firearms training, but the officers themselves say they have to requalify with their weapons annually just like their colleagues. And, they say they face threats from ex-offenders they meet on the street, just like other officers.
The standards board turned to Attorney General Kwame Raoul, seeking an opinion on whether the board's functions dovetail with allowing correctional officers to pack firearms publicly.
"The question is, are we the agency to implement it?" Smoot said. "And if we are the agency to implement it, do we have the legal authority and the regulatory ability to do so? That's the key right there."
Cunningham argued the time for raising such questions was during debate on the bill or at least shortly after it was signed into law in May, so that lawmakers could make necessary changes in their fall session before the law's Jan. 1 effective date. He said he heard nothing from the board.
Smoot, while he couldn't be specific, said staff had been in contact last year with legislators and Gov. J.B. Pritzker's staff. Board Executive Director Keith Calloway did not return a call seeking comment.
Smoot said Tuesday that staff members are now working with Cunningham's staff on follow-up legislation to address the board's concerns, but Cunningham disputed that.
"I've told ILETSB I will work with them on a trailer bill — but only after they implement the current law," Cunningham said.
Since his 2015 retirement, the board's prohibition has flummoxed Marcus Hargrett, whose 35-year career as a Cook County sheriff's correctional officer saw him patrolling the nation's largest single-site jail and making necessary arrests. The 64-year-old Hargrett of Chicago qualified for concealed carry under the federal law, but the Illinois rules barred him. His agitation over the issue helped spur the legislation.
Illinois allows concealed carry among qualified civilians, but Hargrett has noted that not all states have reciprocity with Illinois. The federal law allows universal carry.
Hargrett and other former officers said they were especially aggravated by the board's response to the new law. At least as early as November, its website indicated that it would not issue concealed carry permits to local or state correctional officers while it awaited a legal opinion from the attorney general.
When Amy Tanner, of Palatine, saw that, she called the attorney general's office, only to learn there had been no request for an opinion. Tanner, 54, who retired last August after 31 years with the Cook County Sheriff's Department, called the state board the first week of January, informing a staff member of what she learned. Smoot's letter seeking the opinion went out shortly after. Tanner followed with a letter objecting to the delay.
"They had nine months to seek the opinion from the attorney general's office. They lost their chance," Tanner said. "If they would have objected in April or May, they could have gone to the senators and representatives and made changes. Now it's law."
Follow Political Writer John O'Connor at https://twitter.com/apoconnor
---
The Chicago Journal needs your support.
At just $20/year, your subscription not only helps us grow, it helps maintain our commitment to independent publishing.
If you're already a subscriber and you'd like to send a tip to continue to support the Chicago Journal, which we would greatly appreciate, you can do so at the following link:
Send a tip to the Chicago Journal
---
Chicago Journal Newsletter
Join the newsletter to receive the latest updates in your inbox.