How Chicago elects a mayor, and why a winner may take weeks
To win the office outright, a candidate needs to receive more than 50% of the vote. That's unlikely with such a large field, so the race is expected to go to an April 4 runoff between the top two vote-getters.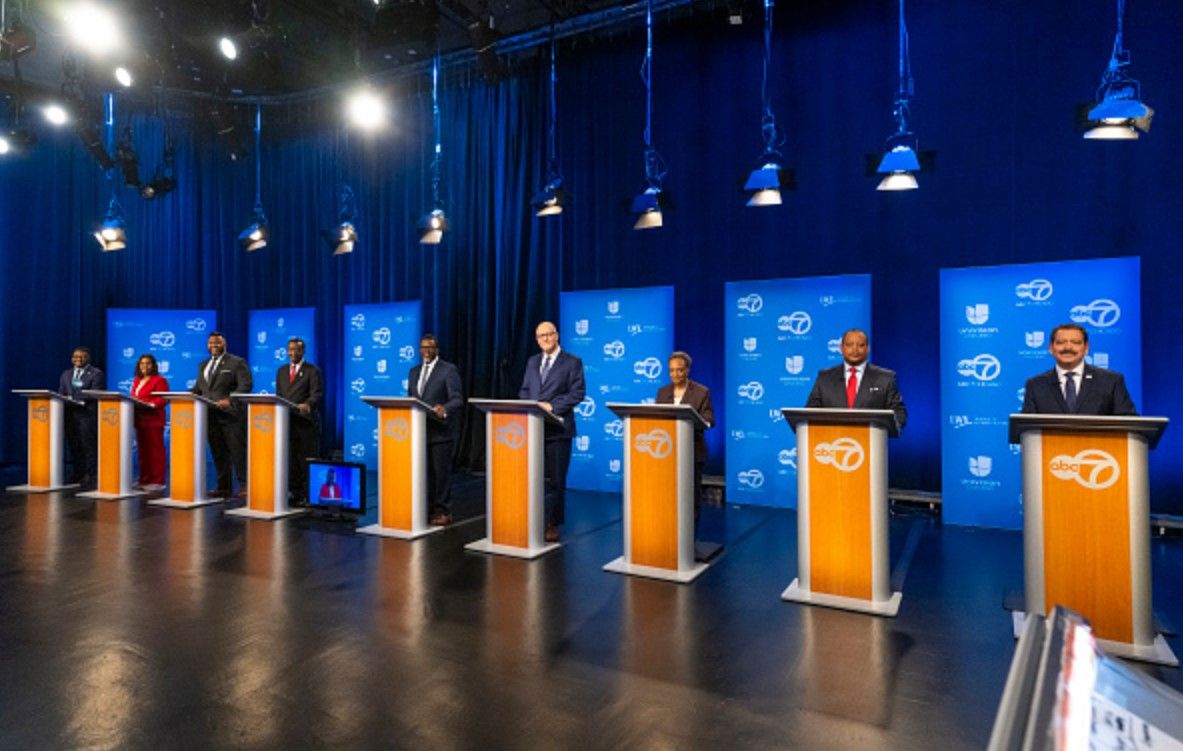 By SARA BURNETT | Associated Press
CHICAGO (AP) — Chicago is holding a mayoral election Tuesday, but it will likely take weeks — and a runoff election — before a winner is declared. A look at what's happening:
TUESDAY'S ELECTION
Nine candidates are competing Tuesday for a chance to be Chicago's next mayor. That includes Mayor Lori Lightfoot, who was elected in 2019 and is seeking her second term.
To win the office outright, a candidate needs to receive more than 50% of the vote. That's unlikely with such a large field, so the race is expected to go to an April 4 runoff between the top two vote-getters.
The election is officially nonpartisan and is not considered or called a primary, though all the candidates seeking to lead the city, a Democratic stronghold, call themselves Democrats.
WHO'S RUNNING?
In addition to Lightfoot, the candidates are U.S. Rep. Jesus "Chuy" Garcia, former schools CEO Paul Vallas, Cook County Commissioner Brandon Johnson, businessman Willie Wilson, state Rep. Kambium "Kam" Buckner, activist Ja'Mal Green and City Council members Sophia King and Roderick Sawyer.
HAVE RUNOFFS BEEN HELD BEFORE?
Municipal elections became nonpartisan and the runoff system was put in place in Chicago starting in 1999. But there wasn't actually a mayoral runoff needed until 2015. That's because Mayor Richard Daley easily won reelection in 1999, 2003 and 2007, getting more than 70% of the vote.
After Daley opted not to run again, former White House chief of staff Rahm Emanuel avoided a runoff in his first mayoral election in 2011. But he was forced into the city's first mayoral runoff in 2015, after failing to win a majority in the February election. Emanuel faced Garcia, whom he defeated.
In 2019, Lightfoot went to a runoff against Cook County Board Chair Toni Preckwinkle, a contest that Lightfoot won easily.
WHAT ARE THE TOP ISSUES?
Public safety has been the dominant issue in the race. Violent crime increased in Chicago, as it did in many places, during the pandemic, with the city recording 797 homicides in 2021, according to the Chicago Police Department. That was the highest number in a quarter century.
And while homicides have since decreased, and Chicago's per capita number is lower than other Midwestern cities such as St. Louis, crimes such as robberies and carjackings are still up and incidents are happening in places where they didn't before, such as downtown.
Voters also are concerned with the increased cost of living, including property taxes, as well as affordable housing, jobs and education.
WHY IS LIGHTFOOT VULNERABLE?
Lightfoot was elected four years ago as an outsider who would curb corruption at City Hall, at a time when some elected officials were under investigation and cleaning up city government was top of mind for voters. But once in office, Lightfoot's tenure was consumed by other challenges: the COVID-19 pandemic, protests over police violence, rising crime, a Chicago Teachers Union strike and disputes with the police union over a vaccine mandate for officers.
While the number of homicides has decreased since the pandemic, the annual number is still higher than before Lightfoot took office. She says that the city has a strategy to reduce crime and that it's working; her rivals say that she isn't doing enough and that her hand-selected police superintendent should be fired.
Separate of law-and-order issues, Lightfoot has been criticized for a temperament some say is too divisive. And some progressives are angry that she didn't follow through on campaign promises, such as creating civilian oversight of police early in her administration.
Now Lightfoot, who first ran for office as a progressive, is "trying to thread this needle that's in the middle," with Vallas getting support from more conservative voters and several candidates competing for voters who are more to the left, said Constance Mixon, a professor at Elmhurst University who has lived her whole life in Chicago.
---
The Chicago Journal needs your support.
At just $20/year, your subscription not only helps us grow, it helps maintain our commitment to independent publishing.
If you're already a subscriber and you'd like to send a tip to continue to support the Chicago Journal, which we would greatly appreciate, you can do so at the following link:
Send a tip to the Chicago Journal
---
Chicago Journal Newsletter
Join the newsletter to receive the latest updates in your inbox.