College Football Week 5: B1G Summary + Notre Dame
Nebraska steamrolls Northwestern, Michigan goes into Camp Randall and dominates Wisconsin, and Notre Dame loses to Cincinnati. The B1G stories of the week.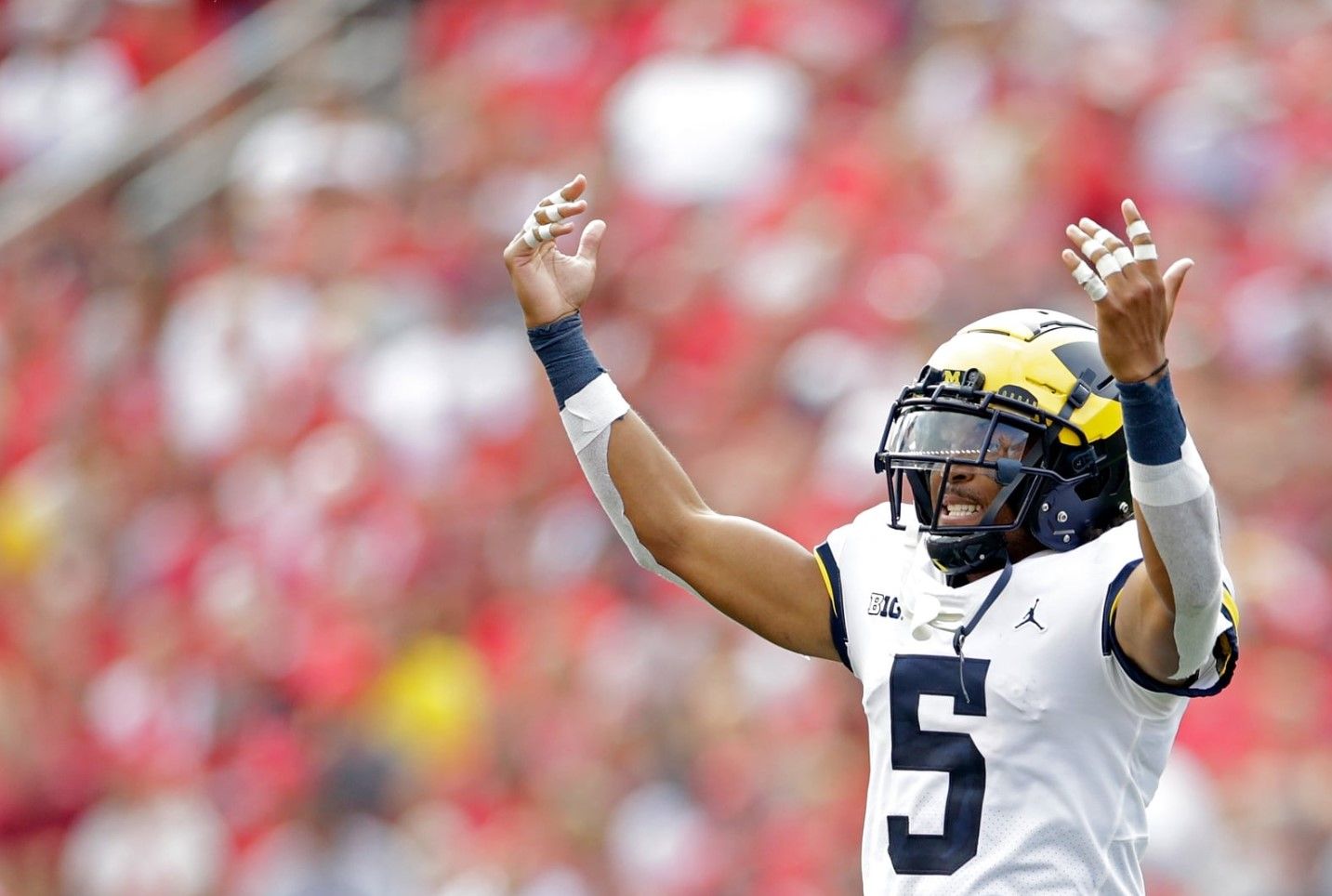 #4 Penn State vs. Indiana
No. 4 Penn State beats Indiana 24-0 with strong defense
STATE COLLEGE, Pa. -- — Penn State defenders get excited when they're asked to defend short fields these days.
---
---
After all, it's what the No. 4 Nittany Lions (5-0, 2-0 Big Ten) do best.
Penn State forced eight punts, two turnovers and blocked a field goal to lift the Nittany Lions to a 24-0 victory over Indiana on Saturday.
Sean Clifford threw for 178 yards and three touchdowns, Jahan Dotson caught a pair of touchdown passes, Brenton Strange added one and Jordan Stout added a 50-yard field goal in the fourth quarter in the Nittany Lions' ninth straight victory.
"We're a defense who, it doesn't matter the score, doesn't matter what time of the game it is, we're going to go out there and play at a high level," defensive tackle P.J. Mustipher said. "That's who we are. Throughout the game, we're going to keep going."
Penn State opened the scoring on its second drive when Clifford scrambled left and flung a 10-yard pass to Strange with 5:28 to play in the first quarter.
Raheem Layne intercepted Clifford's pass in Penn State territory on the Nittany Lions' next possession. Although Layne returned it to the 13, the Hoosiers couldn't crack Penn State's stout red zone defense. They ran four plays inside the 5 only to turn the ball over on downs on a fourth-and-short try.
The Hoosiers (2-3, 0-2) wouldn't get any closer to the end zone the rest of the night.
"I thought that was a huge play," Franklin said. "Defensively, I just think we're playing really good, complimentary defensive football. I don't know if we're overwhelming in any area, but I think the defense is doing their job."
The offense did its part, too. After the defensive stop, the Nittany Lions responded with their longest drive of the season.
They got a boost from running back Keyvone Lee who took off for a 44-yard gain up the middle on second down. He added a 21-yard run moments later to set Penn State up inside the 5. Clifford capped the sequence with a rollout pass to Dotson in the back of the end zone. The 8-yard scoring toss made it 14-0 with 13:31 to play in the first half.
Indiana's opening second-half possession ended badly when Penix was sacked by linebacker Brandon Smith. Penix went down on his left shoulder and was down on the field for a few minutes. He walked to the locker room and was replaced by Jack Tuttle.
Indiana coach Tom Allen said after the game that Penix injured his throwing shoulder and would undergo further tests when the team returns home.
The backup didn't fare much better. On his first dropback, Tuttle was sacked hard on third down by Arnold Ebiketie.
"They played good defense," Allen said. "They make it really hard to run the football. We have to make sure we take that pressure off our throwing game, stay on the field and get first downs."
Penn State put together another strong drive and increased its lead to 21-0 when Clifford, throwing on the run again, found Dotson cutting inside Indiana's defense for a 30-yard score.
Tuttle gave Indiana some life when he completed his next three passes for a combined 58 yards, steering his teammates into scoring position midway through the third. But the drive stalled, and Smith blocked a 30-yard field goal attempt by Charles Campbell three plays later.
STAR COMBO
Clifford and Dotson have combined for 18 total touchdowns, the most for any QB-WR combo in Penn State history.
The record of 17 was previously held by Todd Blackledge and Kenny Jackson.
THE TAKEAWAY
Indiana: The Hoosiers played well enough on defense and held Penn State's big-play offense to just 14 first-half points. Offensively, however, Indiana had very little going on. Penix completed just eight of his first 19 throws for 109 yards and one interception and no matter who Indiana's QB is moving forward, they'll need more help from everyone around them if this team wants to make any progress.
Penn State: Clifford continues to play well and the Nittany Lions got more out of their running game by getting Lee involved. The Penn State defense might've played its best game of the season. Indiana's offense was smothered all night, and neither QB had time or space to throw with any accuracy.
POLL IMPLICATIONS
Penn State will have room to move up after No. 3 Oregon fell to unranked Stanford.
UP NEXT
Indiana: Hosts No. 17 Michigan State on Oct. 16.
Penn State: At No. 5 Iowa on Saturday.
---
---
#5 Iowa vs. Maryland
No. 5 Iowa forces 7 turnovers in 51-14 rout of Maryland
By Noah Trister | Associated Press
COLLEGE PARK, Md. -- — Spencer Petras barely had time to exhale in the second quarter. The Iowa quarterback would come off the field following a scoring drive — then immediately return after the defense forced yet another turnover.
"You sit on the bench for two seconds, you're right back out," Petras said.
Petras threw for three touchdowns and ran for two and No. 5 Iowa took advantage of seven Maryland turnovers in a 51-14 victory Friday night.
The Hawkeyes (5-0, 2-0 Big Ten) intercepted five of Taulia Tagovailoa's passes, and they outscored the Terrapins 31-0 in the second quarter as Maryland completely unraveled. The Terps (4-1, 1-1) never recovered after losing standout receiver Dontay Demus to an apparent leg injury on a kickoff return early in the second.
Iowa beat Iowa State earlier this season thanks to a plus-four turnover margin on a day the Hawkeyes were badly outgained. The matchup with Maryland was an even more extreme version of that. The Terrapins turned the ball over five times in the first half, four in the second quarter.
Tagovailoa had thrown only one interception all season — while leading the Big Ten in yards passing — but he was picked off on the Terrapins' second possession Friday in a sign of things to come. That turnover led to a field goal that opened the scoring, but Maryland responded sharply, driving 69 yards in eight plays and taking the lead on a 9-yard scoring pass from Tagovailoa to Chigoziem Okonkwo.
Iowa went ahead 10-7 on a 1-yard run by Petras on the first play of the second quarter, and then Maryland's big night — the Terps had a chance to start 5-0 for the first time since 2001 — went sour for good.
Demus, the Big Ten's leader in yards receiving, had four catches for 61 yards in the first quarter. On the kickoff after Petras' touchdown, however, he fumbled and remained on the ground injured. He eventually left on a cart, and that turnover gave Iowa the ball at the Maryland 10.
"We took an X-ray of it," Maryland coach Michael Locksley said. "Until we get the MRI, we're not really sure, but it's some type of lower-body injury."
Petras threw an 8-yard TD pass to Arland Bruce IV. Then, on the first play of the Terps' next possession, Tagovailoa's deflected pass was intercepted, and the Hawkeyes took over at the Maryland 26.
"Just undisciplined football," Okonkwo said. "The turnovers, beating ourselves. ... That doesn't help the defense at all. That's really what it comes down to — turnovers, penalties, beating yourself."
Petras made it 24-7 with a 1-yard scoring run. Then Tagovailoa's next pass was picked off at the Maryland 45. Iowa scored again on Monte Pottebaum's 2-yard run.
The final turnover of the half came on a Hail Mary by Tagovailoa on the last play. After two more interceptions in the second half — one thrown by Tagovailoa and one by his backup — Iowa now has 12 on the season. No other Big Ten team has more than five.
In the second half, Petras threw touchdown passes of 67 yards to Tyler Goodson and 7 yards to Tyrone Tracy.
THE TAKEAWAY
Iowa: This was an emphatic win on a night the Hawkeyes figured to be tested by Maryland's passing game. Iowa won't be able to count on a deluge of turnovers every week, but the defense's ability to force them made this a remarkably easy victory.
"I don't think anybody could have seen that coming," Iowa coach Kirk Ferentz said. "Their guy's done a great job protecting the football."
Maryland: There's no way to sugar coat it: This was an exciting night for the Terps, the crowd was ready, and it went about as badly as it possibly could have. Maryland still seems to be making strides in Locksley's third season, but he'll have to hope his team learns from this experience.
SHORT FIELDS
Iowa scored on nine consecutive possessions during one stretch, although the turnovers meant some of the drives were pretty brief. In fact, the Hawkeyes averaged 35.5 yards on their six first-half scoring drives.
They led 34-7 at halftime.
GAME TO FORGET
Tagovailoa's performance was certainly surprising. Before the game, Pro Football Focus tweeted a stat saying the Maryland quarterback had 158 dropbacks and had not thrown a single turnover-worthy pass.
"We made some poor decisions, which hadn't shown up all year long," Locksley said. "I still feel pretty confident this is a group that will stick together and bounce back. We're not going to let one game define us."
POLL IMPLICATIONS
Iowa can relax this weekend and see if any of the top four teams loses. Two of them — No. 1 Alabama and No. 2 Georgia — face ranked opponents.
UP NEXT
Iowa: The Hawkeyes face a major showdown Oct. 9 against No. 4 Penn State.
Maryland: The schedule doesn't get any easier for the Terrapins, who travel to play No. 11 Ohio State next.
---
---
#9 Notre Dame vs. #7 Cincinnati
Desmond Ridder, No. 7 Cincinnati beat No. 9 Notre Dame 24-13
By Ralph D. Russo | Associated Press
SOUTH BEND, Ind. -- — The last pass of the day by Desmond Ridder was a celebratory heave way up into stands toward the Cincinnati fans who came to Notre Dame to see their Bearcats make a statement.
Cincinnati wanted to use the first top-10, regular-season matchup in program history as a chance to show it belongs among the nation's best before heading into its American Athletic Conference schedule.
Mission accomplished.
Ridder threw two touchdown passes and ran for score late in the fourth quarter as No. 7 Cincinnati capitalized on its big opportunity and beat No. 9 Notre Dame 24-13 on Saturday in a game the Bearcats hope can be the centerpiece of a College Football Playoff resume.
"We didn't just beat a top-10 team, we beat a top-five program," Cincinnati coach Luke Fickell said.
No team from outside the Power Five conferences has reached the playoff in its seven seasons. Never even came close.
To break that barrier, the Bearcats almost certainly need to go undefeated and this trip to Notre Dame (4-1) looked like the toughest test on their schedule. Not to mention the grandest stage they'll appear on this season.
"It's still midseason so we got a lot of games left to play, but it obviously is a big win against a top-10 team," Ridder said. "Hopefully, we keep this going."
The Bearcats were not quite dominant, but they were plenty good enough in their first trip to South Bend since 1900 to snap Notre Dame's 26-game home winning streak.
"I don't think we let the stage get too big for us," Ridder said.
When told by coaches how loud the crowd can be at Notre Stadium this week, Ridder quipped that it wouldn't be for long.
The senior delivered, going 19 for 32 for 297 yards. He hooked up with Alec Pierce six times for 144 yards, and was at his best after Notre Dame cut the lead to 17-13 with 8:20 left in the fourth quarter.
Ridder went 3 for 3, with a bullet down the middle for 36 yards to Leonard Taylor, on the ensuing drive. He capped it off with a 6-yard TD run around left end that made it 24-13 with 5:08 left.
"That's the Desmond Ridder factor," Fickell said.
Cincinnati took advantage of three turnovers by Notre Dame in the first half to jump out to 17-0 lead. The miscues by the Irish were killers.
Ahmad Gardner picked off an ill-advised throw under pressure by Jack Coan that ended Notre Dame's first and best drive of the half.
DeShawn Pace's interception of Notre Dame freshman Tyler Buchner set up Cincinnati in the red zone and Ridder flipped a 1-yard pass to Taylor to make it 7-0 early in the second quarter.
Chris Tyree fumbled the ensuing kickoff back to Cincinnati and the Bearcats turned that into a 23-yard field goal by Cole Smith.
Ridder and the Bearcats put together their best first-half drive late in the second quarter, going 80 yards for a touchdown. Ridder found Tre Tucker for a 27-yard score that beat Irish All-America safety Kyle Hamilton.
The Bearcats were up 17-0 with 40 seconds left in the first half and for the third time Cincinnati fans, decked in red in the upper reaches of the south end zone, were chanting "Let's Go Bearcats!"
After the postgame celebration died down, Ridder belted out a "How 'bout them Bearcats!" when he entered the interview room and talked about how it "sounded like a home game."
It looked like one at the end, too.
The Bearcats waved their giant black and red flags and Lambeau-leaped over the wall behind the corner of the end zone to take selfies with their fans.
THE TAKEAWAY
Cincinnati: The defense locked up Notre Dame most of the way, getting a shut-down game from All-America cornerback Gardner and good pressure from Myjai Sanders and Darrian Beavers.
Cincinnati's former defensive coordinator Marcus Freeman was on the other sideline, directing Notre Dame's defense, but the Bearcats showed that they're still plenty feisty without him.
"Show them that we're still the same defense whether he's calling the shots or not," defensive lineman Malik Vann said.
Notre Dame: Drew Pyne, who took over last week in the second half against Wisconsin when Jack Coan went out with an ankle injury, came off the bench in the third quarter again for the Irish — this time just to provide a spark.
"He handled the moment great," tight end Mike Mayer said.
Pyne was OK, showing some Ian Book-ish mobility and getting rid of the ball a little more quickly than Coan. The sophomore was 9 for 22 for 143 yards and his 32-yard touchdown pass to Braden Lenzy with 8:20 left in the fourth quarter cut the lead to 17-13. Jonathan Doerer missed the point after.
"Clearly, we can't continue down this road of who's the flavor of the week here," Irish coach Brian Kelly said of his quarterbacks. "We're going to have to sit down and figure this out."
POLL IMPLICATIONS
Cincinnati should be knocking on Top-five territory when the new AP poll comes out Sunday. Notre Dame, which finally couldn't overcome its offensive issues, will slip into the teens.
UP NEXT
Cincinnati: Hosts Temple on Friday.
Notre Dame: At Virginia Tech on Saturday.
---
---
#11 Ohio State vs. Rutgers
C.J. Stroud throws five TD passes, No. 11 Ohio State rolls
PISCATAWAY, N.J. -- — Greg Schiano of Rutgers has a warning for the rest of the teams in the Big Ten Conference: No. 11 Ohio State is finding its stride.
C.J. Stroud threw for 330 yards and a career-high five touchdowns after sitting out a game to rest a shoulder and the Buckeyes won their 20th straight conference game with a 52-13 victory over Rutgers on Saturday.
"We had a bad day and we had it against a team that is finding its stride," Schiano said after suffering his worst loss since returning for a second stint with the Scarlet Knights (3-2, 0-2). "The result was there to see."
What everyone saw was a dominant Ohio State (4-1, 2-0) put a complete performance on display, especially on offense. The nation's No. 2 offense scored on its first six possessions and had its defense deliver a pick-6.
"Having a win like this after the last month, it's given us a little bit of juice now as we head into the next month of October," Ohio State coach Ryan Day said. "It was some tough times here, but we grew through it, we didn't panic, and in that we might have a good team as we head into October, November."
Stroud connected with Chris Olave on touchdown passes of 56 and 11 yards, found Garrett Wilson on a 32-yard catch-and-run, and hit tight ends Jeremy Ruckert and Mitch Rossi on scoring passes of 19 and 1 yard, respectively. The freshman, who threw four TD passes against Minnesota in the opener, finished 17 of 23 and did not throw an interception. Olave finished with five catches for a team-high 119 yards.
"This is this is what he's capable of," Day said about Stroud. "And now he's got to bring it through and be consistent."
Ohio State has beaten Rutgers eight straight times. The Buckeyes outgained the Scarlet Knights 541-346, flowed through a defense that had given up just 54 points in its first four games, and intercepted Noah Vedral three times.
Freshman TreVeyon Henderson opened the scoring with a 44-yard touchdown run on the Buckeyes' second play from scrimmage. Freshman Denzel Burke scored on a 23-yard interception return 40 seconds later.
The Buckeyes extended the lead to 24-0 on a 23-yard field goal by Noah Ruggles and the Wilson TD catch with 2:34 left in the opening quarter.
Rutgers' only major play in the game was a 75-yard catch-and-run by Aron Cruickshank on a short pass over the middle on the next series. The distance was a career best for both players. Vedral finished 16 of 26 for 152 yards.
Cole Snyder added a 12-yard touchdown pass to Josh Youngblood with 7:40 to play to close out the scoring and close the yardage gap for the Scarlet Knights.
"Major credit to Ohio State," Rutgers defensive end Mike Tverdov said. "They came out, they did their thing. It's a very good football team and we cannot afford to do what we did today against a team like that. Hats off to them. They came here and took care of business."
The result was a major letdown for Rutgers following a 20-13 loss to No. 14 Michigan on the road last weekend. They played very well in that game. They didn't follow that up this week and Schiano contributed to the problem on the opening series, using a trick play on a punt that backfired, giving the Buckeyes a short field.
Ohio State has never scored fewer than 49 points against Rutgers.
THE TAKEAWAY
Ohio State: This team can do it all, especially on offense with Stroud throwing the ball to a trio of top wideouts and Henderson running through huge holes. The defense might have played its best game this season, giving up one play early.
Rutgers: While it has made up little ground on Michigan, Michigan State, and Penn State since Schiano returned last year, it remains light years behind Ohio State in the Big Ten pecking order. The Scarlet Knights were seriously outplayed in all phases of the game, and certainly outcoached. Schiano's decision to throw a pass on fourth-and-8 from its own 46 put Rutgers in a hole it never left.
POLL IMPLICATIONS
Ohio State: The Buckeyes were outstanding on both sides of the ball. Except for one long TD in the opening half, it was a near-perfect performance. If anyone loses or plays a poor game, they are back in the Top 10.
Rutgers: The Scarlet Knights were hoping to follow a strong showing in a loss against Michigan with a good game against the Buckeyes. The hope was that an upset would get them a first spot in the poll since 2012. Obviously, they have a long way to go.
UP NEXT:
Ohio State: Hosts Maryland on Saturday.
Rutgers: Hosts No. 17 Michigan State on Saturday.
---
---
#14 Michigan vs. Wisconsin
No. 14 Michigan routs Wisconsin 38-17; Badgers QB Mertz hurt
By Steve Megargee | Associated Press
MADISON, Wis. -- — Coach Jim Harbaugh and No. 14 Michigan found a formula to shut down the Wisconsin rushing attack that had embarrassed the Wolverines the last couple of years.
"Against a tough, physical team, I thought our team played really physical," Harbaugh said. "We matched it every bit."
And once Wisconsin quarterback Graham Mertz went down with a chest injury, the Badgers' chances of continuing their recent run of home domination in this series pretty much disintegrated.
Cornelius Johnson caught both of Cade McNamara's touchdown passes and Michigan remained unbeaten Saturday with a 38-17 victory over Wisconsin, marking the Wolverines' first victory at Camp Randall Stadium since 2001.
Wisconsin (1-3, 0-2 Big Ten) trailed 13-10 when Mertz and tight end Jake Ferguson left with chest injuries early in the third quarter. Mertz got hurt when he was sacked by Daxton Hill.
After Mertz and Ferguson departed, Michigan (5-0, 1-0) scored 25 straight points to put the game out of reach.
"It didn't make a difference who was on the other side of the ball," said Michigan linebacker David Ojabo, who had 2 1/2 of the Wolverines' six sacks. "It was just a relentless effort."
Badgers coach Paul Chryst said Mertz went to the hospital for evaluation but otherwise had no immediate update on either injury.
Saturday's game marked a dramatic reversal from the last two meetings between these teams.
Wisconsin beat Michigan 35-14 in 2019 and 49-11 in 2020 while rushing for over 340 yards in each of those games. This time, Michigan limited the Badgers to 43 yards on 32 carries.
Michigan was supremely confident despite having lost in each of its last five trips to Madison. During the traditional playing of "Jump Around" after the third quarter at Camp Randall Stadium, the Wolverines jumped right along with all the Wisconsin students.
Most of those students departed by the time Michigan built a 28-point lead in the fourth quarter.
"We wanted to be up the entire game and then steal their juice," Hill said. "And that's what we did."
The Badgers have lost by over 20 points each of the last two weeks. They gave up the final 31 points in a 41-13 loss to No. 9 Notre Dame last week.
"You can't get numb to this, this pain on the inside that we have," Wisconsin safety Collin Wilder said. "We've got to hold on to that, the bad taste in our mouths. We can't get used to losing like this."
Chryst was asked after the game whether it's fair to say the Badgers lack an identity on offense.
"Right now I think that's fair -- absolutely," Chryst said. "What are we going to hang our hat on? There's been times where it's been good running the ball. There's been times where we've thrown it efficiently. But absolutely there isn't a strong identity right now. That's something we've got to work toward getting."
McNamara went 17 of 28 for 197 yards. Highly touted freshman quarterback J.J. McCarthy also played and had a 1-yard touchdown run plus a 56-yard touchdown pass to Daylen Baldwin.
Mertz was 8 of 15 for 115 yards with a touchdown pass to Chimere Dike before getting hurt. Chase Wolf replaced Mertz and went 3 of 8 for 52 yards with an interception, a fumble and a last-minute touchdown pass to Clay Cundiff.
Michigan led 10-0 and outgained Wisconsin 122 yards to minus-2 for the first 20-plus minutes of the game. An 18-yard touchdown pass from Mertz to Dike with seven seconds left in the half got Wisconsin within 13-10.
But once Mertz got hurt, the Badgers never threatened again.
"The difference in us this year is that when we're in a fight, we're confident we're going to win that fight," McNamara said. "This team didn't panic at all when the fight came to us."
HONORING ALVAREZ
Wisconsin honored former coach and athletic director Barry Alvarez during a halftime ceremony. Alvarez stepped down as coach in 2005 and retired as athletic director earlier this year.
Chancellor Rebecca Blank announced Friday that Camp Randall Stadium's playing field will be named after Alvarez. The change takes effect next season, making the playing field "Barry Alvarez Field at Camp Randall Stadium."
STRICKER'S HOMECOMING
U.S. Ryder Cup caption and Madison native Steve Stricker was recognized during a first-quarter timeout. The U.S. team won back the Ryder Cup with a 19-9 rout of Europe at Whistling Straits, located just outside Sheboygan, Wisconsin.
THE TAKEAWAY
Michigan: The Wolverines had run the ball on 74% of their snaps this season heading into Saturday, but they changed their strategy against a Wisconsin run defense that ranked first in the nation. McNamara hadn't thrown more than 16 passes in any of Michigan's first four games. … The Wolverines went 4 of 5 on fourth-down conversions, including McCarthy's touchdown run.
Wisconsin: After being ranked 12th to start the season, the Badgers have dropped three of four games and now must worry about how soon they'll get Mertz or Ferguson back. Wisconsin has lost eight of its last 13 games and has dropped eight straight to ranked teams. … The Badgers played without usual starting center Joe Tippmann, who was poked in the eye during pregame warmups.
UP NEXT
Michigan: At Nebraska on Saturday.
Wisconsin: At Illinois on Saturday.
---
---
#17 Michigan State vs. Western Kentucky
No. 17 Mich St beats W Kentucky 48-31, best start since 2015
By Larry Lage | Associated Press
EAST LANSING, Mich. -- — Michigan State's Jayden Reed planted his right foot in the turf and juked to his left, cut back across the field and sprinted up the sideline untouched for an 88-yard touchdown off a punt return to score on special teams for the third straight week.
Reed also had a touchdown reception in the first half, giving him multiple scores for the fourth straight week, to help the 17th-ranked Spartans build a 26-point lead and they went on to beat Western Kentucky 48-31 on Saturday night.
"He can do it all," coach Mel Tucker said.
Reed had 285 all-purpose yards, including 127 yards receiving and 63 yards on kickoff returns.
Kenneth Walker ran for 126 yards, a week after being held to 61 yards rushing in an overtime win over Nebraska, and three touchdown in the first half to keep his name in the early conversation for the Heisman Trophy candidates.
"That is a dream of mine to win the Heisman," Walker said. "I had that in my notes on March 8th."
The Spartans (5-0) have won their first five games for the first time since starting 8-0 in 2015, when they ended up earning a spot in the College Football Playoff.
The Hilltoppers (1-3) moved the ball through the air effectively, but settled for three field goals in the first half and struggled to slow down Michigan State until the second half when it was too late.
"They made a lot of explosive plays and we didn't," coach Tyson Helton said. "Defensively we couldn't stop them in the first half and we held them to six points in the second half."
Reed returned the punt for a touchdown after the opening possession and had 46-yard reception for another score in the first quarter, helping the Spartans take a 21-10 lead. Walker ran for his second and third scores in the second quarter, putting Michigan State ahead 42-16.
"In the first half they were able to do whatever they wanted to do," Helton said.
Payton Thorne was 20 of 30 for a career-high 327 yards yards and a touchdown for the Spartans. Nailor had career highs with eight catches and 128 yard receiving.
Bailey Zappe, who was 46 of 64 for a career-high 488 yards, threw two touchdown passes early in the fourth quarter to pull Western Kentucky within two touchdowns.
Jerreth Sterns set career highs with 17 catches for 186 yards and had a touchdown reception for the Hilltoppers.
THE TAKEAWAY
Western Kentucky: The Hilltoppers can throw the ball effectively, but their defense has been a weakness that has been tough to overcome. They allowed an average of 35.5 points in the previously two games and gave up more than that in the first half alone at Michigan State.
Michigan State: The Spartans have work to do with their pass defense. Zappe, who ranks among the nation's leaders in passing, was able to make throws all over the field against linebackers and defensive backs that often seemed out of position.
"We're going to learn a lot from that," Tucker said. "They're very explosive on offense. They put a lot of stress on our defense."
NOTABLE
Michigan State's 42 points in the first half trailed just the 49 points it scored over the first two quarters in 2014 against Eastern Michigan and the 45 scored in 2017 against Alabama-Birmingham.
YOU'RE OUT
Michigan State linebacker Cal Haladay was ejected early in the fourth quarter for a hit on receiver Jerreth Sterns. Haladay will miss the first half of next week's game against Rutgers.
POLL IMPLICATIONS
Michigan State has a chance to move up some in the AP Top 25 with some ranked teams losing, including No. 15 Texas A&M against Mississippi State.
UP NEXT
Western Kentucky: Hosts UTSA (5-0) on Oct. 9, the Hilltoppers' first home game since Sept. 2 when Zappe passed for 424 yards and seven touchdowns in a 59-21 win over UT Martin in their opener.
Michigan State: Plays at Rutgers (3-2, 0-2) on Oct. 9, the first of two straight road games before getting an off week to have extra time to prepare for a highly anticipated game against archrival and 14th-ranked Michigan at home Oct. 30.
---
---
Minnesota vs. Purdue
Gophers meet challenge, use 2nd-half rally to beat Purdue
WEST LAFAYETTE, Ind. -- — Minnesota coach P.J. Fleck challenged his team to respond Saturday.
Did it ever.
Trey Potts scored the go-ahead touchdown 70 seconds into the third quarter and the Golden Gophers defense pitched a second-half shutout to hold on for a 20-13 victory at Purdue.
"That was a very difficult week — mentally, physically, emotionally," coach P,J. Fleck said after earning his first second-half comeback in 50 career games at Minnesota. "To come out here and beat a really good Purdue team on the road, was great."
It was just what the Gophers (3-2, 1-1 Big Ten) needed after last week's shocking loss at home to Bowling Green.
But Minnesota cleaned up those mistakes and took advantage of their opportunities on a cool, rainy day at Ross-Ade Stadium — despite seeing the Boilermakers (3-2, 1-1) run 33 more plays and picking up 144 more yards.
How'd they do it?
After trailing most of the first half, the Gophers struck quickly in the third quarter. Tanner Morgan opened the second half with a 54-yard completion to Mike Brown-Stephens. Potts ran for 17 yards on the next play and then overpowered the Boilermakers defense for a 4-yard touchdown run for a 17-13 lead.
The Gophers defense took care of the rest. It ended one scoring threat with a sack, ended two more with good coverage and finally sealed the win with an interception on third-and-10 from just outside the Minnesota red zone.
"We weren't very opportunistic in the red zone again," coach Jeff Brohm said after his fourth straight loss to Minnesota. "It's something we've got to get better at — producing points when we get down in there tight. There were some things we did better but it wasn't good enough."
THE TAKEAWAY
Minnesota: It wasn't pretty and it certainly wasn't efficient. Still, the Gophers got what they needed — a road win. Morgan played well enough but needs to perform more consistently to loosen up defenses. Minnesota continues to look solid defensively. "It's tough conditions and you know it's going to be a low-scoring game," Fleck said. "I thought our guys made it a low-scoring game."
Purdue: Coach Jeff Brohm made the quarterback change and got running back King Doerue and receiver David Bell back from injuries. But the Boilermakers again struggled to score and O'Connell's poorly timed sacks and final interception were significant miscues. Purdue must find a way to produce more points.
OUT OF ACTION
Minnesota receiver Dylan Wright missed the game following the death of Aaron Lowe, a high school teammate. The 21-year-old Lowe, a cornerback at Utah, was shot and killed early last Sunday morning in Salt Lake City. Wright returned home to Mesquite, Texas.
STAT PACK
Minnesota: Fleck is now 1-17 with the Gophers when trailing at halftime. ... Potts ran 15 times for 78 yards while Morgan was 9 of 18 with 169 yards passing and one TD. He was not sacked. ... Brown-Stephens finished with two catches for 40 yards. Chris Autman-Bell had two catches for 40 yards and caught a 32-yard TD pass though replays appeared to show it could have been called incomplete.
Purdue: Aidan O'Connell replaced Jack Plummer at quarterback and went 33 of 51 with 357 yards, one TD and one interception. He was sacked four times and lost a fumble that led to Minnesota's first score. .. Bell had six catches for 120 yards and became the 12th player in school history with 2,000 career yards receiving. ... Milton Wright had six receptions, 91 yards and a 7-yard TD catch. ... King Doerue finished with 21 carries for 95 yards.
INJURY REPORT
Minnesota: Linebacker Mariano Sori-Marin left in the first quarter with an undisclosed injury after a collision with a teammate. Safety Tyler Nubin left briefly but returned and picked off O'Connell's final pass.
Purdue: Played without tight end Payne Durham (concussion protocol) and lost right guard Tyler Witt (left leg) briefly in the first quarter.
UP NEXT
Minnesota: Begins a two-game homestand next Saturday against Nebraska.
Purdue: Following next week's bye the Boilermakers visit No. 5 Iowa on Oct. 16.
---
---
Nebraska vs. Northwestern
Cornhuskers start fast in 56-7 rout against Northwestern
LINCOLN, Neb. -- — In the 10 years since Nebraska joined the Big Ten, the Cornhuskers' tightest games have been against Northwestern.
On a Saturday night when the Huskers were nearly flawless after back-to-back mistake-filled losses to ranked opponents, they posted their most lopsided Big Ten win against the Wildcats.
Adrian Martinez ran for a career-best three touchdowns and passed for another, and Nebraska broke big play after big play while putting away Northwestern early in a 56-7 win.
"We were using the last couple of weeks to fuel us this week," Martinez said. "A big play to open the game got the crowd behind us, and that initiated it. Tonight we can say we executed the way we should."
The Cornhuskers (3-3, 1-2 Big Ten) were sharp from the get-go and dominated a matchup that had seen eight of the previous 10 games in the series decided by eight points or less.
"We're a lot better team than we have been," Nebraska coach Scott Frost said. "This was one game. This is what I know this group can do. It's a good first step. We can still get better."
The 49-point margin was Nebraska's largest in a win against a Big Ten opponent. For Northwestern (2-3, 0-2), it matched the second largest in a loss in Pat Fitzgerald's 16 years as coach.
"Obviously not our night and credit Nebraska," Fitzgerald said. "They played incredibly well and were able to execute their option plays in the first half, and that kind of snowballed."
Martinez connected with Samori Toure for a 70-yard pass on the game's first play from scrimmage — a sign of things to come — and the Huskers went into halftime with a 35-7 lead.
Zavier Betts opened the second half with an 83-yard touchdown run down the sideline, and Martinez hit Toure in stride for a 38-yard score to make it 49-7.
The Huskers had seven plays go for at least 20 yards and their 657 yards were their most in two years. Their 427 yards rushing, a good amount of them coming on old-school Nebraska triple-option plays, were their most since they ran for 458 against Illinois in 2014.
Martinez rushed for 58 yards and TDs of 1, 1 and 25 yards and completed 11 of 17 passes for 202 yards.
Jaquez Yant had 109 of his 127 yards rushing in the first half, including a 64-yard burst. Yant, the No. 4 running back, entered the game with five carries for 25 yards.
Northwestern all but abandoned the run game after falling behind. Evan Hull, who ran for 216 yards against Ohio last week, had 31 on seven carries.
Ryan Hilinski was 25 of 39 for 256 yards and a touchdown.
Northwestern drove to the 1 in the second quarter with a chance to pull within two touchdowns, but linebacker JoJo Domann barged through to knock the ball loose from Hilinski and Deontre Thomas recovered for the Huskers.
The Wildcats didn't sniff the end zone again.
THE TAKEAWAY
Northwestern: This reinforced the point that this isn't one of Pat Fitzgerald's vintage teams. The defending Big Ten West champion's only wins are against lower-tier Indiana State and one-win Ohio. The Wildcats' pattern is to improve as the year progresses. It's mid-season, and they have a long way to go on both sides of the ball.
Nebraska: The Huskers worked off some pent-up frustration after melting down on special teams at Michigan State last week. William Przystup's 84-yard punt in the third quarter symbolized how well things went against Northwestern. His previous punt, against Michigan State, was a 7-yard shank.
STAT PACK
The Huskers' 56 points were the most since they scored 59 against South Dakota State in 2013. ... Nebraska's seven rushing touchdowns were its most in a Big Ten game. ... Northwestern had not allowed 600 yards of total offense since a 2005 game against Arizona State. ... Domann had two sacks and now has five consecutive games with at least one tackle for loss. He also forced two fumbles.
UP NEXT:
Northwestern hosts Rutgers on Oct. 16.
Nebraska hosts Michigan on Saturday.
---
---
Illinois vs. Charlotte
Chase Brown's 257 yards, 2 TDs leads Illinois past Charlotte
By TERRY TOWERY | Associated Press
CHAMPAIGN, Ill. (AP) — Chase Brown rushed for 257 yards and two touchdowns and Illinois beat Charlotte 24-14 on Saturday.
It stands as the fourth best single-game rushing performance in Illinois history. His 80-yard scoring run as time expired in the third quarter was the longest run of the year for Illinois (2-4). The last Illini to rush for more than 200 yards in a game was Reggie Corbin, who ran for 213 yards against Minnesota in 2018.
"You really saw the skill set Chase Brown has," Illinois coach Bret Bielema said. "He's something."
Brandon Peters was 10 of 19 passing for 78 yards and one touchdown for the Illini. Josh McCray rushed 16 times for 64 yards. Daniel Barker caught one pass for 10 yards and a touchdown.
"For Brandon, I think we can say it was a step forward for him," Bielema said. "Overall, it was a step forward for the whole team. But we have to play Big Ten football and we're not there yet."
Chris Reynolds was 17 of 23 passing for 191 yards and two touchdowns for Charlotte (3-2).
Calvin Camp rushed seven times for 29 yards for the 49ers. Victor Tucker caught five passes for 55 yards and a touchdown, and Grant DuBose caught four passes for 70 yards. Elijah Spencer caught two passes for 34 yards and a touchdown.
"I'm disappointed," Charlotte coach Will Healy said. "Call me crazy, but I fully expected to win the game when we came in today. I believe we had plenty of opportunities to do it, and we didn't get it done."
POWER RUNNING
Illinois outgained Charlotte on the ground 336 yards to 72.
Bielema was known for nurturing a hard-nosed running attack during his successful tenure at Wisconsin, and Saturday's game was the first indication of that at Illinois.
"I mean, we have some things to clean up," Bielema said. "But overall, I thought it was encouraging."
Illinois' two touchdowns in the second half both were on Brown runs, a 32-yard score midway through the third quarter and his 80-yard scamper as time expired in the third quarter.
AIR ATTACK
Illinois scored first on a 29-yard James McCourt field goal midway through the first quarter after a 17-play opening drive for the Illini. Charlotte answered with a 22-yard touchdown pass from Reynolds to Tucker with 1:31 left in the first quarter.
Illinois scored late in the second quarter with a 10-yard touchdown pass from Peters to Barker to make the score 10-7 Illinois.
Charlotte then drove 66 yards on 6 plays and scored on a 22-yard pass from Reynolds to Spencer to lead 14-10 at the half.
Coming into the game, Reynolds had thrown for nine touchdowns, 16th most in the nation.
"We have a long season ahead of us," Reynolds said. "You can't let something like this hurt you for the rest of the year. We have a lot of opportunities in front of us."
HE SAID IT
Coach Bielema: "I told the guys in the locker room to enjoy the moment, hug your mom and all that stuff, and then let's get busy because we have to win some Big Ten games now."
THE TAKEAWAY
Illinois needed a win after a fairly disastrous start to the season. And while it was against a program that didn't even play football before 2013, Bielema will take it.
Charlotte played with poise against its first ever Big Ten opponent and coach Healy has to be proud of his squad for its balanced play .
UP NEXT
Charlotte: At FIU on Friday night.
Illinois: Hosts conference rival Wisconsin on Oct. 9.
---
---
More AP college football: https://apnews.com/Collegefootball,
https://www.twitter.com/AP_Top25 and
https://podcasts.apple.com/us/podcast/ap-top-25-college-football-podcast
More AP college football: https://apnews.com/Collegefootball and https://twitter.com/AP_Top25
Chicago Journal Newsletter
Join the newsletter to receive the latest updates in your inbox.