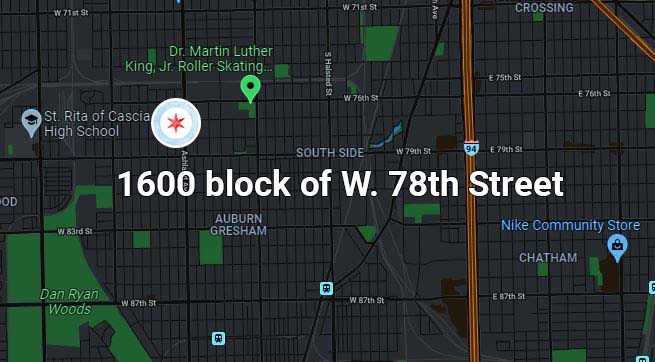 ---
CHICAGO - A woman was shot to death tonight while walking down a sidewalk and having an argument with a man who police said was a known offender.
---
---
The incident happened around 7:00 p.m. tonight in the 1600 block of W. 78th Street in the Auburn Gresham community area on the city's south side.
Police reported that a 30-40 year old woman was walking down the above block with a known offender near the intersection of W. 78th and S. Marshfield Avenue. A POD camera caught the pair and initial reports are the offender is a black man who was wearing all black.
Apparently the two were having a verbal argument when the man walked slightly ahead of the woman, stopped, and suddenly turned around and shot her.
It was unclear how many shots he fired, but one of his bullets struck the woman in the left side of the head and the man fled down a nearby alley.
According to initial incident reports from @SPOTNEWSonIG, a local who reports scanner traffic, when the Chicago Fire Department arrived they indicated they recognized the woman. That information was not disclosed by the Police, however, they did indicate they know the offender.
The woman was pronounced dead at the scene.
Despite knowing who the man is, he is not currently in custody. Area Two detectives are investigating.
---
---
The Chicago Journal needs your support.
At just $20/year, your subscription not only helps us grow, it helps maintain our commitment to independent publishing and remain free from influence.
---