How Illinois and its border states view abortion
There has been a lot of wrong information flying around the internet today, so we wanted to help our readers understand how Illinois and its border states view abortion after today's ruling overturning Roe vs. Wade.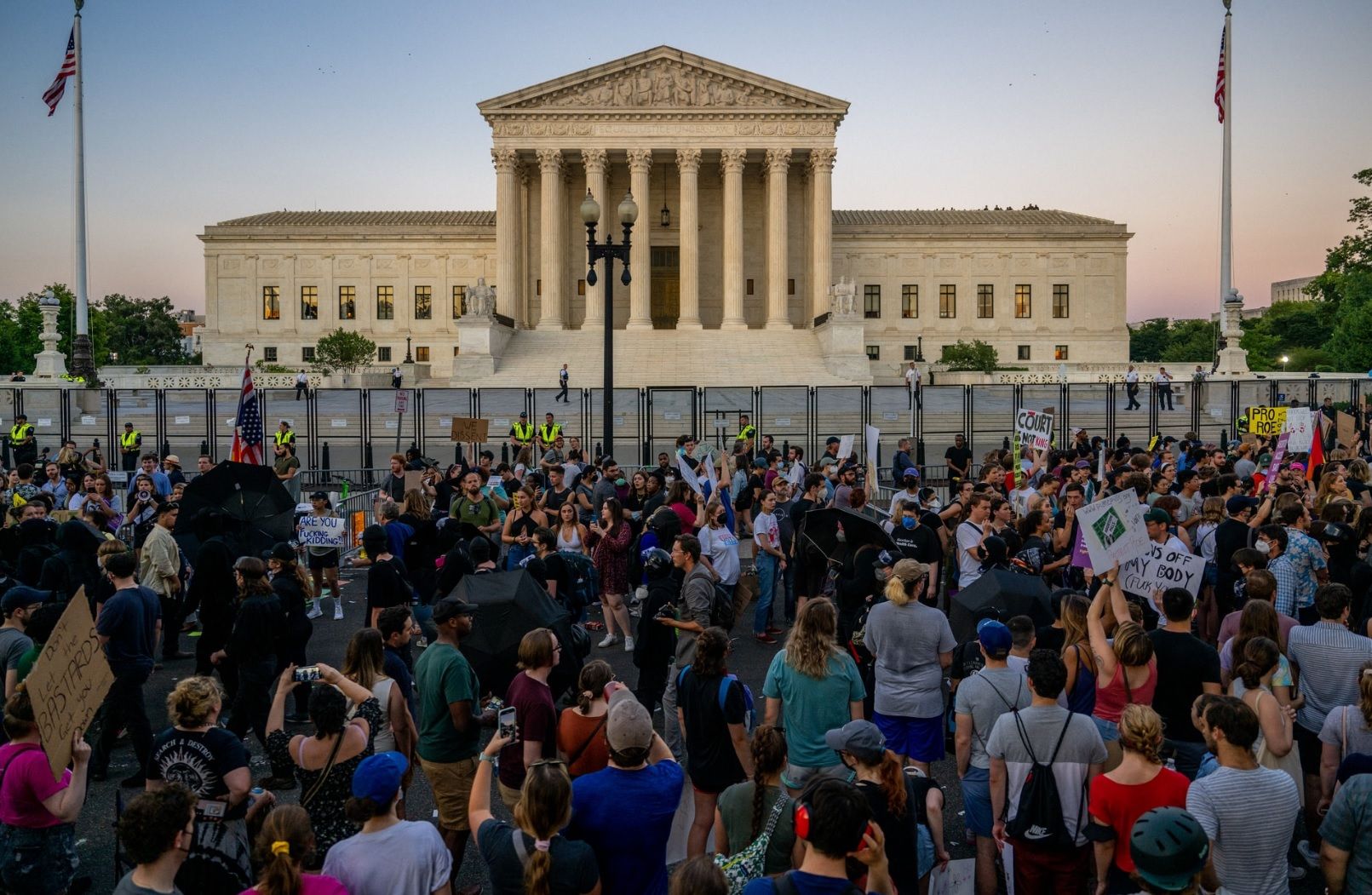 There has been a lot of wrong information flying around the internet today so we wanted to help our readers understand just how Illinois and its border states view abortion after today's ruling overturning Roe vs. Wade.
First, the decision today did not ban abortions nationwide. It placed the decision back into the hands of the lawmakers of the separate states.
Please note, the following is not an endorsement one way or another on the decision. This post is simply for us and readers to be able to revisit in the future.
We'll start with Illinois, and then continue through alphabetical order for its border states. No, Michigan is not an official border state, we like Michigan and it's very close.
ILLINOIS
Political control: Illinois is overwhelmingly Democratic with laws providing greater access to abortion than most states. Democrats hold veto-proof supermajorities in the House and Senate, and the Democratic first-term governor seeking reelection this year, J.B. Pritzker, has promoted peaceful street protests to protect the constitutional right to an abortion.
Background: Abortion is legal in Illinois and can only be restricted after the point of viability, when a fetus is considered able to survive outside the womb. Medical science determines viability at 24 to 26 weeks, but the Illinois law does not specify a timeframe, saying a medical professional can determine viability in each case. Abortions are also allowed after viability to protect the patient's life or health.
Effect of Supreme Court ruling: It won't change access to abortion in Illinois. After the Roe v. Wade decision in 1973, the Illinois Abortion Act of 1975 legalized abortion but enacted a "trigger law" that would reinstate the ban if Roe were overturned. That trigger law was repealed in 2017 in legislation that also required Medicaid and state employees' group health insurance to cover abortions. The 2019 Reproductive Health Act replaced the 1975 law, large parts of which were never enforced because they were found to be unconstitutional.
What's next: Like other states providing access to abortions, Illinois has seen a steady influx of patients crossing the state line for abortions in recent months and those numbers are expected to increase. Planned Parenthood of Illinois says it expects to handle an additional 20,000 to 30,000 patients in Illinois in the first year following the reversal of Roe.
KENTUCKY
Political control: Republicans have a supermajority in the Kentucky Legislature and have been restricting abortion rights since the 2016 election over the vetoes of Democratic Gov. Andy Beshear, who supports abortion rights and will seek a second term in 2023.
Background: Kentucky bans abortions after 20 weeks, but all abortion services were temporarily halted in April after the legislature imposed new restrictions and reporting requirements on the state's two abortion clinics. The clinics, both in Louisville, said they suspended abortions because state officials hadn't written guidelines on how to comply with the new law. Noncompliance could result in stiff fines, felony penalties and revocation of physician and facility licenses. Abortions resumed after a federal judge temporarily blocked key parts of the law, including a provision banning abortions after 15 weeks of pregnancy.
Effect of Supreme Court ruling: Abortion services in Kentucky immediately became illegal under a "trigger law" enacted in 2019. The measure contains a narrow exception allowing abortion to prevent the death or permanent injury of a pregnant woman. Kentuckians will be able to vote this November on a proposed amendment declaring there is no right to an abortion in the state constitution.
What's next: Abortion-rights activists say the suspension of abortion services in April foreshadowed what would happen in Kentucky and other Republican-leaning states if Roe v. Wade was overturned. It likely ends several legal challenges pending against other Kentucky abortion laws including a 2018 measure that abortion-rights supporters say would effectively ban a standard abortion method in the second trimester of pregnancy. The U.S. Supreme Court ruled in March that Kentucky's Republican attorney general, Daniel Cameron, can defend the measure that was struck down by lower courts.
INDIANA
Political control: Indiana has a Republican-dominated Legislature and a Republican governor in favor of restricting abortion access.
Background: Abortion in Indiana is legal up to about 20 weeks, with some provisions for medical emergencies. Before an abortion, patients must undergo an 18-hour waiting period. Medical providers must tell patients about the risks involved in abortion and must say the fetus can feel pain around 20 weeks, which is disputed. Providers must report complications related to abortion; failure to report can result in a misdemeanor, 180 days in jail and a $1,000 fine. Federal courts have blocked several restrictions in Indiana, including an attempt to ban a common second-trimester abortion procedure and a law that would have required doctors to tell pregnant women about a disputed treatment to potentially stop a drug-induced abortion.
Effect of Supreme Court ruling: No immediate changes are expected, but legislators unwilling to wait until the 2023 session could ask Indiana Gov. Eric Holcomb to call a special session this summer to start modifying the state's abortion laws.
What's next: Republican legislative leaders said Friday they expected lawmakers to act on tightening Indiana's abortion laws during a special legislative session starting July 6, but gave no details about what restrictions would be considered. Republican Gov. Eric Holcomb earlier this week called the Legislature into a special session to take up a tax refund proposal, but state law allows legislators to consider any subject.
IOWA
Political control: Iowa's legislature is controlled by Republicans who want to ban or restrict abortion access and a Republican governor who agrees and is up for reelection this year.
Background: Iowa allows most abortions until the 20th week of pregnancy, when they're banned except to save a patient's life or prevent a substantial and irreversible physical impairment of a major bodily function. In 2018, the state Supreme Court declared access to abortion a "fundamental" right under the state constitution, granting stronger protections to abortion rights than the U.S. Constitution. The state's high court, now with a conservative majority, overturned that decision June 17, thus allowing a state law requiring a 24-hour waiting period to go into effect immediately. That requirement is being challenged in district court.
Effect of Supreme Court ruling: Nothing is expected to change immediately in Iowa. The GOP-controlled Legislature has been working to get an amendment on the ballot in 2024 that would declare the state constitution does not grant a right to abortion but, with Roe overturned, Iowa lawmakers can ban abortion without completing that lengthy process.
What's next: Now that the Iowa Supreme Court has struck down its 2018 ruling, the state Legislature can convene a special session this summer and pass abortion restrictions. Republicans could still move to get the constitutional amendment on a public ballot in 2024.
MICHIGAN
Political control: Both chambers of Michigan's legislature are controlled by Republicans who want to ban or restrict abortion access, but the state's Democratic governor supports access.
Background: A dormant 1931 law bans nearly all abortions in Michigan but it hasn't been enforced since Roe v. Wade. The law made it a felony to use an instrument or administer any substance with the intent to abort a fetus unless necessary to preserve the woman's life. It has no exceptions in cases of rape and incest. Anticipating that Roe could be overturned, Planned Parenthood of Michigan filed a lawsuit challenging Michigan's ban. A state judge suspended the law in May, saying it violates the state's constitution. Gov. Gretchen Whitmer and Attorney General Dana Nessel, both Democrats, hailed the decision.
Effect of Supreme Court ruling: The injunction granted in the Planned Parenthood case ensures that abortion does not immediately become illegal. Planned Parenthood of Michigan and other supporters hope the injunction indicates abortion rights in the state will be preserved. But in a statement to The Associated Press, Nessel's office said "given the ongoing lawsuits, we cannot speculate what the state of abortion rights will be in Michigan" after Roe.
What's next: Whitmer also filed suit asking the state's Supreme Court to declare the 91-year-old law unconstitutional. It has not acted yet. Michigan abortion rights supporters hope to put the issue on ballots this fall. Their proposed constitutional amendment would affirm the right to make pregnancy-related decisions without interference, including about abortion and other reproductive services such as birth control. The Reproductive Freedom for All committee needs to collect about 425,000 valid voter signatures by July 11 to make the November ballot. The measure would become law if voters approved it. The issue also is expected to shape statewide elections — Whitmer and Nessel are both up for reelection in the fall — and legislative races.
MISSOURI
Political control: Both GOP Gov. Mike Parson and the Republican-led Legislature support laws against abortion.
Background: Missouri law previously allowed abortions up until 22 weeks of pregnancy. But a 2019 state law banned abortions "except in cases of medical emergency," contingent upon the U.S. Supreme Court overturning its 1973 Roe v. Wade decision. Under that Missouri law, performing an illegal abortion is a felony punishable by 5 to 15 years in prison, though women receiving abortions cannot be prosecuted.
Effect of Supreme Court ruling: The 2019 law contained a provision making it effective upon notification by the attorney general, governor or Legislature that the U.S. Supreme Court had overruled Roe v. Wade. Moments after Friday's Supreme Court decision, Attorney General Eric Schmitt and Gov. Mike Parson filed the necessary paperwork for Missouri's law to kick in. State statutes were subsequently updated online Friday saying the abortion-ban law had taken effect.
What's next: Some Missouri residents wanting abortions are likely to travel to neighboring states, including Illinois and Kansas. A new Illinois logistics center near St. Louis helps women from out of state find travel, lodging and childcare if they need help getting to the area for an abortion, and it connects them with funding sources. The Kansas Supreme Court in 2019 declared that access to abortion is a "fundamental" right under the state constitution. Even without the ban in Missouri, the number of Missouri patients seeking abortions in Kansas has gone up in recent years, increasing about 8% from 2020 to 2021.
WISCONSIN
Political control: Wisconsin has a legislature controlled by Republicans who want to ban or restrict access to abortions but a Democratic governor who supports access and is up for reelection this year.
Background: Wisconsin has allowed most abortions until the 22nd week of pregnancy to save the health or life of the mother. A woman seeking an abortion must meet with a counselor and doctor before obtaining an abortion and wait at least 24 hours before having it done. Anyone under age 18 must have an adult relative over age 25 with them to obtain an abortion.
Effect of Supreme Court ruling: Now that Roe v. Wade has been overturned, it is presumed that a state law passed in 1849 making an abortion a felony offense could go into effect, and doctors have halted procedures. However, Wisconsin's Democratic attorney general argues that the law is so old that it's unenforceable. The language allows a woman to legally destroy her own fetus or embryo and grants immunity if an abortion is needed to save a woman's life and is performed at a hospital. Another state law, passed in 1985, prohibits abortions performed after a fetus reaches viability -- when it could survive outside the womb -- conflicting with the 1849 ban.
What's next: Republican lawmakers are expected to attempt to clarify the 1849 law to ensure there is a ban in place, even as that issue is fought in the courts. However, lawmakers' efforts would be stymied if Democratic Gov. Tony Evers wins reelection. Wisconsin's Republican Assembly Speaker Robin Vos has said he supports an exception in cases of rape and that a ruling on Roe could force lawmakers to consider other related reproductive issues such as contraception. Other Republicans will push for more restrictive abortion laws.
---
The Chicago Journal needs your support.
At just $20/year, your subscription not only helps us grow, it helps maintain our commitment to independent publishing.
---
Chicago Journal Newsletter
Join the newsletter to receive the latest updates in your inbox.