Three charged in shooting of off-duty police officer in Beverly
Chicago Police announced charges this morning against three men they say were involved in the bar fight and following shooting that left Chicago Police Officer Danny Golden paralyzed after his spinal cord was severed by a bullet.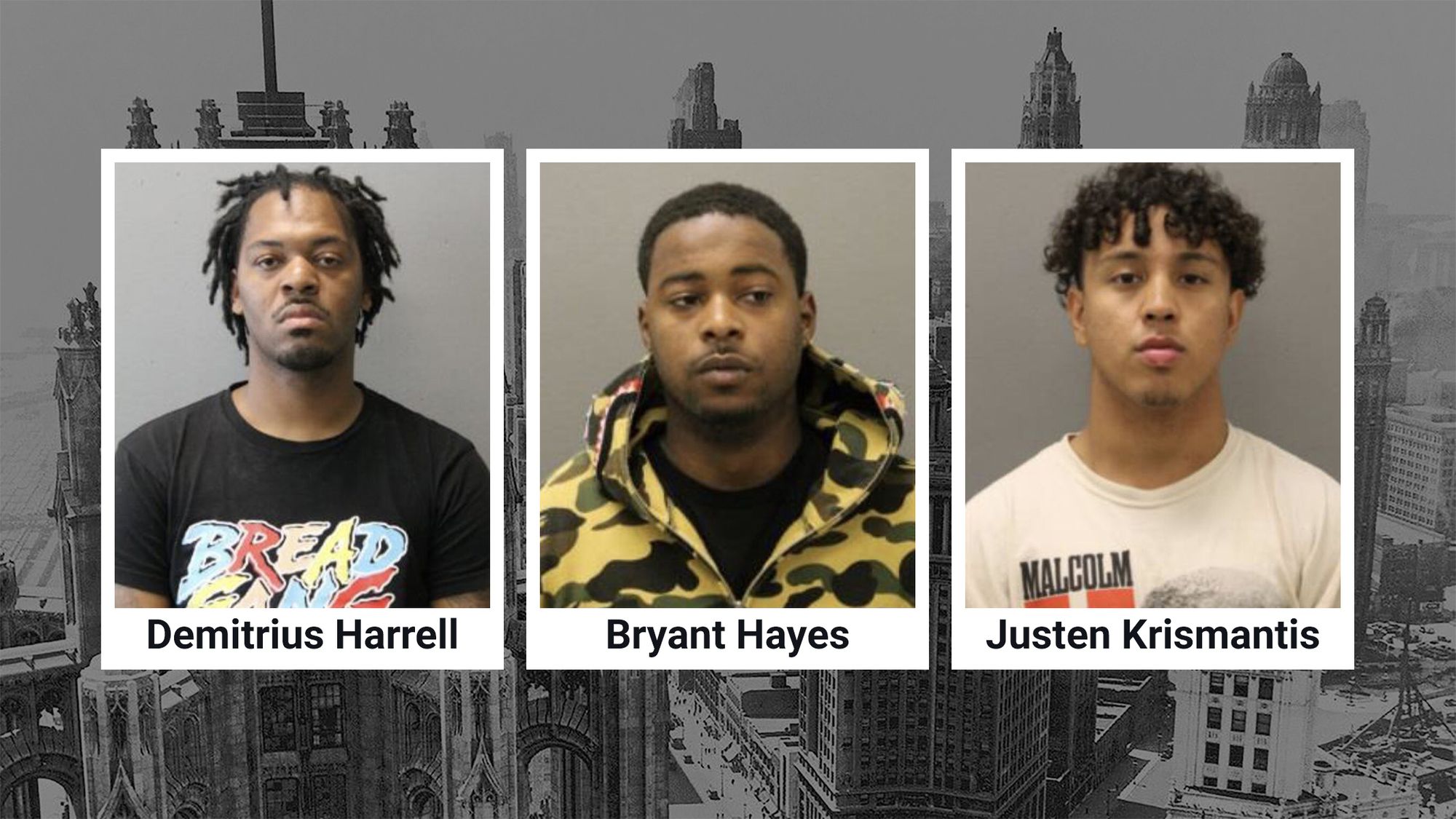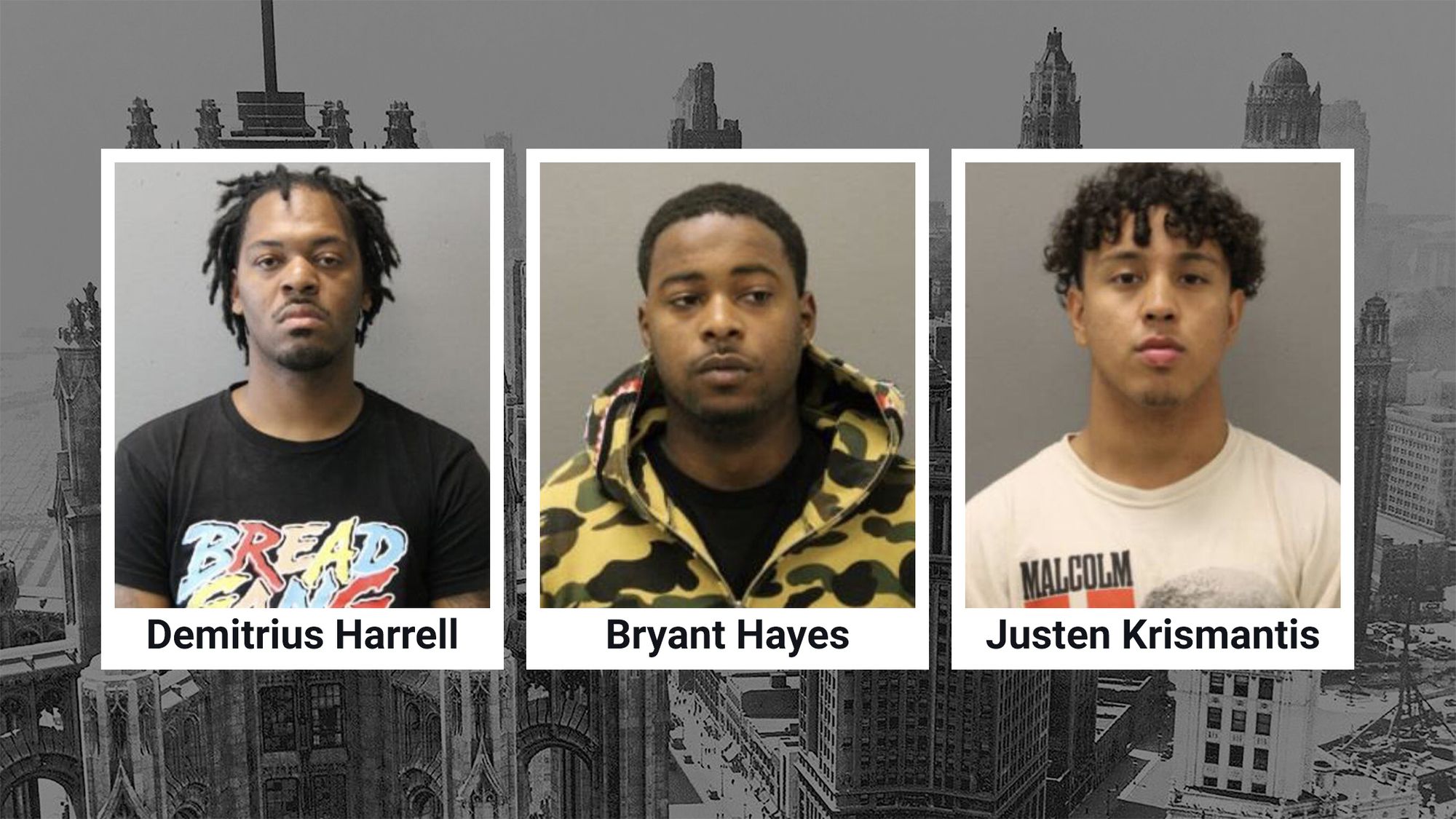 Update 2: Charges were upgraded to attempted murder for two of the defendants, Hayes and Krismantis.
Update: A Cook County Judge has denied bail for all three of the defendants.
CHICAGO - Three men have been charged in the shooting of an off-duty Chicago Police officer after a bar fight in the Beverly community that left the officer paralyzed, authorities said.
You can read our original report on the incident here: Off-Duty Chicago Police Officer shot after bar fight in Beverly.
Demitrius Harrell, 28, of the 9400 block of S. Ridgland Avenue in Chicago Ridge, was charged as follows:
One (1) felony count - Aggravated Discharge of a Firearm
One (1) felony count - Unlawful Use of a Weapon by a Felon
Bryant Hayes, 22, of the 1800 block of W. Maypole on Chicago's Near West Side, was charged as follows:
Two (2) felony counts - Aggravated Unlawful Use of a Weapon
Two (2) felony counts - Aggravated Discharge of a Firearm
Justen Krismantis, 22, of the 6300 block of S. 6000W Road in Chebanse, Illinois, was charged as follows:
Two (2) felony counts - Aggravated Discharge of a Firearm
One (1) felony count - Aggravated Unlawful Use of a Weapon
One (1) misdemeanor count - Obstructing a Police Officer
Hayes and Krismantis were reportedly arrested within hours of each other Saturday evening, while Harris was arrested Monday afternoon.
The exact details of the incident are still unknown but a bar fight had allegedly spilled out of Sean's Rhino Bar on Western Avenue near Alderman Matt O'Shea's 19th Ward Office. According to Alderman O'Shea, Officer Danny Golden - who was off duty at the time - had attempted to break up the fight that started inside the bar and had announced himself as a Chicago Police Officer.
According to sources, at some point in the aftermath of the fight, one of the men charged went to a vehicle parked nearby and retrieved a firearm. He returned and gave the firearm to one of the other men, who fired off approximately 10-15 rounds. That man then gave the firearm to the third man, who then fired an additional approximate of 5 shots.
According to the Golden family, Officer Golden is paralyzed from a bullet that severed his spinal cord and is now lodged between his heart and a lung.
Officer Golden is a 6 year veteran of the Chicago Police Department and a third generation officer of the department. He served in the U.S. Army and is a graduate of St. Rita High School ('09). He was at the bar with friends that night after playing in a community softball tournament supporting local families affected by cancer.
The three men charged are due in bond court today.
---
The Chicago Journal needs your support.
At just $20/year, your subscription not only helps us grow, it helps maintain our commitment to independent publishing.
---
Chicago Journal Newsletter
Join the newsletter to receive the latest updates in your inbox.