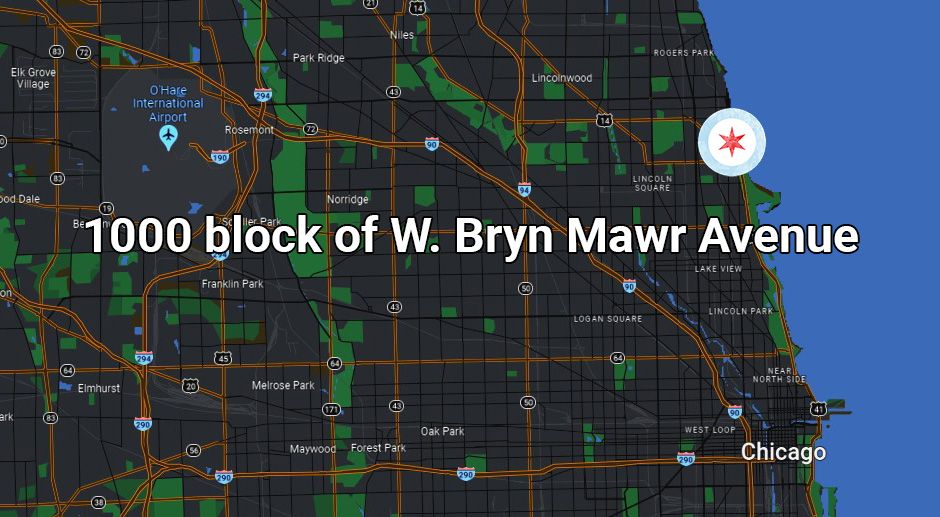 Update: Chicago Police updated us with additional details. A 22-year-old male was discovered unresponsive and was pronounced dead inside of a residence during the execution of a search warrant. Detectives are investigating this incident as a death investigation – cause and manner to be determined by the medical examiner. Monday's death was a 23-year-old female and that investigation continues as a homicide investigation. Area Three Detectives are still investigating if the two incidents are related.
CHICAGO - A 'John Doe' was found dead near midday today in the same building as a 'Jane Doe' found dead yesterday afternoon, authorities said.
---
---
Yesterday, Police reported that around 1:22 p.m. they found a female 'Jane Doe' victim in a residence located on the 1000 block of W. Bryn Mawr Avenue in the Edgewater Beach neighborhood on the city's north side.
The woman was pronounced dead on the scene from a gunshot wound to the head and, according to reports from the Sun-Times, detectives were proceeding as a homicide investigation.
Today, just before noon, Police reported they found a male 'John Doe' victim unresponsive inside a residence on the same above mentioned block. The 'John Doe' was also pronounced dead on scene, though there was no indication of how he died.
We reached out to representatives from the Chicago Police Department and all they were able to confirm was both the John and Jane Doe were found in the same building.
There are no offenders in custody for either incident. Area Detectives are investigating. CPD representatives indicated that the female victim from yesterday was indeed still being investigated as a homicide, but were not clear how they were proceeding with the male's death other than they were continuing to investigate.
---
The Chicago Journal needs your support.
At just $20/year, your subscription not only helps us grow, it helps maintain our commitment to independent publishing.
---
---