College Football Week 3: B1G Summary
Penn State closed the B1G's week with a win against Auburn in the first game on campus between Big Ten and SEC teams since 2011.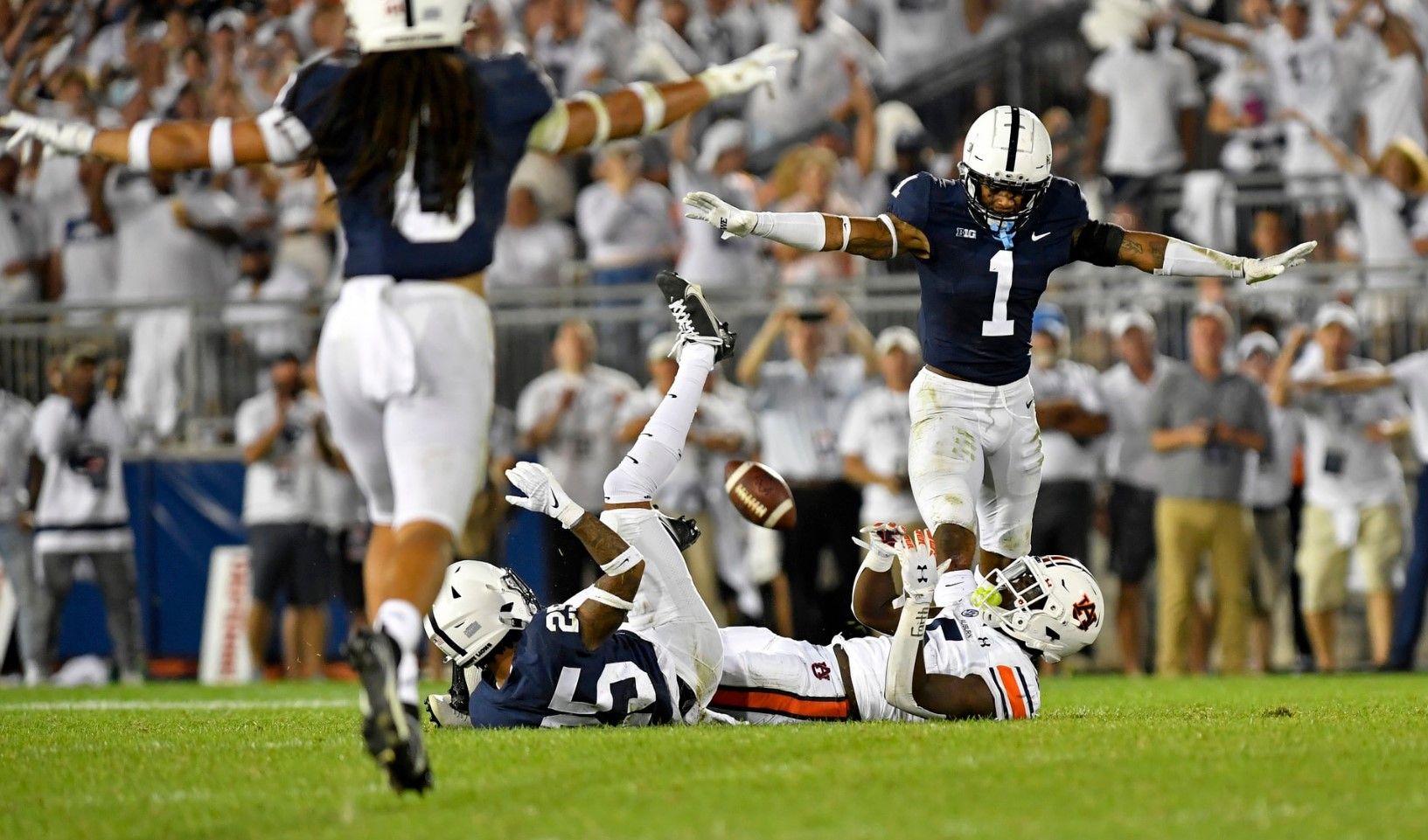 #5 Iowa
Goodson runs for 153 yards, 3 TDs in No. 5 Iowa's victory
IOWA CITY, Iowa (AP) — Tyler Goodson saw nothing in front of him but the end zone — and that was before he got the ball.
---
---
"Pre-snap, I saw it," the Iowa running back said, smiling.
The play that turned into a 46-yard touchdown run early in the first quarter of No. 5 Iowa's 30-7 victory over Kent State on Saturday, was set up perfectly, Goodson said, with the Golden Flashes heading away from him. All he had to do was get the pitch from quarterback Spencer Petras.
"Which I almost dropped, by the way," Goodson said, still smiling.
Goodson caught the pitch, then ran for the touchdown, the first of his three rushing scores.
The Hawkeyes (3-0) have won nine straight games. They have won 14 consecutive nonconference games, the second-longest current streak in the nation.
Iowa's first two wins of the season, against ranked teams Indiana and Iowa State, were built on its defense, which forced seven turnovers in the two games.
It was important to get a balanced offense, and the Hawkeyes did in this game — 206 rushing yards and 212 passing yards.
"We still have a lot of things to work on," Ferentz said. "The execution is still not there. But yeah, there were some good things going on, kind of subtly. It was good to get Tyler going a little bit better."
Goodson's first touchdown gave Iowa a 9-0 lead.
"We liked that play going into the game, but I didn't know that was going to be a touchdown," Petras said. "That was a heck of a job by Tyler to use his speed to get to the end zone."
Goodson added a 35-yard scoring run in the third quarter, then had a 2-yard touchdown run in the fourth quarter to close the scoring.
Goodson had just 154 rushing yards in Iowa's first two wins over Indiana and Iowa State.
"You know, I think the first week, I had a pretty good run game," Goodson said. "And against Iowa State, not so much, they had a pretty good defense. But we handled (Kent State's) defense — they had some pretty good athletes. The guys up front did a pretty good job making sure the running backs had a split second to get the open field."
Goodson became the first Hawkeye to rush for three touchdowns in a game since Akrum Wadley did it in 2017. It was Goodson's sixth 100-yard rushing game of his career.
"The guys up front did a good job getting to their assignments," Goodson said. "It made sure the running backs had just a split second to get to the open field and we did that, from there it was on the running backs to get it to the house."
The Hawkeyes' defense, which had forced seven turnovers in the first two games, got a first-quarter safety when Kent State quarterback Dustin Crum was sacked in the end zone after a bad snap. Crum was 16-of-23 passing for 185 yards and was sacked seven times.
The Hawkeyes forced a turnover in the third quarter, when Kent State had first-and-goal at the 1. Running back Bryan Bradford had the ball knocked away by Jestin Jacobs, and cornerback Riley Moss recovered the ball in the end zone for a touchback. Goodson's second touchdown came on the ensuing possession.
"(Bradford) tried to bounce out," Moss said. "The ball bounced out and I got it. I wanted to run it out, but I tripped a little bit."
"If we get the touchdown there, and the PAT, it's 16-14 and away we go," Kent State coach Sean Lewis said.
Kent State (1-2) came into the game averaging 360 rushing yards, second-best in the nation, but was held to just 79 yards.
Iowa has held opponents to 24 points or under in 25 consecutive games, the longest current streak among Power 5 schools.
MILESTONE WIN
It was Iowa's 300th win at Kinnick Stadium. The first game played at the stadium was October 5, 1929, a 46-0 Iowa win against Monmouth. Iowa is the seventh Big Ten school to win 300 or more games in its home stadium.
LONG DRIVE
Iowa had a 20-play, 95-yard touchdown drive at the end of the first half that took 8 minutes, 38 seconds. Petras threw a 5-yard touchdown pass to tight end Sam LaPorta with 19 seconds remaining in the half. Iowa converted four third downs on the drive. "It just shows us this offense can be strong in any situation," Goodson said.
THE TAKEAWAY
The Hawkeyes finally showed they could move the ball on offense, although Petras still struggled with some throws. He finished 25-of-36 passing for 209 yards. Kent State stayed with Iowa until the third-quarter fumble that changed the momentum.
POLL IMPLICATIONS
The Hawkeyes, at their highest spot in the rankings since November 29, 2015, should stay there this week.
UP NEXT
Kent State: At Maryland next Saturday.
Iowa: Host Colorado State next Saturday.
---
---
#9 Ohio State
No. 9 Buckeyes struggle with Tulsa, pull away for 41-20 win
COLUMBUS, Ohio — TreVeyon Henderson broke Archie Griffin's 49-year-old freshman rushing record, romping for 277 yards and three touchdowns as No. 9 Ohio State pulled away late to beat Tulsa 41-20 on Saturday.
Henderson ran for scores of 5, 48 and 52 yards, which managed to paper over some of the same weaknesses Ohio State showed in the 32-25 upset by Oregon last week that sent the Buckeyes tumbling in the AP Top 25 poll.
As a team, the Buckeyes (2-1) were not sharp. But Tulsa (0-3) couldn't match them blow for blow, and Henderson, who ran for 69 yards in the first two games combined, broke through with some huge plays at critical times. A late interception that Cameron Martinez returned for a 61-yard touchdown made the score look worse than it was for the persistent Golden Hurricane.
The Ohio State defense, while holding Tulsa to 73 yards on the ground, allowed Tulsa quarterback Davis Brin to throw for a career-high 428 yards and the team's first two touchdown passes this season. Josh Johnson caught eight passes for a career-high 149 yards.
Henderson's first big run came in the third quarter with Ohio State hanging on to a 13-6 lead. He bounced right and blew past defensive backs for the 48-yard touchdown. Then at the end of the quarter, after Tulsa had pulled to 20-13, he broke through a hole in the middle and headed for the left sideline and the 52-yard score.
Ohio State's freshman quarterback, C.J. Stroud missed some receivers, tossed an interception and lost a fumble. He threw for 185 yards and a late touchdown to Garrett Wilson that gave the Buckeyes some breathing room.
THE TAKEAWAY
Tulsa: The Golden Hurricane took advantage of a still-disheveled Ohio State squad and went at the Buckeyes hard. They put up more that 500 yards of offense and stopped nearly everybody except Henderson.
Ohio State: Defensive issues are still prominent. Stroud has moments where he still looks uncomfortable. Coach Ryan Day may have found a bell cow after splitting carries among Henderson and a couple others in the first two games.
INJURIES
Ohio State G Thayer Munford left the game with an injury to his right leg late in the first quarter. S Josh Proctor, the most experienced player on the defense, was out after suffering a leg injury suffered in last week's game. DE Zach Harrison also was out with an unspecified ailment.
POLL IMPLICATIONS
Struggling with a 25 1/2-point underdog at home likely won't get the Buckeyes many extra votes, especially with last week's loss still fresh.
UP NEXT
Tulsa: Hosts Arkansas State next Saturday. Ohio State: Hosts Akron next Saturday in a prime-time contest.
---
---
#10 Penn State
No. 10 Penn St holds on to white out No. 22 Auburn 28-20
STATE COLLEGE, Pa. (AP) — Jaquan Brisker skipped across a field littered with white pom poms and toward a row of Penn State students painted white from head to toe.
The Nittany Lions' star safety had a big smile on his face, and it didn't fade one bit even as he tripped over a photographer while celebrating a dramatic win on a raucous night in Happy Valley.
Brisker broke up a desperation pass toward the end zone by Auburn's Bo Nix as time expired and No. 10 Penn State held on to beat No. 22 Auburn 28-20 on Saturday night.
Sean Clifford completed 28 of 32 passes for 280 yards and two touchdowns as Penn State (3-0) welcomed back its white out crowd to Beaver Stadium for a rare visit from a Southeastern Conference teams.
"I was ready," Brisker said. "When you come to Penn State, you expect to play in front of big crowds like this. You've got to take it in for 10 seconds, then it's back to reality."
Jahan Dotson made 10 catches for 78 yards and a touchdown, tight end Brenton Strange caught a touchdown and tight end Tyler Warren and Noah Cain ran for scores to help the Nittany Lions beat an SEC opponent at home for the first time since 1985 against Alabama.
Penn State had to make two late defensive stands to hold the lead.
"I think we have a really good mentality on defense," coach James Franklin said. "I think our leadership is really good. I think we're a mentally tough football team. I think we're a physically tough football team."
First, the Nittany Lions kept Auburn (2-1) out of the end zone after a first-and-goal at the 10. An incomplete fade from the 2 on fourth down with 3:08 left gave Penn State the ball back.
Auburn coach Bryan Harsin said he and offensive coordinator Mike Bobo script plays for those situations and that was the call they liked best. He said Nix had multiple options —- not just the fade that really wasn't close — but said he'd have to watch the film before knowing if it was the best decision.
"I trust what he saw out there — we'll look at it, we'll learn from it and we'll go from there," Harsin said.
The Nittany Lions could not run out the clock and punted back to Auburn with 45 seconds left.
Auburn managed to get to the Penn State 23 with 3 seconds left. Nix fired deep down the middle but Brisker cut in front of Demetris Robertson a few steps in front of the goal line and knocked it down.
Brisker also had a key late interception near the goal line in the opening win against Wisconsin.
Tank Bigsby scored a pair of rushing touchdowns and Anders Carlson added two field goals for the Tigers, who lost their 10th straight road game to a top-10 team since 2014.
Penn State had no white out last year because the pandemic meant no fans. The Nittany Lions broke it out early this season for Auburn's first trip to a Big Ten stadium since 1931 against Wisconsin.
A sea of white with specks of Auburn orange was hyped throughout, pom poms waving and singing along to "Sweet Caroline" to start the fourth quarter.
Despite the electric atmosphere with more than 109,000 fans, the Tigers never looked rattled.
The first game regular-season game on campus between Big Ten and SEC teams since 2011 must have had a lot of fans asking for more just like it.
Bisgby ran for 102 hard yards and Nix was 21 for 37 for 185 yards and no turnovers in the first real test under Harsin, who was hired away from Boise State in the offseason.
"This loss, it should burn," Harsin said. "There a lot of guys in that locker room that are disappointed, and they should be."
Maybe one time, Auburn looked out of whack.
The Tigers opted for a wideout option pass to open the third quarter.
Kobe Hudson, looking to throw, was hit by multiple defenders and fumbled to Penn State's Derrick Tangelo. The Nittany Lions needed just four plays to take a 21-10 lead.
The Tigers mounted their longest drive of the night after that, a 15-play, 75-yard trek that ended when Bigsby beat the defense around the right edge for a 6-yard score.
After the Auburn defense made a fourth-down stop at midfield, Carlson cut Penn State's lead to 21-20 with a 43-yard field goal with 14:55 left when Harsin passed on going on fourth-and-1.
Penn State took over from there.
Cain made it 28-20 when he took a delayed handoff up the middle for 3 yards midway through the fourth.
THE TAKEAWAY
Auburn: The Tigers fell to 1-5 against Top 25 teams since last year because they lacked some plays in the passing game when they most needed them.
Penn State: The Nittany Lions showed some creativity on offense with wnd-arounds to Dotson, an option pass that worked and direct snaps to a hulking tight end.
"These guys know what this means to me," Dotson said. "They know they can count on me at any point. It's what I do."
UP NEXT
Auburn: Hosts Georgia State.
Penn State: Hosts Villanova.
---
---
#25 Michigan
Corum's 3 TDs help No. 25 Michigan rout N. Illinois 63-10
DAVE HOGG | Associated Press
ANN ARBOR, Mich (AP) — Blake Corum rushed for 123 yards and three touchdowns as No. 25 Michigan routed Northern Illinois, 63-10 on Saturday.
The Wolverines (3-0) scored touchdowns on their first nine drives, eight of them on the ground. The 10th drive also included a touchdown run, but it was called back for a holding penalty and Michigan turned the ball over on downs. The Wolverines never punted.
Northern Illinois responded with its touchdown with 8:28 to play.
The Huskies (1-2) kicked a field goal on their second possession of the game, but it was already clear they were in major trouble.
Michigan scored short rushing touchdowns on its first four possessions, two by Hassan Haskins, to take a 28-3 lead in the second quarter.
The Wolverines changed up a bit on the fifth possession, scoring on an 87-yard pass from Cade McNamara to Cornelius Johnson - the third-longest passing play in school history - to lead 35-3 at the half.
The Wolverines switched quarterbacks at halftime, putting in J.J. McCarthy, but he hadn't thrown a pass when Corum scored on a 49-yard run to increase the margin to 42-3. Michigan used six quarterbacks in the game.
While Michigan hadn't played Northern Illinois since a 33-17 victory in 2005, there was still an element of revenge for the Wolverines. Huskies quarterback Rocky Lombardi led Michigan State to a 27-23 win in Ann Arbor last season.
THE TAKEAWAY
Michigan's a lot better than a Mid-American Conference team that just gave up 50 points to Wyoming. That shouldn't be a surprise, but the Wolverines have had some tough times against the MAC in recent years.
The Huskies won their opener at Georgia Tech and led Wyoming in the last two minutes, but the Big House was a step too far. Even on a sleepy Saturday - the late-arriving Michigan student section didn't show up at all - Northern Illinois was overmatched in every part of the game.
POLL IMPLICATIONS
The Wolverines are likely to move into the top 20 after taking apart a team that does have a road win against a Power Five opponent. However, the game was so lopsided, voters might have a hard time taking it seriously.
UP NEXT
Huskies: host Maine next Saturday.
Wolverines: host Rutgers next Saturday to begin Big Ten play.
---
---
Maryland vs. Illinois
Petrino's late FG lifts Maryland over Illinois 20-17
CHAMPAIGN, Ill. (AP) — Joseph Petrino kicked a 32-yard field goal as time expired to lift Maryland over Illinois 20-17 on Friday night.
But the win didn't come easy for the Terrapins (3-0, 1-0 Big Ten) in their conference opener.
In a game best described as weird from beginning to end, the normally explosive Terrapins consistently had trouble against a tough Illinois defense. Taulia Tagovailoa passed for 350 yards (32 of 43) but was held to only one passing touchdown.
"We had faith in Joe," Tagovailoa said. "He makes those kicks every day in practice. It was his time to shine."
Tayon Fleet-Davis carried the ball 11 times for 62 yards for Maryland. He also caught the lone touchdown pass from Tagovailoa.
Illinois quarterback Brandon Peters, in his first start since being injured early in the first game of the season against Nebraska, was effective but clearly rusty for Illinois (1-3, 1-1). He was 10-of-26 passing for 185 yards and had one interception.
Josh McCray carried the ball eight times for 60 yards and had a 38-yard touchdown run for the Illini. Chase Brown carried 14 times for 57 yards. Receiver Casey Washington had a 30-yard touchdown run.
The game got interesting on the first drive of the third quarter. Tagovailoa marched the Terrapins down the field to cap a drive with a 2-yard touchdown run by Fleet-Davis to make the score 10-3 Maryland. Illinois then went three and out, but Maryland fumbled the ball on its next drive at the Illinois 7 that prevented what appeared to be a certain score.
Illinois then put together an impressive eight-play drive capped by McCray's 38-yard touchdown run.
McCray and Brown would each leave the game in the second half with injuries, which severely hindered the Illinois offense.
Illinois coach Bret Bielema said McCray was taken to a local hospital but had no update on his condition.
The Illini took the lead in the fourth quarter, after a series of fumbles and turnovers by both teams, when Washington recovered a fumble by teammate Reggie Love III and scampered 38 yards into the end zone.
Maryland answered with a 10-yard touchdown pass from Tagovailoa to Fleet-Davis to tie the score at 17.
Illinois couldn't put together a drive late in the game, and Maryland took advantage of a short field following an Illinois punt from its own end zone that helped set up Petrino's game-winning kick.
GREAT DEFENSE
The first half featured impressive defensive play by both teams. The Illinois secondary was especially tough, and Tagovailoa had a hard time finding open receivers down field.
"Credit to Maryland, obviously they did enough in the end to execute to win," Bielema said. "I thought our guys on a short week did a lot of good preparation and got to where we want to be. Defensively, I thought we came out and did some things in the first half to limit their opportunities offensively. Unfortunately, we stalled out in some red areas."
THE TAKEAWAY
It was a tough loss for an Illinois team clearly ready for a superior opponent, while Maryland should consider itself lucky to escape with a win.
UP NEXT
Maryland: Hosts Kent State on Sept. 25
Illinois: Travels to Purdue for another Big Ten matchup on Sept. 25.
---
---
Indiana
Ridder helps No. 8 Bearcats rally for 38-24 win at Indiana
BLOOMINGTON, Ind. -- — Cincinnati quarterback Desmond Ridder struggled through the first half.
He reverted to form in the second half -- and so did the Bearcats.
The senior threw two touchdown passes and ran for another in the final 30 minutes, helping No. 8 Cincinnati rally for a critical 38-24 victory at Indiana on Saturday.
"This is huge. I feel like it's a weight lifted off our shoulders," Ridder said. "People talk about checklists and what you've got to do and that's a check mark off the list."
It's one. But the bigger one could come in two weeks when the unbeaten Bearcats visit Notre Dame for a showdown that could provide momentum for their playoff hopes.
Without Ridder's resilience, those aspirations could have ended in Bloomington. His two first-half turnovers, an interception and a fumble, allowed Indiana to build a 14-0 lead in front of its largest home crowd for a non-conference game, 52,656, since September 1987.
But the momentum swung when Ridder took a big hit on third-and-10 late in the first half. A replay review resulted in a targeting call and the ejection of Hoosiers linebacker Micah McFadden, giving the Bearcats a rare first down.
Almost instantly things changed for Indiana (1-2).
"We were dominating them till that point," Indiana coach Tom Allen said. "He's our leader, he's part of our pressure, he makes a lot of tackles, and when you lose a guy like that, that's tough."
The Bearcats sensed it, too, and Ridder wasted no time taking advantage by leading the Bearcats (3-0) to their first score. They added a field goal before halftime and Cincinnati finally took the lead on Jerome Ford's second TD run, a 3-yarder midway through the third quarter.
Indiana answered with a 14-yard scoring run from D.J. Matthews Jr. Tre Tucker gave Cincinnati a 23-21 lead with a 99-yard return on the ensuing kickoff, b ut when the Bearcats missed the extra point the Hoosiers regained the lead with a 49-yard field goal.
Ridder took care of the rest.
He threw a 19-yard TD pass to Alec Pierce for the go-ahead score with 12:13 remaining, scored on a 7-yard run with 2:37 to go and completed a 2-point conversion pass to seal Cincinnati's big win.
"It's huge for us," coach Luke Fickell said. "It's a little different world for us just because it's a little bit of a spotlight, a little bit of a bull's eye. I'm not saying it's any more of a spotlight or a bull's eye than anyone else who's ranked. But for us as a program it's a little different than what we've experienced and our guys are finding a way to really handle it."
THE TAKEAWAY
Cincinnati: Fickell was worried about this season's first road trip — and with good reason. The Bearcats had five false starts and two turnovers in the first half. But Cincinnati cleaned things and rallied in the second half.
Indiana: Losing McFadden, a captain changed everything, for the Hoosiers' defense. Add their red-zone struggles, three turnovers and the special teams breakdown and it was the perfect combination for a loss.
POLL IMPLICATIONS
Cincinnati: The voters may dock the Bearcats for lacking style points, which could cause them to slide a little — but not too far.
Indiana: The Hoosiers needed a win to return to the rankings. Their next chance could come in two weeks.
STAT PACK
Cincinnati: Ridder was 20 of 36 with 210 yards, one touchdown and one interception. He also ran 10 times for 45yards and lost a fumble. ... Pierce had five receptions for 86 yards. ... Linebacker Darrian Beavers left briefly in the first half but forced and recovered a fumble to stop one Indiana scoring threat and sacked Michael Penix Jr. to start Indiana's second-to-last possession.
Indiana: Penix was 17 of 40 with 224 yards, two TD passes and three interceptions. He's been picked off three times in each of the Hoosiers' losses. He did not take questions after the game because he was having X-rays on his throwing arm, which he hurt during the game. ... Stephen Carr rushed 21 times for 52 yards and scored on 5-yard TD reception. ... Matthews had five receptions for 120 yards, the second 100-yard game of his college career. ... Peyton Hendershot caught six passes for 60 yards and one TD.
UP NEXT
Cincinnati: The Bearcats have a bye week, then head to No. 12 Notre Dame on Oct. 2.
Indiana: visits Western Kentucky next Saturday.
---
---
Michigan State
Spartans run: Michigan State rolls past No. 24 Miami, 38-17
MIAMI GARDENS, Fla. (AP) — Michigan State spent the week preparing for a fight. That was the analogy that the Spartans used all week, telling each other that their game at Miami would be a grind-it-out bout decided in the later rounds.
Sure enough, it happened.
And the Spartans were the ones throwing the knockout punch.
Payton Thorne passed for 261 yards and four touchdowns, two of those scoring throws going to Jalen Nailor, and Michigan State extended its unbeaten start by topping No. 24 Miami 38-17 on Saturday. The Spartans outscored Miami 21-3 in the fourth quarter to pull away, somehow looking like the fresher, fitter team on a day where the on-field temperature hovered near 100 degrees.
"There was a point in time when we said, 'Let's finish this thing,'" Thorne said.
Kenneth Walker III rushed for 172 yards and caught a touchdown pass for the Spartans (3-0), who are off to their best start since 2015.
Jayden Reed also had a scoring catch and a touchdown run for Michigan State, which forced four turnovers.
King was 38 of 59 passing — both of them Miami school records — for 388 yards, with two touchdowns and two interceptions. He also fumbled the ball away once and lost another on a strip-sack in the fourth quarter, plus was shaken up at least twice and needed to leave the field once for evaluation.
"The guy gives everything out there," Miami coach Manny Diaz said of King. "He lays it all on the line for the University of Miami. ... He's hurt, and hurt in a way because he's hurt emotionally. He wants so badly for us to be great and be great on offense. He's such a competitor and he's not going to be satisfied until we are."
King — who rehabbed a torn ACL throughout the offseason and didn't miss a game — said he would get his shoulder examined Sunday, but insisted it was "not too bad."
Charleston Rambo tied a school record with 12 catches for Miami, good for 156 yards and both of the Hurricanes' touchdowns. Andres Borregales kicked a 55-yard field goal — matching the fourth-longest in school history — for the Hurricanes midway through the fourth, getting them within a touchdown.
Thorne didn't need long to end their hopes, coming up big with his legs as well on what became the game-sealing drive.
He got 22 yards up the middle on third-and-6 and then fell forward barely far enough — maybe by a chain link, two at the most — on fourth-and-1 with 4:25 left to extend the series.
The effort was worthwhile and one play later, Thorne had Miami fans leaving for the exits in droves. He found a wide-open Nailor for an easy 39-yard score that made it 31-17 and ensured Michigan State would finally beat the Hurricanes for the first time in five tries.
"It was a good team win for us on the road against a good opponent," Michigan State coach Mel Tucker said. "Credit to our entire organization ... everyone had a part in this. We had a lot of challenges that we knew we would have to overcome to get this done."
The Hurricanes (1-2, for the second time in the last three years) were outgained 193-52 in rushing and were minus-4 in the turnover battle.
"We had extreme effort. Effort wasn't a problem," Miami safety Bubba Bolden said. "It was the little things. Little things add up. Undisciplined things."
After expressing frustration all week over not getting red-zone touchdowns — the Hurricanes turned eight such trips into only two TDs in the first two games — Miami left the offense on the field and King hit a wide-open Rambo in the back of the end zone for a 7-3 lead.
Walker caught a 7-yard pass from Thorne with 2:56 left in the half to put Michigan State back on top, 10-7.
The Spartans wouldn't trail again, then wound up dominating those late rounds to finish it off.
"Physical football," Thorne said. "That was our goal and our focus."
THE TAKEAWAY
Michigan State: It was 87 degrees at kickoff with a heat index making it feel like 97 — the warmest game for the Spartans since a trip to Arizona State in 2018. They had sun-shielding canopies over the benches with misting fans and some players resorted to putting wet towels atop their heads. And clearly, they weren't bothered by any of the weather challenges.
Miami: This was Miami's worst home non-conference loss since a 31-6 defeat to East Carolina in 1996. The Hurricanes have trailed at halftime in five consecutive games going back to last season, their longest such streak since midway through the 2013 season.
POLL IMPLICATIONS
Michigan State could return to the AP Top 25 for the first time since being ranked 25th in the poll of Sept. 29, 2019. Miami's run of 19 consecutive weeks in the poll — the eighth-longest such streak in the nation — will end.
WELCOME BACK
Miami's 1991 national championship team — with coach Dennis Erickson and quarterback Gino Torretta front and center — was recognized at halftime.
UP NEXT
Michigan State: Host Nebraska on Sept. 25.
Miami: Host Central Connecticut State on Sept. 25.
---
---
Minnesota
Minnesota routs Colorado 30-0 behind stout defense, Potts
BOULDER, Colo. (AP) — Thomas Rush's big-play afternoon looked like this: Three tackles, two sacks and assisting fans who fell a short distance near the north end zone after a retaining barrier broke.
The Minnesota defensive lineman was one of several Gophers players and team personnel who came to the rescue when a fence gave way along the Minnesota sideline as the team celebrated following the game. The advertising signs helped brace the short fall — the Gophers mascot was knocked to the ground — and police quickly arrived to assist. No injuries were reported.
An eventful day from start to finish for the Gophers.
Trey Potts ran for three touchdowns, Minnesota's swarming defense held Colorado to just 63 total yards and the Gophers won their 21st straight nonconference game by beating the Buffaloes 30-0 on Saturday.
"We were all on the same page," Rush said.
This marked the first time Colorado (1-2) has been shut out at Folsom Field since Nov. 3, 2012, against Stanford. The last nonconference team to shut out Colorado in Boulder was LSU on Sept. 15, 1979.
In addition, it was the first shutout of a Power Five team on the road by Minnesota since Nov. 12, 1977, at Illinois.
"We came in here with incredible focus," Minnesota coach P.J. Fleck explained. "What our defense did was a wonderful performance."
Wearing shiny gold helmets, the Gophers defense certainly sparkled. They sacked Colorado QB Brendon Lewis four times and held the Buffaloes offense to no passing plays of more than 15 yards or any runs longer than 10. Colorado had just 7 total yards in the first half and couldn't get anything going in the second half, either. The Buffaloes finished with minus-19 yards on the ground.
Minnesota also forced two turnovers — one on a fumble from Lewis and another when Dimitri Stanley muffed a punt.
The Gophers (2-1) made it a memorable afternoon for Fleck, who was coaching in his 100th career game. He's now 58-42 overall, including 28-20 in five seasons with Minnesota.
They finished with a 441-63 total-yards edge.
Potts had TD runs of 13, 2 and 3 yards on his way to a 121-yard performance. It was another strong showing since taking over for injured tailback Mohamed Ibrahim, who was using a scooter to move around the sideline with his lower left leg in a green cast. Potts had 178 yards and two scores last weekend.
"We played lights out," Potts said.
About the only hiccup was the kicking game, where senior Matthew Trickett missed 24- and 46-yard field goals along with an extra point. Trickett connected on a 33-yarder in the fourth quarter to make it 23-0.
Minnesota's 21 straight nonconference win streak is the longest active one in the nation. The Gophers haven't lost a game out of conference since Sept. 3, 2015, against TCU. The streak includes 17 regular-season victories and four bowl wins.
The Buffaloes never found an offense that worked for Lewis, who was under constant pressure. He finished 8 of 16 for 55 yards before giving way to freshman Drew Carter in the fourth quarter. There was a scary play late in the fourth when Carter was shoved out of bounds and toppled over a barrier. He quickly returned to the game.
"That was a complete, I would say, beatdown in every way," Colorado coach Karl Dorrell said. "We're not the flashiest thing in town right now, and I get that, and we're going to continue to work and get ourselves better and to get our fan base to be excited again. ... That wasn't good enough."
The last time these two teams met was in 1992, when the Buffaloes had an anemic first half on offense before pulling out a 21-20 win in Minneapolis.
Not this time.
"You've just got to look yourself in the mirror as a man, see you got out-physicalled," Colorado defensive end Carson Wells said. "Come back tomorrow with a better mindset."
THE COMMISH'S VISIT
Pac-12 commissioner George Kliavkoff paid a visit to Boulder as part of his listening tour. He's now been to 10 of the 12 campuses, with Arizona State and Washington on deck.
THE TAKEAWAY
Minnesota: The Gophers entered the game 0-3 against Colorado, which was their second-most games played without a victory over a current FBS team. The No. 1 spot is 0-4-1 versus Notre Dame.
Colorado: In two games, the Buffaloes have now scored just seven points. Changes may be on the way, whether it's a new QB or new play-caller. "It is one of those points in the season, given that performance, that we really had to reevaluate everything," Dorrell said.
UP NEXT
Minnesota: Host Bowling Green next Saturday.
Colorado: At Arizona State next Saturday to open Pac-12 play.
---
---
Nebraska
Rattler, No. 3 Oklahoma hold off Nebraska 23-16
Cliff Brunt | Associated Press
NORMAN, Okla. (AP) - Oklahoma and Nebraska played as if they were trying to uphold the history of the rivalry.
Spencer Rattler passed for a touchdown and ran for another, and No. 3 Oklahoma held on to beat Nebraska 23-16 on Saturday.
Celebrating the 50-year anniversary of the "Game of the Century" — No. 1 Nebraska's 35-31 win over No. 2 Oklahoma in 1971 — the teams rewarded their nostalgic fans with a competitive contest. The programs had a fierce, yet respectful rivalry in the Big Eight and Big 12, with Nebraska winning five national titles and Oklahoma claiming four between 1970 and 2000.
"It was just a hard-fought game," Oklahoma coach Lincoln Riley said. "You knew it would be. There's a lot of pride in these two programs. Both these programs have won a lot of games, a lot of championships. To bring this game back — I think everybody sensed how special it would be. Both teams rose to the occasion and gave us a great college football game."
It was their first meeting since 2010 — right before Nebraska left the Big 12 for the Big Ten — and it was memorable and much closer than expected. The Sooners were a three-touchdown favorite and there were even reports during the offseason that Nebraska looked at possibly trying to reschedule the game for its rebuilding program to another year.
Turns out the Huskers were more than game.
Nebraska got the ball trailing by a touchdown with 57 seconds remaining and no timeouts. The Sooners sacked Adrian Martinez twice on the final drive, and the Cornhuskers could not manage a first down.
Eric Gray ran for 84 yards on 15 carries and Kennedy Brooks added 75 yards on 14 attempts for the Sooners (3-0), who gained 408 yards.
Martinez passed for 289 yards and a touchdown for Nebraska (2-2), which sought its first win over a ranked team since 2015.
"Our guys aren't into moral victories," Martinez said. "We want to win games. Simple as that. There are definitely a lot of positives to take away from today, and we will do that once we watch the film. But at the end of the day, we lost the game. So that is that."
Oklahoma opened with an old-school 14-play, 75-yard drive. Rattler sneaked in from the 1 to give the Sooners a 7-0 lead.
Nebraska responded with a 14-play drive, but the Huskers were derailed by four penalties. Connor Culp's career-long 51-yard field goal put the Cornhuskers on the board.
Oklahoma led 7-3 at halftime. In the third quarter, Oklahoma's Mario Williams took a pitch and threw backwards to Rattler, who found Marvin Mims open for a 23-yard gain. The Sooners cashed in and took a 14-3 lead when Rattler connected with Jeremiah Hall in the end zone for a 1-yard touchdown pass.
Nebraska appeared to gain momentum when Martinez scored from 4 yards out. Nebraska's large visiting crowd roared, and a loud "Go Big Red" chant followed with eight seconds left in the third quarter.
Oklahoma quickly responded. Isaiah Coe blocked the extra point, and Pat Fields returned it 100 yards for two points. It was Oklahoma's first blocked extra point return for a 2-point conversion since Zack Sanchez ran one back against TCU in 2014.
Brooks scored on a 2-yard run early in the fourth quarter, and the extra point put the Sooners up 23-9.
Martinez completed a 55-yard pass to Zavier Betts, and a 15-yard unsportsmanlike conduct penalty against Oklahoma's sideline was tacked on to take the ball from the Nebraska 13 to the Oklahoma 17. Sooner cornerback D.J. Graham's spectacular leaping one-handed interception on fourth down snuffed out the threat.
Nebraska eventually gained possession in good field position, and Martinez found Omar Manning for a 21-yard touchdown pass. The extra point cut Oklahoma's lead to 23-16 with 5:38 to play.
Oklahoma knocked nearly five minutes off the clock with its next drive, leaving the Cornhuskers with little time to respond.
Nebraska coach Scott Frost said he was proud of the way his team played.
"We're going to get more opportunities to win a big game," he said. "But if they play like that — like we played today all year, and fight that hard all year, we're going to have a chance in a lot of games. And as disappointed as I am, I'm happy for the way that they competed."
THE TAKEAWAY
Nebraska: The Cornhuskers fought valiantly and the defense put up another solid performance. Nebraska had allowed seven points to Fordham and three to Buffalo in its previous two games. But the Cornhuskers will need to cut down on penalties and mistakes to compete in the Big Ten.
Oklahoma: The Sooners had another strong defensive effort a week after shutting out Western Carolina 76-0. Nebraska had averaged 517 yards per game, but Oklahoma held the Cornhuskers to 384 yards. The Sooners slogged their way through non-conference play unbeaten, but they will need to figure out how to finish drives better heading into league play.
POLL IMPLICATIONS
Oklahoma likely won't lose much ground, even though the game was closer than expected.
STOOPS HONORED
Bob Stoops, who coached Oklahoma to the 2000 national title, was honored at halftime for being inducted into the College Football Hall of Fame's 2021 class.
Stoops won 190 games in 18 seasons with the Sooners and led the Sooners to four BCS National Championship Game appearances.
Stoops was also in town as part of Fox's "Big Noon Kickoff" pregame show.
QUOTABLE
Martinez on the experience: "It was awesome. It was. The atmosphere, just how close you are on the sideline. I mean, we maybe had a foot of room over there (in front of the fans), and I loved it. I had the student section chirping me. Let's go. Bring it on, you know what I mean? So you've got to love it. It's a part of college football. And I was happy to be here today."
UP NEXT
Nebraska visits Michigan State on Saturday to open Big Ten play.
Oklahoma opens its Big 12 slate by hosting West Virginia on Saturday.
---
Follow Cliff Brunt on Twitter: https://www.twitter.com/CliffBruntAP.
---
---
Northwestern
Duke starts fast, holds off Northwestern in 2nd half, 30-23
By MITCHELL NORTHAM | Associated Press
DURHAM, N.C. (AP) — Duke scored three touchdowns in the first quarter and did all its scoring in the first half, then held off a Northwestern comeback to earn a 30-23 victory in a non-conference game Saturday afternoon.
"I would like to stop doing what losing teams do," Northwestern coach Pat Fitzgerald said. "Losing teams turn the ball over. Losing teams have self-inflicted wounds. Losing teams give up explosive plays. Losing teams have communication issues. That's why you lose games. This is not hard. I'm not trying to discredit Duke, but we gift-wrapped it for them."
The Blue Devils were efficient on both sides of the ball early on, scoring on six of their first eight possessions behind Gunnar Holmberg, who completed 31 of 44 passes for a career-high 314 yards and a touchdown.
"Gunnar is playing pretty dang well. Gunnar wants to win, and Gunnar is a humble and an unselfish player," Duke coach David Cutcliffe said. "He's a good thrower. But also, Northwestern did crowd the line of scrimmage. There's no reason to be hard-headed."
Meanwhile, the Blue Devils' defense forced Northwestern (1-2) into a punt or a turnover on its first seven drives.
The Wildcats didn't score until late in the second quarter, following a change at quarterback. Starter Hunter Johnson threw three interceptions and was relieved by Andrew Marty, who orchestrated a quick scoring drive that covered 75 yards in just six plays.
Northwestern mustered two more touchdown drives, but never quite caught up with Duke (2-1). Marty seemed to be scampering toward another score in the fourth quarter, but had the ball stripped away from him by Duke's Dewayne Carter on a play that Cutcliffe called "momentum-swinging."
"That's one of the first plays I talked about in the locker room," Cutcliffe said. "Just an amazing effort play. That's what a captain does. Dewayne stepped up in a huge way."
Marty was injured on the play and was replaced by South Carolina transfer Ryan Hilinski.
Despite fumbling twice, Mateo Durant ran for 143 yards for Duke and notched his third straight multi-touchdown game. Jake Bobo notched career-bests in catches and yardage, hauling in 11 of Holmberg's attempts for 109 yards.
THE TAKEAWAY
Duke: The potency of the Blue Devils' attack dwindled in the second half as they were outscored 16-0, but the cushion Duke built for itself was enough to keep the Wildcats away. Defensively, Duke did something it hadn't done in seven years by forcing five turnovers. The last time the Blue Devils had that many takeaways was Sept. 20, 2014 against Tulane.
Northwestern: In addition to exiting this game with a loss and a potential question at quarterback, the Wildcats' competence on defense has slipped. A year ago, Northwestern had the fifth-best scoring defense in all of the Bowl Subdivision, allowing an average of just 15.6 points per-game. On Saturday, it gave up at least 30 points for the second time this season.
NEW QB FOR NW?
After the defeat, Fitzgerald was complimentary of his backup quarterback's performance.
"I thought (Marty) went in and was ready to roll. He was confident and capable," Fitzgerald said. "It's unfortunate that he got hurt, but I thought he gave us a spark and I'm really proud of him."
Fitzgerald didn't have an update on Marty's injury and it's unclear who will start next weekend. Hillsinki has experience – playing in 11 games for the Gamecocks in 2019 – but entered this game as third on the depth chart.
"It's hard to get one quarterback ready, let alone three, but I'm proud of the way (Hillsinki) went out there and put some drives together too," Fitzgerald said. "We got to take care of the ball, No. 1. Let's start there."
UP NEXT
Duke: The Blue Devils are home for the third straight game next weekend, facing the winless Kansas Jayhawks.
Northwestern: The Wildcats host the Ohio Bobcats of the Mid-American Conference at Ryan Field next weekend.
---
---
Purdue
Kelly ties Rockne as No. 12 Irish hold off Purdue 27-13
SOUTH BEND, Ind. (AP) — No. 12 Notre Dame got big three big plays from two of its offensive captains and helped coach Brian Kelly match Knute Rockne for the most victories in program history.
Kyren Williams scored two long touchdowns, the second a 51-yard run with 6:05 remaining, and Avery Davis scored on a 62-yard reception as the Fighting Irish beat Purdue improved to 3-0.
Victory No. 105 for Kelly in his 12-year career at Notre Dame was also the 26th straight for the Irish at home. The Fighting Irish won their eighth straight over Purdue and first since 2014.
"It takes a lot of things to be in place for that to happen," said Kelly, whose first victory at Notre Dame was a 23-12 victory over Purdue at Notre Dame during the 2010 season. "Father John (Jenkins, the university president) and (athletic director) Jack (Swarbrick) have been on this journey. Consistency, leadership and alignment — all those things have to come together to get to this point."
Williams, who scored on a fourth-and-3 pass play of 39 yards from Jack Coan early in the second quarter to give the Irish their first lead 7-3, finished with 86 yards on 11 carries and two receptions for 47 yards.
Davis, who had five receptions for 120 yards in the game, had a field view of Williams' game-clinching TD run.
"He's insane, his ability to maneuver, his strength to stay up," Davis said of Williams. "Just watching him for a second, I forgot I had to block for him. He's so entertaining."
Williams finished with 91 yards on 12 carries, 47 yards on two receptions and added 30 yards on two punt returns.
Kelly, whose team had struggled in victories over Florida State (41-38 in overtime) and Toledo (32-29), was glad the play did after an intense week of practice for coach Jeff Brohm's Boilermakers (2-1).
"I liked the way our guys prepared this week," Kelly said. "Our level of preparation rose and so did our performance. It wasn't the best by any means. But we developed some players today. They got grittier."
Coan, who was sacked four times and struggled with his accuracy, completed 15 of 31 for 223 yards and two touchdowns. His TD pass to Davis in the third quarter put the Irish up 17-6.
"I thought we did a good job in the first half, kept them in check, got to the quarterback," Purdue coach Jeff Brohm said. "The second half, they made some adjustments and we gave up some big plays."
The Boilermakers outgained the Irish 348-343 thanks to a 291-223 edge through the air and got their only touchdown on a 2-yard pass from Jack Plummer to Milton Wright in the third quarter that cut the Irish lead to 17-13.
Plummer completed 25 of 36 passes for 187 yards but left the game after being sacked by Notre Dame's Isaiah Foskey and Myron Tagovailoa-Amosa. He was replaced by Aidan O'Connell, who threw for 104 yards, but with 2:32 remaining was picked off by Kyle Hamilton in the Irish end zone.
"We feel like we got two guys and multiple guys who can play for us," Brohm said. "We're not going to hesitate to play (multiple) guys."
THE TAKEAWAY
Purdue: Purdue needed more from its running game, which managed just 57 yards on 25 carries.
"From here on out, what I told our football team, is every game's going to be like this.," Brohm said. "We're going to have physical matches and we're going to have to play better to win."
Notre Dame: While the Irish struggled on offense, their defense, maligned for giving up four plays of 60 yards or more in its first two victories, tightened things somewhat against the Boilermakers. For the third straight game, linebacker JD Bertrand finished with double-digit tackles with 12, two more than Hamilton, and the Irish recorded three sacks.
"We added some things this week to get better," Kelly said. "We executed better and tackled better. There's going to be some growing pains but this was an improvement."
PURDUE DRUM
The Purdue Marching Band performed at halftime inside Notre Dame Stadium without its big bass drum, which Notre Dame did not allow onto the field because the tunnel where Notre Dame enters is reserved for the Fighting Irish and their band. The Purdue band used a formation to resemble their absent bass drum, which remained outside the stadium. The bass drum, which is celebrating its 100th anniversary this season, missed its first game since 1979.
TWO QUARTERBACKS
For the second straight week, the Irish used freshman quarterback Tyler Buchner, who is more elusive than Coan. Buchner gained 24 yards on three rushes and was 0 for 1.
"He had a tight hamstring and couldn't go," Kelly said. "We don't think it's anything major."
HAMILTON COMES THROUGH
Hamilton was all over the field for the Irish, finishing with 10 tackles, breaking up two passes and also coming up with his third interception of the season.
Perhaps his biggest play came late in the first quarter when he stopped Wright on an end-around on fourth-and-1 at the Irish 34.
"There's only one guy who can make the plays he did," Kelly said. "I'd pay to watch him play."
POLL IMPLICATIONS
Notre Dame, which fell four spots to No. 12 in the Associated Press poll after its 32-29 victory over Toledo, probably will stay close to there in the next rankings.
UP NEXT
Purdue: Boilermakers open Big Ten play against visiting Illinois.
Notre Dame: Irish visit Chicago's Soldier Field next Saturday to play Wisconsin.
---
---
Rutgers
Rutgers 3-0 for first time since 2012, beats Delaware 45-13
PISCATAWAY, N.J. (AP) — Three games into the season, Rutgers found its big-play offense.
Noah Vedral threw for two touchdowns and Isaih Pacheco ran for two more as the Scarlet Knights defeated Delaware 45-13 Saturday for its first 3-0 start since 2012.
Vedral found Bo Melton on a 28-yard touchdown pass on his opening possession. He hit Brandon Sanders on a 62-yarder for the other TD in helping the Scarlet Knights take 35-10 half lead over their FCS opponent.
Vedral said offensive coordinator Sean Gleeson pushed the group in practice.
"It's the little things; the little things," said Vedral, who was 21 of 25 for 323 yards. "We were close here and we were close there, kind of keeping us from kind of reaching this explosive potential that we always felt we had. So really big day for us to kind of put the pieces together and to see it come together on the field."
The statistics were impressive. Rutgers had a season-high 497 yards in total offense and didn't turn the ball over for the third straight game.
"I think any time you perform efficiently like that, that would help anybody's confidence," coach Greg Schiano said of Vedral. "Noah doesn't lack for confidence, though. He's a very confident guy because he prepares so well."
Pacheco tallied on runs of 20 and 7 yards, while Aaron Young plowed into the end zone from 6 yards out for the Big Ten Conference team. Aron Cruickshank excited the crowd of 40,129 with a 62-yard punt return for a touchdown.
Nolan Henderson threw a 1-yard TD pass to Thyrick Pitts for the Blue Hens of the Colonial Athletic Conference. Ryan Coe had field goals of 53 and 41 yards for Delaware (2-1).
Henderson, who limped off the field in the third quarter, finished 11 of 20 for 98 yards. He was sacked five times. Dejoun Lee ran for 121 yards, with his 71-yard sideline scamper setting up the TD. The Blue Hens ran for 159 yards, including the 42 yards lost on the sacks.
Delaware coach Danny Rocco said he expected his team to play better, but he was satisfied with their effort. He also had no regrets about scheduling an FBS opponent.
"These are games our student athletes want to compete in," Rocco said. "Every now and then, you kind of dial it up just right. And you have an opportunity to take the game deep into the fourth quarter, and every now and then you find a way to win one. I was hopeful to do that today, and I'm disappointed that we were not able it."
The three wins matched Rutgers' (3-6) total in 2020 when Schiano returned for a second stint. He led the Scarlet Knights to six bowl appearances between 2001-11.
OOPS
Rutgers had a Scarlet Knight waving a sword ride into SHI Stadium on a horse about 10 minutes before kickoff. It's been done for years.
It appeared to be a different horse from last year and this time the animal got a little skittish entering the stadium. The rider eventually had to restrain it to prevent it from knocking over some band members who lined to welcome the horse and the team.
THE TAKEAWAY
Rutgers took care of business in the non-conference part of its schedule and now finishes with nine conference games, starting with two ranked opponents. Delaware took its lumps playing an FBS team but pocketed $350,000.
UP NEXT
Delaware: Has a been off and plays host Albany on Oct. 2.
Rutgers: Travels to No. 25 Michigan for Big Ten opener on Sept. 25. The Wolverines also improved to 3-0 with a 63-10 win over Northern Illinois.
"It means something we're 3-0," Melton said. "We work very hard to win every game. And I think for us, we just got a lot of good things going on."
---
---
More AP college football: https://apnews.com/Collegefootball,
https://www.twitter.com/AP_Top25 and
https://podcasts.apple.com/us/podcast/ap-top-25-college-football-podcast
More AP college football: https://apnews.com/Collegefootball and https://twitter.com/AP_Top25
Chicago Journal Newsletter
Join the newsletter to receive the latest updates in your inbox.