College Football Week 11: B1G Summary + ND
Ohio State routs giant-killer Purdue, Michigan makes it out of Happy Valley, and Greg Schiano has Rutgers' sights set on a bowl game. Here are the B1G stories of the week.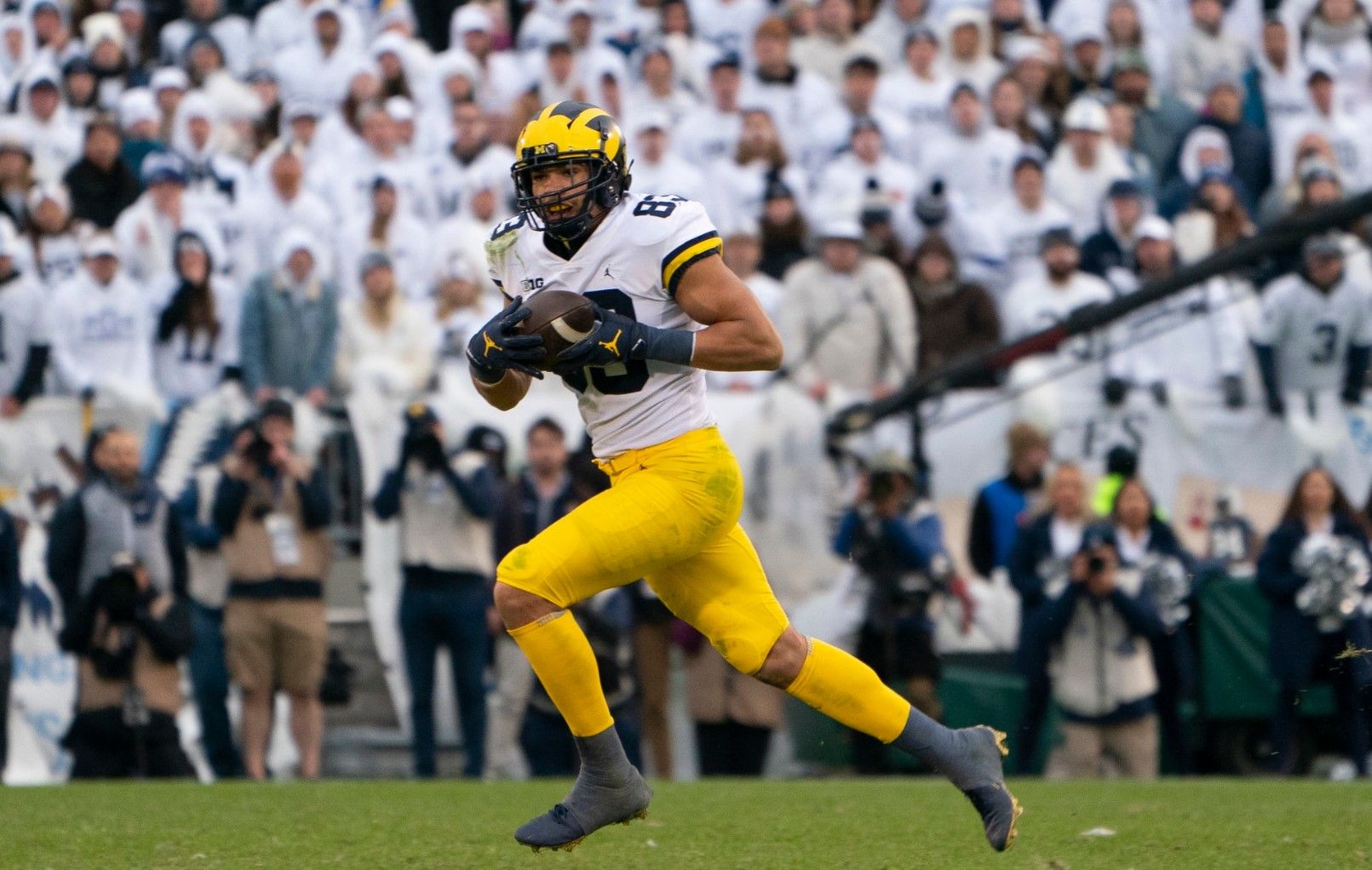 #6 Ohio State vs. Purdue
Stroud throws 5 TD passes, No. 6 Ohio State routs Purdue
COLUMBUS, Ohio -- — After two weeks of some uneven offensive play, the No. 6 Buckeyes were understandably anxious this week with giant-killer Purdue coming to town.
---
---
Ohio State had reason to be wary of the Boilermakers, who had already upset two top-five teams this season. The last time the two teams met, Purdue halted the Buckeyes' 2018 march to the playoffs with a stunning upset in West Lafayette.
No worries this time.
Freshman quarterback C.J. Stroud was dialed in, throwing for 361 yards and five touchdowns as the Buckeyes struck early and rolled over Purdue 59-31 on Saturday.
"It's going to build a lot of confidence," Ohio State coach Ryan Day said. "I don't think our guys were lacking confidence, I just think after the last two weeks — we were on edge a little bit this week, to be honest with you. We just wanted to get back in this game, score in the red zone and get our nose dirty a little bit, and I think we did that."
The Buckeyes (9-1, 7-0 Big Ten, CFP No. 4) scored on all seven of their first-half possessions, piling up 45 points against a Purdue team that hadn't allowed more than 30 in any game this year.
TreVeyon Henderson added to his impressive freshman resume with 98 yards and a pair of first-half TDs. Garrett Wilson caught three touchdown passes and ran for another.
"We were lucky to hold them to 59," Purdue coach Jeff Brohm said.
The Buckeyes romped early, capitalizing on two Boilermakers turnovers, the second of which was a fumbled kickoff recovered on the Purdue 14. The 12-yard catch by Wilson two plays later gave the Buckeyes two touchdowns in 14 seconds.
Wilson had 10 catches for 126 yards. Jaxson Smith-Njigba followed up a 15-catch, 240-yard effort last week with nine catches for 139 yards a a TD.
Chris Olave had nine receptions for 85 yards a touchdown, the 33rd of his career and one away from the school record.
"It's just real scary," Smith-Njigba said. "I think its hard for defenses to cover all of us."
HELPING OUT
The Ohio State defense wasn't outstanding, but Stroud and Co. painted over it. Purdue quarterback Aiden O'Connell was 40 for 52 and threw four touchdown passes. He wasn't sacked. David Bell had 11 catches for 103 yards as the Boilermakers (6-4, 4-3) piled up a respectable 481 yards.
"Certainly we don't like to give up 31 points in a game," Day said. "I think when you look at the last couple of week, when the offense has been exactly stellar, the defense played really, really well. This game, we score 59 points on offense and the defense gave up 31. The good news is we're kind of helping each other out, but we're still looking for that complete game. That's part of winning football in November."
TERRIFIC RUN
A 57-yard touchdown run by Henderson was his fourth rush of at least 50 yards this season, which ties him for the national lead. His 17th TD put him within one of the single-season school record by a freshman. Maurice Clarett had 18 in 2002.
THE TAKEAWAY
Purdue: The defense just couldn't slow down Ohio State's array of offensive stars. Purdue had won three of its last four, including a 40-29 upset of then-No. 5 Michigan State last week, before running into a Buckeyes offense that just wasn't missing on much.
"They are a playoff-caliber team," Brohm said. "They out-played us and out-manned us and really beat us in every category."
Ohio State: The Buckeyes shook off all the talk about this being a possible trap game and treated Purdue like an early season cupcake.
POLL IMPLICATIONS
The rout over a dangerous conference foe should impress voters. With No. 4 Oklahoma's loss to No. 18 Baylor, the Buckeyes could make a move up.
UP NEXT
Purdue: Plays Northwestern on Saturday at Wrigley Field.
Ohio State: Hosts No. 8 Michigan State on Saturday.
---
#8 Michigan State vs. Maryland
Thorne, Walker help No. 8 Michigan State beat Maryland 40-21
EAST LANSING, Mich. -- — Payton Thorne threw two of his four touchdown passes to Jayden Reed, and Kenneth Walker ran for 143 yards and two scores, helping No. 8 Michigan State bounce back from its first loss with a 40-21 victory over Maryland on Saturday.
The Spartans (9-1, 6-1 Big Ten, No. 7 CFP ) stayed in the Big Ten championship race.
If Mel Tucker's team can upset No. 6 Ohio State on the road next Saturday and beat No. 23 Penn State at home the following week, it will be in the conference's championship game with an opportunity to earn a spot in the College Football Playoff.
The Terrapins (5-5, 2-5) have lost five of their last six games. To be bowl eligible, Maryland has to stun No. 9 Michigan next week at home or close the regular season with a win at Rutgers.
Thorne was 22 of 31 for 287 yards with a 51-yard touchdown pass to Montorie Foster and a 29-yard pass to Jayden reed for a score in the first quarter. He had a 2-yard toss to Connor Heyward midway through the second quarter and his fourth touchdown pass, matching a career high, went to Reed in the third.
Walker, who started the week leading the nation in rushing and as a Heisman Trophy contender, ran for a 1-yard score to put the Spartans ahead 27-7 late in the first half.
Taulia Tagovailoa threw a 32-yard touchdown pass to Chigoziem Okonkwo 46 seconds later, pulling the Terrapins within 13 points.
With a chance to get closer early in the third, Tagovailoa threw an interception to linebacker Noah Harvey at the Michigan State 1.
Tagovailoa finished 29 of 48 for 350 yards with two touchdown passes to Chigoziem Okonkwo. He has a Big Ten-best six 300-yard passing games, setting a Maryland single-season record.
---
---
POLL IMPLICATIONS
Michigan State might move up a spot in the AP Top 25 with No. 4 Oklahoma losing to No. 18 Baylor by 13 points.
THE TAKEAWAY
Maryland: The Terrapins had a lot of success moving the ball, but they came away scoreless on drives that ended at the Michigan State 16, 23, 24 and 39 in the second half to spoil any chances of an upset victory. They also had the ball near midfield on three other possessions that ended without a point.
Michigan State: A team that started the season unranked and with low expectations outside the program has a chance to play for championships, but it won't be easy. Michigan State's porous defense, which was exposed in last week's loss at Purdue, will be hard pressed to slow down Ohio State's offense to keep high hopes alive by this time next week.
UP NEXT
Maryland: Hosts Michigan on Saturday.
Michigan State: At Ohio State on Saturday.
---
---
#7 Notre Dame vs. Virginia
Coan's 3 TD throws lead No. 7 Notre Dame past Virginia 28-3
CHARLOTTESVILLE, Va. (AP) — Notre Dame coach Brian Kelly said the No. 7 Fighting Irish had a "tough week" with more than a dozen players battling a flu bug that kept some of them out of the lineup Saturday night against Virginia.
The ones able to play were more than enough.
Jack Coan threw three touchdown passes and Notre Dame extended its regular-season winning streak against Atlantic Coast Conference schools to 23 games with a 28-3 victory.
On a night when a 101-degree fever kept defensive end Myron Tagovalia-Amosa out of the lineup, Rylie Mills moved over from tackle and had three sacks. In their first game without star wide receiver Avery Davis, who tore an anterior cruciate ligament last week against Navy and is out for the year, Braden Lenzy and Kevin Austin both caught scoring passes.
"They had a mindset with all that that this was the challenge they wanted," coach Brian Kelly said of his team.
Coan connected with Michael Mayer from 6 yards, Lenzy from 4 yards and Austin from 15 yards for the Fighting Irish (9-1, No. 9 CFP), who also stretched their road winning streak against teams from the ACC to 11 games.
"Going into the week, when you lose a leader like AD, just someone who has put up a lot of good numbers, been a great player for us, it was definitely harped on to be more focused in what we do," Lenzy said.
Virginia (6-4) played without quarterback Brennan Armstrong, who leads the nation in total offense with an average of 425.3 yards but did not dress after sustaining a rib injury in a loss to No. 14 BYU two weeks ago.
The Cavaliers play at Pittsburgh next Saturday, with the winner gaining an upper hand in the ACC's Coastal Division race, and Mendenhall said he had no update on whether Armstrong would be available with another week.
"It looks better every day," he said, while still placing the star quarterback's status as day-to-day.
Jay Woolfolk, the first true freshman to start at quarterback for Virginia since Bryan Shumock in 1977, was largely ineffective. He completed 18 of 33 passes for 196 yards, two interceptions and was sacked seven times.
"I thought Jay did a nice job," Mendenhall said, adding that "the protection has to hold better. ... Jay's processing takes longer whereas Brennan would have had the ball out much faster."
The Irish, playing for the sixth time against a team coming off an open date, won for the fifth time in those games, keeping alive their hopes of playing their way into the four-team College Football Playoff. They have two three-win teams remaining on their schedule.
"We're ascending as a football team," Kelly said. "Any time you try to put a resume together, it's about how you play later in the year."
The Irish led 21-0 at halftime and had outgained Virginia 264-92. The victory was their 40th in a row against unranked opponents.
---
---
THE TAKEAWAY
Notre Dame: Coan, who was benched for ineffectiveness against Virginia Tech before returning in the fourth quarter to lead a comeback, had no such issues against the Cavaliers. He was 15 of 20 for 132 yards when freshman Tyler Buchner replaced him after his third TD pass.
Virginia: The Cavaliers had tackling problems in their 66-49 loss at BYU two weeks ago, and despite a week off to get that fixed, the problem persisted against the Irish as running back Kyren Williams, Mayer and others routinely escaped the first hit. Williams broke three tackles on a 22-yard TD run.
UP NEXT
The Fighting Irish wrap up their home schedule against Georgia Tech on Saturday.
Virginia travels to Pittsburgh next Saturday and can pull even with the Panthers in the Coastal Division — and have the tiebreaker — with a victory.
---
#9 Michigan vs. Penn State
McNamara, No. 9 Michigan rally past No. 23 Penn State 21-17
STATE COLLEGE, Pa. -- — Michigan tight end Erick All woke up on Saturday with a sore ankle, a leftover reminder of the Wolverines' last painful loss.
Inside a packed, hostile Beaver Stadium, he was able to block out the discomfort enough to help No. 9 Michigan stay in the Big Ten championship chase with a 21-17 win over No. 23 Penn State.
All hauled in a 47-yard touchdown pass from Cade McNamara with 3:29 left and outran Penn State defenders to the end zone.
Michigan (9-1, 6-1 Big Ten, No. 6 CFP) snapped a two-game skid to the Nittany Lions (6-4, 3-4).
"I'm sure he wasn't thinking about that ankle," Michigan coach Jim Harbaugh said. "He was thinking about the team."
And what another loss would mean for the Wolverines' chance to end their 16-year championship drought.
All was hurt when the Wolverines fell to No. 8 Michigan State on Oct. 30 and didn't play last week in a win over Indiana. He knew the Wolverines needed to stay within reach of the Spartans and No. 6 Ohio State in the Big Ten East.
"Adrenaline took care of the rest," All said.
Michigan visits Maryland next before hosting the No. 6 Buckeyes on Nov. 27.
"It's going to be tough for sure," McNamara said. "That game is going to be so big for us and I know when the moment comes, we'll be ready."
McNamara completed 19 of 29 passes for 217 yards and three touchdowns and Hassan Haskins ran for 156 yards on 31 carries. Roman Wilson caught a pair of touchdown passes for the Wolverines, who led 14-6 midway through the fourth quarter.
Penn State quarterback Sean Clifford was able to counter.
He withstood seven sacks, completing 23 of 43 for 205 yards and throwing a touchdown pass to tight end Tyler Warren with 7:35 to go. Clifford then tied it 14 when he connected with Jahan Dotson for a two-point conversion.
The Nittany Lions then got the ball back on a strip-sack of McNamara by defensive end Arnold Ebiketie deep in Michigan territory. Jordan Stout kicked a 31-yard field goal with 5:55 left for a 17-14 lead.
Michigan's winning drive started with five straight runs by Haskins for 28 yards to move to the Penn State 47, setting up All's touchdown.
"He just has a quality about him where he wants to and he can put the team on his back," Harbaugh said.
The Nittany Lions didn't move on their last chance, and Clifford's final pass fell incomplete.
"We were able to move the ball, but too many situations where we had to settle for field goals in the red zone," Penn State coach James Franklin said. "We have to find a way to score more touchdowns."
Penn State tried a pair of trick plays from kick formation in the first quarter, with mixed results.
---
---
TOUGH OPENING
Penn State gave up three sacks on its opening drive, but got a 42-yard field goal from Stout. Four plays earlier, Stout extended the possession with an 18-yard pass on a fake punt.
Clifford got up slow after each of the first two sacks.
"He knew we were coming," Michigan end Aidan Hutchinson said. "He knew there was going to be pressure all day."
The Nittany Lions forced a three-and-out, but couldn't fool the Wolverines with another fake kick. Stout was set to kick what would've been a 20-yard field goal on Penn State's second possession, but instead swung wide and caught a pass from holder Raphael Checa.
Stout was hit hard by Vincent Gray and lost the ball, and a handful of Michigan defenders pounced on it.
One possession later, the Wolverines got their first first down of the game and turned it into a 15-play, 90-yard drive that ended when McNamara tossed a 21-yard touchdown pass to Wilson with 5:49 to play in the first half.
Michigan tried to convert a fourth-and-short from midfield on its next possession, but Haskins was stopped short. Stout's 52-yard kick cut Michigan's lead to 7-6 at halftime.
McNamara tossed a 1-yard touchdown pass to Wilson early in the third quarter. Later in the period, Stout bounced a 43-yard field goal attempt off the right upright, keeping Michigan ahead 14-6.
THE TAKEAWAY
Michigan: The Wolverines started slow, picked up the pace and got big contributions on the defensive side to keep their Big Ten championship hopes alive. Hutchinson and David Ojabo, particularly were consistently disruptive.
Penn State: The Nittany Lions continue to be dreadfully one-dimensional. Despite harping on it all week, they again failed to hit holes for big runs and averaged just 2.6 yards per yards per rush, Without any real push on the ground, Clifford is having to do way too much, and his workload was even harder with all the Michigan defenders getting clean runs at him.
UP NEXT
Michigan: Visits Maryland.
Penn State: Hosts Rutgers.
---
#19 Iowa vs. Minnesota
Late stops let No. 19 Iowa beat Minnesota 27-22, keep Floyd
IOWA CITY, Iowa (AP) — Iowa quarterback Alex Padilla is described by coach Kirk Ferentz as "even-keeled."
That was the approach Ferentz and his staff took with Padilla this week as he prepared to make his first career start Saturday against Minnesota.
"I don't know if anyone on the staff made a big deal about it," Ferentz said. "We just acted like it was his turn, his time. He is the starter this week."
The approach worked in the "Battle for Floyd of Rosedale."
Padilla threw for two touchdowns and ran for another, and No. 19 Iowa withstood three fourth-quarter comeback attempts to beat Minnesota 27-22 and keep the bronze pig trophy for the seventh year in a row.
Padilla, who took over for injured quarterback Spencer Petras in last week's 17-12 win at Northwestern, completed 11 of 24 passes for 206 yards. He had a 1-yard touchdown dive in the second quarter, then had touchdown passes of 72 yards to Charlie Jones in the third quarter and 27 yards to Keagan Johnson in the fourth.
"Going out there in the first half, seeing the entire crowd in Kinnick for my first start, (I was) just super excited," Padilla said. "Couldn't imagine being in this position when I was a kid, but it was something I have always dreamed of."
How the Hawkeyes' quarterback situation plays out in the coming weeks is unclear. Petras, the starter since last season, is still dealing with a sore right shoulder, and Ferentz said his status is day-to-day.
"I think the good news is we've got two good quarterbacks now that we have faith and trust in," Ferentz said.
"They have their differences but they both work very hard," Jones said. "Alex is a young guy and he has done a really good job stepping up while Spence is hurt. Everyone around Alex is helping and encouraging him as much as they can, so he is doing a great job."
This was Padilla's game, and Jones was impressed with the pass Padilla threw him for the touchdown.
"First of all, that was a great play for us, and a perfect time for it," Jones said. "We knew that the defender was going to be playing outside of me, and it was just a double-move route, where you fake the out and go to the post. Alex threw a great ball, right where I could get it and I had a lot of space."
Even a level-headed player like Padilla can get excited, though, like he did after his touchdown dive.
"First career touchdown, yeah, in front of the fans I was just super excited," Padilla said. "I might want to calm down a little bit next time."
The Hawkeyes (8-2, 5-2 Big Ten) led 24-16 before Minnesota's Tanner Morgan threw a 68-yard touchdown pass to Chris Autman-Bell with 5:28 to play. The Gophers (6-4, 4-3) went for the two-point conversion, but Morgan's pass was tipped by Iowa safety Dane Belton and fell incomplete.
The Gophers got the ball back at their own 10-yard line with 3:08 left. Morgan was sacked for a 7-yard loss on second down, and his fourth-down pass was broken up by Iowa's Matt Hankins.
Caleb Shudak's 29-yard field goal provided the final margin, and then the Hawkeyes' defense bowed up one more time when Minnesota drove to the Iowa 39. The game ended with Joe Evans sacking Morgan.
Minnesota had a chance to take the lead down 17-16 to start the fourth quarter, but Dragan Kesich's 53-yard field-goal attempt was blocked by Logan Lee. Five plays later, Johnson took a short pass from Padilla and turned it into a 27-yard touchdown.
The Gophers, who had the ball for 40 minutes, had 189 rushing yards. That was the most this season against the Hawkeyes, who came into the game ranked eighth nationally in rushing defense at 98.6 yards per game. Ky Thomas rushed for 126 yards to lead the Gophers, who haven't won in Iowa City since 1999.
"They had a really good plan and it took us time to adjust to that," Ferentz said.
"This is one of the best front sevens in college football," Minnesota coach P.J. Fleck said. "We wanted to get them in space as much as we could, spread the field a little bit more."
Matthew Trickett had three field goals for the Gophers. Minnesota's other touchdown came in the second quarter on backup quarterback Cole Kramer's 37-yard pass to tight end Ko Kieft.
"You always want touchdowns, I want to make sure I'm clear on that," Fleck said. "Everybody wants touchdowns. If you could never kick a field goal, great. But you do everything you can to gain as many points as you can to get to the fourth quarter and see where you're at. You never know how it's going to go."
---
---
HAWKEYES KEEP FLOYD
The "Battle for Floyd of Rosedale" began in 1935, and the Hawkeyes have a 43-42-2 edge in the series since then. It was Minnesota's 10th consecutive loss on the road in the series.
"Since I've been here, I don't think we've played Iowa like that," Fleck said. "There's no moral victories. Who cares? But I care."
Fleck, who hasn't beaten Iowa in five tries as Minnesota's head coach, paused when he was asked what it would take to beat the Hawkeyes.
"A better performance than what we had tonight," Fleck said.
BIG PICTURE
The Hawkeyes are tied with Wisconsin for first in the Big Ten West, but the Badgers own the tiebreaker because of their 27-7 win over the Hawkeyes on Oct. 30. The Gophers dropped out of what was a four-way tie at the start of the day.
POLL IMPLICATIONS
The Hawkeyes might move up a spot or two, but no big move is in store after they needed to hold on late against the Gophers.
UP NEXT
Minnesota: At Indiana next Saturday.
Iowa: Hosts Illinois next Saturday.
---
#20 Wisconsin vs. Northwestern
Allen's big day helps No. 20 Wisconsin rip Northwestern 35-7
MADISON, Wis. -- — Braelon Allen understood the importance of his role following Chez Mellusi's injury, sidelining Wisconsin's leading rusher for the rest of the season.
Allen handled that burden as effectively as he has accepted every other task assigned to him during his exceptional freshman season.
The 17-year-old Allen rushed for 173 yards and three touchdowns to help No. 20 Wisconsin beat Northwestern 35-7 for its sixth consecutive victory on Saturday.
"I told Chez I was going to finish the season for the both of us," Allen said.
Mellusi, who hurt his left knee during a 52-3 victory at Rutgers last week, entered Saturday's action ranked fifth in the Big Ten in rushing (815) and second in carries (173).
Allen stepped up, continuing his emergence that coincided with the start of Wisconsin's winning streak. He has rushed for over 100 yards in six straight games after totaling just 12 carries during Wisconsin's 1/3 start.
He's the first Wisconsin true freshman to run for at least 100 yards in six consecutive games since Anthony Davis in 2001. Allen improved his season rushing total to 834 yards.
"He knows how important he is to this group," Wisconsin coach Paul Chryst said. "He's got a great mix of he's humble, he's confident and I think today showed he's got a chance to be special."
Allen led a balanced team effort.
Graham Mertz threw two touchdown passes, and Wisconsin's defense recorded four interceptions. Northwestern's Andrew Marty was picked off three times for a second straight week.
Wisconsin (7-3, 5-2 Big Ten, No. 18 College Football Playoff) is tied with No. 19 Iowa (No. 20 CFP) for first place in the Big Ten West Division standings. Wisconsin beat Iowa 27-7 on Oct. 30.
"We're blessed with an opportunity, a second chance," said Wisconsin linebacker Leo Chenal, who had 14 tackles and a sack. "We're just thinking about making the most of that second chance, not blowing it, not trying to get too ahead of ourselves, not thinking about anything else except the next game."
Northwestern (3-7, 1-6) lost its fourth straight game.
Allen wasted no time Saturday showing he could pick up the slack in Mellusi's absence.
He had seven carries for 86 yards during a 95-yard drive that put Wisconsin ahead for good. He started that stretch with a 37-yard scamper and ended it with a 2-yard touchdown.
The most spectacular of his 25 carries came late in the third quarter when he bounced off three defenders in the first 10 yards of a 33-yard touchdown that extended Wisconsin's lead to 35-0. Ron Dayne, Wisconsin's 1999 Heisman Trophy-winning running back, was on the sideline Saturday and offered Allen encouragement before that touchdown.
"I think after my first couple of carries, honestly, I was like, 'These guys aren't really trying to tackle. They're bouncing off me,'" Allen said. "I think by the end of the game, it was the same thing. Start to finish, they weren't really interested in it."
That's been an issue all season for Northwestern, which entered the day ranked 124th out of 130 Football Bowl Subdivision teams in yards rushing allowed per game and 121st in yards allowed per carry.
"We've got to tackle better," Northwestern coach Pat Fitzgerald said. "We've got guys in position to tackle and we were up too high, didn't wrap our arms. ... Fundamental stuff. A-B-C, 1-2-3."
Mertz completed his first nine pass attempts and went 18 of 23 for 216 yards, including touchdown passes of 13 yards to Danny Davis and 11 yards to Jake Ferguson. He completed passes to nine different teammates and was intercepted once.
Northwestern's lone score came when A.J. Hampton returned a Julius Davis fumble 49 yards with 11:38 remaining. The fumble was forced by Xander Mueller.
Northwestern wasted an 82-yard drive on its opening possession when Caesar Williams picked off a Marty pass in the end zone. Wisconsin then scored touchdowns on three straight possessions.
---
---
THE TAKEAWAY
Northwestern: Inconsistent quarterback play has hurt Northwestern all season. Marty, one of three Northwestern quarterbacks to start games this season, went 10 of 18 for 100 yards. Ryan Hilinski took over in the fourth quarter and went 3 of 8 for 25 yards with one interception.
Wisconsin: The Badgers entered the weekend leading the nation in total defense, and they've gotten even more dangerous on that side of the ball now that they're forcing turnovers. Wisconsin has 16 takeaways over its last four games after having just four in its first six contests. This marked the fourth game in which Wisconsin didn't allow an offensive touchdown.
POLL IMPLICATIONS
Wisconsin should rise a few spots as it tries moving closer to the top 15.
UP NEXT
Northwestern: Hosts Purdue (No. 19 CFP) on Saturday.
Wisconsin: Hosts Nebraska on Saturday in its home finale.
---
Rutgers vs. Indiana
Rutgers on cusp of bowl-eligibility after win at Indiana
BLOOMINGTON, Ind. -- — Rutgers coach Greg Schiano started Saturday without his top three linebackers.
Six turnovers and a a nifty trick play later, the Scarlet Knights celebrated a possible program-changing victory.
Isaih Pacheco scored twice in the first quarter and Rutgers scored 17 points off turnovers, routing Indiana 38-3 to move within one win of becoming bowl eligible for the first time since 2014.
"I'm excited, our guys are fighting," Schiano said. "We want to write that story at the end of the year and now we have a chance. We'll see what we can do."
For the Scarlet Knights (5-5, 2-5 Big Ten), this wasn't just another win.
It was their most lopsided victory in conference play since joining the Big Ten — easily surpassing the previous mark of 22 points against Indiana in 2015. Now comes the hard part — beating either No. 23 Penn State or Maryland to finish the job.
Rutgers earned some style points, too, when quarterback Noah Vedral threw a backward pass to offensive tackle Raiqwon O'Neal, who caught the ball around the 12-yard line and dove toward the pylon for a 7-yard TD run and a 31-3 lead in the third quarter.
O'Neal has converted that play into a score twice in two years.
"I couldn't do it without my guys up front," O'Neal said. "They made a great block for me to get in there."
It was yet another frustrating game for the Hoosiers (2-8, 0-7), who started the season ranked No. 17 and embracing the highest expectations in decades.
But not much has gone right this season, and this game slipped away fast, too.
Quarterback Donoven McCulley botched a handoff on the first play. Rutgers defensive end Mohamed Toure recovered at the Hoosiers 21-yard line and four plays later, Pacheco scored on an 8-yard TD run.
"It was just a bad exchange," McCulley said. "That just set the tone for the rest of the game and it was hard to come back from that."
Pacheco's 3-yard scoring run late in the first quarter made it 14-0 and Tyreem Powell's interception led to a 38-yard field goal that made it 17-0 less than a minute into the second quarter.
All the Hoosiers could muster was a 47-yard field goal to close the half.
Rutgers sealed it early in the third quarter when Ty Fryfogle fumbled a punt at the Indiana 10 and Aaron Young scored on the next play to make it 24-3.
---
---
THE TAKEAWAY
Rutgers: On a day the offense didn't do much, the defense and special teams made the game-changing plays. As a result, Rutgers is still in bowl contention despite losing five of seven.
Indiana: This was the Hoosiers' worst game in what has been an awful season. Indiana just couldn't execute on offense or defense Saturday.
STAT PACK Rutgers: Pacheco carried 21 times for 79 yards and passed Bryant Mitchell (2,286 yards) for eighth on the school's career list. Pacheco has 2,249. ... Vedral was 9 of 17 with 97 yards and scored the final TD on a 9-yard run. ... Coach Greg Schiano earned win No. 76, moving him within two of tying Frank Burns' school record. ... The Scarlet Knights are 6-3 on the road over the past two seasons.
Indiana: McCulley was 7 of 20 with 98 yards and lost two fumbles. ... Jack Tuttle was 5 of 10 with 26 yards and two interceptions. ... The Hoosiers rushed 32 times for 85 yards and finished with 262 total yards. ... Indiana has failed to score a touchdown in three games this season. .. The Hoosiers had won the previous five in this series.
INJURY REPORT
Rutgers: While Vedral started after getting hurt last week, the Scarlet Knights overcame the loss of linebackers Olakunie Fatukasi, Tyshon Fogg and Tyreek Maddox-Williams. Rutgers didn't suffer any additional significant injuries.
Indiana: Running back Stephen Carr and linebacker Cam Jones both sat out and although Tuttle returned to action in the first quarter, he didn't last long. Tuttle hurt his left ankle on his second interception, went to the locker room and did not return. Center Dylan Powell injured his left shoulder in the first half and safety Raheem Layne was shaken up late.
UP NEXT
Rutgers: Visits No. 23 Penn State next Saturday.
Indiana: Closes its home season next Saturday against Minnesota.
---
---
Chicago Journal Newsletter
Join the newsletter to receive the latest updates in your inbox.