Stalock has 22 saves, Blackhawks beat Coyotes 2-0
Jake McCabe and Tyler Johnson scored to help the Blackhawks snap a five-game losing streak with just their second win in 15 games (2-13-0).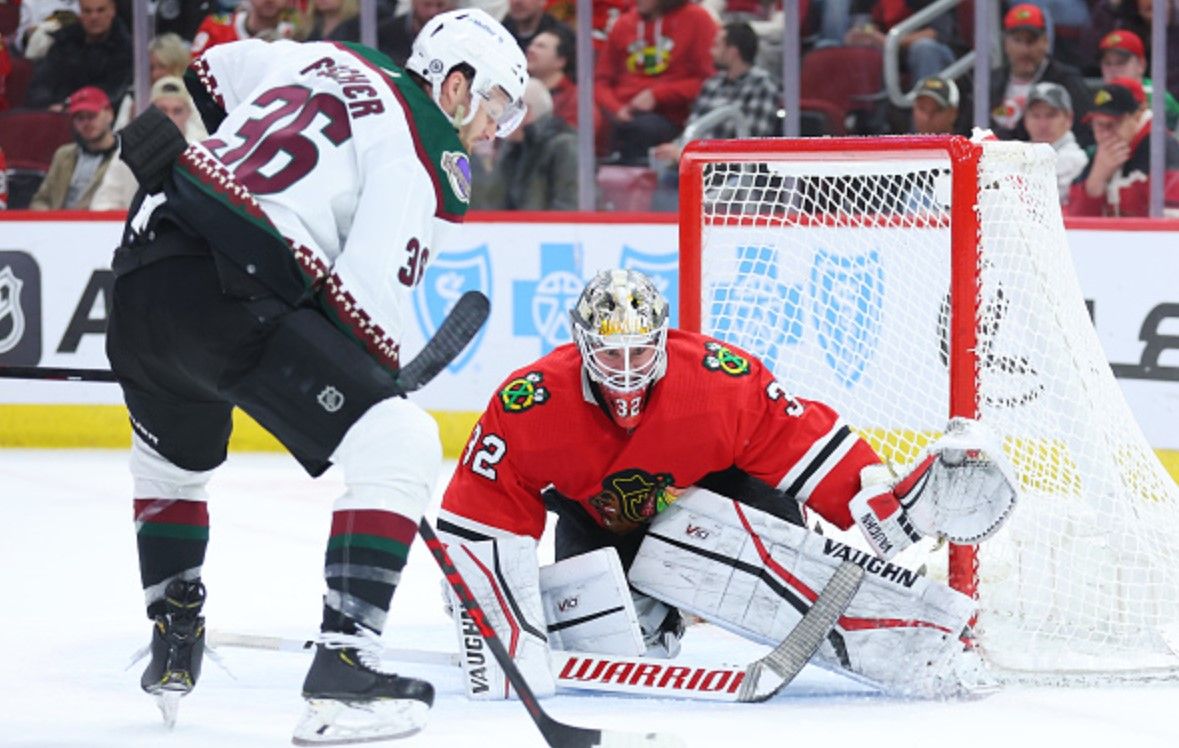 By TIM CRONIN | Associated Press
CHICAGO (AP) — Alex Stalock stopped 22 shots for his 10th career shutout — first in nearly three years — and the Chicago Blackhawks beat the Arizona Coyotes 2-0 on Friday night.
Jake McCabe and Tyler Johnson scored to help the Blackhawks snap a five-game losing streak with just their second win in 15 games (2-13-0).
"It gives a lot of life to this group," Stalock said of winning. "Our D got out of the zone fast, our forwards did a great job of backchecking. (Arizona) didn't have many chances. Tonight's a team win."
Connor Ingram had 30 saves for Arizona, which has lost four straight.
McCabe took a cross-ice pass from Seth Jones and blistered a slap shot past Ingram's glove with 8:05 left in the second period. It was only his second goal of the season.
McCabe's goal was among the few good chances Chicago had.
"I thought me and Seth as of late have been pretty solid," McCabe said of his pairing with Jones. "We moved the pucks quick and didn't spend much time in our zone."
Johnson added an empty-netter with 44 seconds left to seal the Blackhawks' win.
One of the Coyotes' few good chances came with 12 minutes remaining, when defenseman Jusso Valimaki fired a loose puck from 15 feet and Stalock deflected it to the corner.
"We could not make a play," Arizona coach Andre Tourigny said. "I don't know how many times we made two or three passes in a row. We could not do it. It's hard to win a hockey game in that league when you don't execute. But it was not a lack of effort."
McCabe also made a key defensive play with 2:59 left, hounding Christian Fischer enough in the slot as he came in on Stalock to prevent a hard shot.
"A complete game," Chicago coach Luke Richardson said, smiling. "They had no glorious chances. We made one adjustment to stop (Clayton) Keller (Arizona's leading point scorer) from crossing over the blue line, and it worked. Only once did he get loose and have a chance."
Arizona's biggest early threat came only 16 seconds after the opening faceoff, when defenseman Jakob Chychrun rang a shot off the right post.
"It's obviously a lot better than last night in Philadelphia (a 6-2 loss)," Ingram said. "Sometimes it doesn't go your way. You're going to have nights like that."
Stalock's last shutout came when he was with Minnesota, at Columbus on Feb. 28, 2020.
Despite the win, Chicago remains at the bottom of the NHL standings, and first in the running for the best chance for the first selection in the draft.
KANE SIDELINED
Star Chicago forward Patrick Kane missed his first game due to injury since 2015, with a nagging lower-body injury that kept him out of the third period against Tampa Bay on Tuesday night. Already hurt, he was checked against the boards by Evgeny Svechnikov late in the second period and moved gingerly after that.
"I could probably play but it's just certain situations it's kind of lingering pain," Kane said after a morning skate he didn't participate in. "I should be through it quick enough."
UP NEXT
Coyotes: Host Pittsburgh on Sunday night to open a three-game home stand.
Blackhawks: Host Calgary on Sunday night.
AP NHL: www.apnews.com/hub/NHL and www.twitter.com/AP_Sports
---
The Chicago Journal needs your support.
At just $20/year, your subscription not only helps us grow, it helps maintain our commitment to independent publishing.
If you're already a subscriber and you'd like to send a tip to continue to support the Chicago Journal, which we would greatly appreciate, you can do so at the following link:
Send a tip to the Chicago Journal
---
Chicago Journal Newsletter
Join the newsletter to receive the latest updates in your inbox.