Grading the Chicago Bears 2021 NFL Draft
It's not an NFL Draft without over-analysis, hyperventilation, doom and gloom, despondence, fatalistic cynicism, blind hope, irrational optimism, declarative guarantees of greatness, extreme hypocrisy, laughable what-ifs, and any other emotions that pair well with chicken wings and light beer.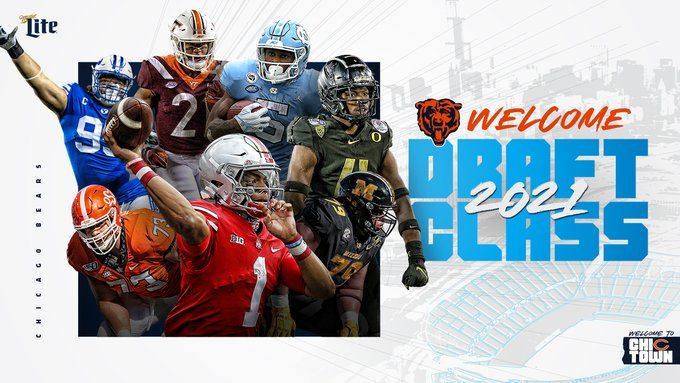 Surviving just one Chicago winter will force any man to squirrel away any morsel of optimism he can scavenge and bury it deep within his midden heart, and lifelong Chicagoans hoard much more than most. But if you asked any random Chicago Bears fan on Thursday morning how they were feeling about the upcoming NFL season, particularly after this long, strange last year it's been, no matter how nuts for the team and the game they were, it'd be fair to say there wasn't much hope to be found.
---
---
After an awkward 2020 and second straight year of 8-8 football in which they became only the third team since the 1970 NFL merger to have a six-game losing streak and also qualify for the playoffs, a change of pace was at the forefront of everyone's mind.[1]
Despite literal decades of demands for the quarterback position to be figured out, by all objective appearances the Bears would once again be heading into yet another season seemingly lost in their quest to find their future. In the offseason, after the front office let their 2017 prized draft pick, their former once and future quarterback king, Mitchell Trubisky, walk in early spring free agency many fans thought this team's leadership didn't deserve another chance to try and find another.
In the early spring and, ostensibly, out of nowhere, rumors began to spread about Russell Wilson wanting out of Seattle and Chicago being one of his preferred destinations. As one would expect from such a quarterback forlorn city, this sudden piece of "news" sent Bears fans into a frenzy and they took the opportunity to do everything short of beg, borrow, and steal to add to the GoFundMe proposal the organization could make to try to convince the Seahawks that it was totally a good idea to trade their potential Hall of Fame quarterback to them at the peak of his powers.
As expected, no proposal would be enough and, no matter how nonsensical that fool's errand ever was, it was just about the only excitement fans could try and build within themselves.
Fans were left in the same place they'd been left in time and time again. That dreadful, hellish place in sports where there didn't appear to be any sort of plan beyond rolling the dice with some high-priced veteran and career backups. As more and more free agent quarterback dominoes fell to destinations elsewhere, many fans began to question if there was any sort of "plan" at all.
Finally, in an act of desperation, General Manager Ryan Pace and Head Coach Matt Nagy went out and got their big Chicago Bears free agent signing...
Andy Dalton.
If you listened closely in the Chicagoland area, you could almost hear the season ticket sales reps at Halas Hall frantically checking the return policies on the kids' last Christmas presents.
---
---
Listen, this isn't a personal knock on Andy Dalton, all right? We like Andy Dalton. Andy Dalton is, you know, he's okay. Andy Dalton takes criticism well. Andy Dalton doesn't let the circus bother him. Andy Dalton seems like a nice fella.
But, for a founding franchise of the NFL that has gone greater than 35 years without a Super Bowl winner and seen nearly 40 quarterbacks start at least 1 game over the same time frame, and whose biggest rivals have started less than 12 quarterbacks including no less than 25 seasons in which only 1 quarterback played all 16 games, trying to sell Andy Dalton as your bright, shiny, new QB1 didn't exactly scream stability for a fanbase screaming for stability at the most important single position in professional sports. Further, the move didn't exactly inspire confidence in a front office and their ability to lead an organization.
Again, we like Andy Dalton. He seems like a nice fella. It's just...sometimes there are fundamental truths to life that can't be ignored and sometimes there are no nice ways to say fundamental truths to life.
A General won't get the best out of his men if the men don't know they can depend on their General and football men with their jobs on the line can't go all in on a season behind Andy Dalton.
With their reputations probably as close to rock bottom as a General Manager and Head Coach who just went to the playoffs could get, and with fans beginning to get 3rd and long loud about their reputations and making their opinions known everywhere from barstools to talk radio to social media, no, the narrative going into draft night for the Chicago Bears franchise was...not good.
The pressure was officially ON.
---
---
Still, a couple of facts remained. A fan could criticize many things about Ryan Pace[2] but the two criticisms that would never pass careful examination:
The man has incredible hair genetics.
Ryan Pace is unafraid to make a move.
Pace's big moves don't always work out, as we saw in the 2017 NFL Draft when he traded up to draft the aforementioned Mitchell Trubisky over the likes of Patrick Mahomes and Deshaun Watson. And sometimes Pace's big moves do work out, as we saw in his 2018 acquisition of Khalil Mack that made their defense one of the best in the league that season. Regardless of whether they work or not, there is no doubt, Ryan Pace is a man unafraid to make a move.
As Ohio State Quarterback Justin Fields fell out of the Top 10 draft picks on Thursday night, that one particular piece of Ryan Pace's personality put him and Matt Nagy in a unique position to rightfully see their opportunity, be unafraid to take their opportunity, and not only breathe new life into their own jobs but make a desperate fanbase feel as if the long winter was over and they could fling the windows open and let the cool, fresh lake breeze sweep through the stagnant future of their favorite franchise.
---
---
Pick 11: Justin Fields - QB
A
Justin Fields is not some relative unknown from a small school in a mid-major conference who turned some heads at the combine or his pro-day. Fields is not someone who insiders and experts will have to show you brief, slow motion clips outlining his mechanics to try and impress you and convince you more of their own personal football depth and analyst acumen rather than the player's talents. Fields is not a front office hunting for a diamond in the rough, a needle in the haystack, or a good Chicago alderman.
For the founding franchise in the NFL, and in a city the size of Chicago and where the starting quarterback is instantly one of the most famous names in town, this is most definitely a good thing. We'd argue it's one of the more underappreciated aspects of this selection.
Fields is a young man with pedigree and, playing in a metro market with a fanbase that has the size, passion, and history of the Chicago Bears, he's going to need all of it.
Since they were in early high school, Fields and former Clemson quarterback, Trevor Lawrence, who was the #1 pick by the Jacksonville Jaguars in the 2021 NFL Draft, were consistently ranked as the top national quarterbacks in their class. With high intelligence and test scores that had him being recruited by many of the Ivy League schools, he ultimately landed at one of the biggest football programs in the country. As a sophomore he was a Heisman Trophy finalist and, as starting quarterback, led Ohio State to an overall 20-2 record with back-to-back College Football Playoff appearances for the first time in school history. Fields is a young man who you watched and who we watched perform in some of the biggest games in the country against the best college competition and he already boasts the type of resume the Chicago Bears have not seen before in a quarterback.
Will Justin Fields become the Hall of Fame quarterback Bears fans have clamored for decades to see wear their favorite uniform? Will he be a Pro-Bowler? Will he even be any good at the next level?
We're not going to pretend to know with any definition but, right now, we don't care the price they paid to trade up.[3] We don't care to hear the reasons Justin Fields began to slip down draft boards. Right now, we don't really care about anything at all because, right now, the Chicago Bears have a young quarterback to build around.
---
Pick 39: Teven Jenkins - OT
A
When you bring in a potential franchise altering quarterback like Justin Fields, the smartest decision your franchise can make is to bring in big, corn-fed Midwestern boys to protect him. All the better if you can find them for a steal in the draft.
Who knows? Maybe he was just feeling frisky after the first round? Following their trade up to grab Fields, Ryan Pace again proved he was unafraid to make another move and the Bears made sure to grab Teven Jenkins out of Oklahoma State after nearly all mock draft boards had Jenkins going in the first round and he'll be expected to start at tackle in Week 1.
When the Bears drafted Kyle Long in 2013, he didn't have much on his scouting report beyond being from a football family and versatility. He became a fan favorite and made three straight Pro-Bowls in his first three seasons.
While Teven Jenkins' father may not be a Hall of Fame defensive end, Oklahoma State's 2020 offensive line was hounded by injuries and Jenkins showed his adaptability and versatility to perform in the trenches. The Chicago Bears are likely to need him to do it again to protect Fields at all costs.
---
---
Pick 151: Larry Borom - OT
C
Did we mention when you draft a player like Fields it's a good idea to protect him? Because when you draft a player like Fields it's a good idea to protect him.
While Larry Borom may not have the equivalent OT ceiling of the guy who was drafted three rounds ahead of him, his body is almost as big and, if there's one thing a football team needs to protect young quarterbacks, it's a lot of big bodies ready to fill roles when called upon. If Borom can be coached and learn from some of the vets, he has the size to be more than a backup.
---
Pick 217: Khalil Herbert - RB
B
In our eyes, this was Ryan Pace's most confusing pick of this year's draft, considering he already brought in Damien Williams from Kansas City this offseason to run with David Montgomery and Tarik Cohen. That said, as you move in to these late rounds, modern draft theory says picking athletes is your best tactic.
Herbert is small but quick. We can see him serving as a solid backup to someone like Tarik Cohen or using him on unique sets with the likes of Fields, Cohen, and Herbert in the backfield.
Our best guess is Herbert had simply fallen too far for Pace to ignore, and according to many mock draft boards he should have gone as early as beginning of the 4th round.
---
Pick 221: Dazz Newsome - WR
C
It's likely a symptom of the franchise's historical struggles to find a quarterback but, if there were one position that comes somewhat close to having the type of historic question marks the quarterback position has, it's Chicago Bears wide receivers.
We remain confused as to the reasons why Allen Robinson II still doesn't have a solid deal in place, especially when you consider that beyond Darnell Mooney on the depth chart there are no definitive answers. That will only work out to sixth-round pick Dazz Newsome's benefit and he's likely to be given a genuine opportunity to prove himself in the slot. He will also likely have opportunities returning punts on special teams.
---
---
Pick 228: Thomas Graham - CB
B
A high four-star prospect and rated in the top 100 overall recruits out of his 2017 high school class, Graham immediately started his freshman year for the Oregon Ducks and did so for the next two years before he ultimately opted out of the 2020 season.
Did his opt-out hurt his draft stock a little? Probably, considering even after opting out of 2020, he was still one of the most statistically productive defensive backs available this year. There are questions about his speed, primarily as it relates to his first step, but it's possible the Bears found a solid zone corner in the late rounds who's not afraid to hit someone and could turn into a dependable late round steal.
---
Pick 250: Khyiris Tonga - DT
C
This pick was acquired by trading down in Round 6 before taking Khalil Herbert.
When evaluating picks as late as round 7, you have to adjust your expectations accordingly. Tonga was clearly picked to fill a need and sometimes that need is simply bodies to throw in the trenches.
Tonga has enough upside for a late round selection that, if he and the coaching staff are able to tap into that potential, it could lead him to a decent career in the NFL, even if it's a career as a dependable D-Line backup.
---
---
Conclusion
It may have something to do with our biological survival mechanisms, but some men simply perform better when all the cards are on the table and they're down to their final chips. We don't know what it is but something clicks and Thursday night the Chicago Bears front office tapped into whatever that is.
It's not often a front office is given another opportunity like this and it won't come around again. Maybe they were given a second chance and they were simply smart enough to take it? Either way is no matter, really.
With one move, Ryan Pace and Matt Nagy made this sports town not only erase their past mistakes but actually convince fans to hope in the future of the Bears again. Ideally, they can carry this momentum into this season and beyond.
Here at the Chicago Journal we won't hold our breath, but that's mostly because Thursday night was such a welcome sigh of relief.
See you at Soldier Fields...
---
---
Chicago Journal Newsletter
Join the newsletter to receive the latest updates in your inbox.