Flights canceled, highways closed as winter storm wallops US
More than 192,000 customers in Michigan and nearly 89,000 in Illinois were without electricity Wednesday evening, according to PowerOutage.us.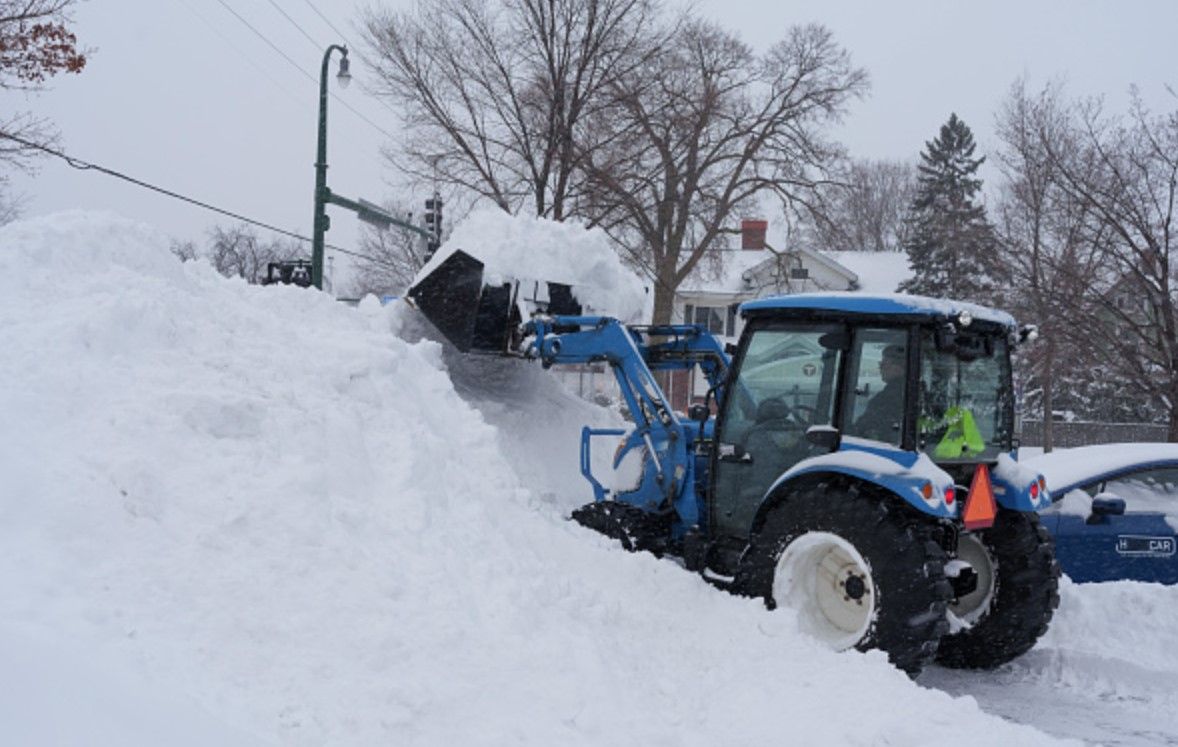 By AMANCAI BIRABEN and JIM SALTER | Associated Press
PIERRE, S.D. (AP) — A brutal winter storm closed interstate highways from Arizona to Wyoming Wednesday, trapped drivers in cars, knocked out power to hundreds of thousands of people and prompted the first blizzard warning in Southern California in decades — and the worst won't be over for several days.
Few places were untouched by the wild weather, including some at the opposite extreme: long-standing record highs were broken in cities in the Midwest, mid-Atlantic and Southeast.
The wintry mix hit hard in the northern U.S., closing schools, offices, even shutting down the Minnesota Legislature. Travel was difficult. Weather contributed to more than 1,600 U.S. flight cancellations, according to the tracking service FlightAware. More than 400 of those were due to arrive or depart from the Minneapolis-St. Paul International Airport. Another 5,000-plus flights were delayed across the country.
At Denver International Airport, Taylor Dotson, her husband, Reggie, and their 4-year-old daughter, Raegan, faced a two-hour flight delay to Nashville on their way home to Belvidere, Tennessee.
Reggie Dotson was in Denver to interview for a job as an airline pilot.
"I think that's kind of funny that we've experienced these types of delays when that's what he's looking into getting into now as a career," Taylor Dotson said.
The roads were just as bad.
In Wyoming, rescuers tried to reach people stranded in vehicles but high winds and drifting snow created a "near-impossible situation" for them, said Sgt. Jeremy Beck of the Wyoming Highway Patrol.
"They know their locations, it's just hard for them to get them," he said.
Wyoming's Transportation Department posted on social media that roads across much of the southern part of the state were impassable.
In the Pacific Northwest, high winds and heavy snow in the Cascade Mountains prevented search teams from reaching the bodies of three climbers killed in an avalanche on Washington's Colchuck Peak over the weekend. Two experts from the Northwest Avalanche Center were hiking to the scene Wednesday to determine if conditions might permit a recovery attempt later this week.
Powerful winds were the biggest problem in California, toppling trees and power lines. By Wednesday evening, more than 65,000 customers in the state were without electricity, according to PowerOutage.us.
A 1-year-old child was critically injured Tuesday evening when a redwood crashed onto a home in Boulder Creek, a community in the Santa Cruz Mountains south of San Francisco, KTVU reported.
For the first time since 1989, a blizzard warning was issued for the mountains of Los Angeles, Ventura and Santa Barbara counties, effective from 4 a.m. Thursday to 4 p.m. Saturday, the National Weather Service said.
"Nearly the entire population of CA will be able to see snow from some vantage point later this week if they look in the right direction (i.e., toward the highest hills in vicinity)," UCLA climate scientist Daniel Swain tweeted.
A more than 200-mile (320-kilometer) stretch of Interstate 40 from central Arizona to the New Mexico line closed due to snow, rain and wind gusts of up to 80 mph (129 kph). More than 8,000 customers were without power in Arizona.
In the northern U.S. — a region accustomed to heavy snow — the snowfall could be significant. More than 18 inches (46 centimeters) may pile up in parts of Minnesota and Wisconsin, the National Weather Service said Wednesday evening. According to the weather service, the biggest snow event on record in the Twin Cities was 28.4 inches (72 centimeters) from Oct. 31 through Nov. 3, 1991.
Temperatures could plunge as low as minus 20 degrees Fahrenheit (minus 29 degrees Celsius) Thursday and to minus 25 F (minus 32 C) Friday in Grand Forks, North Dakota. Wind chills may fall to minus 50 F (minus 46 C), said Nathan Rick, a meteorologist in Grand Forks.
Wind gusts may reach 50 mph (80 kph) in western and central Minnesota, resulting in "significant blowing and drifting snow with whiteout conditions in open areas," the weather service said.
The weather even prompted about 90 churches in western Michigan to cancel Ash Wednesday services, WZZM-TV reported.
The storm will make its way toward the East Coast later this week. Places that don't get snow may get dangerous amounts of ice. Forecasters expect up to a half-inch (1.3 centimeters) of ice in parts of southern Michigan, northern Illinois and some eastern states.
The potential ice storm has power company officials on edge. Nearly 1,500 line workers are ready to be deployed if the ice causes outages, said Matt Paul, executive vice president of distribution operations for Detroit-based DTE Electric. He said a half-inch of ice could cause hundreds of thousands of outages.
A half-inch of ice covering a wire "is the equivalent of having a baby grand piano on that single span of wire, so the weight is significant," Paul said.
More than 192,000 customers in Michigan and nearly 89,000 in Illinois were without electricity Wednesday evening, according to PowerOutage.us.
As the northern U.S. dealt with the winter blast, National Weather Service meteorologist Richard Bann said some mid-Atlantic and Southeastern cities set new high temperature marks by several degrees.
The high in Lexington, Kentucky, reached 76 F (24 C), shattering the Feb. 22 mark of 70 F (21 C) set 101 years ago. Nashville, Tennessee, reached 78 F (26 C), topping the 1897 record by 4 degrees. Indianapolis, Cincinnati, Atlanta and Mobile, Alabama, were among many other places seeing record highs.
---
The Chicago Journal needs your support.
At just $20/year, your subscription not only helps us grow, it helps maintain our commitment to independent publishing.
If you're already a subscriber and you'd like to send a tip to continue to support the Chicago Journal, which we would greatly appreciate, you can do so at the following link:
Send a tip to the Chicago Journal
---
Salter reported from O'Fallon, Missouri. Sarah Brumfield in Wyoming, Eugene Johnson in Seattle, Corey Williams in Detroit, Thomas Peipert in Denver, Brady McCombs in Salt Lake City, Utah, David Koenig in Dallas, John Antczak and Christopher Weber in Los Angeles, Julie Walker in New York, Amy Forliti in Minneapolis, and Steve Karnowski in St. Paul, Minnesota, contributed to this report.
Chicago Journal Newsletter
Join the newsletter to receive the latest updates in your inbox.