College Football Week 10: B1G Summary + ND
Purdue takes down another top 5 B1G team, Nebraska may be the best 7 loss team in the country, and Illinois takes out Minnesota.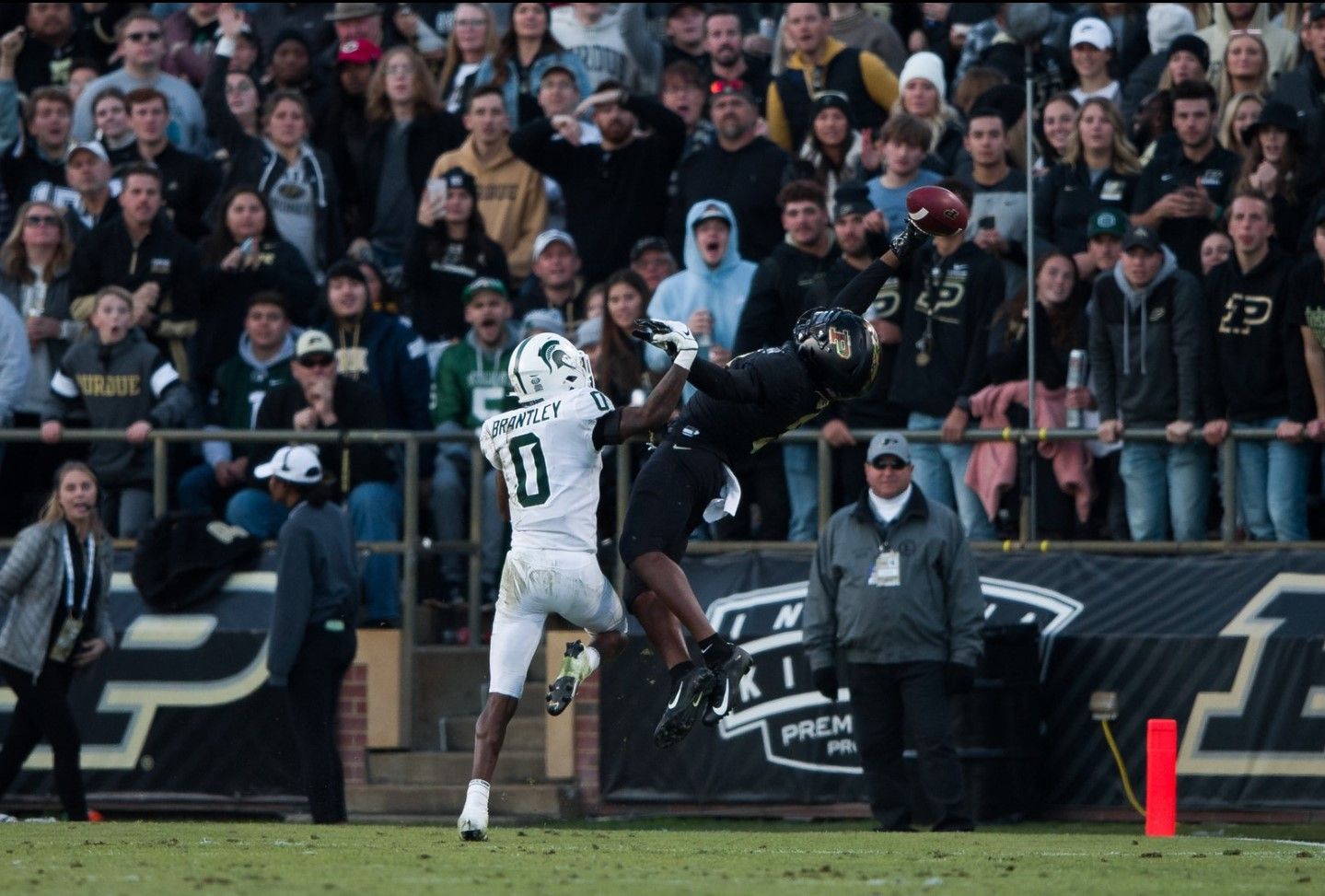 #5 Michigan State vs. Purdue
O'Connell, Bell help Purdue take down No. 5 Spartans 40-29
WEST LAFAYETTE, Ind. -- — Purdue coach Jeff Brohm already had a reputation for running trick plays — and for leading his unranked team to upsets of top-5 opponents.
His Boilermakers added to that legacy on Saturday.
---
---
Aidan O'Connell matched his career high by throwing three touchdown passes — including one on a reverse, flea-flicker screen pass to Jackson Anthrop — and Purdue toppled a Big Ten giant for the second time this season, beating No. 5 Michigan State 40-29 and leaving the conference without an unbeaten team.
"We run a multitude of trick plays, you guys have seen that," Brohm said. "This is one we do, kind of double reverse stuff, you know, throw it behind the line of scrimmage. To be honest with you, I stole it from a YouTube video of a high school team years ago and the first time we ran it, it went for a touchdown."
For Brohm, exotic gadget plays have been a regular feature even before he arrived on Purdue's campus. In fact, his innovative play-calling was one reason the Boilermakers hired him from Western Kentucky after the 2016 season.
This time, the beautifully executed gimmick — O'Connell handed off to Anthrop on an end-around, who gave it to receiver Milton Wright on a reverse, who pitched it back to O'Connell, who tossed a screen to Anthrop — resulted in a 39-yard touchdown that set the stage for something bigger.
The score put the Boilermakers ahead 21-7, and Purdue went on to control most of the game against the previously unbeaten Spartans (8-1, 5-1 Big Ten, No. 3 CFP).
Purdue (6-2, 4-2), pulled off its second top-five upset in four weeks, became bowl-eligible for the first time in three years and extended its FBS record for wins by an unranked team over a top-five foe to 17 — three of them under Brohm.
The Boilermakers shocked No. 2 Iowa 24-7 on the Hawkeyes' home field last month. Purdue also stunned then-No. 2 Ohio State 49-20 on Oct. 20, 2018.
This time, Anthrop, O'Connell and record-breaking receiver David Bell savored the celebration as the lights flashed, the band played and thousands of fans rushed the field.
"It was just a great day for us," Brohm said.
The Spartans' first loss to Purdue since 2006 could have implications across college football. They fell one game behind No. 6 Ohio State in the Big Ten East Division. No. 2 Cincinnati could be a beneficiary, ascending in the esteem of the College Football Playoff selection committee. And the Big Ten could miss the playoff entirely for the third time in five years.
Michigan State stumbled despite another strong showing by Kenneth Walker III — 23 carries for 146 yards and one score. And the Spartans had plenty of problems defending O'Connell, trickery aside.
"We have to look at the film, make the corrections on the things we didn't do well and we have to own it," Michigan State coach Mel Tucker said. "We weren't able to move the chains and convert when we needed it."
O'Connell was 40 of 54 for a career-high 536 yards while matching his career best in TD passes. David Bell caught 11 passes for 217 yards and one TD, his 15th career 100-yard receiving game — the most of any Purdue player. John Standeford had 14.
Michigan State tied the score at 21 when Spartans quarterback Payton Thorne scored on a 39-yard run early in the third quarter. But King Doerue broke the tie with a 1-yard TD run on the ensuing series and the Boilermakers added three field goals before Thorne's second TD pass to Tre Mosley and a 2-point conversion cut the deficit to 37-29.
Purdue sealed the win with a 22-yard field goal with 41 seconds left.
THE TAKEAWAY
Michigan State: Poor pass defense finally proved costly to the Spartans, who still haven't reached 9-0 since 1966. Tucker didn't think his team was unmotivated after last week's emotional victory over rival Michigan. He just thought Purdue played better in key moments.
Purdue: Brohm pulled off a rare feat by beating two top-five teams in the same season. The last time the Boilermakers did that was in 1960, when they topped Ohio State and Minnesota. With three games left, they are tied atop the West Division with Wisconsin and Minnesota.
POLL IMPLICATIONS
Michigan State: The Spartans will slide behind Ohio State in the AP Top 25. How far they fall in the CFP standings will help determine whether a one-loss Michigan State could get back into the playoff picture.
Purdue: The Boilermakers should return to the Top 25. Until beating Iowa on Oct. 16, Purdue had not been ranked since 2007.
UP NEXT
Michigan State: Hosts Maryland next Saturday.
Purdue: Faces its second straight top-10 foe when it visits No. 6 Ohio State next Saturday.
---
#6 Ohio State vs. Nebraska
No. 6 Buckeyes hang on to win 26-17 over Huskers
LINCOLN, Neb. -- — A nine-point win over the last-place team in the Big Ten West might not satisfy Ohio State's fan base.
Buckeyes coach Ryan Day was just fine with it.
C.J. Stroud threw for 405 yards and two touchdowns, Ohio State's defense came up with a pair of stops after Nebraska had pulled within six points, and the sixth-ranked Buckeyes got out of Memorial Stadium with a 26-17 win on Saturday.
"We're going to watch it and think we could have won by three touchdowns or more if we clean some things up," Day said. "But (Nebraska) is a good team, this is a good defense. We knew that coming in, I said that, and I believe that. It's great to get wins on the road. It's not easy to do."
The Buckeyes' nation-leading offense managed only two field goals in the second half, allowing the Cornhuskers — a two-touchdown underdog, — to make it a one-score game until Noah Ruggles kicked a 46-yard field goal with 1:29 left.
Ohio State (8-1, 6-0 Big Ten) won its 24th straight game against a conference opponent but couldn't have impressed the committee that made it No. 5 in the initial College Football Playoff rankings.
"Some things weren't clicking right, and they put it on me to execute the passing game, and I felt we did that well," Stroud said. "We have to start executing and finishing drives."
The Huskers (3-7, 1-6) dropped their fourth straight game and are assured of a fourth consecutive losing season under Scott Frost and a fifth in a row overall.
"I hate losing more than anybody in that locker room," Frost said. "But I just love being the coach here, I love these kids. They battled through a lot. This is going to pop at Nebraska. It just is. We're doing too many good things right. We have too many good young players. We're putting ourselves in position to win too many games and just not making a play or catching a break."
The Buckeyes played without top receiver Garrett Wilson for an undisclosed reason but got a school-record 15 catches from Jaxon Smith-Njigba for a career-high 240 yards.
Stroud completed 36 of 54 passes but threw two interceptions after having gone four straight games without being picked off.
His 3-yard touchdown pass to Chris Olave and Smith-Njigba's 75-yard catch-and-run for a TD helped put the Buckeyes up 20-10 at half.
The Huskers scored late in the third quarter to pull within 23-17 and got the ball right back when Myles Farmer intercepted Stroud's deep ball intended for Olave. Nebraska drove to the 13, but Chase Contreraz missed a 30-yard field goal attempt.
The Buckeyes were forced to punt and Nebraska began its next possession at its 10 with 6:11 left. Adrian Martinez started it with a 21-run but threw three straight incomplete passes to bring on the punter.
Martinez was 16 of 31 for 248 yards and a touchdown, with his lone interception coming in the final minute. He ran 18 times for 51 yards and a score.
Nebraska's Samori Toure had four catches for 150 yards and a touchdown.
"I'm proud of our guys for continuing to fight and the way we had each other's backs out there and stuck together through everything, through the noise," Martinez said. "The brotherhood is strong here at Nebraska and we believe in each other, so we're going to keep pressing on."
THE TAKEAWAY
Ohio State: The Buckeyes played an uninspired second half of offense but held on to avoid their first loss to a team with a losing record since 2011.
Nebraska: The Huskers have lost 16 straight against ranked opponents, and special teams hurt them again. They missed two field goals and had a 13-yard punt that led to an Ohio State touchdown.
POLL IMPLICATIONS
Ohio State could get dinged by AP Top 25 voters, and the CFP committee also might do a double-take after the flat performance.
MARTINEZ PLAYING HURT
Frost disclosed after the game that Martinez has been playing with a broken jaw since late September and high ankle sprain since mid-October. Martinez decided to not have season-ending surgery on his jaw so he could continue playing.
PREGAME 'MEETING'
An hour before kickoff, about a dozen players from each team jawed at each other during a brief confrontation in the area where Nebraska was warming up. A Nebraska player shoved an Ohio State player in the chest before staff from both teams broke things up.
UP NEXT
Ohio State hosts Purdue next Saturday.
Nebraska visits Wisconsin on Nov. 20.
---
---
#9 Michigan vs. Indiana
No. 9 Michigan tops Indiana 29-7, bounces back from 1st loss
ANN ARBOR, Mich. (AP) — Hassan Haskins had to carry a heavier burden in the backfield because Blake Corum was injured. He delivered.
Haskins ran for a career-high 168 yards and a touchdown, helping No. 9 Michigan bounce back from its first defeat with a 29-7 win over Indiana on Saturday night.
"It was a different feeling, but I had to get the job done," Haskins said.
The Wolverines (8-1, 5-1 Big Ten) were coming off a deflating defeat, blowing a 16-point, third-quarter lead in a 37-33 loss to rival Michigan State last week.
"That's out of our control, but going forward, we said, somebody has to pay and it just happened to be Indiana," Michigan defensive end David Ojabo said.
The fifth-ranked Spartans lost for the first time this season earlier in the day, 40-29 to Purdue, and fell into a second-place tie with Michigan behind No. 6 Ohio State in the Big Ten East Division.
The Hoosiers (2-7, 0-6) have lost five straight games, collapsing in a season that started with them hoping to contend for at least a division title.
"Our expectations were high in the beginning, and this isn't what we expected," linebacker Micah McFadden said. "So, it hurts."
Haskins had 27 carries, matching a career high, without Corum on the field for much of the game. Corum, who has been among the nation's leading rushers all season, ran once for 4 yards and dropped a perfect pass in the flat for the second straight week before leaving the game.
"I don't think it's serious," coach Jim Harbaugh said. "I don't know if it's mild. Somewhere less than serious."
Haskins' 2-yard touchdown run early in the second quarter gave Michigan a 10-f0 lead. Chris Childers 1-yard touchdown run pulled the Hoosiers within three, but they couldn't get closer.
Cade McNamara was 10 of 18 for 168 yards with two touchdown passes to Luke Schoonmaker that helped the Wolverines pull away. The tight end took advantage of opportunities with Erick All out of the lineup with an injury. Michigan's Cornelius Johnson had five receptions for 108 yards.
Indiana's latest loss makes them ineligible for a bowl, ending its chances of playing in three straight postseasons for the first time since the late 1980s.
"There's a lot of tears in there," coach Tom Allen said. "But there's also a whole lot of resolve in there, guys who gave a whole lot to this program and have a lot of character themselves."
Donoven McCulley was 10 of 24 for 88 yards and ran 14 times for 37 yards for the Hoosiers.
"There were times where he looked like a true freshman, but there were also times he's playing well in a tough situation," Allen said. "So there's no question, he wasn't expecting to be our starting quarterback this week, but that's a tough environment."
THE TAKEAWAY
Indiana: Losing quarterbacks Michael Penix Jr., who threw for 342 yards and three touchdowns in last year's 17-point win over Michigan, and Jack Tuttle to injuries has been too tough to overcome for Allen's team.
"I just have to learn from the process and keep getting better," McCulley said.
Michigan: Corum's injury is a potential problem. He and Haskins have allowed Harbaugh to stick with a run-heavy offense. If Corum is out, Haskins will take many more hits and there isn't a lot of experience behind him on the depth chart. Backup running back Donovan Edwards was out with an injury.
POLL IMPLICATIONS
The Wolverines may not move up because the only team ranked higher, Michigan State, beat them last week.
ONE-SIDED SERIES
Michigan has won 40 of 42 games against Indiana, who ended a 24-game losing streak with a 38-21 win over the Wolverines during the pandemic-shortened season.
RISING STAR
Ojabo forced a fumble on a sack, giving him eight sacks and four forced fumbles to rank among FBS leaders in both categories.
"He has a knack for it," Harbaugh said. "It's something you really have to account for, his ability to rush the passer. That's an issue. We see it in practice with Aidan (Hutchinson) on one side and David Ojabo on the other."
TAKE A SEAT
Indiana freshman running back Trent Howland, who had five carries for 17 yards in one game this season, sat out the first of two games after being suspended for violating team rules.
UP NEXT
Indiana: Hosts Rutgers on Saturday.
Michigan: At No. 22 Penn St on Saturday.
---
#10 Notre Dame vs. Navy
Irish ride Coan's arm, defense to 34-6 win over Navy
SOUTH BEND, Ind. (AP) — After getting an earful from Notre Dame coach Brian Kelly, Jack Coan delivered the big blow — a 70-yard touchdown pass to Kevin Austin at the end of the first half — and the No. 8 Fighting Irish shut down Navy's triple-option attack in a 34-6 victory Saturday.
"Coach was screaming at me because it was open the play before," said Coan, a grad transfer from Wisconsin who completed 23 of 29 passes for 269 yards. "He told me to throw it there, so that's exactly what I did. I followed his plan. When you can get the ball to a guy like Kevin Austin, he can take it the distance every time."
The touchdown play ended a 5-play, 95-yard scoring drive that took one minute to complete and it provided a 17-3 halftime lead for the Irish (8-1, No. 10 CFP). It was one of six receptions for Austin, who totaled 139 yards for the game.
"It's a difficult game to prepare for," Kelly said after Notre Dame's fourth straight victory of the season after its 24-13 loss Oct. 2 to No. 2 (CFP No. 6) Cincinnati, a team that Navy battled to a 27-20 home loss Oct. 23. "I'm extremely proud how the team prepared all week and the way they executed. We were detailed and focused."
Kyren Williams ran for 95 yards and two scores as the Irish offense totaled 430 yards. Williams, who had a career-high 199 yards last week in a 44-34 shootout victory over North Carolina, scored on runs of 1 and 20 yards.
Grad nose tackle Kurt Hinish had a career-high 10 tackles after making just 14 in six games coming in. Notre Dame dominated the Midshipmen (2-7) with its size and physical play. Navy controlled the clock, with 34:33 of possession — but completed just one pass for 18 yards and rushed for 166 yards — 73 on 22 carries by fullback Isaac Ruoss.
"We couldn't run the ball in the first half, and in the second half we had a hard time tackling," Navy coach Ken Niumatalolo said. "We got worn down."
It was Notre Dame's fourth straight victory in the series that began in 1927 but was interrupted last year by the COVID-19 pandemic. Notre Dame has an 80-13-1 lead in the series that will continue at least through 2032.
Navy led 3-0 after the first quarter on the first of two field goals by Bijan Nichols. But the Irish scored 17 points in the second quarter – Jonathan Doerer's tying field goal, Williams' 1-yard TD run and the Coan-to-Austin's touchdown aerial with 50 seconds remaining – for a 17-3 halftime lead.
"Giving up that late touchdown (in the first half) was tough because we deferred," Niumatalolo said.
Notre Dame got a safety when Navy backup quarterback Xavier Arline, replacing injured starter Tai Lavatai, recovered his own fumble in the end zone early in the fourth quarter. Williams then recovered his goal-line fumble in the end zone to finish off his 20-yard scoring scamper. Freshman Logan Diggs completed the scoring with an 8-yard run.
THE TAKEAWAY
Navy: The Midshipmen struggled against Notre Dame's physical front four. Back-to-back quarterback sacks of Lavatai by Hinish and Jordan Botelho forced Navy to settle for a 49-yard field goal by Nichols and a 3-0 first-quarter lead.
Lavatai then suffered a neck injury late in the second quarter and didn't return. Arline replaced him and completed one of two passes for 18 yards but managed just eight yards on eight carries.
"We ate up so much clock and came away with nothing," Niumatalolo said after the Midshipmen managed just two field goals with its time of possession advantage.
Notre Dame: After being held scoreless in the first quarter, the Irish outgained the Midshipmen 225-12 yards in the second quarter, including 158-0 through the air while scoring 17 straight points behind quarterbacks Coan and freshman Tyler Buchner, who alternated over the last three quarters.
Coan had two big completions to Austin in the first half – a 38-yarder completion to set up Doerer's tying 24-yard field goal and then their 70-yard completion that put the Irish up 17-3 with 50 seconds left.
"It helped," Kelly said. "I thought we handled the back half of the second quarter pretty good."
Austin praised his quarterback.
"Jack's been the same guy every single day since he's been here," Austin said. "He has ability to make plays like that every single time and we trust him to do that."
INJURIES
Notre Dame lost grad slot receiver Avery Davis with a knee injury late in the game. The Irish already are thin at the wideout positions with Lawrence Keys III in the transfer portal. Kelly expects to know more about Davis' injury Sunday. Navy, meanwhile, elected to keep Lavatai out of the second half.
POLLS IMPLICATIONS
Notre Dame could move up a bit in The Associated Press poll with Purdue's 40-29 victory over No. 5 Michigan State (CFP No. 3). The Irish also should move up in the College Football Playoff (No. 10) rankings with (CFP No. 9) Wake Forest's 58-55 loss to North Carolina.
UP NEXT
Navy: Hosts East Carolina next Saturday.
Notre Dame: At Virginia next Saturday.
---
---
#20 Minnesota vs. Illinois
Defense dominates for Illinois in 14-6 win at Minnesota
MINNEAPOLIS -- — Chase Brown rushed 33 times for 150 yards, and the Illinois defense delivered six sacks and two interceptions of Minnesota quarterback Tanner Morgan on the way to a 14-6 victory on Saturday.
Kerby Joseph picked off Morgan at the Illini 45-yard line with 38 seconds left to halt the too-little-too-late rally by the Gophers (6-3, 4-2), whose four-game winning streak that catapulted them into sole possession of first place in the Big Ten West Division was stopped cold.
"It was awesome. We developed a lot of different schemes and a lot of different things during the week. Our guys do an amazing job, so to see it all come to fruition is not a surprise," said tight end Trip Reiman, who caught his first career touchdown pass on the first play of the second quarter.
Morgan scored on a fourth-and-1 bootleg with 4:56 to go after going 7 for 8 for 68 yards on that drive to pull the Gophers within one score.
Brandon Peters attempted a season-low nine passes for the Illini (4-6, 3-4), but he was as sharp as he needed to be with seven completions for 80 yards and a score to help keep a bowl game in play.
The Illini finished the game with seven consecutive punts, except for a kneel-down at the end of each half, but Brown moved the chains with a 7-yard run off left tackle on third-and-4 near midfield around the 3-minute mark. Blake Hayes pooched his last punt to land it at the 2, leaving only 1:12 remaining and no timeouts for Morgan and the Gophers.
After a 38-yard strike to Dylan Wright, Morgan was taken down for an 11-yard sack by Isaiah Gay so hard the Illini linebacker hurt himself on the play.
The damage was already done by the Illinois defense, which frequently pressured Morgan and forced him out of the pocket to throw on the run when he wasn't sacked. The Gophers never found their usual rhythm, netting a season-low 89 rushing yards after racking up 634 yards on the ground over the previous two games. They crossed the 30-yard line without scoring three times, including a sack by Owen Carney Jr. on fourth-and-6 at the 22 in the third quarter.
Illini defensive coordinator Ryan Walters received plenty of postgame accolades from both sides.
"We stacked the line, so all the gaps were spaced out. It really helped us stop the run game," defensive tackle Jer'Zhan Newton said.
STRONG START
Illinois played a flawless first quarter, matching Minnesota's per-game average allowance with 93 rushing yards. Seth Coleman provided the spark by tipping Morgan's third-down pass at the line, deflecting the ball toward fellow linebacker Tarique Barnes for an interception near midfield to thwart a promising opening possession for the Gophers.
"They did a great job with disguises, all kinds of different stuff, but I can't let tipped balls happen," said Morgan, who finished 15 for 28 for 180 yards.
Said Minnesota coach P.J. Fleck: "I know he could have played better, but it doesn't just fall on one guy."
Wide receiver Isaiah Williams scored on a 2-yard jet sweep to finish a strong response to the turnover. Then after forcing a three-and-out, the Illini cruised from their own 9 to reach the end zone again on the first play of the second quarter.
The Illini just sat on their two-touchdown lead after that, and their defense was so relentless they just got away with the play-it-safe game.
The Gophers had a fourth-and-1 run stopped for no gain at the Illinois 22. Later in the first half, Matthew Trickett pulled a 45-yard field goal wide left. Trickett missed a his extra-point try in the fourth quarter, too, as the Gophers fell to 1-18 under Fleck when trailing at halftime. Their only such win was last month at Purdue.
"One of the things that we look at is to play from ahead. Minnesota is wired that way," said Illinois coach Bret Bielema, who went 7-0 against the Gophers while he was in charge at Wisconsin.
THE TAKEAWAY
Illinois: This wasn't quite as significant as the win at Penn State but an encouraging development nonetheless in the first year under Bielema, another sign the Illini can win with the power running and complementary defense he employed in the previous decade with the Badgers.
Minnesota: The bid for a West Division title wasn't really damaged, because the Gophers were almost certainly going to have to beat both Iowa and Wisconsin anyway to win it. They still can, if they win out. The problem is this feeble performance by the offense portends doom against the defenses the Hawkeyes and Badgers will present.
"That is not our football team. That's not the style that we play," Fleck said. "That's not the consistency we play with, and when it happens it's like a big elephant in the room."
UP NEXT
Illinois has next week off before visiting No. 19 Iowa on Nov. 20. The Illini have lost seven straight games to the Hawkeyes and have not won on the road in the series in six tries since 1999.
Minnesota plays at Iowa next Saturday. The Gophers are 0-4 against the Hawkeyes under Fleck and haven't won in Iowa City in nine trips there since 1999.
---
---
#21 Wisconsin vs. Rutgers
Wisconsin wins fifth straight, beats Rutgers, bowl eligible
PISCATAWAY, N.J. -- — Not only has Wisconsin put its horrid 1/3 start behind it, everything is suddenly within reach for the Badgers.
Graham Mertz threw a season-high three touchdown passes and Wisconsin won its fifth straight game and become bowl eligible for the 20th straight year with a 52-3 victory over Rutgers on Saturday.
"I can say about everyone on the team, guys are truly putting out during the week," said Mertz, who was 11 of 16 for 240 yards."We see the work that everybody puts in and it's getting to a special place. So got to keep building on it."
This game might have been the most complete of the season for the Badgers (6-3, 4-2 Big Ten). They got contributions from all three phases of the team in rolling up 579 yards yards in total offense and limiting Rutgers (4-5, 1-5) to 207.
Coupled with No. 20 Minnesota's loss to Illinois, Wisconsin will have a share of first place in the conference's West Division after opening the season with its worst since 1990. Win out and they play for the Big Ten title.
Wisconsin coach Paul Chryst drew some laughs when asked if the start seemed light years ago.
""I remember every game," he quipped. "You have to maximize each week. You put all your focus and energy in that. And I appreciate that the guys are doing that."
Chez Mellusi, Braelon Allen and Jackson Acker each ran for a touchdown and cornerback Caesar Williams highlighted a dominant performance by the Badgers' top-ranked defense by returning an interception 29 yards for a TD.
Mertz's touchdown passes covered 1-yard to John Chenal, 25 yards to Kendric Pryor and 72 yards to Danny Davis as the Badgers had their biggest point production since scoring 61 against Central Michigan early in 2019.
Rutgers lost for the fifth time in six games in seeing its hopes for a first bowl bid since 2014 take another hit after a 3-0 start. The 52-points tied Ohio State for most allowed by the Scarlet Knights this season.
Rutgers has to win two of its final three games to become bowl eligible with Indiana, Penn State and Maryland left.
"It's our story to write so that that's what we're going to do in the best way we can," Rutgers safety Avery Young said. "So that means, of course, the expectations a bowl games, we have more than enough opportunities left in the season to get that done. So the only move is to chop. That's all we know."
Wisconsin never trailed in beating Rutgers for the fourth time in as many games.
Mellusi, who led the game late with an undisclosed injury, opened the scoring with a 14-yard run on the second play after linebacker Noah Burks intercepted Noah Vedral's first pass and returned it to the Scarlet Knights 15.
Val Ambrosio's 24 yard field goal on the ensuing series were Rutgers' only points. The Badgers scored 24 in the second quarter to put the game away.
The turning point came after a short field goal by Collin Larsh. Former Badger Aron Cruickshank fumbled on the ensuing kickoff return and that set up the short, fourth-down TD pass by Mertz. Fourteen seconds later, Williams scored on the interception return and the rout was on.
Game notes
The Badgers five-game winning streak is their longest since opening 2019 with six straight. .. The 579 yards was their most in a Big Ten game since posting 606 yards vs. Purdue on Nov. 23, 2019. ... During the winning streak, the Badgers have allowed an average of 7.4 points and 185.6 yards. ....The Badgers totaled at least 250 yards rushing and passing for the first time since rushing for 294 and passing for 292 vs. Akron in 2016. The last time they had at least 250 and 250 in a Big Ten game was an 83-20 win over Indiana in 2010 (338 rushing, 260 passing).
DISCIPLINE
Scarlet Knights defensive end and co-captain Mike Tverdov and receiver Brandon Sanders did not play for a violation of team rules.
DEFENSE
The Badgers are forcing turnovers galore. They had eight in beating nationally ranked Iowa and Purdue in the previous two games. They added four more against Rutgers Saturday. The Scarlet Knights were limited to 207 yards. They had four in the first six games.
UP NEXT
Wisconsin: Returns home to face Northwestern on Saturday. They end the regular season with games at home against Nebraska and then at Minnesota.
Rutgers: At Indiana on Saturday.
---
---
#22 Iowa vs. Northwestern
No. 19 Iowa changes quarterbacks, beats Northwestern 17-12
EVANSTON, Ill. -- — Alex Padilla could feel the jitters when he got the call to go into the game. Once he stepped on the field, he sure looked comfortable, though.
Padilla took over for the banged-up Spencer Petras and led three scoring drives, Tyler Goodson ran for 141 yards and a touchdown and No. 19 Iowa beat Northwestern 17-12 on Saturday night to stop a two-game losing streak.
"Definitely some nerves," Padilla said. "There were definitely some of those. Just excited. I have a great group of guys around me. They make my job easy. Just excited to get in there and play some."
The Hawkeyes (7-2, 4-2 Big Ten) got the bounce-back win they were seeking coming off lopsided losses to Purdue and Wisconsin that sent them tumbling 17 spots in the AP poll, though it wasn't exactly a breeze.
Northwestern (3-6, 1-5) pulled to 17-12 with 2:21 remaining on Andrew Marty's 31-yard touchdown pass to Evan Hull and quickly got the ball back after Iowa went three and out. But Dane Belton immediately sealed it with his second interception, sending the Wildcats to their third straight loss.
Padilla, a sophomore, led two touchdown drives in the first half in his first extensive look after Iowa went nowhere on its first three possessions. And the Hawkeyes won for the first time since beating Penn State on Oct. 9, after getting outscored 51-14 over the previous two games.
"It felt great," Belton said. "That's what you play for. You love the game and you love to celebrate victories. ... That's football. That's college football. And for us to be able to do that as a team is the biggest thing overall."
Padilla came in late in the first quarter and completed 18 of 28 passes for 172 yards. The sophomore helped get the offense going after Petras, limited by a shoulder injury he suffered at the end of last week's game, went 2 of 4 for 4 yards.
"Spencer just couldn't throw — not with zip on it," coach Kirk Ferentz said.
Ferentz said he doesn't think the injury is a major one. The question is who starts if Petras is completely healthy.
"I know Spencer's led us to a lot of victories," Ferentz said. "And tonight, Alex did. To me, that's a good situation. I'm really proud of Alex for what he did. And we're really proud of all the things Spencer's done over the last two years as well."
Goodson finished 12 yards shy of his career high after he was held to a combined 95 yards against Purdue and Wisconsin. He scored from the 13 late in the first quarter and broke off a 41-yard run early in the second to help set up a touchdown by Arland Bruce IV.
Jermari Harris had an interception in the end zone in the fourth quarter. And the Hawkeyes hung on to beat Northwestern after dropping four of the previous five meetings.
SKID CONTINUES
Marty started at quarterback for the Wildcats after replacing Ryan Hilinski in last week's blowout by Minnesota and threw for 270 yards with a touchdown and three interceptions.
"I think there's some really gutty and gutsy and tough plays that he made," coach Pat Fitzgerald said. "When you play the quarterback position, you look back and want some plays back. But I thought he responded really well to adversity."
Hull had 89 yards receiving and 41 rushing. The defense took a hit when defensive end Samdup Miller exited in the first half with a lower body injury, and the Wildcats remained winless since beating Rutgers on Oct. 16.
PROTEST
Play was stopped for a few minutes near the end of the first half when about eight or nine protestors carrying signs entered the field.
One sign read "ABOLISH NUPD INVEST IN BLACK LIVES." Another read "STOP FUNDING WAR ON PALESTINE."
POLL IMPLICATIONS
Iowa's slide in the poll figures to stop after the Hawkeyes plummeted in recent weeks.
THE TAKEWAY
Iowa: Tops in the nation with 16 interceptions coming into the game, the Hawkeyes got back to taking the ball away. That's something they did just once in the previous two games while committing seven turnovers.
Northwestern: The Wildcats continued to struggle after being outscored 74-21 over losses to Michigan and Minnesota.
UP NEXT
Iowa: Hosts Minnesota on Nov. 13.
Northwestern: At Wisconsin on Nov. 13.
---
---
Penn State vs. Maryland
Dotson sets record, No. 22 Penn State beats Maryland 31-14
COLLEGE PARK, Md. -- — Jahan Dotson put on quite a show for the family members who came to see him play.
Afterward, he was a little overwhelmed just talking about it.
"I probably had about 20 people here today. That's what makes me go so much harder, just my family," Dotson said, tears eventually welling up in his eyes. "They support me literally through everything. I'm kind of getting emotional here, but yeah, they're like my rock."
Dotson caught 11 passes for a school-record 242 yards and three touchdowns, helping No. 22 Penn State snap a three-game losing streak with a 31-14 victory over Maryland on Saturday night. Dotson said his mother, father and grandfather were there to watch, along with aunts and uncles who had come in from around the country.
Sean Clifford threw for 363 yards for the Nittany Lions, including an 86-yard TD strike to Dotson that gave Penn State the lead with 13:55 to play. Dotson also caught scoring passes of 38 and 21 yards.
"Each week our plan is to get Jahan Dotson as many touches as possible," Penn Sate coach James Franklin said. "That's what you have to do with your best players, and he came through for us time and time again tonight."
The Terrapins tied it at 14 early in the fourth quarter. A sack knocked Penn State (6-3, 3-3 Big Ten) back 8 yards on the first play of the next drive, but then Clifford found his star receiver over the middle and Dotson outran everyone to the end zone.
That was the longest reception of Dotson's Penn State career. The Nittany Lions struggled to put away the Terrapins, but they were able to take advantage of three empty Maryland trips to the red zone.
The Terrapins (5-4, 2-4) were trying to secure bowl eligibility for the first time since 2016. Taulia Tagovailoa passed for 342 yards and a TD, but he took an intentional grounding penalty that knocked Maryland out of field goal range early and fumbled a shotgun snap for a key turnover in the third quarter.
"The thing I like most about this is our team continues to give us the effort and the fight is there," Terps coach Michael Locksley said. "I surely would like to see us play smarter and not beat ourselves."
Clifford found a very open Dotson deep for the game's initial touchdown in the first. Maryland reached the end zone toward the end of the half on a 2-yard run by Challen Faamatau, but a missed extra point left the Terrapins down 7-6 at the break.
Dotson's second touchdown capped a 95-yard scoring drive that made it 14-6. Maryland tied it when Tagovailoa threw a 13-yard touchdown pass to Corey Dyches on the first play of the final quarter, then passed to Chigoziem Okonkwo for the 2-point conversion.
After Penn State went ahead 21-14, Dotson provided one more big play — a 45-yard catch-and-run on third-and-8 that set up a field goal.
"He's a good player and he had a really good game," Maryland safety Jordan Mosley said. "Just some missed assignments and blown coverages, and he's a good player and he made some good plays."
Ji'Ayir Brown scored on an 87-yard interception return with 2:39 remaining to make it 31-14.
THE TAKEAWAY
Penn State: It was an uneven game for the Nittany Lions, who had a long drive early in the second half and hit on several big plays — but also had their share of failed possessions against a Maryland team that hasn't looked great defensively.
"I'm proud of our guys," Franklin said. "First half wasn't as pretty as we wanted it to be, but then you guys would have nothing to talk about. Second half we came out and I thought played a lot better."
Maryland: The Terps were more competitive than they were earlier this season against a couple other ranked teams. They lost to Iowa and Ohio State by a combined 117-31, but they were a threat to pull an upset for most of this one.
BACK ON TOP
Penn State lost to Maryland last season, only the third victory for the Terrapins in 44 games of this series. The Nittany Lions bounced back in meeting No. 45.
MISSED CHANCES
Maryland spent a lot of time in Penn State territory and didn't have much to show for it. The Terps reached the 18 on their first drive before an 18-yard loss on the intentional grounding call forced a punt.
In the third quarter, Maryland had a drive stall at the Penn State 36, then later made it to the 10 before a snap went off Tagovailoa's hands, bounced off running back Tayon Fleet-Davis, and the Nittany Lions recovered.
Brown's interception return came on a play that originated at the Penn State 20.
"I like how our kids competed for four quarters, but we just continue to make mistakes at the most inopportune times," Locksley said. "We had five opportunities in the red zone and came away with two touchdowns."
POLL IMPLICATIONS
The final score will look more convincing than this game was, but the Nittany Lions have ended their skid.
UP NEXT
Penn State: Hosts No. 9 Michigan next Saturday.
Maryland: At No. 5 Michigan State next Saturday.
---
---
Chicago Journal Newsletter
Join the newsletter to receive the latest updates in your inbox.