College Football 2022, Week 4: B1G Summary + Notre Dame
Power Five Northwestern loses to FCS Southern Illinois, Nebraska trounced by the Sooners, Michigan State loses to Washington, Penn State crushes Auburn. These are the B1G stories of the week.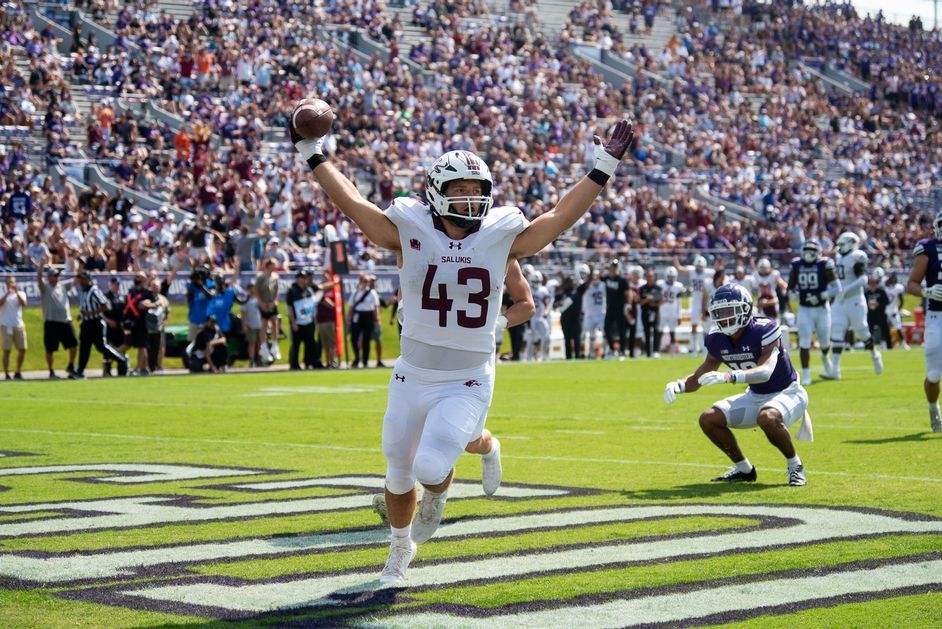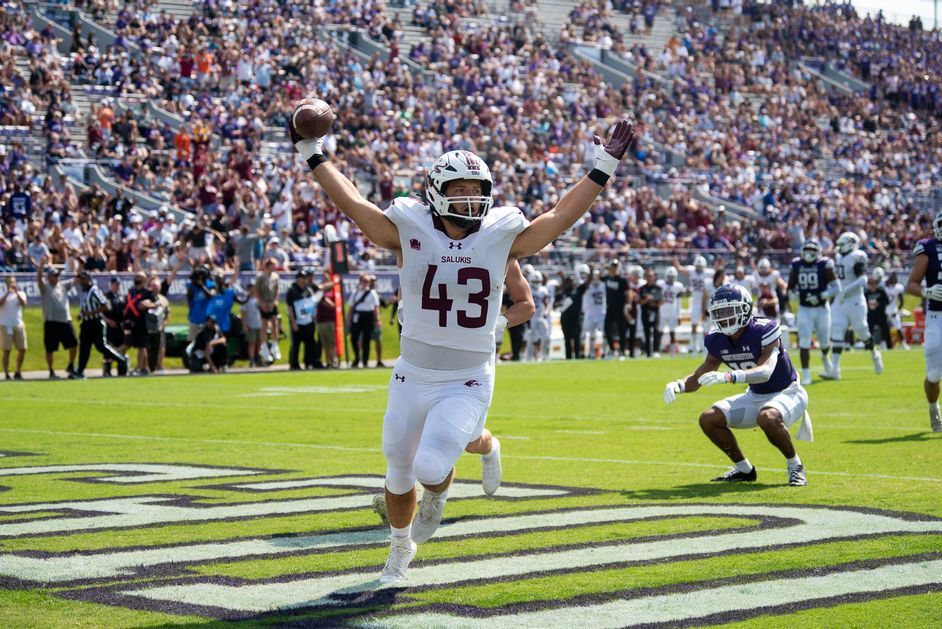 Northwestern vs. Southern Illinois
Baker, Southern Illinois stun Northwestern 31-24
By MATT CARLSON Associated Press
EVANSTON, Ill. (AP) — Nic Baker hit Jacob Garrett with a touchdown pass for the second time in the game to break a tie with 12:28 left in the fourth quarter, and Southern Illinois went on to top Northwestern 31-24 on Saturday.
Garrett caught Baker's toss to cap a 19-play, 74-yard drive to put the Salukis ahead by a touchdown and SIU (1-2) beat a Big Ten opponent for only the second time. A Missouri Valley Conference member, Southern Illinois' other win over a Big Ten foe was against Indiana in 2006 when coach Nick Hill was their quarterback.
"I'm just excited to see it from a different lens as a coach," said Hill, who's from Du Quoin, Illinois about 20 miles north of Southern Illinois' campus in Carbondale. "I just kind of stood back and was able to watch them kind of enjoy it."
SIU made it 31-17 when Baker pushed up the middle for a 1-yard score with 5:09 left after Northwestern quarterback Ryan Hilinski fumbled at the Wildcats 10-yard line.
The Salukis needed the extra score. Hilinski capped a late 16-play, 75-yard drive with a fourth-and-goal touchdown pass to Malik Washington with 1:19 left.
Baker finished with three touchdowns and 241 yards on 23-of-34 passing. Garrett had 47 receiving yards to go with his two scores.
"We saw some stuff we could take advantage of," Baker said. "We love our wideouts. They can do it all and we trust them and they trust me. To come out here and get the train rolling was huge, especially against a team like Northwestern."
Tyce Daniel also scored off a Baker pass as the Salukis' air game lifted them to the win. SIU finished with 96 total rushing yards.
But the big difference in this one: Southern Illinois played a tighter, tidier game. The Salukis committed one turnover; Northwestern made four and they were costly.
"We settled down and played outstanding defense," Hill said. "We took care of the ball and we got turnovers and we competed at a super-high level. We had a daunting task today, to come up staring 0-and-3 in the face if we don't beat a Big Ten school. Man, they battled. It was fun to watch the competitiveness."
Baker and Garrett stole the show from Hilinksi, who entered averaging 374.5 yards in two previous games, Hilinski threw for more than 300 yards in each of them, but settled for 214 in this one on 27-of-43 passing.
Northwestern (1-2) had 528 total yards in its opener and 511 in its second game. SIU held the Wildcats to 380.
"The defense was just making it tough on them and made it easy on us when they would get turnovers and stuff like that," Baker said.
"We just seemed to have too much inconsistency offensively with our ball security," Northwestern coach Pat Fitzgerald said. "Our inability to hit explosives like we had been through the first couple of weeks.
Northwestern's Evan Hull rushed more than 100 yards again, gaining 124 on 25 carries and added eight catches for 33 yards. He entered leading the nation with an average of 235 all-purpose yards per game.
THE TAKEAWAY
Southern Illinois: Led by Baker and Garrett and some timely defensive plays, Salukis were plucky in their ninth game ever against a Big Ten opponent.
Northwestern: Hilinski and Hull are the headliners, but weren't as dominant in this one. Hilinksi's pass accuracy was questionable again as Wildcats continued to wheel-and-deal against a non-conference opponent. But Northwestern needs to tighten up its play on both sides of the ball, especially as Big Ten play arrives.
But Northwestern needs to be more focused and assertive, Fitzgerald said.
"He obviously were hunted today," he said. We allowed then to come in here and be the hunter. You know credit to them."
UP NEXT
Southern Illinois: The Salukis host North Dakota next Saturday in their Missouri Valley Conference opener.
Northwestern: The Wildcats host Miami-Ohio next Saturday in their final non-conference game.
---
---
#3 Ohio State vs. Toledo
Stroud throws 5 TD passes, No. 3 Ohio St routs Toledo 77-21
COLUMBUS, Ohio — Ohio State coach Ryan Day distributed the obligatory praise of his players after their score-at-will rout of Toledo, but the No. 3 Buckeyes won't dwell on it long with the Big Ten schedule around the next corner.
Instead of taking some time to enjoy the 77-21 rout of Toledo late Saturday, coaches were already into planning for Wisconsin, which the No. 3 Buckeyes will host next week in the first in a slog of nine Big Ten games.
"Next week we have a conference opponent, so everything is going to be even harder," Day said. "So usually we wait until Sunday to move on. We'll do that as we leave the stadium tonight."
C.J. Stroud threw five touchdown passes and No. 3 Ohio State rolled up 763 yards on the way to crushing Toledo.
The Buckeyes (3-0) scored on all six of their first-half possessions, with Stroud completing 18 of 20 passes for 297 yards and a pair of touchdown passes each to Marvin Harrison Jr. and Julian Fleming on the way to a 42-14 lead.
Stroud, a Heisman Trophy favorite, completed 22 of 27 passes for 367 yards before yielding to backups late in the third quarter.
"Once we get momentum rolling it's kind of hard to stop us, he said. "It's just about execution and taking pride in it. And I definitely think we did that and will continue to build, but it's going to take more because now we go into Big Ten play, and we got to be more and more focused and stick together and keep rolling."
The Buckeyes' offensive output was the most since they gained 776 yards in a 77-10 win over another Mid-American Conference team, Bowling Green, in 2016.
Day wanted a dominating performance in the last nonconference game.
"There are a few things here we've got to clean up for sure going into conference play, but suddenly you look at the scoreboard, and we're proud of what we did," Day said.
TreVeyon Henderson, an AP Preseason All-American, scored on a 7-yard run to put Ohio State on the board in the first quarter, but the second-year back didn't play again because of an unspecified injury that briefly sent him to the locker room.
Day didn't provide details, but he said it was an injury Henderson has been dealing with, and the decision was made to rest him.
Toledo tied it at 7 early on Dequan Finn's 50-yard TD heave on the run to Thomas Zsiros, but the Buckeyes assumed control and ran away with it.
That wasn't for lack of effort on the part of Finn, who made the Rockets' offense at least look respectable. He passed for 153 yards and two TDs, while rushing for 70 and another score.
"This is a top five team in the country, a team that's been picked by many to win the national championship and as good as offensive skill as we'll see, and I've seen in my entire coaching career," Toledo coach Jason Candle said.
THE TAKEAWAY
Toledo: Finn is a talented, dual-threat QB with good instincts who's bound to have more fun when the Rockets start their MAC schedule. But the Toledo defense just couldn't slow down the Buckeyes with Stroud at the helm.
"It's hard to respond," Candle said. "Some guys have never been beat like that in their lives, including me."
Ohio State: The placement of many of Stroud's passes just couldn't be defensed, and a few of the throws and catches were spectacular. The bit of rust the third-year quarterback might have brought into the season is gone. He showed why he was a Heisman finalist last season.
MARVELOUS MARVIN
Harrison is on a roll for the Buckeyes. The second-year receiver had six catches for 102 yards — all in the first half — including two acrobatic touchdown passes. That followed seven catches for 184 yards and three TDs in last week's win over Arkansas State. Emeka Egbuka had seven catches for 116 yards and a TD and added another score rushing.
POLL IMPLICATIONS
With No. 1 Georgia and No. 2 Alabama routing their Saturday opponents, Ohio State is unlikely to move up.
LATE SCRATCHES
Ohio State starting safeties Tanner McAlister and Josh Proctor were not in uniform and announced as unavailable just before the game. Cameron Martinez and Lathan Ransom replaced them in the starting lineup. Defensive lineman Mike Hall Jr. also didn't play. Day said those players also "were dealing some things" related to injuries and were kept out.
UP NEXT
Toledo: At San Diego State next Saturday.
Ohio State: Hosts Wisconsin next Saturday in Big Ten opener.
---
---
#4 Michigan vs. UConn
Corum scores 5 TDs, No. 4 Michigan routs Connecticut 59-0
ANN ARBOR, Mich. — Blake Corum matched a school record with five touchdowns, helping No. 4 Michigan beat Connecticut 59-0 Saturday for its third straight rout to open the season.
Corum is not ready to celebrate.
"I don't know how good we are," he acknowledged. "We look good. I feel like we're going to be great, but I can't tell yet.
"I can tell from the look of things, the sky is the limit for this offense."
Corum started the scoring barrage with a 20-yard run on the game's opening drive and had three 1-yard scores before halftime. His 11-yard touchdown late in the third quarter tied the single-game school record set by Ron Johnson in 1968 and equaled by Hassan Haskins in last year's win over Ohio State.
The Wolverines (3-0) led 38-0 at halftime before coasting in the second half of a game that looked a lot like their first two tune-ups, when they beat Colorado State 51-7 and Hawaii 56-10.
Is Michigan prepared to begin defending its Big Ten championship?
"We'll find out, right?" coach Jim Harbaugh said.
J.J. McCarthy was 15 of 18 for 214 yards, a week after Harbaugh said he had won the quarterback competition.
"My mind isn't racing anymore," the sophomore said. "Everything's just slowing down. That's something that has changed from last year to this year."
Big Ten championship-winning quarterback Cade McNamara entered late in the first half and was roughed up. He was sacked on the first snap and didn't play in the second half due to a leg injury.
"He's probably going to be out for a few weeks," Harbaugh said.
Without the senior available in the lopsided game, Harbaugh gave several reserve quarterbacks a chance to play.
The Huskies (1-3) had just 64 yards of offense in the first half, had a punt blocked and gave up a punt return for a touchdown over the opening 30 minutes.
"Tough loss, a really good team, a team that is a contender for a national championship and they served it up pretty good to us," first-year coach Jim Mora said. "The thing I was proud of is the attitude and the effort of our young men. They kept fighting. This is not the situation where you want to play a lot of young guys, but we got to play a ton of young guys and we're going forward with them."
Connecticut freshman Zion Turner was 4 of 16 for 17 yards and had 42 yards rushing. The Huskies finished with just 110 yards of offense, going 2 for 14 on third down and earning just six first downs.
"We've got to continue to work hard and believe we can make progress regardless of the score," Mora said.
THAT'S SPECIAL
In the second quarter, Michigan special teams ace Caden Kolesar blocked a punt to set up one of Corum's touchdowns.
"(Kolesar) ran around the edge, he took the perfect amount of steps and the exact right angle," Harbaugh said.
Several minutes later, A.J. Henning returned a punt 61 yards for a score.
"It's very rare to get a block and a return for a touchdown," Harbaugh said.
THE TAKEAWAY
UConn: Mora is trying to turn around an independent program that won only one game over two years and had just 10 victories during the six seasons prior to his arrival.
Michigan: Harbaugh's team has not been tested, but it has not played down to inferior competition before starting Big Ten play.
"We're always competing with ourselves no matter who we're playing," McCarthy said.
INJURY REPORT
UConn: RB Nate Carter left with a shoulder injury after he had six carries for 21 yards.
Michigan: LT Karsen Barnhart, who started the opener, RB Donovan Edwards and LB Nikhai Hill-Green did not play due to undisclosed injuries.
POLL IMPLICATIONS
The Wolverines likely will be ranked No. 4 for the second straight week in the AP Top 25.
UP NEXT
UConn: Plays at North Carolina State on Saturday night.
Michigan: In its fourth straight home game, faces Maryland in the Big Ten opener for both teams on Saturday.
---
---
#6 Oklahoma vs. Nebraska
No. 6 OU routs Huskers 49-14 in 1st game after Frost firing
LINCOLN, Neb. — When Saturday's Oklahoma-Nebraska game was scheduled 10 years ago, the intention was to celebrate what once was among college football's greatest rivalries.
It turned out to be further confirmation the Cornhuskers are just a shell of the program that decades ago battled the Sooners for conference titles year in and year out.
Dillon Gabriel threw for two touchdowns and ran for another, and sixth-ranked Oklahoma hammered Nebraska 49-14 in the Huskers' first game following the firing of Scott Frost.
OU (3-0) posted its most lopsided victory over Nebraska (1-3) since a 45-10 win in 1990 and scored its most points in Lincoln in 43 all-time visits. The Sooners have won seven of eight against the Huskers. The next meetings are set for 2029 and '30.
"We've not done anything but win our first road game," first-year OU coach Brent Venables said. "No one here is beating their chest. Today was a good, strong win and I think we improved today in lots of different ways."
The Huskers have lost 19 straight against Top 25 opponents and nine in a row against Bowl Subdivision teams.
Frost's tenure, which lasted four years plus three games, was marked by close games. The first one under interim head coach Mickey Joseph was never in doubt after the opening quarter, and Memorial Stadium began emptying at halftime.
Joseph said it was apparent he didn't get his team ready emotionally.
"It's not my kids' fault, not my assistant coaches' fault, this is on me," he said. "I've got to accept responsibility for it, and I have. We're going to get better next week. We've got eight games left, and we're going to get ready to win some games."
Oklahoma scored 49 straight points after Nebraska opened the game with a six-play, 77-yard touchdown drive. The Huskers totaled just 71 yards on their next 37 plays in the first half and didn't score again until backup quarterback Chubba Purdy ran for a late touchdown.
Gabriel was 16 of 27 for 230 yards and turned things over to backup Davis Beville on the third series of the second half. The Sooners finished with 580 total yards, 312 on the ground.
"I'm extremely critical of myself and felt like I left a lot of things on the field," Gabriel said. "We were a couple explosive plays away from making us feel really good about how we played."
Gabriel got the Sooners started with a career-long 61-yard touchdown run on a quarterback draw. "What sweet feet he had," Venables said.
Gabriel then threw a 25-yard pass to Jalil Farooq to put his team ahead. Marcus Major scored the next two TDs. The first score was a short run and the second on a trick play where Gabriel lateraled to tight end Brayden Willis, who lofted a 24-yard pass to the wide-open Major.
Eric Gray's 16-yard run made it 35-7 at half, and then the Sooners mostly kept it on the ground to chew up clock.
The Huskers' Casey Thompson was 14 of 20 for 129 yards and a touchdown and got sacked four times. He was replaced by Purdy after the Huskers went down 49-7 in the middle of the third quarter.
Nebraska and Oklahoma combined for 44 of 48 Big Seven and Big Eight championships and 11 national titles from 1948-1995.
Nebraska and Oklahoma players from the 1970s and '80s made a weekend of it. The Huskers' 1970-71 national championship teams held a reunion and Johnny Rodgers was honored on the field to commemorate the 50th anniversary of his winning the Heisman Trophy.
Joseph said he didn't see such a poor performance coming.
"Yes, it's surprising," he said. "But I wanted them to continue to fight, and they did. It's on me. I've got to fix this problem."
THE TAKEAWAY
Oklahoma: After scoring seven first-half points against Kent State last week, the Sooners had 35 by half and will go into Big 12 play off their most complete game of the season on both sides of the ball.
Nebraska: The defense continues to flounder, having given up more than 500 yards to a third straight Bowl Subdivision opponent. The offensive line doesn't give Thompson a chance to create a rhythm.
POLL IMPLICATIONS
The Sooners should hold their place in the AP Top 25 and, with all the teams above them winning, probably will have to wait to crack the top five for the first time since the middle of last November.
SOONER EJECTED
Oklahoma's DaShaun White was ejected for targeting in the second quarter when he hit Thompson with the crown of his helmet after Thompson released the ball.
LINE CHANGE
Nebraska left tackle Teddy Prochaska didn't dress because of a shoulder injury and is out for the season, Joseph said. Turner Corcoran, who started the first three games at left guard, took over Prochaska's spot.
UP NEXT
Oklahoma: hosts Kansas State on Saturday in Big 12 opener.
Nebraska: open date before hosting Indiana on Oct. 1.
---
---
#11 Michigan State vs. Washington
Washington makes statement, beats No. 11 Michigan St 39-28
SEATTLE (AP) — Kalen DeBoer knew no matter how well the transition had gone, this was the week that would validate — one way or another — what Washington had showed so far.
Behind a spectacular performance by Michael Penix Jr., the Huskies emphatically stated their case as a contender in the Pac-12 and maybe worth some national recognition.
Penix threw for 397 yards and four touchdown, and Washington (3-0) toppled No. 11 Michigan State 39-28 on Saturday night.
"We just beat a really good football team in my mind," Huskies coach DeBoer said. "To get this win now is just going to continue to put the belief in our guys."
Penix was terrific for three quarters in a primetime national showcase that showed DeBoer's rebuild is progressing faster than expected. Washington led 29-8 at halftime and 36-14 after three quarters.
Having a star quarterback certainly helps.
"Every game that we've seen (Penix) he comes out with the same energy, comes out with the same leadership, mentality. It's just it's easy to follow someone like that," Washington running back Wayne Tualapapa said.
Penix completed 24 of 40 passes and just missed posting the eighth 400-yard passing game in Washington history. He was at his best in the first half, connecting on 18 of 24 attempts for 278 yards and leading Washington to touchdowns on four of its five possessions.
He wasn't sacked by a Michigan State pass rush that led the country in sacks after two weeks.
"I felt real comfortable out there knowing that I got five guys up there that's gonna protect me each and every play," Penix said.
It was the second-best day in Penix's career in terms of yards passing and TDs, trailing only his 491 yards and five TDs in 2020 against Ohio State while playing for Indiana.
"You got a guy who you can win football games with, not just like try to manage a game, and he's got so much belief by his teammates in him," DeBoer said.
Ja'Lynn Polk had six catches for a career-high 153 yards and three TDs. Polk's 53-yard touchdown catch early in the third quarter was a resounding answer after Michigan State scored on the opening drive of the second half to pull within 29-14.
Payton Thorne threw for 323 yards and three TDs, and led a pair of quick fourth-quarter scoring drives for Michigan State that caused some nerves for the Huskies. Thorne threw a 33-yard TD to Keon Coleman with 5:17 left and the 2-point conversion pulled Michigan State within 11. But the rally was too late for the Spartans (2-1), who were stymied in the run game and saw their pass defense get exposed.
"We had a matchup issue that they took advantage of. It was obvious, it showed up early in the game," Michigan State coach Mel Tucker said. "We knew that it was going to be a game of explosives. ... We knew that we needed to eliminate explosive gains and we weren't able to do that."
It was Washington's first win over a ranked Power Five nonconference opponent at home since beating Michigan to open the 2001 season. And the night ended with a sea of purple fans celebrating on the turf of Husky Stadium.
Penix and the Huskies were hot from the outset. Penix threw touchdowns of 8 yards to Polk on Washington's opening possession and a 19-yard strike to Tualapapa on facing third-and-6 in the second quarter. Penix capped his stellar first half by leading Washington on a 65-yard TD drive in the closing seconds of the half and scrambling from pressure to hit Polk on a 17-yard TD with four seconds left in the half.
Polk had a career-high 100 yards receiving by the half and the Huskies rolled up 322 yards to just 90 for the Spartans in the first 30 minutes.
"We weren't able to hit the quarterback enough and we weren't able to put enough pressure on him," Tucker said.
MISSING
Michigan State played without starting wide receiver Jayden Reed and starting defensive tackle Jacob Slade. Washington was without starting safety Asa Turner and left tackle Jaxson Kirkland remained out following offseason ankle surgery.
THE TAKEAWAY
Michigan State: The Spartans had the worst pass defense in the country a season ago. And while there was hope through the first two games it had improved, the Spartans secondary was completely exposed by Washington. The Spartans surrendered nearly 400 yards passing in just three quarters. Washington's first punt came in the final minute of the third quarter.
Washington: The Huskies run defense deserves a ton of recognition: Michigan State finished with 42 yards rushing. The better judge of how Washington did was holding the combo of Jerek Broussard and Jalen Berger to 30 yards on 17 carries. Michigan State averaged 228.5 yards rushing over the first two games.
UP NEXT
Michigan State: The Spartans host Minnesota to open Big Ten play next Saturday.
Washington: The Huskies open Pac-12 play next Saturday hosting Stanford.
---
---
#22 Penn State vs. Auburn
Freshman backs power No. 22 Penn State past Auburn, 41-12
AUBURN, Ala. — Nicholas Singleton and Kaytron Allen combined for 176 rushing yards and four touchdowns as No. 22 Penn State cruised to a 41-12 win at Auburn on Saturday.
The Nittany Lions' freshman running backs were instrumental in the red zone. Penn State (3-0) scored touchdowns on each of its first four trips inside the 20-yard line. Quarterback Sean Clifford passed for 178 yards.
"The ability to be more balanced and take pressure off the passing game has been really important for us," said Penn State coach James Franklin. "We also have some dynamic backs that can help create some explosive plays."
The Penn State defense forced four turnovers by Auburn (2-1) and also held Tigers star running back Tank Bigsby to 39 rushing yards.
Auburn quarterback T.J. Finley had 152 passing yards, an interception and a lost fumble before being replaced in the second half by Robby Ashford.
Penn State led by one point late in the second quarter before Allen scored his first of two touchdowns. After Auburn opened the third quarter with a three-and-out, Singleton broke a 54-yard run and found the end zone two plays later.
The Nittany Lions scored 20 more points in the second half to pull away for the comfortable win in what was the first game against a Big Ten opponent for Auburn inside Jordan-Hare Stadium.
"We're disappointed in the performance," Auburn head coach Bryan Harsin said. "We're disappointed in the loss. ... You can look at the stats. It's pretty matter-of-fact."
THE TAKEAWAY
Penn State: The Nittany Lions dominated the line of scrimmage on both sides of the ball, which is a major step forward for Franklin's program. Penn State still has time to grow, too, considering the number of newcomers who are playing key roles so far this season.
Auburn: The pressure on Harsin will only increase. The loss was Auburn's fifth straight to a Power Five team. On top of the four turnovers, the Tigers' offense was unable to establish a consistent rushing attack and allowed a large amount of pressure in the passing game.
"The key is, really, how we handle the disappointment," Harsin said. "... We still have a long season ahead of us. There's still a lot of football to play."
A HISTORIC STATE-MENT
The 29-point win tied Penn State's second-largest margin of victory over an SEC team, matching the win over Auburn in the 1996 Outback Bowl. The Nittany Lions' biggest victory over an SEC team came in 1978, a 30-point win over Kentucky.
"There haven't been too many teams in the history of the Big Ten to come on the road and get a win in the SEC," Franklin said. "So we're very, very proud of that."
GROUND AND POUND
Penn State finished with 245 rushing yards to Auburn's 119. The Nittany Lions averaged 6.3 yards per carry, which is the most the Tigers have allowed since a 2020 loss to Texas A&M.
"We emphasized it all week long, and we were able to make (Auburn) one-dimensional, to a degree," Franklin said. "Obviously, there's some things we've gotta get cleaned up in the passing game. But that was the plan. We wanted to put (Finley) in a position to beat us, and I think we did that."
THE TURNOVER BATTLE
Franklin called Auburn's four turnovers to Penn State's zero "the story of the game." Through three games this season, the Tigers have not had a single defensive takeaway and currently sit at minus-8 in turnover margin.
POLL IMPLICATIONS
Penn State made its season debut in the poll this week and has a good chance to move up after a big win on the road.
UP NEXT
Penn State returns home to face Central Michigan next Saturday. Auburn hosts Missouri in its SEC opener next Saturday.
---
---
Purdue vs. Syracuse
Shrader's late TD pass lifts Syracuse past Purdue 32-29
SYRACUSE, N.Y. — Garrett Shrader connected with Oronde Gadsden II on a 25-yard touchdown with seven seconds left to lift Syracuse to a 32-29 win over Purdue on Saturday.
"They threw a corner route, completed it in the corner against man-to-man coverage. It was in the end zone and they scored on it," Purdue coach Jeff Brohm said. "They did a good job of executing."
That touchdown capped a wild fourth quarter of dramatic lead changes. Syracuse led 10-9 after three quarters and outscored the Boilermakers 22-20 in the final period. The Orange improved to 3-0, its best start since 2018. Purdue fell to 1-2.
"This is a spiritual-type game here," said Syracuse coach Dino Babers, who compared the end of the game to a rollercoaster ride. "To win a game like that, to have the scoreboard go back and forth from the third quarter to the fourth quarter, through the highs and lows. … there were turns, there were deep valleys and then there were big climbs."
Aidan O'Connell's 12-yard touchdown pass to tight end Payne Durham with 51 seconds left in the fourth gave the Boilermakers a 29-25 advantage and seemed to seal it for Purdue. But two unsportsmanlike conduct penalties were called against the Boilermakers after the touchdown, and they were forced to kick off from their own 10-yard line. Courtney Jackson returned the kick to midfield to put the Orange in striking distance.
The Boilermakers then committed two more penalties — holding and pass interference — on third-and-10 plays to keep the winning drive alive before Shrader threw for the winning score.
O'Connell, who completed 38 of 54 passes for 415 yards and three touchdowns in the game, threw for two fourth quarter scores to rescue the Boilermakers from a 10-point deficit.
But before those O'Connell heroics, Syracuse scored two touchdowns within nine seconds and led 25-15 midway through the fourth quarter.
A scrambling 46-yard touchdown pass from Shrader to Gadsden on a fourth-and-one play gave Syracuse an 18-15 advantage after Shrader ran for a 2-point conversion. That touchdown happened with 8:17 left in the game.
On Purdue's next possession, SU's Jatius Geer wrapped up O'Connell as the Purdue QB attempted a pass. The ball wobbled into the hands of Orange defensive end Caleb Okechukwu, who trotted 17 yards into the end zone.
"Just trying to get back there," said Okechukwu, who believed Geer would sack O'Connell. "He threw the ball and I just caught it and scored."
Syracuse led 25-15 at that point, but O'Connell hooked up with favorite receiver Charlie Jones for a 55-yard touchdown that moved the Boilermakers within 25-22 with 6:41 left. A missed 41-yard field goal by Mitchell Fineran with 2:54 left could have tied it.
The teams had met only once before, when in 2004 Purdue beat the Orange 51-0 at Ross-Ade Stadium.
THE TAKEAWAY
Purdue: The Boilermakers were without running back King Doerue, who is nursing a calf injury. Doerue rushed for 68 yards on 18 attempts with three touchdowns in Purdue's first two games. Without him, the Boilermakers struggled to get much going on the ground, but typically got plenty in the air from O'Connell. The Purdue quarterback had lots of time in the first half and threw for 175 yards on 21 of 27 attempts. Syracuse applied more pressure on him in the second half, but O'Connell still managed to successfully throw deep. Jones, a transfer from Iowa, caught 11 passes for 188 yards, both career highs.
Syracuse: Shrader had been one of the nation's most accurate passers through his first two games this season (38-48, .792), but Purdue put sustained pressure early on him, forcing Shrader to scramble and mostly abandon an air attack. He completed 4 of 10 passes for just 35 yards in the first half. He was much more effective in the second half, completing 9 of 19 passes for 146 yards and three touchdowns. Purdue locked up SU running back Sean Tucker, who rushed 18 times for 42 yards after starting the season with a pair of 100-yard games.
UP NEXT
Purdue hosts Florida Atlantic on Saturday night.
Syracuse continues a four-game homestand when ACC foe Virginia visits on Friday night.
---
---
Western Kentucky vs. Indiana
Hoosiers rally late to fend off Hilltoppers 33-30 in OT
BLOOMINGTON, Ind. — Late comebacks are quickly becoming old hat for the Indiana Hoosiers.
They'll certainly take it.
Connor Bazelak threw a touchdown pass and completed a 2-point conversion pass with 47 seconds left in regulation Saturday and Charles Campbell made a 51-yard field goal in overtime to give the Hoosiers a 33-30 victory over Western Kentucky.
It's the third straight second-half comeback for Indiana (3-0), which has already surpassed last season's victory total.
"I'll say this — there is a plan to keep the fans in the stands and if it comes down to the final play, they've got to stay, right?," coach Tom Allen joked after tearing off his headset and sprinting onto the field to celebrate. "What do I remember (about the kick)? I remember that he crushed it and it was going to be good from about 60."
Getting there, though, took everything Indiana could muster — a 17-point fourth quarter, a late goal-line stand, a missed field goal by Western Kentucky as time expired and a blocked field goal in overtime just to set up Campbell's winning kick.
For the Hilltoppers (2-1), it was another disheartening chapter in this series.
They fell to 0-5 all-time against the Hoosiers and have lost the last three by a total of eight points. They're also 0-9 against Big Ten foes since joining the FBS in 2007.
It looked like those losing streaks would end for most of the game. But the Hoosiers refused to go down without a fight and eventually won.
"Offensively, we had some drives stall out and the penalties and turnovers hurt us down the stretch," Western Kentucky coach Tyson Helton said. "We've got to play better to win. At the end of the day, we didn't win so we've got to play better."
Austin Reed threw two touchdown passes and ran for another as the Hilltoppers led 24-13 after three quarters.
But Josh Henderson's 19-yard TD run early in the fourth quarter cut the deficit to five and ignited Indiana's comeback.
After exchanging field goals, Bazelak hooked up with Cam Camper on a 4-yard TD pass before finding converted quarterback Donaven McCulley on the ensuing conversion to tie the score at 30.
Brayden Narveson pushed the potential winning kick wide right then had the next one blocked and nearly returned for a score to win it before Campbell closed it out.
"I told (Bryant) Fitzgerald 'If you had lateralled it to me, I would have scored. I thought he might go the distance and get us the win," Allen said. "But when the team needed (Campbell) today and when it needed him the most, he came through."
THE TAKEAWAY
Western Kentucky: The Hilltoppers have been a dangerous team for years and were on the cusp of a signature victory. Yes, it hurts and, no, it wasn't pretty. But they're a legitimate Conference USA contender.
Indiana: So the Hoosiers have been saving their best ball for late-game heroics but at least they're still unbeaten. The next job is figuring out how to start faster and avoid some of the stressful finishes.
WACKY WORLD
Even before the final, frenzied flurry, it was a strange game.
Indiana's starting center, Zach Carpenter, sat out after getting hurt in pregame warmups. Western Kentucky starting safety Kaleb Oliver drew a targeting call on Indiana's fifth play — a call that was reversed on a replay review.
And at the end of the first half, Indiana receiver D.J. Matthews Jr. and Western Kentucky defensive backs Kahlef Hailassie and Talique Allen ran into the goal post chasing Bazelak's overthrown pass.
STAT PACK
Western Kentucky: The Hilltoppers had 545 total yards as Reed went 33 of 43 with 329 yards, two scores and one interception. ... Kye Robichaux had 14 carries for 135 yards. ... Daewood Davis had five catches for 77 yards including a 44-yard TD while Malachi Corley had eight catches for 77 yards.
Indiana: Bazelak went 33 of 55 with 364 yards and two scores to help the Hoosiers finish with 484 total yards. ... Camper caught eight passes for 93 yards. ... Henderson had 11 carries for 65 yards and Shaun Shivers ran 15 times for 58 yards.
UP NEXT
Western Kentucky: Hosts Florida International next Saturday..
Indiana: Makes its first road trip next Saturday at Cincinnati
---
---
Rutgers vs. Temple
Rutgers gives Schiano historic win, beats Temple 16-14
PHILADELPHIA, Penn. — Shaquan Loyal's 43-yard interception return for a touchdown was the turning point of the game as Rutgers improved to 3-0 with a 16-14 victory over Temple on Saturday and made Greg Schiano the winningest coach in program history.
Schiano broke a tie for most wins with 79. He was tied with Frank Burns, who was the head coach from 1973 to 1983, including the undefeated 1976 team that was 11-0.
"We're in the middle of building something special," Schiano said. "I'm excited about those guys being a part of it with me. And I have the upmost respect for Coach Burns, who was a gentlemen, and I learned a lot from him for sure."
The score by the sophomore defensive back was the only touchdown for the Scarlet Knights, who floundered offensively with just 201 total yards.
"On a day when you are not throwing your fastball, you have to be good enough to find a way to win and that's what we did today," Schiano said. "Defensively, we made some big stops. Offensively, we did what we had to do to end the game. Is it what we aspire to? No, but you can't get worked up about one way or another way. We just have to keep working and getting better."
The Rutgers defense held on and survived a late scare from the Owls whose comeback attempt ended when freshman quarterback E.J. Warner — the son of Pro Football Hall of Famer Kurt Warner — was rushed into an incomplete pass by the Scarlet Knights on a fourth-and-3 from the Temple 41 with 2:30 to play.
Trailing 7-3 midway through the second quarter, Loyal came on a corner blitz and tipped Warner's pass into the air, grabbing it at the 43 and streaking untouched for the momentum shift. "His eyes got really big and I knew that he was going to give me the liberty key," Loyal said. "I put my hands up and made the play."
Jude McAtamney hit field goals of 45, 25 and 38 yards for the Scarlet Knights, who are now 3-0 for the second straight year.
"On a day when you are not throwing your fastball, you have to find a way to win," Schiano said. "
Warner was 19-for-32 for 215 yards, including a 47-yard touchdown pass to Jordan Smith that brought the Owls (1-2) back within two points early in the fourth quarter.
"Obviously, there are things that we can do better to get a different result," Temple's first year coach Stan Drayton said. "But this is something we can build off of. No moral victories, but there are a lot of great things that we can build off."
THE TAKEAWAY
Rutgers: The Scarlet Knights quarterback situation continues to cry out for Noah Vedral's return from an undisclosed injury. Vedral — a sixth-year starter who was injured during spring camp — took snaps this week in practice. Without Vedral and with a rotation of Evan Simon and Gavin Wimsatt, the passing game was limited to just 59 yards on 17 attempts. Wimsatt left with an undisclosed injury later in the game and Vedral is questionable for next week. "We're not going to risk someone for just one week," Schiano said. "It's a doctor's decision."
Temple: The Owls dominated most of the action in the first half and showed some potential in the first start under Warner. However, the one turnover that he made that resulted in Loyal's touchdown and underscores how difficult it is for Temple to win with the talent deficit they face. "He understands the game and came in knowing our offense," Drayton said. "He earned our trust early in fall camp."
UP NEXT
Rutgers: Starts its Big Ten schedule with a home game against Iowa next Saturday.
Temple: Hosts UMass next Saturday in final nonconference game.
---
---
Colorado vs. Minnesota
Ibrahim, Morgan lead Minnesota rout over Colorado
MINNEAPOLIS, Minn. — Mo Ibrahim ran for three touchdowns, Tanner Morgan threw for three more and the Minnesota Gophers' defense stifled the Colorado Buffaloes in a 49-7 win on Saturday.
The Gophers' offense, ranked first in FBS in total yards and seventh in points scored entering the week, racked up 500 yards, including 349 yards in a 35-point first half. The starters scored touchdowns on six of their eight drives. The Buffaloes' offense managed 227 yards, 136 of which came in the fourth quarter with the Minnesota's starters out.
"A surgical performance," Gophers' head coach P.J. Fleck said. "Offense, defense, special teams... they just go out there and execute the game plan."
It's the first time in school history Colorado has lost its opening three games by 25 points or more.
Ibrahim scored the Gophers' first three touchdowns, the last an 18-yard run in the second quarter that tied him with Darrell Thompson for Minnesota's career rushing touchdowns record.
"DT was a big part of Minnesota history, so just to be tied up with him is amazing," Ibrahim said.
"He's going to give all the credit always to the offensive line and all those guys but he works his butt off every day. He deserves that. He's earned that," Morgan said.
Ibrahim grabbed another record too. His 202 rushing yards is a school-record fourth time he's run for 200-plus yards in a game.
"He's something else," Fleck said.
Morgan completed 11 of his 16 passes for 157 yards. After throwing an interception in the second quarter, Morgan threw two touchdown passes in the second quarter — a 39-yard strike to Chris Autman-Bell and a 16-yard throw to Dylan Wright — and added another in the third quarter.
And while offense looked easy for the Gophers, the same can't be said for the Buffaloes. Colorado rotated sophomores J.T. Shrout and Brendon Lewis at quarterback and couldn't find success with either of them. Shrout started the game but was replaced by Lewis for the second series after Shrout was striped and sacked on the Buffaloes' first offensive snap.
"We knew we were going to come out and attack them," Minnesota linebacker Mariano Sori-Marin said. "We talked about all week that we needed to get more takeaways."
That set the tone. From there, Shrout and Lewis rotated series by series without success. Shrout completed 4-of-11 passes for 24 yards and one touchdown. Lewis completed 2-of-6 passes for 14 yards. The Buffaloes' fourth quarter touchdown, a 4-yard touchdown throw from Shrout to Aubrey Smith, was the second touchdown the Gophers' defense has allowed all season.
The Gophers beat the Buffaloes 30-0 in Boulder, Colo. last season.
It marked the return of Mike Sanford to the Twin Cities, now the offensive coordinator for the Buffaloes. Sanford was fired by Minnesota's P.J. Fleck last November after two seasons as the Gophers' offensive coordinator.
INJURED
Minnesota wide receiver Chris Autman-Bell left the game in the second quarter with an apparent right knee injury. Autman-Bell fell to the ground holding the knee after attempting to corral an errant pass from Morgan. He could not put any weight on his right leg as he left the field. Autman-Bell was the Gophers' No. 1 in 2021 and led the team in receiving through two games this season. He was taken to the hospital for imaging.
"It's unfortunate. He reaches back for a ball, takes a funky step and hurts himself," said Fleck, who had no further update postgame. "Whatever it is, he'll handle it the right way."
THE TAKEAWAY
Colorado's offensive struggles continue. The Buffaloes have averaged 10 points through three games and have yet to score two touchdowns in a game.
Minnesota rolled through non-conference play, outscoring opponents 149-17. The Gophers' three non-conference opponents went 8-27 in 2021 and are winless so far in 2022. Headed to Big Ten play the schedule gets tougher.
UP NEXT
Colorado hosts UCLA in its Pac-12 Conference opener.
Minnesota travels to Michigan State for its first road and Big 10 Conference game of the season.
---
---
New Mexico State vs. Wisconsin
Allen's 3 TDs spark Wisconsin in 66-7 rout of New Mexico St.
MADISON, Wis. — Wisconsin's wide receivers got a chance to showcase their skills against an overmatched opponent.
The Badgers want to see the performance continue as the Badgers open Big Ten Conference schedule at No. 3 Ohio State next weekend.
Braelon Allen rushed for three touchdowns to lead Wisconsin to a 66-7 victory over New Mexico State Saturday.
The three-TD performance for Allen matched a career high. The sophomore running back finished with 15 carries for 86 yards and three scores as the Badgers (2-1) rebounded from a 17-14 loss last week to Washington State.
Wisconsin's receivers finished with 16 catches for 335 yards and three touchdowns. Skyler Bell caught 3 passes for 63 yards and two touchdowns, including a 49-yard TD catch. Junior Chimere Dike had 2 catches for 35 yards.
"We are obviously invested in our run game. That shows up week in and week out," Dike said.
"We're just trying to make our own name as receiver and as a group. I think we're slowly doing that. I think we have a great group and I'm eager to see success with these guys I see work every day."
Allen broke away for a 39-yard rush for a score to give Wisconsin a 7-0 lead just 90 seconds into the game.
Allen's effort marked just the third time in his last 12 games that he's been held under 100 yards.
Chez Mellusi had a 2-yard touchdown run to cap a seven-play, 63-yard yard drive that pushed Wisconsin's lead to 14-0 with 14:56 to go in the first half.
Keontez Lewis caught an 18-yard touchdown pass to increase the Badgers' lead to 21-0 with 12:22 left in the first half.
Badgers linebacker Maema Njongmeta got a pick on an Aggies deflection at New Mexico State's 2-yard line that set up Allen's second TD two plays later, a 1-yard rush that pushed Wisconsin to 28-0.
Quarterback Graham Mertz went 10 of 13 for 251 yards with three touchdowns and 1 interception in three-plus quarters. Mertz threw to six different receivers.
New Mexico State coach Jerry Kill said Mertz made an impact. "Wisconsin's quarterback really played well and I'm impressed with him," Kill said.
Myles Burkett, a true freshman, replaced Mertz with 5:34 to go in the third quarter. Deacon Hill was inserted with less than 30 seconds remaining in the third.
The Aggies (0-4) just had 100 yards of offense in the first half. They collected 82 yards during a 13-play drive with less than 3 minutes remaining.
New Mexico State kicker Ethan Albertson missed a 29-yard field goal try with 4 seconds left in the first half and its only score was a 1-yard rush for a touchdown by Ahmonte Watkins with 8:10 left in the game.
The Aggies got flagged seven times for 68 yards in the loss.
New Mexico State coach Jerry Kill said the Aggies had a tough time competing against the Badgers.
"You don't mess with anybody in the Big Ten," said Kill, whose team lost to Minnesota 38-0 three weeks ago.
"They're physical football teams and they're well coached. Wisconsin just took it to us."
Wisconsin kicker Vito Calvaruso, who missed 51- and 43-yard field-goal attempts last week in the Badgers' 17-14 loss to Washington State, was sidelined with a right leg injury.
Wisconsin coach Paul Chryst attributed the Badgers' well-balanced attack on offense to Mertz's effort.
In addition to 335 yards passing, the Badgers posted 260 rushing yards.
"The one thing that Graham has been doing a good job is to take what's there," Chryst said.
"Certainly, a lot of guys putting themselves in position is a good thing. When the ball gets spread around, I think it's always healthy."
THE TAKEAWAY
New Mexico State: The Aggies have posted two losses to Big Ten Conference opponents this season. New Mexico State suffered a 38-0 loss at Minnesota on Sept. 1. First-season Aggies coach Jerry Kill, still searching for his first win, was head coach at Minnesota from 2011-15.
Wisconsin: The Badgers defense scored 14 points off two of three New Mexico State interceptions. Wisconsin scored touchdowns following picks by Maema Njongmeta and Bryan Sanborn.
POLL IMPLICATIONS
Wisconsin, which fell out of the Top 25 poll last week, likely won't gain much ground to get back in the rankings.
UP NEXT
New Mexico State: Hosts Hawaii on Saturday.
Wisconsin: The Badgers play at No. 3 Ohio State on Saturday.
---
---
Nevada vs. Iowa
Johnson's touchdowns lead Iowa past Nevada, 27-0
IOWA CITY, Iowa — Kaleb Johnson rushed for 103 yards and two touchdowns, and Iowa endured a night of lightning delays for a 27-0 win over Nevada on Saturday night.
The game, which was delayed three times for 3 hours, 56 minutes, started at 6:40 p.m. CDT, and ended at 1:39 a.m.
"Three rain delays and seven hours, and we found a way to win the game," Iowa coach Kirk Ferentz said.
Johnson, a true freshman, had a 40-yard touchdown run in the first quarter for Iowa's first points of the game, then added a 55-yarder in the fourth quarter for the Hawkeyes' final score.
"I've been waiting for this since I got here," Johnson said. "It's just a blessing."
Iowa (2-1) had scored just 14 points in its first two games, but matched that in the first quarter. Johnson had his run, then quarterback Spencer Petras threw a 21-yard touchdown pass to Arland Bruce IV on the Hawkeyes' next possession.
"My heart dropped," Johnson said of the touchdown. "It was so amazing. I was wanting another one."
The Hawkeyes, ranked 131st in total offense through the first two games after gaining just 316 yards, had 337 yards against the Wolfpack (2-2), who came in ranked 95th in total defense giving up 404.3 yards per game.
Iowa's other points came on two field goals by Drew Stevens — a 43-yarder in the second quarter and a 33-yarder in the third.
Petras completed 14 of 26 passes for 175 yards.
The game, which was played in a steady rain, was finally affected by lightning in the second half.
The first delay lasted 1 hour, 19 minutes. The delay was called at 8:37 p.m. with 10:02 left in the third quarter.
The two teams returned and after a 12-minute warm-up session play started again. Nine minutes later, another lightning delay was called. This one lasted 1 hour, 50 minutes.
Nevada quarterback Shane Illingworth threw an incompletion on third-and-22 on the first play after that delay. The Wolfpack wouldn't get off their next play, as lightning lit up the sky and referee David Siegle announced there would be another delay.
The stadium was evacuated for all three delays.
"That's a first right there," Nevada coach Ken Wilson said. "First one, we fed them some food. The long one, we let them take their pads off, let them walk around in the hallway. The last one, we knew it wouldn't be too long, so we just put together our plan for the rest of the game."
"It was a long battle sitting in the locker room for a while," Iowa safety Cooper DeJean said. "I was just kind of hanging out."
"It was interesting," Ferentz said of the delays. "Guys were doing all kinds of things."
THE TAKEAWAY
The Hawkeyes' offense showed some life after struggles to start the season. It helped that Petras got back wide receivers Keagan Johnson and Nico Ragaini, who missed the first two games after beginning fall camp at the top of the depth chart at their respective positions. Running back Gavin Williams, also expected to be a starter, missed the first two games of the season, but he returned to rush for 57 yards on 16 carries. "It was great to see some of these guys back in the huddle," Petras said. "It made us more multiple, less predictable."
Nevada, which came into the game ranked 105th in total offense nationally, couldn't move the ball against the Hawkeyes, who were ranked sixth in total defense. The Wolfpack, who had 151 yards in the game, head into Mountain West Conference play next Friday against Air Force. "I don't think our offense got into any rhythm today, at any time," Wilson said. "That left our defense out on the field way too long."
THE LATE NIGHT
Ragaini couldn't help but make a joke when he arrived for the post-game press conference.
"You're still here?" he said to the media.
Ragaini said he relaxed during the delay — "I just laid on the floor, played some games on my phone," he said.
Bruce said he avoided the food the team was given during the delays.
"I wanted to stay light," he said.
Bruce smiled when he got done answering questions.
"Thanks for staying around," he said as he left the room.
UP NEXT
Nevada: At Air Force on Friday.
Iowa: At Rutgers on Saturday.
---
---
SMU vs. Maryland
Maryland overcomes 15 penalties in 34-27 win over SMU
COLLEGE PARK, Md. -- — It was a game that unfolded largely as advertised: Taulia Tagovailoa and Tanner Mordecai — two talented quarterbacks leading explosive-but-flawed teams — showed they could move the ball quickly and effectively when they avoid mistakes.
Mordecai passed for more yards and more touchdowns, but he also turned the ball over three times.
Tagovailoa threw a 5-yard touchdown pass to Corey Dyches with 7:30 remaining, and Maryland held on for a 34-27 victory over SMU on Saturday night. Roman Hemby ran for 151 yards and a touchdown for the Terrapins, who overcame 15 penalties.
"We did not play our best football today. Let's make no mistake about it. A lot of errors, a lot of penalties, a lot of turnovers," Maryland coach Michael Locksley said. "But it was against a really, really good team. ... To find a way to win, we needed a game like that."
The Mustangs (2-1) had three of the game's five turnovers, and they lost the ball on downs at the Maryland 9 when Mordecai's fourth-down pass to the end zone sailed high with 2:31 remaining.
SMU got the ball back one more time but turned it over on downs again near midfield with 46 seconds left. Mordecai threw for 369 yards and three touchdowns, but he also had two interceptions and lost a fumble.
Tagovailoa passed for 214 yards and two TDs, and he avoided any interceptions.
That's not to say the Terps played a clean game. Maryland trailed 20-17 at halftime, and the Terrapins (3-0) wasted an opportunity early in the third quarter after driving to the SMU 6. A touchdown pass from Tagovailoa to Jeshaun Jones was wiped out by a holding penalty, and Jones was also called for unsportsmanlike conduct, putting Maryland in a third-and-goal situation back at the 31.
The Terps did manage a field goal to tie the game, but on SMU's next drive, they were flagged for unsportsmanlike conduct, roughing the passer and pass interference. The Mustangs were poised to take the lead back, but a fumble by Mordecai inside the Maryland 5 ended that drive.
"I think Ray Charles could see he was down, but you have to hold onto the football," SMU coach Rhett Lashlee said. "You have to hold onto the football."
That miscue didn't end up being that costly. The Mustangs quickly forced a punt and took over at the Maryland 37. They took a 27-20 lead on a 7-yard scoring pass from Mordecai to Moochie Dixon.
SMU then got the ball back near midfield after a Maryland fumble, but a missed field goal kept the lead at seven, and the Terps drove to tie it on a 1-yard run by Hemby.
After an interception by Dante Trader, Maryland had a chance to take the lead. The Terrapins went for it on fourth-and-9 from the SMU 45. Dyches caught a pass a couple yards short, but he dragged linebacker Jimmy Phillips across the line to gain.
"That's the effort," Locksley said. "Our team's effort for three games has been exactly what we want out of our team."
Moments later, the touchdown by Dyches made it 34-27.
SMU led 13-3 in the second quarter after a 51-yard TD strike from Mordecai to RJ Maryland. Antwaine Littleton scored on a 1-yard run for the Terps, and after Mordecai threw an interception, Tagovailoa found Rakim Jarrett for a 48-yard touchdown to put Maryland momentarily ahead.
Mordecai's 13-yard TD pass to Austin Upshaw put SMU back in front with 2:42 left in the half.
THE TAKEAWAY
SMU: The Mustangs rolled up 518 yards of offense, but SMU's turnovers were awfully costly. This ends the Mustangs' streak of three straight seasons starting at least 5-0.
Maryland: The Terrapins had far too many mistakes, and the penalties in particular will catch up to them if they're not careful. But Hemby has been impressive this season, and the Maryland offense averaged 7.2 yards per play.
KEEPING DRIVES GOING
SMU went 10 of 21 on third down, which is part of the reason the Mustangs were able to finish with 30 first downs. Rashee Rice had 11 catches for 193 yards.
"I know we moved the ball up and down the field, but we didn't come away with enough points," Lashlee said. "They bent but didn't break plenty. When you run 96 plays and they run 61, you feel like that's going to be good for you. We're not being careless, but three turnovers killed us again."
LOCAL FAVORITE
Tennis standout Frances Tiafoe was at the game and was introduced on the big screen during a break in the action. Tiafoe's father helped build the Junior Tennis Champions Center in College Park, and Tiafoe recently made the semifinals of the U.S. Open.
UP NEXT
SMU: The Mustangs host local rival TCU next Saturday.
Maryland: The Terps play their Big Ten opener at No. 4 Michigan.
---
---
Notre Dame vs. California
Pyne Throws for 2 TDs as Notre Dame Beats Cal 24-17
SOUTH BEND, Ind. (AP) — Notre Dame coach Marcus Freeman finally got his first victory. It wasn't easy.
Drew Pyne passed for two touchdowns and 150 yards in his first career start and Notre Dame overcame numerous mistakes to hold on to beat California 24-17 Saturday.
Freeman was asked what was going through his mind when two potentially game-clinching turnovers were overturned, one on a targeting penalty and another when Cal quarterback Jack Plummer was ruled down before he fumbled.
"It was a conversation between me and God, and a conversation between me and myself to focus on what matters," Freeman said.
The way the Irish have played this season has a lot of Irish fans praying and talking to themselves.
The Irish (1-2) outscored Cal (2-1) 10-0 in the fourth quarter to avoid becoming just the third Notre Dame squad to start a season 0-3. The Irish, who started the season ranked No. 5, had blown leads three times, made sure there was no second-half letdown this time.
"Found a way to finish," Freeman said. "I'm proud of those guys. You know what, it is hard to win football games. It's hard. You've seen it in the first three games. It's hard."
It wasn't over until the last play as officials overturned two plays that appeared to be game-clinching turnovers for the Irish, giving the Bears a last-second shot. On fourth-and-13 from the Notre Dame 35, Cal's Jack Plummer threw the ball into the end zone. The ball bounced off several players and Bears receiver Jeremiah Hunter nearly pulled it in, but the ball landed on the grass.
It was a familiar feeling for the Bears, who had five losses by seven points or less last season.
"It's gut-wrenching. We had chances to win. Too many errors. One or two more plays," Cal coach Justin Wilcox said.
Notre Dame tailback Chris Tyree said it was hard to watch.
"They almost gave me a heart attack out there, man," he said. "It's really exciting football to watch, especially when it goes down to the wire like that. That's going to be a moment we'll never forget."
Defensive lineman Jacob Lacey, who finished with five tackles and two sacks, said the Irish defense was focused on finishing in the fourth quarter.
"It's everything we work for. It's one of our keys to victory, finishing in the fourth quarter. We talk about it every week. We fell short a couple of times, but now we're on the right track."
The Irish opened a 24-17 lead with 9:16 remaining on a 6-yard pass from Pyne to Michael Mayer, just Mayer's second catch of the day. The touchdown was set up when Pyne threw a short pass to tailback Audric Esitime, and he sprinted for a 36-yard gain before tripping at the 6-yard line.
The Bears drove to the Notre Dame 22 midway through the fourth quarter but couldn't get any closer. Plummer threw three straight incompletions, then was sacked by Isaiah Foskey for a 10-yard loss with 6:30 left.
Cal got the ball again on their own 7-yard line, but on third-and-10 Jack Plummer was sacked for a 5-yard loss. It looked as though Notre Dame had put the game away when cornerback Clarence Lewis picked off a pass from Plummer, but the Bears got one more chance when J.D. Bertrand was called for targeting.
Pyne, playing because Tyler Buchner sustained a season-ending shoulder injury last week, was 17-of-23 passing. In addition to the scoring pass to Mayer, Pyne threw a 21-yard TD pass to Tyree. Tyree, who had only 12 touches through the first two games, rushed for 64 yards on 17 carries and had five catches for 44 yards. Estime added a 1-yard run and 76 yards rushing on 18 carries
Plummer was 16 of 37 for 184 yards passing, including an 18-yard TD pass to J. Michael Sturdivant. Jaydn Ott was held to 33 yards on 13 carries.
Pyne struggled some early on. His first pass to Tyree was short, and he overthrew several receivers and had receivers drop some passes. A snap struck Pyne in the facemask, but he recovered and handed off to Estime for a 7-yard gain. On another play, he was signaling for a back to move when the ball was snapped.
Freeman said he'd take a moment to savor the win.
"If you don't take a minute to enjoy these things, you're going to regret it," he said. "That's what I keep reminding myself is enjoy the victory."
GOING FOR THE WIN
Plummer said the Bears would have gone for two-points and the win if the last pass had been caught.
"If we scored there we were going for two, trying to get out of there," he said.
UNFRIENDLY STADIUM
Irish fans booed Notre Dame twice late in the second quarter when the mistakes were piling up. A loud cheer of "California!" could be heard, marking the second straight week the visitors got a loud chant going.
THE TAKEAWAY
Cal: Plummer, a transfer from Purdue who lost his starter's job with the Boilermakers last season following a 27-13 loss to Notre Dame, showed the Bears he can make big plays, but not quite enough for the upset.
Notre Dame: The Irish need to cutdown on mistakes if they're going to be competitive. Receiver Braden Lenzy had a false start on third-and-1, leading to Pyne being sacked on the next play. Right tackle Blake Fisher also was called for a false start on third-and-3. Late in the second quarter, when the Irish drove into Cal territory, linemen Jarrett Patterson and Zeke Correll were called for false starts on back-to-back plays to stall out the drive.
NEXT UP
Cal: The Bears open the Pac-12 season on Saturday at home against Arizona.
Notre Dame: The Irish play at North Carolina on Saturday.
---
The Chicago Journal needs your support.
At just $12/year, your subscription not only helps us grow, it helps maintain our commitment to independent publishing.
If you're already a subscriber and you'd like to send a tip to continue to support the Chicago Journal, which we would greatly appreciate, you can do so at the following link:
Send a tip to the Chicago Journal
---
Chicago Journal Newsletter
Join the newsletter to receive the latest updates in your inbox.