Brief History of Music in Chicago
The Chicago Journal's Brief History of Music in Chicago should be considered a "living" document that is continually being added to, edited, amended, and reworked.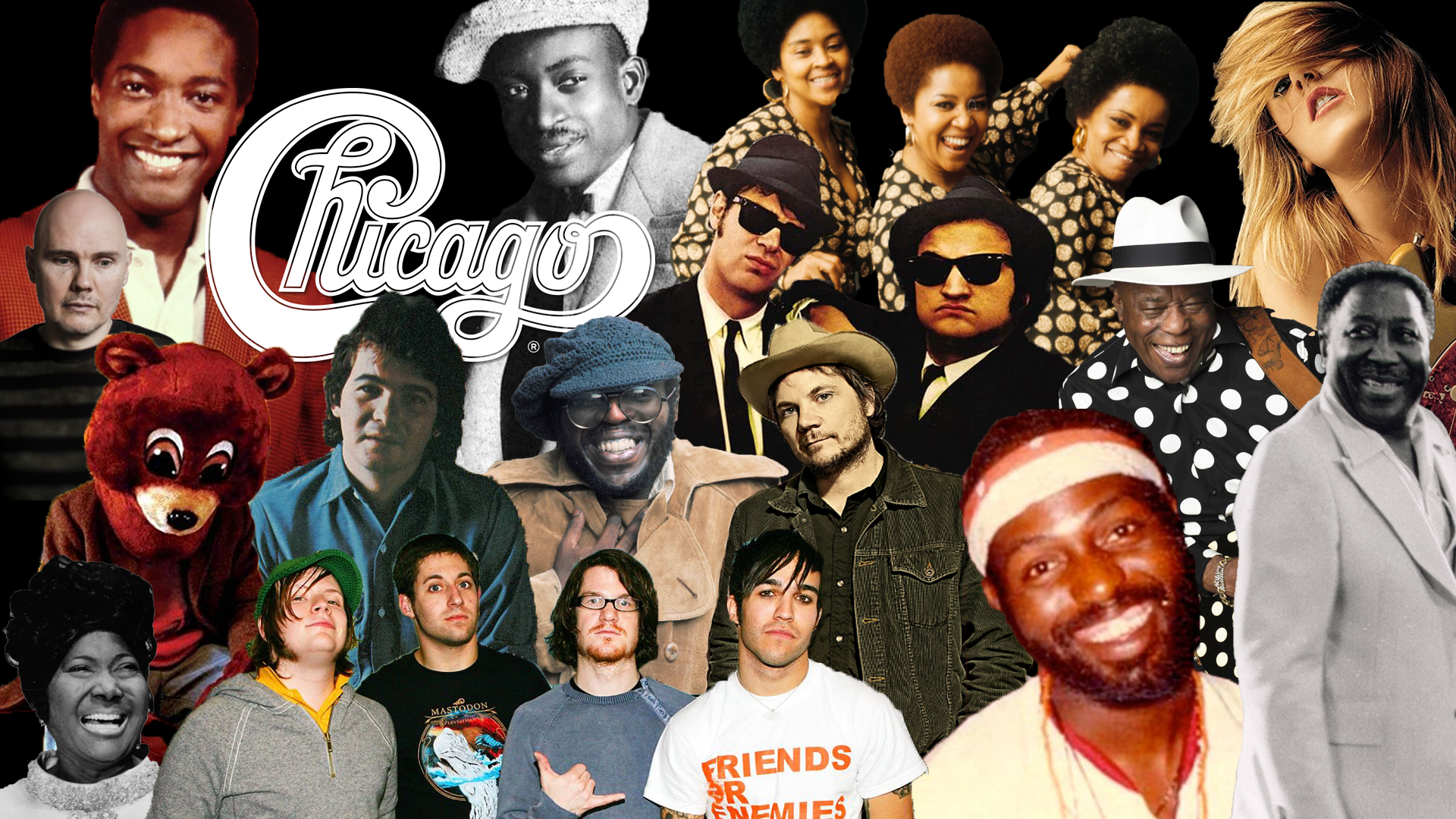 Jump to:
Pre-1899 | 1900s | 1910s | 1920s | 1930s | 1940s | 1950s | 1960s | 1970s | 1980s | 1990s | 2000s | 2010s | 2020s
---
Chicago has been and continues to be a major center for American music and telling the story of Chicago music is a considerable task. Going into this project, we knew it would be extensive, but we didn't expect it to be as daunting as it has become.
We need your help.
This timeline is not done. We don't know if it will ever be done. We've decided to keep it going as long as we're able.
You can help the Chicago Journal expand our Brief History of Music in Chicago by emailing the editor at submissions@chicagojournal.com. Please include "MUSIC SUBMISSION" in the subject line. We can't promise we'll add your submissions, but we promise we'll do our research and consider your submission.
Beyond being born, raised, or having spent significant time in Chicago, there was no strict definition for how artists or events were chosen for this timeline. When we could find the date we included the date, and, when we couldn't find the date we simply put the closest time frame we could discover, up to the year. Most often, it was merely an event that we found interesting, charming, or that we believe important enough to contribute to shaping the musical history of the city.
Of course, we can't include everyone or every event and those listed include artists or events that had significant cultural impact.
The Chicago Journal's Brief History of Music in Chicago should be considered a "living" document that is continually being added to, edited, amended, and reworked.
---
---
Pre-1899
1826: It has been said that Mark Henry Beaubien brought the first musical instrument to Chicago when the family violin is included in his move from Detroit. Beaubien would open The Sauganash, a tavern/church/town hall, in 1831.
1834: Jean Baptiste Beaubien, Mark Henry's brother, acquires the city's first piano.
1835: The first music organization, The Harmonic Society, holds its first concert.
July 29, 1850: A traveling opera company presents Vincenzo Bellini's La Sonnambula (The Sleepwalker), an opera semiseria in two acts, with music in the bel canto tradition, at Rice's Theatre on Dearborn Street.
July 30, 1850: During the second act of the second night of opera, Rice's Theatre catches fire and burns to the ground.
1852: The local legislature incorporates the Philharmonic Society, as "an act to encourage the science of fiddling."
1857: William Wallace Kimball moves to Chicago and opens the Kimball Piano Company with just 4 pianos.
1858: Ebenezer Towner Root and Chauncey Marvin Cady found Root & Cady, a music publishing firm. It became the most successful music publisher of the American Civil War and published many of the most popular songs during that war. The company's publishings include "The Silver Lute," the first music book printed in Chicago. It was eventually used in the city's public school system.
The old Philharmonic Society is no more.
December, 1858: A. W. Dohn forms the Mendelssohn Society.
1859: George Frederick Root moves to Chicago to work for his brother, Ebenezer, at his new music publishing house, Root & Cady.
1860: Milwaukee transplant, Hans Balatka, is given leadership of a new Philharmonic Society.
1862: George Frederick Root composes, "The Battle Cry of Freedom," which becomes one of the most popular songs of the era.
April 20, 1865: Disappointed in the lack of culture he found upon arriving to Chicago, and believing Chicago to be deserving of a grand opera house he knew back east, Mr. Uranus Crosby selected a site on the north side of Washington Street, between State Street and Dearborn Avenue, and built the city's first opera house. After a 3 day delay in opening following President Abraham Lincoln's assassination, Crosby Opera House opened on this date with a performance of Il trovatore ('The Troubadour') by Giuseppe Verdi to an Italian libretto largely written by Salvadore Cammarano, based on the play El trovador (1836) by Antonio García Gutiérrez.
May 4, 1865: A small party of Germans from Chicago form a male chorus to sing at the funeral of Abraham Lincoln. They're so impressed with each other's singing, they found the Germania Mænnerchor.
May, 1866: Crosby had overestimated the demand for opera in the city. He formed the Crosby Opera House Art Association and organized a scheme to raise funds and dispose of property through a lottery. Instead of having people think they were gambling, they encouraged people to believe they were promoting culture in the city. For $5 a ticket, people would receive an engraving and had the chance to acquire the opera house or any of its holdings. Works from the art gallery wing were of particular interest. The lottery was very successful, and the association had to open branch offices in other cities to comply with the demand for tickets.
January 21, 1867: The lottery drawing for Crosby Opera House takes place with 302 prizes available, the Opera House itself being the grand prize. Ticket holders arrive by train from across the country. Most shops and businesses in Chicago closed so that employees could attend the event. The first ticket is drawn at precisely 11AM. A man named A. H. Lee of the small town of Prairie du Rocher, Illinois had the winning ticket: #58,600 for the opera house grand prize. However, it was said that Lee's wife was ill and he had little interest in leaving her for Chicago. On January 25, 1867, he met with Crosby in Chicago and agreed to sell the opera house back to him for $200,000. The public had purchased over $1,000,000 in ticket chances on an estimated $600,000 opera house building. Subtracting the $200,000 given to A.H. Lee, Crosby paid off the construction cost and pocketed profits all while still maintaining ownership of the opera house. Given the convenience of the transaction, the public began to speculate as to whether or not A. H. Lee even existed or if Crosby had staged the outcome. Crosby would skip town and return to Massachussetts shortly after.
---
---
1871: Crosby Opera House is among the buildings destroyed in the Great Fire of 1871.
The Fire destroyed the majority of Root & Cady's inventory, and the company would go bankrupt within a year after the fire.
The Fire destroyed the inventory of W.W. Kimball & Company, but William Wallace Kimball moves his piano dealership into his home and continues his business.
Summer, 1872: A group of male singers meet to form a new musical society known as the Apollo Club.
Jan. 21, 1873: A.W. Dohn conducts the Apollo Club at its first concert.
Summer 1873: The Chicago Jubilee, a series of "monster concerts" staged by Patrick Gilmore, is held to commemorate the 2nd anniversary of the Great Chicago Fire. It's estimated as many as 20,000 attend.
Fall, 1873: Carl Wolfsohn visits Chicago from Philadelphia and his friends convince him to stay and form a new musical society, they call the Beethoven Society. The Beethoven Society performs all of Beethoven's sonatas before expanding to other works in competition with the Apollo Club.
1875: The Amateur Musical Club, the first all-women's musical club in the city, begins giving 14 performances per year.
1882: W.W. Kimball & Company is now the largest organ manufacturer in the world.
---
---
Summer 1885: Chicago's first major Opera Festival is held in the Interstate Exposition Building in Grant Park.
December 8, 1886: With a goal of making high culture accessible to the working classes, Chicago businessman, Ferdinand Peck, incorporated the Chicago Auditorium Association to develop what he wanted to be the world's largest, grandest, most expensive theater that would rival such institutions as the Metropolitan Opera House in New York City. Peck persuaded many Chicago business tycoons to get involved, including Marshall Field, Edson Keith, Martin A. Ryerson, Charles L. Hutchinson, and George Pullman. The association hired the renowned architectural firm of Adler & Sullivan to design the building, and Louis Sullivan took the lead.
December 9, 1889: President Benjamin Harrison dedicates the Auditorium Theatre before a standing-room-only crowd that included Illinois Governor Joseph Wilson Fifer, Chicago Mayor DeWitt Clinton Cregier, the theatre's financial backers, and the city's elite. Adelina Patti sings "Home, Sweet Home" for opening night. The Chicago Auditorium (Auditorium Building) is located at the northwest corner of South Michigan Avenue and Congress Street (now Ida B. Wells Drive).
1890: Charles Norman Fay, a Chicago businessman, invites Theodore Thomas to establish an orchestra in Chicago.
October 16, 1891: Under the first renowned America orchestral conductor, Theodore Thomas, the Chicago Orchestra debuts at the Auditorium Theatre. The Chicago Orchestra would later be renamed the Chicago Symphony Orchestra and continue as one of the oldest orchestras in the United States. Today, critics consider the Chicago Symphony Orchestra to be among the best in the world.
1892: Preparations are being finalized for the World's Columbian Exposition. The orchestra of 120 players, The Chicago Apollo club, and the Chicago Festival Chorus, together numbering 2,500 plan to run a series of 300 performances over the next year.
May 1, 1893 - October 3, 1893: Arguably the most famous World's Fair ever, the World's Columbian Exposition saw many musicians appear throughout the exposition. Scott Joplin catapults to fame playing his ragtime at the fair. W.C. Handy would appear as a cornet player. From May 25th - June 28th, John Philip Sousa's band would play the south bandstand of the Great Plaza. June 8th, The Exposition Orchestra, an expanded version of the Chicago Symphony conducted by guest conductor Vojtěch I. Hlaváč, played the American premiere of Modest Mussorgsky's A Night on Bald Mountain. The first Welsh choral competition held outside Wales, called an Eisteddfod, was held at the exposition. The Mormon Tabernacle Choir performs for the first time outside of Utah. The first Indonesian music performance in the United States was at the exposition. On August 12th, Antonin Dvorak, on his first tour through the United States, conducted a performance of his Eighth Symphony. August 14th saw the Stoughton Musical Society perform for 2,000 attendees in the Music Hall. August 25th would be the breakout performance of 22-year-old concert violinist, Joseph Douglass, grandson of Frederick Douglass, who would become the first black violinist to achieve national and international renown. Sissieretta Jones would perform.
---
---
1895: Theodore Thomas recruits Frederick Stock to the viola section of the Chicago Orchestra.
1898: Virtuoso trombonist, Frank Holton, who played for a single season as first chair trombone in the Sousa Band, founds the instrument manufacturing company, Frank Holton & Co, in Chicago.
Summer 1898: While riots break out in Lincoln Park summer concert series over the inclusion of ragtime music, Johnny Hand's orchestra begins performing ragtime selections.
1899: Frederick Stock is named Assistant Conductor of the Chicago Orchestra.
---
Jump to:
Pre-1899 | 1900s | 1910s | 1920s | 1930s | 1940s | 1950s | 1960s | 1970s | 1980s | 1990s | 2000s | 2010s | 2020s
---
---
1900s
1904: J. Louis Guyon begins promoting dance halls in Chicago, primarily on the West Side, providing a place for the most conservative Chicagoans to socialize.
August 15, 1904: Conceived as a high-end amusement park by the A.C. Frost Company to lure Chicagoans to ride its fledgling Chicago and Milwaukee Electric Railroad, Ravinia Park opens in Highland Park. The Chicago Symphony Orchestra begins summer performances. These performances would become the Ravinia Festival, now the oldest and most programmatically diverse music festival in North America, with a series of outdoor concerts and performances held every summer from June to September. The Festival has hosted some of the most celebrated performers of the age, from all genres of music.
December, 1904: During rehearsals leading up to the dedication of the new performance space, Theodore Thomas contracts influenza.
December 14, 1904: The Chicago Symphony Orchestra leaves the Auditorium Theatre and debuts at Orchestra Hall. Designed by infamous Chicago architect, Daniel Burnham, Orchestra Hall can be found at 220 S. Michigan Ave.
---
---
December 24, 1904: Theodore Thomas conducts his last concert on Christmas Eve.
January 4, 1905: A mere 3 weeks after opening Orchestra Hall, Theodore Thomas dies of pneumonia.
April 7, 1905: Frederick Stock assumes direction of the Chicago Orchestra and dedicates his first symphonic poem, Eines Menschenlebens Morgen, Mittag, und Abend, to "Theodore Thomas and the Members of the Chicago Orchestra." Stock would become the longest serving director of the Orchestra.
1907: Unhappy with her family life, the 12-year-old Alberta Hunter leaves Memphis for Chicago because she heard singers are paid $10 per week. This age may be apocryphal, still, she is settled in Chicago by her early teens.
1908: Wilbur Sweatman moves to Chicago and begins playing around the city in places like the Pekin Inn and the Monogram Theater before becoming the bandleader at the Grand Theater.
---
Jump to:
Pre-1899 | 1900s | 1910s | 1920s | 1930s | 1940s | 1950s | 1960s | 1970s | 1980s | 1990s | 2000s | 2010s | 2020s
---
---
1910s
1910: Wilbur Sweatman begins gaining notoriety in the city and begins working with Dave Peyton and William Henry "Billy" Dorsey to arrange and transcribe music for other performers.
1911: Alberta Hunter gets her first gig at a Southside club called Dago Frank's, a tough bordello/brothel frequented by pimps and criminals.
1912: Already famous in the south but seeking greater fame and facing a hostile environment as an openly gay black man, pianist Tony Jackson moves to Chicago.
1913: The Chicago Orchestra renames itself The Chicago Symphony Orchestra.
Wlbur Sweatman leaves Chicago for New York City.
A murder at Dago Frank's gets the club shut down and Alberta Hunter moves to Hugh Hoskin's saloon. She saves enough money to move her mother from Memphis to Chicago.
1914: Lester Franklin Melrose relocates from Sumner, Illinois to Chicago to try out as a catcher for the Chicago White Sox baseball team. He does not make the team and takes a job as a grocery salesman.
Ferdinand Joseph LaMothe, aka Jelly Roll Morton, moves to Chicago with his girlfriend.
Alberta Hunter, who at the time was suspected of being a lesbian, moved to a club called Elite Cafe #1 located at 3030 South State Street where she meets the openly gay piano player, Tony Jackson. Jackson begins teaching Hunter the piano.
June, 1914: Construction finishes on Frank Lloyd Wright's Midway Gardens, a 360,000 square foot indoor/outdoor entertainment facility in the Hyde Park neighborhood on the South Side of Chicago. Intended to act as a beer hall and concert/dance hall that was upscale but affordable, it becomes the home of the American Symphony Orchestra and a frequent hang out of people like Max Bendix, the first concertmaster of the Chicago Symphony Orchestra.
---
---
1915: After moving to Chicago the previous year, Bert Kelly opens Kelly's Stables. Kelly's Stables was a small speakeasy nightclub on the second floor at 431 Rush Street and is considered the first "joint" on Rush Street in Chicago.
---
---
Jelly Roll Morton successfully publishes "Jelly Roll Blues", one of the first jazz compositions to be published.
Alberta Hunter gets her first big gig at the Panama Club, a white-owned club with a white-only clientele that had a chain in Chicago, New York, and other large cities.
Fall, 1915: Thomas Meighan, a movie star, sees Bert Kelly's band playing a gig at the College Inn, the restaurant of the famed Hotel Sherman located at Clark and Randolph Streets. Meighan was throwing a party and hired the Kelly band for dance music. Guests at the party include Emmy Wehlen, Julian Eltinge, Jeanne Eagels, and Grace George. Richard Travers filmed the musicians and captions them, "The Originators of Jazz." They were not the originators of jazz, of course, but this was arguably the night the wealthy Chicago class began to discover the emerging sound.
1916: J. Louis Guyon opens Guyon's Paradise Ballroom. Said to be the largest dance hall ever built in Chicago, the Paradise's dance floor easily accommodated over 4,000 dancers at a time. Determined that his ballroom not become place of ill-repute, Guyon forbade any music and dancing which he considered too fast-tempoed or physically charged. During the 1910s and 1920s, patrons were allowed to dance waltzes and two-steps, but not the fox trot or the Charleston.
---
---
March, 1916: While Midway Gardens was largely successful, the original owner, Edward Waller, who commissioned Frank Lloyd Wright to design the facility, never had enough savings or funding to support the upkeep after construction. Waller declares bankruptcy and sells Midway Gardens to the Edelweiss (Schoenhofen) Brewery Company and it is renamed "Edelweiss Gardens". After it became Edelweiss Gardens, the high class atmosphere switched to one of vaudeville, ragtime, and cabaret.
March 3, 1916: A promoter convinces a group of New Orleans musicians to come to Chicago to start a New Orlean's style jazz band in the city. On this date, they play their first gig at Schiller's Cafe under the name Stein's Dixie Jass Band. They are a quick success and would get swept away to New York City under the name, the Original Dixie Jass Band. They would be the first band to record jazz successfully, establishing and creating jazz as a new musical idiom and genre of music.
1917: Jelly Roll Morton leaves Chicago for California.
Freddie Keppard settles in Chicago and begins sending news clippings back to musicians in the south, encouraging them not to fear coming to Chicago and touring cross-country.
After a murder at the Panama Club closes the club, Alberta Hunter briefly moves to the De Luxe Cafe and then across the street to Dreamland Cafe at 3520 South State Street, where King Oliver's band played. Her star in Chicago increases significantly and she is paid $35 per week.
May 31, 1917: Shortly after the United States declares war on Germany, the 62-year-old John Philip Sousa is commissioned as a lieutenant in the Naval Reserves, which was also the mandatory retirement age for Navy officers. Through the remainder of the war, he led the Navy Band at the Great Lakes Naval Station near Chicago, and he donated all of his naval salary except a token $1 per month to the Sailors' and Marines' Relief Fund.
1918: After a fight and arrest at a gig, New Orleans musician, Joseph Nathan "King" Oliver moves to Chicago with his wife and step-daughter, Ruby Tuesday Oliver. In Chicago, he begins to play faster tempos in an attempt to leave the slow drags in the dance halls of New Orleans behind.
Jimmie Noone comes to the city and begins a two year stint at Chicago's Royal Garden Cafe.
1919: Frederick Stock founded the Civic Orchestra of Chicago, the first training orchestra in the United States affiliated with a major symphony orchestra. It is currently the only training orchestra sponsored by a major orchestra in North America.
20-year-old Thomas A. Dorsey relocates to Chicago.
---
Jump to:
Pre-1899 | 1900s | 1910s | 1920s | 1930s | 1940s | 1950s | 1960s | 1970s | 1980s | 1990s | 2000s | 2010s | 2020s
---
---
1920s
1920: One of a family of 17 children, Big Bill Broonzy moves to Chicago and switches from fiddle to guitar, learning guitar from Papa Charlie Jackson.
Finding the competition to get jobs and his blues style to be unfashionable, Thomas Dorsey turns to composing and copyrights his first song, "If You Don't Believe I'm Leaving, You Can Count the Days I'm Gone". He becomes one of the first musicians to copyright blues music.
1921: A former automobile garage is remodeled into the Sunset Cafe. Also known as The Grand Terrace Cafe, it was one of the most important jazz clubs in America. The Sunset Cafe was an integrated or "Black and Tan" club where black Americans, along with other ethnicities, could mingle freely with white Americans without much fear. Many important musicians developed their careers at the Sunset/Grand Terrace Cafe. For a time, it was one of the clubs controlled by Al Capone. The building that housed the Cafe still stands at 315 E 35th St in the Bronzeville neighborhood, and received Chicago landmark status.
---
---
After graduating from Brown University, Jay Mayo "Ink" Williams moves to Chicago.
Thomas Dorsey attends the National Baptist Convention where he's overwhelmed by a performance from W.M. Nix.
Benjamin "Benny" Goodman makes his professional debut at the Central Park Theater on the West Side of Chicago. Goodman is 13-years-old.
Alberta Hunter leaves Chicago for New York to begin her recording career that eventually takes her around the world.
May 1, 1921: M.J. Fritzel takes ownership of the Friar's Inn, a basement speakeasy located at 60 East Van Buren or 343 South Wabash in the Chicago Loop. It would become a famed venue popular with gangsters.
September, 1921: Due to either his poor school performance or a suspicious arrest, Bix Beiderbecke is sent by his parents from Davenport, Iowa to boarding school Lake Forest Academy where he quickly begins getting into trouble by sneaking out and missing curfew in favor of going to the South Side and listening at the black jazz clubs.
November 11, 1921: Licensed to Westinghouse Electric and Manufacturing Company and operated jointly with Commonwealth Edison, Chicago radio station KYW began regular scheduled programming with the Chicago Opera Company's Auditorium performance of Madame Butterfly.
1922: The 21-year-old Louis Armstrong follows his mentor, King Oliver, to Chicago to play in the King Oliver Creole Jazz Band. They start playing in the Royal Gardens Cabaret (later renamed the Lincoln Gardens). Many white musicians would attend these performances in order to learn jazz. The black musicians would nickname them "alligators".
---
---
William Henry Jackson, aka Papa Charlie Jackson, begins busking on Chicago's Maxwell Street Market.
Unsuccessful White Sox catcher and grocery salesman, Lester Melrose, joins his elder brother Walter and Marty Blumenthal to form the Melrose Brothers Music Company, a publishing house and music store on the South Side of Chicago.
May 23, 1922: Bix Beiderbecke is expelled from Lake Forest Academy and becomes a musician.
1923: While still playing professional football, including being one of only 3 black players to be in the National Football Leagues first year, Ink Williams becomes a talent scout and supervisor of recording sessions for Paramount in the Chicago area.
A year after receiving his musician's union card, 14-year-old Benny Goodman joins the Cascades Band that includes Bix Beiderbecke and Goodman begins playing gigs on Lake Michigan excursion boats and at places like Guyon's Paradise Ballroom, located on Crawford Avenue between Madison and Lake Streets.
Bix Beiderbecke introduces his visiting friend, Hoagy Carmichael, to Louis Armstrong at a King Oliver's Creole Jazz Band gig in Chicago.
Jelly Roll Morton returns to Chicago to claim authorship of "Wolverine Blues", but stays to continue more composing and recording.
May, 1923: While working at the Melrose Brothers Music Company, Lester Melrose meets Jelly Roll Morton and makes him the company's chief arranger.
December, 1923: Discovered by Ink Williams and newly signed to Paramount, "Ma" Rainey makes her first 8 recordings in Chicago. Thomas Dorsey became the pianist and leader of the Wild Cats Jazz Band accompanying Rainey.
1924: After a difficult midwest tour, the King Oliver Creole Jazz Band breaks up. King Oliver then enlarges his band to 9 members and calls this new band King Oliver and the Dixie Syncopators. They begin to primarily play at the Plantation Cafe, at 31st St. and Giles Avenue, while Louis Armstrong's and his new band, the Louis Armstrong Sunset Stompers, begin to perform at the Sunset Cafe.
Hudson Whittaker, already known as Tampa Red, moves to Chicago.
Ma Rainey records with Louis Armstrong.
Benny Goodman plays with the house band at Midway Gardens.
---
---
April, 1924: Ma Rainey begins a tour of the South and Midwest with Thomas Dorsey and his Wild Cats Jazz Band.
Summer 1924: Elena Moneak forms a Women's Symphony Orchestra.
August, 1924: After being discovered by Ink Williams, Papa Charlie Jackson records a duo of successful records for Paramount.
September 1924: Leo Sowerby returns to Chicago after becoming the first American to become a Fellow at the American Academy in Rome.
1925: Earl Hines meets Louis Armstrong in the poolroom of the black Musicians' Union, local 208, on State and 39th. They became friends and began to share a car.
Lester Melrose sells his stake in Melrose Brothers Music Company to his brother, Walter, and goes out on his own as a freelance talent scout/manager.
Benny Goodman leaves Bix Beiderbecke's band and joins the Ben Pollack Orchestra.
April, 1925: Papa Charlie Jackson has another duo of records, including "Salty Dog", which would become a blues standard.
December, 1925: Blind Lemon Jefferson is brought to Chicago to record his first tracks. His first two recordings from this session were gospel songs ("I Want to Be Like Jesus in My Heart" and "All I Want Is That Pure Religion"), released under the name Deacon L. J. Bates.
1926: Concerned for her welfare and to get away from her strict Aunt Duke, 14-year-old Mahalia Jackson would come to Chicago to live with two other Aunts, Hannah and Alice.
18-year-old Benny Goodman appears on his first recordings.
Jimmie Noone takes over leadership of the band at the Apex Club at 330 E. 35th Street. This band would include Earl Hines on piano. Young Benny Goodman was a frequent patron and 10-year-old Nat King Cole would sneak out to sit in the alley and listen.
Jelly Roll Morton signs a contract with Victor Talking Machine Company and makes recordings at their Chicago studio with a band that included Kid Ory, Omer Simeon, George Mitchell, Johnny St. Cyr, Barney Bigard, Johnny Dodds, Baby Dodds, and Andrew Hilaire.
March, 1926: Blind Lemon Jefferson has a second recording session at Marsh Laboratories. His first releases under his own name, "Booster Blues" and "Dry Southern Blues", were hits. Their popularity led to the release of the other two songs from that session, "Got the Blues" and "Long Lonesome Blues", which became a runaway success, with sales in six figures.
May 9, 1926: Thinking Elena Moneak's orchestra lacked professionalism from vocational, performance quality, and business management perspectives, flutist Adeline Schmidt, cellist Lois Bichl, and clarinetist Lillian Poenisch form their own Women's Symphony Orchestra of Chicago. This night, the inaugural concert is held in the Goodman Theater. Amy Neill, violinist soloist, performed the Bruch's Violin Concerto No. 1. Five men musicians filled chairs not yet filled by women.
1927: MCA hires 18-year-old Gene Krupa to become a member of Thelma Terry and Her Playboys, the first notable American jazz band to be led by a female musician. The Playboys were the house band at the Golden Pumpkin nightclub in Chicago and toured throughout the eastern and central United States.
---
---
Big Bill Broonzy's first record, "Big Bill's Blues", backed with "House Rent Stomp", was released by Paramount. It's considered a failure, but he is retained.
Benny Goodman leaves Chicago for New York City.
November 18, 1927: With Hoagy Carmichael on piano, Paul Whiteman and his Concert Orchestra record "Washboard Blues" for Victor Records in Chicago.
November 27, 1927: On Thanksiving Eve, the Savoy Ballroom opens at 4733 South Parkway. It was said the Ballroom had a checkroom that could accommodate 6,000 hats and coats. It would become a significant entertainment destination for black Chicagoans on the South Side, that would even include roller skating and other activities in addition to the music and dancing.
---
---
1928: While attending Crane College (which would later be renamed Malcolm X College), Cab Calloway spent most of his nights performing as a singer, drummer, and master of ceremonies. He meets Louis Armstrong, who teaches him to sing in the scat style.
After about 2 years of a deep depression, Thomas Dorsey has another spiritual experience. Still, finding spiritual music unable to pay the bills, Dorsey returns to the blues and records "It's Tight Like That" with Tampa Red, despite the suggestive lyrics. The record would go on to sell 7 million copies.
---
---
Mahalia Jackson is invited by the Greater Salem Baptist Church pastor's sons Prince, Wilbur, and Robert Johnson, along with Louise Lemon, to form a group. They become the Johnson Singers, Chicago's first black gospel group.
The Melrose Brothers publish the first songbook of a young trombone player who recently lost his gig in Ben Pollack's Orchestra, Glenn Miller's 125 Jazz Breaks for Trombone.
December 28, 1928: Earl Hines opens at the Sunset Cafe leading his own big band and begins a 12 year run at the club. Many would compare Earl Hines at Chicago's Sunset Cafe to Duke Ellington at New York's Cotton Club. For a time, Earl Hines and his band was the most broadcast band in America.
---
---
1929: Struggling blues musician, Thomas Dorsey needed a singer to help sell his sheet music so he recruited Mahalia Jackson to stand on Chicago street corners with him and sing his songs, hoping to sell them for ten cents a page.
November 4, 1929: The Civic Opera House opens. Businessman and investor, Samuel Insull, selected the architecture firm Graham, Anderson, Probst & White for the design intended for the Chicago Civic Opera, and the building has been nicknamed "Insull's Throne" for its visual resemblance to a chair. As a result of this unique appearance, it's become the subject of much folklore and rumor. The most prominent urban legend being that "the chair" intentionally faces West to be symbolic of Insull turning his back to New York City's Metropolitan Opera from the geographic standpoint of Chicago. Some rumors include that it was because his wife or his daughter were rejected by the Met, but neither story is true.
---
---
Jump to:
Pre-1899 | 1900s | 1910s | 1920s | 1930s | 1940s | 1950s | 1960s | 1970s | 1980s | 1990s | 2000s | 2010s | 2020s
---
---
1930s
1930: Lester Melrose is now working with record labels such as RCA Victor/Bluebird, Columbia, and Okeh. Throughout the decade he would have almost a monopoly on the Chicago Blues market. He would record Joe "King" Oliver, Big Bill Broonzy, Sonny Boy Williamson, Memphis Minnie, Roosevelt Sykes, Lonnie Johnson, Big Joe Williams, Bukka White, Washboard Sam, Champion Jack Dupree, Jazz Gillum, Arthur Crudup, Victoria Spivey, and Leroy Carr.
Reverend James Smith of the Ebenezer Baptist Church requests Thomas Dorsey to form a choir with Theodore Frye, the music director at Ebenezer.
The pastor of Pilgrim Baptist, Chicago's second largest black church at the time, sees Dorsey and Frye's choir and immediately hires Dorsey to be his music director, allowing Dorsey the financial freedom to leave blues behind and focus on Gospel music.
1931: Big Bill Broonzy's record sales are still poor and he's working as a grocery clerk. He signs with Lester Melrose as his manager.
Radio station WLS hires Win Stracke as a bass singer on their National Barn Dance program.
1932: Under Lester Melrose, Big Bill Broonzy begins to get a following and regular gigs in South Side clubs and a tour with Memphis Minnie.
Just as Thomas Dorsey co-founded the Gospel Choral Union of Chicago – eventually renamed the National Convention of Gospel Choirs and Choruses (NCGCC), his wife Nettie died in childbirth, then 24 hours later, their son. His grief prompted him to write one of his most famous and enduring compositions, "Take My Hand, Precious Lord".
Mahalia Jackson is the only full-time professional gospel singer in Chicago.
Florence Price wins first prize at the Wanamaker Foundation Awards for her Symphony in E Minor, while Margaret Bonds wins first prize for her song, "Sea Ghost."
1933: Venues for blues music proliferated in Chicago following the repeal of Prohibition and Tampa Red became one of the city's hottest live acts with the backing of his band, the Chicago Five. His wife, Frances, acted as his business manager, and their home became an informal boarding house, booking agency, and rehearsal space, where many newcomers to the city from the Mississippi Delta found encouragement and support.
Dorsey's choir at Pilgrim Baptist Church performs at the 1933 World's Fair.
June 15, 1933: Conducted by Frederick Stock, the Chicago Symphony Orchestra premieres Florence Price's award winning Symphony in E Minor, making Price's piece the first composition by an African-American woman to be played by a major orchestra.
1934: John Lee Williamson, the original Sonny Boy Williamson, settles in Chicago.
Ink Williams is hired as head of the "race records" department of Decca.
During a summer visit, Mahalia Jackson's grandfather suffers a stroke in the heat on a Chicago street. Jackson pleaded with God to spare him, swearing she would never go to a theater again. He survived and Jackson kept her promise, refusing to attend as a patron and rejecting opportunities to sing in theaters for her entire career. She furthermore vowed to sing gospel exclusively, including turning down offers from Louis Armstrong and Earl Hines.
Roosevelt Sykes signs with Decca and moves to Chicago.
September 10, 1934: Former bootlegger, Kokomo Arnold, is forced to work as a musician after Prohibition ends and he begins recording for Decca Records. Robert Johnson would turn his song, "Old Original Kokomo Blues", into "Sweet Home Chicago." His song, "Milk Cow Blues," would later be recorded by Elvis Presley.
December, 1934: Gene Krupa leaves Chicago to join Benny Goodman's band in New York City.
1935: 15-year-old Nat King Cole wins a highly publicized Battle of the Bands at the Savoy Ballroom. Nat King Cole drops out of Wendell Phillips Academy High School in Chicago to pursue music.
Due to gum disease, King Oliver is forced to quit playing trumpet.
Under the management of Lester Melrose, former Beale Street resident Memphis Minnie becomes an established name in Chicago.
Summer 1935: Grant Park Music Festival is founded by James Petrillo.
1936: Willie Dixon leaves Mississippi for Chicago.
November 23, 1936: In Room 414 of the Gunter Hotel in San Antonio, Texas, Robert Johnson records "Sweet Home Chicago".
1937: Then 17-years-old, Nat King Cole leaves Chicago for Los Angeles, with his new bride.
Ink Williams meets Mahalia Jackson and arranges a session for Decca Records where she records four singles: "God's Gonna Separate the Wheat From the Tares", "You Sing On, My Singer", "God Shall Wipe Away All Tears", and "Keep Me Every Day".
Mahalia Jackson open a beauty salon across the street from Pilgrim Baptist Church and she reconnects with Thomas Dorsey, who proposes a series of performances. Dorsey writes "Peace in the Valley" for Jackson to sing.
May 5, 1937: At Leland Tower, then a hotel in Aurora, Illinois, the original Sonny Boy Williamson makes his first recordings for Bluebird Records. In this session, he records the song, "Good Morning, School Girl", which would become a blues standard.
1938: Big Bill Broonzy is asked to fill in for the recently deceased Robert Johnson at his performance at Carnegie Hall, produced by John Hammond.
Willie Dixon meets Leonard Caston at a boxing gym. Caston convinces Dixon to pursue music seriously.
1939: Willie Dixon, Leonard Caston, Joe Bell, Gene Gilmore, and Willie Hawthorne form vocal group The Five Breezes.
---
Jump to:
Pre-1899 | 1900s | 1910s | 1920s | 1930s | 1940s | 1950s | 1960s | 1970s | 1980s | 1990s | 2000s | 2010s | 2020s
---
---
1940s
1941: After beginning recording together in 1939, Memphis Minnie and her third husband, Ernest Lawlars, known as Little Son Joe, establish themselves at their "home club", Chicago's 708 Club.
Summer 1941: John Cage moves to Chicago and begins teaching at the Chicago School of Design (IIT) and the University of Chicago the following year.
1942: Mahalia Jackson became choir director of St. Luke Baptist Church.
While in Chicago, Harry Partch builds his Chromelodeon, a 43-tone reed organ. He will receive a Guggenheim Grant in the spring of next year.
New Year's Eve, 1942: Poet Langston Hughes sees Memphis Minnie perform at the 230 Club.
1943: Muddy Waters moves to Chicago to become a full-time professional musician. He later recalled arriving in Chicago as the single most momentous event in his life. Waters lived with a relative for a short period while driving a truck and working in a factory by day and performing at night.
1943-1944: 15-year-old Ellas McDaniel, aka Bo Diddley, begins busking on Maxwell Street while also playing violin in the choir at Ebenezer Baptist Church.
---
---
Summer 1944: Grant Park Symphony Orchestra plays its first concert season.
1945: Gospel singing group, The Highway Q.C.'s, were founded in Chicago by a group of male teenagers who attended Highway Baptist Church. Among the founding members is 14-year-old singer, Sam Cooke.
Ink Williams leaves Decca to freelance and run several small, independent labels in Chicago.
1946: Mahalia Jackson appeared at the Golden Gate Ballroom in Harlem. In attendance was Art Freeman, a music scout for Apollo Records. Apollo's chief executive Bess Berman was looking to broaden their representation to other genres, including gospel. Berman signed Jackson to a four-record session, allowing Jackson to pick the songs.
1947: Mahalia Jackson's recording of "Move On Up a Little Higher" sells 50,000 copies in Chicago and 2 million nationwide, landing at the #2 spot on the Billboard charts for two weeks, a first for gospel music. Her two follow ups both sell nearly 1 million copies and the National Baptist Convention creates the official soloist position for her.
---
---
Joe Segal and Gus Savage begin booking live jazz acts for Roosevelt University that they call The Jazz Showcase.
April, 1947: Aristocrat Records was founded by Charles and Evelyn Aron, together with their partners Fred and Mildred Brount, and Art Spiegel.
August 27, 1947: Muddy Waters makes his first recordings for Aristocrat Records, which produced the single "Gypsy Woman" b/w "Little Anna Mae".
September, 1947: Leonard Chess makes his first investment in Aristocrat Records.
December, 1947: Aristocrat Records released Muddy Waters' "I Can't Be Satisfied" b/w "Feel Like Goin' Home," which became a minor hit.
1948: The Staples family begin appearing in Chicago-area churches, their first public singing appearance was at the Mount Zion Church.
June 1, 1948: The original Sonny Boy Williamson was killed in a robbery as he walked home from a gig at the Plantation Cafe.
1949: Big Bill Broonzy joins Win Stracke and Larry Lane in a touring folk music revue, I Come for to Sing, which is narrated by Studs Terkel. While on this tour, Broonzy meets Leonard and Lillian Feinberg who found him a custodial job at Iowa State University when a doctor ordered Broonzy to discontinue touring later that year.
---
Jump to:
Pre-1899 | 1900s | 1910s | 1920s | 1930s | 1940s | 1950s | 1960s | 1970s | 1980s | 1990s | 2000s | 2010s | 2020s
---
---
1950s
Early 1950: Leonard Chess brings his brother, Phil, in to complete his buyout of Aristocrat Records. Evelyn Aron, previous founder of Aristocrat Records, is retained as the third partner.
June, 1950: The first release from Chess Records was a 78 RPM single, "My Foolish Heart", backed with "Bless You", by Gene Ammons. This became the label's biggest hit of the year.
1950: At age 19, Sam Cooke officially leaves The Highway Q.C.'s to join The Soul Stirrers in Los Angeles.
1951: Willie Dixon becomes a full-time employee of Chess Records as a producer, talent scout, session musician, and staff songwriter. He would go on to co-write over 500 songs, many becoming hits and blues standards.
To evade parts of his recording contract, John Lee Hooker records for Chess Records as John Lee Booker.
Lou Rawls replaces Sam Cooke in *The Highway Q.C.'s.
The exposure from I Come for to Sing allows Big Bill Broonzy to tour Europe, where he is greeted with standing ovations and critical praise.
Bo Diddley gets a regular gig at the 708 Club.
April, 1951: Sam Phillips licenses Ike Turner's recording, "Rocket 88," to Chess Records. Chess would release this record and it would go on to spend 5 weeks at the top of the R&B charts and sell 500,000 copies. Turner and the band were paid $20 each for the record, while Sam Phillips would take the profits and open Sun Records in February, 1952.
Summer, 1951: Also operating as a freelance talent scout, Ike Turner hears Howlin' Wolf in West Memphis and brings him to record several songs with Sam Phillips at Memphis Recording Service (later renamed Sun Studio). As he had not yet formed his Sun Studio, Phillips also licensed these recordings to Chess Records.
December, 1951: Leonard Chess secures Howlin' Wolf's contract.
---
---
1952: Koko Taylor leaves Memphis for Chicago with her husband Robert "Pops" Taylor, a truck driver.
The Staples Singers sign their first professional contract.
February 5, 1952: Prodigeous 11-year-old from Hyde Park, Herbie Hancock, played the first movement of Mozart's Piano Concerto No. 26 in D Major, K. 537 at a young people's concert with the Chicago Symphony Orchestra.
Late 1952: Howlin' Wolf moves from Memphis to Chicago.
October, 1952: Herman Poole Blount legally changes his name to Le Sony'r Ra (Sun Ra), and begins "preaching" near the Midway Plaissance and performing with Alton Abraham on Chicago's south side.
1953: Vivian Carter and James C. Bracken, a husband-and-wife team who used their initials for the label's name, borrow $500 from a pawnbroker and found Vee-Jay Records in Gary, Indiana.
Lou Rawls officially leaves The Highway Q.C.'s and is replaced by Johnnie Taylor.
Famous in the Mississippi Delta but feeling stuck, Elmore James seeks out Chess Records and begins recording for the label. Unfortunately, due to a prior contract, these tapes are canned until 1960.
Floyd Jones rerecords his 1951 song "Dark Road" as "On the Road Again." The song would later be covered and become a hit with Canned Heat.
Big Bill Broonzy sees continued success as a feature act with folk artists such as Pete Seeger, and Sonny Terry and Brownie McGhee.
Fritz Reiner assumes directorship of the Chicago Symphony Orchestra. The recordings over the next 10 years would be considered performance hallmarks.
1954: Roosevelt Sykes leaves Chicago for his preferred acoustic clubs in New Orleans due to electrified instruments sweeping through the Chicago clubs.
---
---
Late 1954: Bo Diddley records his first records for Chess.
March, 1955: Bo Diddley's first release with the A-Side, "Bo Diddley," and B-Side, "I'm a Man," becomes a #1 R&B hit.
May, 1955: Chuck Berry travels to Chicago and meets Muddy Waters. Waters suggests Berry contact Leonard Chess at Chess Records.
May 21, 1955: Chuck Berry recorded an adaptation of the song "Ida Red", under the title "Maybellene". "Maybellene" would go on to sell over a million copies, reaching #1 on Billboard magazine's rhythm and blues chart and #5 on its Best Sellers in Stores chart for September 10, 1955.
July, 1955: Dave Brubeck Quintet becomes first jazz act to perform at Ravinia.
1956: Curtis Mayfield meets Jerry Butler and they form The Roosters.
Born and raised on the South Side, freshman Ray Manzarek begins playing piano in his fraternity's jazz band (the Beta Pi Mu Combo) at DePaul University. Ray Manzarek would go on to become the keyboard player for The Doors.
Win Stracke meets musician Frank Hamilton at the Gate of Horn nightclub, located in the basement of the Rice Hotel at 755 N. Dearborn St. at the corner of Chicago Avenue. Together they founded the Old Town School of Folk Music and developed a teaching method with an emphasis on group learning, beginning as a series of lessons at Dawn Greening's home in Oak Park. The school later moved into a small storefront at 333 W. North Avenue in Old Town.
After playing in clubs under the name Little Otis, Otis Rush records for Cobra Records and his first single, "I Can't Quit You Baby," reaches #6 on the R&B chart.
14-year-old Aretha Franklin begins appearing with The Soul Stirrers when they pass through the Midwest and she begins spending summers on the Chicago Gospel circuit and staying with Mavis Staples and her family.
---
---
1957: Johnnie Taylor leaves The Highway Q.C.'s for Los Angeles to replace Sam Cooke as lead singer of The Soul Stirrers when Cooke decides to pursue a solo career.
Memphis Minnie and Little Son Joe retire to Memphis.
September 22, 1957: Fritz Reiner invites Margaret Hillis to form the Chicago Symphony Chorus.
September 25, 1957: Buddy Guy moves to Chicago.
November 30, 1957: Margaret Hillis becomes the first woman to conduct the Chicago Symphony Orchestra.
1958: Sam Gooden joins Curtis Mayfield, Jerry Butler, and brothers Arthur and Richard Brooks to form local Gospel group, The Impressions.
Buddy Guy wins a West Side guitar competition against Magic Sam and Otis Rush and receives his first contract.
Little Junior Parker records the arguable definitive version of "Sweet Home Chicago".
16-year-old Paul Butterfield begins visiting jam sessions at local blues clubs.
January 6, 1958: With Jack Sheldon Wiener as sound engineer, Chuck Berry records Johnny B. Goode at 2120 S. Michigan Ave., Chicago.
1959: Englewood High School's Eugene Record and Hyde Park High Schoolers Robert "Squirrel" Lester, Clarence Johnson, Burt Bowen, and Eddie Reed perform together for the first time at their High School "Senior Varieties" talent show. The core of this group would become The Chi-Lites and have chart-topping success in 1971-1972.
The W.W. Kimball Company was purchased from the last remaining Kimball family heir by Mr. Arnold F. Habig, becoming a wholly owned subsidiary of The Jasper Corporation.
After 5 of his songs charted on the Billboard R&B charts through the previous decade, Howlin' Wolf finally releases his first LP, Moanin' in the Moonlight.
---
Jump to:
Pre-1899 | 1900s | 1910s | 1920s | 1930s | 1940s | 1950s | 1960s | 1970s | 1980s | 1990s | 2000s | 2010s | 2020s
---
---
1960s
1961: 14-year-old John Prine begins guitar classes at Chicago's Old Town School of Folk Music at 333 W North Ave.
Late 1961: John Lee Hooker records "Boom Boom" in Chicago for Vee-Jay Records.
1962: Howlin' Wolf's second compilation album, Howlin' Wolf (often called "the rocking chair album", from its cover illustration), was released.
Jazz and Rock N' Roll were beginning to be very popular in Europe, so promoters Horst Lippmann and Fritz Rau contact Willie Dixon to begin hosting the American Folk Blues Festival touring Europe. The audience at Manchester in 1962, the first venue for the festival in Britain, included Mick Jagger, Keith Richards, Brian Jones, and Jimmy Page. The first London festivals are believed to have also included Eric Burdon, Eric Clapton, and Steve Winwood. Chicago performers over the next decade would include Muddy Waters, Howlin' Wolf, Willie Dixon, John Lee Hooker, Sonny Boy Williamson, Otis Rush, and Junior Wells.
---
---
Willie Dixon discovers Koko Taylor singing in a Chicago club.
Maurice White joins The Jazzmen, a student jazz trio at Crane Junior College formed by Louis Satterfield on trombone, Charles Handy on trumpet, and Don Myrick on alto saxophone. They eventually change their name to the Pharaohs and 3 of the 4 become studio musicians with Chess Records.
January 13, 1962: Englewood High School graduates, Producer Carl Davis and singer Gene Chandler, score their first hit with "Duke of Earl" released on Vee-Jay Records. It sells more than 1 million copies in one month.
June 1962: Seiji Ozawa becomes the new music director at Ravinia attracting many famous composers and conductors to the North Shore festival, including: Aaron Copland, Robert Craft, Andre Previn, and Igor Stravinsky.
1963: Paul Butterfield and Nick Gravenites are offered a regular gig at Big John's, a folk club in the Old Town district on Chicago's near North Side. They convince bassist Jerome Arnold and drummer Sam Lay, from Howlin' Wolf's touring band, to form a group. Producer Paul A. Rothchild convinces Butterfield to add guitarist Mike Bloomfield to the band and they're signed to Elektra Records.
---
---
Elmore James dies of a heart attack at his cousin and bandmate Homesick James's apartment. James was beginning to achieve much more fame and his heart attack came right before the explosion of rock n' roll, which his style would influence many of the earliest artists.
1964: Willie Dixon brought Koko Taylor to Checker Records, a subsidiary label of Chess Records, for which she recorded "Wang Dang Doodle", a song written by Dixon and recorded by Howlin' Wolf five years earlier. The record became a hit, reaching number four on the R&B chart and number 58 on the pop chart in 1966, selling a million copies.
January 10, 1964: The year before, Capitol Records, at the time the United States subsidiary of the British parent, EMI, declined to release The Beatles first singles in the United States. So EMI then negotiated with several labels before Chicago's Vee-Jay Records signed a licensing agreement giving it the right of first refusal on Beatles' records for five years. On January 7, 1964, Vee-Jay Record's board of directors met and discussed the Beatles' material it had in the vault. Desperate for cash due to former Englewood High School graduate and former Vee Jay Record's President, Ewart Abner, who would call it a "business disagreement", while his business partners would call it "he got caught using company money to cover personal gambling debts" putting the company finances in a precarious position, as they already had 6,000 front covers printed the board decided to release Introducing... The Beatles, even if it meant legal trouble in the future. Which they would receive a restraining order less than a week later from Capitol Records.
---
---
June 10-11, 1964: The Rolling Stones, self-professed Chess Records obsessives, record in the U.S. for the first time at Chess Records studio in Chicago. Between sessions, the band holds a "press conference" on a traffic island in the middle of Michigan Avenue. Muddy Waters is at the studio on the second day of recording and helps the band load in their gear.
Fall 1964: Four students at Prospect High School begin playing in a band they would call The Shadows until they find out about an already existing band with that name. They add their high school mascot to the name and begin playing under The Shadows of Knight.
November 8, 1964: The Rolling Stones return to Chess Records to record more music. Keith Richards unveils the guitar riff that would form the basis for "(I Can't Get No) Satisfaction," which would be finished the next year.
---
---
Early 1965: Every Saturday and Sunday night for six months, The Shadows of Knight draw 500 local teenagers to The Cellar in Arlington Heights. They're given an opportunity to open for The Byrds at McCormick Place.
Late 1965: Local band The Pulsations secured a job as the house band on WGN-TV's variety show All-Time Hits. WGN producers suggest they adopt a name reflective of the British invasion. The band adopted the name The Buckinghams, which was suggested by a security guard named John Opager at WGN. The band liked the name because of its similarity to a hometown landmark, the Buckingham Fountain.
December, 1965: Due to suggestive lyrics, Chicago radio station WLS bans the song "Gloria" by Van Morrison and his band Them, so The Shadows of Knight release a cover bypassing the censors and the song rockets to Billboard Top 10.
1966: The Art Ensemble of Chicago, originally called the Roscoe Mitchell Sextet, releases its first album, Sound.
Early 1966: The Buckinghams receive their first record contract from local label USA Records and go into Chess Records to record their 12 song debut.
June, 1966: Maurice White leaves Chess and the Pharaohs to join the Ramsey Lewis Trio.
Summer, 1966: Hinsdale band The Cryan' Shames release a cover of The Searchers' 1963 song, "Sugar and Spice." The cover climbs to the Top 50.
December, 1966: The Buckinghams release their first single, "Kind of a Drag," also the title of their debut album and it rockets to the top of the charts.
1967: The Buckinghams have four Billboard Top 20 hits and a fifth in the Top 40.
Starting in 1967, Chicago band New Colony Six would place ten singles on the Top 100 between 1967-1971.
February 15, 1967: A group of six Chicago college students meet to form a band they initially call The Big Thing. They play their first gig at the GiGi A-Go-Go in Lyons, Illinois in March, 1967.
---
---
July 6, 1967: To augment their wages from Motown, session players from The Funk Brothers (Motown Session Band) would come to Chicago on the weekends. This day, at Chicago's Columbia Studios, bassist James Jamerson, drummer Richard "Pistol" Allen, guitarist Robert White, and keyboardist Johnny Griffith record Producer Carl Davis' next million selling song, Jackie Wilson's "(Your Love Keeps Lifting Me) Higher and Higher".
1968: Without a hit since 1966, The Shadows of Knight master tapes are sold to Atlantic Records for $1.
Buddy Miles moves to Chicago and briefly forms a band with Paul Butterfield and Nick Gravenites called Electric Flag.
June, 1968: The Big Thing moved to Los Angeles, California, signed with Columbia Records, and changed its name to Chicago Transit Authority.
1969: Yvette Marie Stevens, aka Chaka Adunne Aduffe Yemoja Hodarhi Karifi Khan, aka Chaka Khan, drops out of Kenwood High School and begins performing with her boyfriend who is a member of Cash McCall's group, Lyfe.
At an open-mic at the Fifth Peg on Armitage Avenue. John Prine makes a remark about the people that were getting up to sing: "This is awful." So the people he was sitting with said, "You get up and try." The owner of the Fifth Peg asks him to play a couple of shows per week.
Maurice White leaves the Ramsey Lewis Trio to write songs with his friends for commercials in the Chicago area. They call themselves the Salty Peppers before moving to Los Angeles and renaming the band as Earth, Wind, & Fire.
Sir Georg Solti becomes music director of the Chicago Symphony Orchestra. Solti would hold the position until 1991.
April, 1969: Chicago Transit Authority releases their first album that goes platinum. The band is nominated for Best New Artist Grammy. The actual Chicago Transit Authority threatens legal action against the band, and they change their name to Chicago.
---
Jump to:
Pre-1899 | 1900s | 1910s | 1920s | 1930s | 1940s | 1950s | 1960s | 1970s | 1980s | 1990s | 2000s | 2010s | 2020s
---
---
1970s
1970: Lacking a hit since 1967, The Buckinghams dissolves.
March, 1970: After being stuck under an unsupportive local label, Berwyn band, The Ides of March is signed to Warner Brothers and releases their song, "Vehicle." The song goes to #2 in the national charts and sells over one million copies. Throughout 1970 they would tour the country and be a part of the famed "Festival Express" train tour."
July 1970: A large riot in Grant Park following a Sly and the Family Stone performance results in 160 arrested, 162 injured, and Chicago Park District cancels the remaining season of summer concerts.
1971: Because his employer, Delmark Records, declined to record his favorite band, Bruce Igluaer takes out his own savings/inheritance to record and produce Hound Dog Taylor and the HouseRockers under his own label which he would name Alligator Records. The record is recorded over two nights.
1972: The Chi-Lites have their first #1 and second million seller in a row with "Oh Girl", which was preceded by "Have You Seen Her".
Local band Rufus is noticed by Ike Turner, who wants now Rufus singer, Chaka Khan, to join his backup singers.
---
---
A talent scout at a concert at St. John of the Cross Parish in Western Springs signs a band, some of the members having been playing together since they were early teenagers, and the band decides to change their name to Styx.
August 15, 1973: After a European tour, Rick Nielsen and Tom Petersson reunite with a former drummer from a previous band, Bun E. Carlos, and they adopt the band name Cheap Trick on this date.
November, 1973: The Ides of March play their final show at Morton West High School.
June, 1974: Stevie Wonder writes a song for Chaka Khan and Rufus breaks through with "Tell Me Something Good", which climbs to #3 on the Billboard charts. From 1974-1979, Rufus would have six platinum-selling albums in a row.
1975: Koko Taylor signs with Alligator Records. She would go on to record nine albums for Alligator, eight of which were nominated for Grammy awards.
Spring, 1975: Almost two years after the album release of Styx II, the song "Lady" hits #6 and the record goes gold soon after.
Early 1976: After touring warehouses, bowling alleys, and other venues in the midwest, Cheap Trick is officially signed to Epic Records.
---
---
1977: Francis Warren Nicholls, Jr. moves from New York to Chicago to become resident DJ at the club his friend was opening called The Warehouse, located at 206 South Jefferson Street.
---
---
July 7, 1977: Styx releases their breakthrough album, The Grand Illusion, which goes Triple Platinum.
April, 1978: After their first singles for Epic Records failed to chart in the United States, Cheap Trick toured Japan where they were a surprising smash.
April 22, 1978: Hosted by Steve Martin, season 3, episode 18 of Saturday Night Live opens with the first appearance of "Joliet" Jake and Elwood Blues, respective characters created by John Belushi and Dan Aykroyd, performing the song "Hey Bartender." Later in the show they would play "Soul Man."
Summer, 1978: While considering going back to producing jingles, Jim Peterik, former lead singer of The Ides of March, is convinced to meet with Frankie Sullivan and the two form a band called Survivor.
September, 1978: Survivor play their first show at Lyons Township High School.
November, 1978: Partners Jim Nash and Dannie Flesher, open Wax Trax! Records Store in the Lincoln Park neighborhood.
---
---
February, 1979: Epic Records releases Cheap Trick at Budokan in the United States and the album goes triple-platinum.
July 12, 1979: Seeking to fill seats at Comiskey Park during a lackluster season, the Chicago White Sox engaged then 24-year-old Chicago shock jock and anti-disco campaigner, Steve Dahl, for a promotion at the July 12 doubleheader. Dahl wanted to blow up a crate filled with disco records and began promoting Disco Demolition Night in between the doubleheader. Dahl's sponsoring radio station was 97.9 WLUP, so admission was discounted to 98 cents for attendees who turned in a disco record. The attendance at the game the night before was only around 15,000 fans, so Steve Dahl and WLUP were hoping for 20,000 to show up. To be safe, the White Sox's Mike Veeck hired security for 35,000 fans. At least 55,000 showed up and some estimates put the number much higher, closer to 75,000, when including those outside the stadium, as the Chicago Police Department were forced to close off-ramps from the Dan Ryan Expressway near the stadium. When Dahl set off the explosives, most of the security was blocking the gates from people attempting to get inside the stadium, leaving the playing field unattended. Attendees stormed the field and started fires, forcing the players to barricade in the clubhouse and Chicago Riot Police to enter the stadium and control the crowd. Major League Baseball forced the White Sox forfeit the second game to the Detroit Tigers.
---
---
Jump to:
Pre-1899 | 1900s | 1910s | 1920s | 1930s | 1940s | 1950s | 1960s | 1970s | 1980s | 1990s | 2000s | 2010s | 2020s
---
---
1980s
1980: After a divorce, Dr. Donda West moves to Chicago with her 3-year-old son, Kanye West.
Early 1980: The Styx ballad, "Babe," is the band's first #1 hit and first one million selling single. By the end of the year, the band is named the most popular rock band in the United States by Gallup.
June 20, 1980: Arguably the greatest Chicago movie of all time, The Blues Brothers movie is released in the United States. We would argue it is the greatest Chicago movie of all time but the John Hughes film fans are a strange bunch and we don't really want to deal with the backlash from them right now. A love letter to music, The Blues Brothers Band included many famous working musicians and well known session players. The Band included Steve "the Colonel" Cropper, Donald "Duck Dunn, Murphy Dunne, Willie "Too Big" Hall, Tom "Bones" Malone, "Blue" Lou Marini, Matt "Guitar" Murphy, and "Mr. Fabulous" Alan Rubin.
1981: Wax Trax! Records first official release is a 12" EP by experimental punk band Strike Under.
While a journalism student at Northwestern University, Steve Albini founds his punk band Big Black and begins recording musicians and engineering his first album.
Al Jourgensen meets the owners of Wax Trax! Records and he begins to write and record songs in his apartment, using a newly bought ARP Omni synthesizer, a drum machine, and a reel-to-reel tape recorder. He names this project Ministry.
January, 1981: Styx releases their biggest album, Paradise Theatre, which would reach #1 for three weeks, two singles that would reach the Top 10, and have four singles chart in the Top 100.
August, 1981: Survivor hits the Top 40 with their single "Poor Man's Son," which catches the ear of Sylvester Stallone. Stallone asks the band to write the theme for Rocky III after Queen denies him use of "Another One Bites the Dust."
Fall 1981: Encouraged by his music teacher, Lena McLin, Robert Kelly performs Stevie Wonder's "Ribbon in the Sky" and wins the Kenwood Academy Talent Show.
Early 1982: Libertyville High School classmates, Tom Morello (Rage Against the Machine) and Adam Jones (Tool) briefly form a band called the Electric Sheep before going their separate ways after graduation.
---
---
May 31, 1982: Survivor releases "Eye of the Tiger" a day after the movie Rocky III opens in theaters. It spends six weeks at #1 and fifteen weeks in the Top Ten, tying the longest run on the charts for the entire '80s decade. The single alone would sell over 9 million copies.
Summer, 1982: While visiting his cousins in Evanston, 13-year-old Dave Grohl, future drummer for Nirvana and frontman for Foo Fighters, attends his first concert seeing Chicago punk band Naked Raygun at the Cubby Bear, just outside of Wrigley Field.
July, 1982: Joe Shanahan opens "Smart Bar" as a dance club on the fourth floor of the Northside Auditorium Building.
August, 1982: After a successful show promoting then unknown Georgia band, R.E.M., Joe Shanahan is put in charge of booking at "Stages Music Hall", which would be renamed Metro. Metro would become an influential venue in the city. Smart Bar would eventually be moved into the basement of the building.
New Years Eve, 1982: At the time a synth-pop band, Ministry performs their debut concert at Chicago Club, Misfits.
---
---
February 22, 1983: Recorded at Oak Lawn's Pumpkin Studio, Styx would release their final album, Kilroy Was Here. It would go platinum.
Spring 1983: Steve Albini convinces some of the existing members of Naked Raygun to also play with him in Big Black.
1984: After growing up between Evanston and San Diego, the 20-year-old Eddie Vedder leaves Chicago for the northwest coastal city of Seattle. Vedder will go on to be most famously known for being the lead singer and primary lyricist of Pearl Jam.
1985: After badmouthing the venue in an interview, the Metro Chicago bans Steve Albini from the club.
West Garfield Park 12-year-old, Carl Terrell Mitchell, begins rapping.
---
---
1986: 11-year-olds, Damian Kulash and Tim Nordwind, meet at Interlochen Arts Camp in Traverse City, Michigan.
1987: Three friends at Luther High School form a rap trio called C.D.R. that opens for groups like N.W.A. Included in the trio is Lonnie Rashid Lynn.
August 9, 1987: With their breakup announced long in advance and happy to quit before they actually "make it", Big Black plays their final show and smashed their instruments onstage.
---
---
March, 1988: The Pixies release Surfer Rosa, produced by Steve Albini.
July 9, 1988: After meeting in a guitar store, Billy Corgan and James Iha make their live debut at Polish bar Chicago 21. Corgan on bass and Iha on guitar with a drum machine.
October 5, 1988: After recruiting bassist D'Arcy Wretzky and drummer Jimmy Chamberlain, The Smashing Pumpkins play their first gig at the Cabaret Metro.
1989: Hosted by Natalie Cole, R. Kelly wins the $100,000 prize on the TV Talent Series, Big Break.
Summer 1989: Born in Chicago and raised in Northbrook, Ryan Gary Raddon graduates from Glenbrook North High School and leaves to attend Brigham Young University where he begins to practice his DJ skills.
---
Jump to:
Pre-1899 | 1900s | 1910s | 1920s | 1930s | 1940s | 1950s | 1960s | 1970s | 1980s | 1990s | 2000s | 2010s | 2020s
---
---
1990s
1990: After living in San Francisco for a year, Liz Phair went broke and returns to Chicago, moving back in to her family's home. She begins writing lyrics and playing guitar, recording songs on a four-track tape recorder in her bedroom under the name Girly Sound.
1991: The rap trio C.D.R. dissolves and Lonnie Rashid Lynn begins performing under the name Common Sense, and begins recording collaboration with Dion Wilson. At the time, Wilson was working under the name Immenslope.
July 28, 1991: Created as a farewell tour for his band Jane's Addiction, lead singer Perry Farrell inaugurates the first Lollapalooza. At the time, it was a traveling festival/tour which stopped at 20 cities across the United States, including Chicago.
---
---
1992: Kenwood Academy/Academy of Scholastic Achievement graduate Shawntae Harris wins the grand prize in a local rap contest sponsored by Yo! MTV Raps. For the prize, she meets the young rap duo Kris Kross. Kris Kross introduce Harris to their producer, Jermaine Dupri, who signed her to his So So Def label.
July 14, 1992: Influenced by speed and thrash metal, Ministry release their breakthrough album, Psalm 69: The Way to Succeed and the Way to Suck Eggs.
---
---
1993: Vocalist Denis Buckley, guitarist Dan Wleklinski, bassist Joe Principe, and drummer Dom Vallone form punk band 88 Fingers Louie. Other band members that would come through the '90s include drummer Glenn Porter.
February 12–26, 1993: Nirvana record In Utero, their follow-up to Nevermind, in Minnesota with Chicago producer Steve Albini. Albini would later say the eventual release did not sound much like what he recorded.
June 22, 1993: Recorded at Idful Music Corporation in Chicago between 1991 and 1993 and produced in collaboration by Liz Phair and Brad Wood, Matador Records releases Phair's debut, Exile in Guyville, to wide acclaim.
July 27, 1993: The Smashing Pumpkins release their breakout album, Siamese Dream, debuting at #10 on the Billboard charts.
November 9, 1993: R. Kelly releases his first solo album, 12 Play, which lands him his first #1 hit, "Bump N' Grind".
1994: Common Sense's sophomore album, in collaboration with Dion Wilson as Immenslope, releases to more critical acclaim and greater recognition outside Chicago.
May 1, 1994: Belleville, Illionis based alternative country band Uncle Tupelo officially breaks up when Jay Farrar leaves the band. Jay Farrar forms a new band named Son Volt and the remaining members of Uncle Tupelo continue under the name Wilco.
---
---
June 28, 1994: Shawntae Harris, now performing under the moniker Da Brat (due to her considering herself a spoiled only-child), releases her debut album, Funkafied. Funkdafied debuted and peaked at #11 on the Billboard 200.
November 17, 1994: Wilco debuts at Cicero's Basement Bar in St. Louis.
1995: Steve Albini purchases Electrical Audio Studios, mostly as a way to get out of his house and give his wife some privacy.
January, 1995: Funkafied is certified platinum, making Da Brat the first female rapper to sell a million copies.
---
---
1996: Down to Earth, the 1996 debut album of a Chicago rapper named Grav, includes the first 8 production credits of 19-year-old, Kanye West.
Dion Wilson releases his first album under the pseudonym, No I.D., and invites Kanye West to his recording sessions with Common.
After attending 20 auditions in a month, David Draiman answers an advertisement in Illinois Entertainer and auditions for guitarist Dan Donegan, drummer Mike Wengren, and bassist Steve "Fuzz" Kmak and their band, Brawl. Draiman gets the gig and they change the name of the band to Disturbed.
Late 1996: Bassist Rob Doran, and drummer Glenn Porter form Alkaline Trio.
1997: 20-year-old Kanye West drops out of Chicago State University to pursue a music career.
Willowbrook High school friends Tom Higgenson, Dave Tirio, and Ken Fletcher form a band called Plain White T's. Steve Mast joins after the band sees some small success in the Chicago area.
Initially not a fan of hip-hop, Thornton Township High Schooler named Wasalu Muhammad Jaco hears the Nas' album, It Was Written, and gives rap another chance. He and a friend named Bishop G begin performing.
June 24, 1997: After his previous album was not released outside of Chicago, Carl Terrell Mitchell drops the "Tung" from his previous moniker and releases his third studio album, Adrenaline Rush, under the name Twista. It would reach #76 on the charts.
September, 1997: Lonnie Rashid Lynn release his third album, One Day It'll All Make Sense, now performing under the name Common. The album is released to critical acclaim.
1998: After a couple of break ups and lineup changes, 88 Fingers Louie breaks up again and go their separate ways. Drummer Glenn Porter focuses on Alkaline Trio, while Dan Wleklinski and Joe Principe formed the band Rise Against.
After graduation at Brown University, Damian Kulash relocates to Chicago and joins the band Stanley's Joyful Noise, made of his friend Tim Nordwind, as well as Andy Duncan, and Dan Konopka. They rename the band OK Go after an art teacher from Interlochen Arts Camp who would often say, "OK...Go!"
1999: After signing to the major label, MCA Records, Common relocates to New York City.
No I.D. introduces Kanye West to long-time friend, Kyambo "Hip Hop" Joshua, who was A&R for Roc-A-Fella Records.
Wasalu Muhammad Jaco begins performing as Lupe Fiasco.
---
Jump to:
Pre-1899 | 1900s | 1910s | 1920s | 1930s | 1940s | 1950s | 1960s | 1970s | 1980s | 1990s | 2000s | 2010s | 2020s
---
---
2000s
2000: Kanye West begins producing for Roc-A-Fella Records.
Disturbed releases its debut and breakthrough album, The Sickness, on Giant Records. The album would go on to sell over 4 million copies.
May, 2000: Ryan Gary Raddon adopts his DJ stage name, DJ Kaskade.
December, 2000: NPR Producer Ira Glass invites OK Go to serve as the house band for live performances of This American Life.
New Year's Eve, 2000: Formed at Notre Dame University, the jam-band Umphrey's McGee begins playing New Year's Eve shows in Chicago, which they would continue through the decade.
2001: In Wilmette, growing frustrated with the hardcore scene, friends Pete Wentz and Joe Trohman form a pop-punk side project that was intended to be "easy and escapist". Patrick Stump joins the band and they play their first gig in a DePaul University cafeteria. After their second performance, they start calling the project, Fall Out Boy.
OK Go relocates to Los Angeles.
January, 2001: Glenn Kotchke officially replaces Ken Coomer as the drummer for Wilco.
September 11, 2001: Jay-Z releases the highly influential album, The Blueprint, which catapults and cements Kanye West's status as a hip-hop producer.
2002: Plain White T's Tom Higgenson meets Delilah DiCrescenzo at a party and, though she had a boyfriend and was not interested, he's smitten and tells her he's going to write a song about her.
Twista begins recording his fourth album, Kamikaze, with Kanye West and Ludacris.
April 23, 2002: Wilco releases Yankee Hotel Foxtrot, their best-selling and most widely acclaimed album.
October 23, 2002: While driving home from a California recording studio after working late, Kanye West fell asleep at the wheel causing a head-on crash with another car. Two weeks later, with his jaw wired shut, he records his debut single, "Through the Wire".
---
---
May, 2003: After touring small clubs and shows around Chicago/Illinois/Wisconsin beginning to get traction, Fall Out Boy releases their debut album, Take This to Your Grave.
January 27, 2004: Kamikaze debuts at #1 on the Billboard 200 and would be certified platinum by March. The first single, "Slow Jamz," would be a #1 single, "Overnight Celebrity" would reach #10, and "So Sexy" would peak at #25.
Early 2004: Singer Jennifer Hudson is released from her contract with Chicago-based independent record label, Righteous Records, so she can appear on the TV talent show, American Idol. She makes it to the Top 7 of the competition before being eliminated.
February 2004: Roc-A-Fella Records officially issues Kanye West's debut album, The College Dropout, and it immediately jumps to #2 on the Billboard charts.
Summer 2004: Fall Out Boy joins the Warped Tour.
June 29, 2004: Umphrey's McGee releases their third album, Anchor Drops, that they recorded at studios in and around the Chicago area.
December, 2004: Fall Out Boy begins selling 2,000-3,000 albums per week and the label believes them to potentially be "tipping" into success.
2005: Perry Farrell and William Morris Agency partner with Capital Sports Entertainment to reformat Lollapalooza into a weekend destination festival in Chicago's Grant Park.
May, 2005: Despite some band members feeling overwhelming anxiety and self-doubt, Fall Out Boy album, Under the Cork Tree, makes its Billboard debut at #9 on the back of their breakthrough single, "Sugar, We're Going Down". Their second single from the album, "Dance, Dance", would go certified Triple Platinum.
November, 2005: Jennifer Hudson is cast in the role of Effie White for the film adaptation of the musical Dreamgirls. Her performance of the standard, "And I Am Telling You I'm Not Going", would catapult her to critical acclaim and win her many awards through 2007-2008.
May, 2006: After a few lineup changes, the Plain White T's release their third single titled "Hey There Delilah" from their third album All That We Needed
July 4, 2006: After incessant touring to increase their profile due to little label support, Rise Against releases their 4th studio album, The Sufferer & the Witness, which eventually climbs to #10 on the Billboard 200. This success allows them to be a headliner on the 2006 Warped Tour.
September 19, 2006: Featuring production from Jay-Z, Kanye West, Mike Shinoda, The Neptunes, and Prolyfic, Lupe Fiasco releases his debut album, Lupe Fiasco's Food & Liquor. The album climbs to #8 on the Billboard charts and receives three Grammy nominations including Best Rap Album.
2007: Jones College Prep High School freshman, Chancelor Bennett, forms his first hip-hop duo called Instrumentality.
Early 2007: Fall Out Boy release, Infinity on High. The album goes to #1 on Billboard and the band sells 260,000 copies in a single week. It eventually sells over 2 million copies.
July 3, 2007: Over a year after the release, the Plain White T's song "Hey There Delilah" hits #1 on Billboard and from July 3 through July 28, 2007, the song was the number one most played song on the radio, and the number one downloaded song on the US iTunes Music Store.
December, 2007: Lupe Fiasco's The Cool album is released to critical acclaim. It peaks at #10 on the Billboard charts.
October 7, 2008: Now signed to Interscope Records, Rise Against releases their fifth studio album, Appeal to Reason, which would peak at #3 on the Billboard 200.
November, 2009: Whitney Young High School group, Kids These Days, win first place at Congress Theater's Next Big Thing competition.
---
Jump to:
Pre-1899 | 1900s | 1910s | 1920s | 1930s | 1940s | 1950s | 1960s | 1970s | 1980s | 1990s | 2000s | 2010s | 2020s
---
---
2010s
2010: Considered one of the largest and most iconic music festivals in the world and one of the longest running festivals in the United States, Lollapalooza decides to remain in Chicago indefinitely.
February 23, 2010: Alkaline Trio releases their highest charting album, This Addiction, which debuts at #11 on the Billboard 200 and #1 on the Rock/Alternative charts.
---
---
2011: Kids These Days performed at South by Southwest, at Milwaukee's Summerfest, at Lollapalooza, and at The Roots Picnic.
February 11, 2011: Under Riccardo Muti and Duain Wolfe, the Chicago Symphony Chorus wins their 10th and most recent Grammy Award.
Early 2011: Chancelor Bennett receives a 10-day suspension from high school for smoking marijuana, during which he records his first rap mixtape, titled 10 Day.
March 8, 2011: Lupe Fiasco's third album, titled Lasers, debuts at #1 on the Billboard charts.
August, 2011: No I.D. was appointed Executive Vice President of A&R for Def Jam Recordings.
December, 2011: After dropping out of Dyett High School due to increasing juvenile delinquency, Keith Farrelle Cozart was arrested for firing a gun from his car in Chicago's Washington Park neighborhood. He was placed under house arrest at his grandmother's residence for 30 days, followed by another 30 days of home confinement, and he begins posting videos to his YouTube account under Chief Keef, including his song, "I Don't Like."
2012: Wilco's Jeff Tweedy produces Kids These Days debut, "Traphouse Rock".
Summer 2012: "I Don't Like" catches the ear of Kanye West, who remixes it with rappers Pusha T, Jadakiss and Big Sean. This remix reaches the Billboard Rap Top 20, sparking a bidding war between major labels to sign him.
April 3, 2012: Chancelor Bennett releases his mixtape 10 Day under the name Chance the Rapper.
May, 2013: Kids These Days break up.
2014: Vic Mensa, formerly in Kids These Days, performed with Gorillaz frontman Damon Albarn at the Governors Ball Music Festival, where he performed the track "Clint Eastwood", filling in for MC Del the Funky Homosapien.
July 15, 2014: After a hiatus, Rise Against release The Black Market which debuts at #3 and stays on the charts for 11 weeks.
February 15, 2015: Vic Mensa performed "Wolves" alongside Kanye West and Sia on Saturday Night Live's 40th Anniversary Celebration. Mensa would also be nominated with Kanye West for a Grammy for Best Rap Song, "All Day."
May 12, 2016: Chance the Rapper releases his third mixtape, Coloring Book. It debuts at #8 on Billboard, becoming the first release to chart solely based on streams.
August, 2017: Chance the Rapper headlines Day 3 of Lollapalooza and crowd estimates make it the largest attended performance in the event's history.
---
Jump to:
Pre-1899 | 1900s | 1910s | 1920s | 1930s | 1940s | 1950s | 1960s | 1970s | 1980s | 1990s | 2000s | 2010s | 2020s
---
---
Chicago Journal Newsletter
Join the newsletter to receive the latest updates in your inbox.