Bears vs. Bucs: Week 7 Pregame Warmup
Even if they were at full strength, the Bears are in for another tough task. Brady may not own the Bears the way Aaron Rodgers has over the years, but the three-time MVP is 5-1 in six games against Chicago.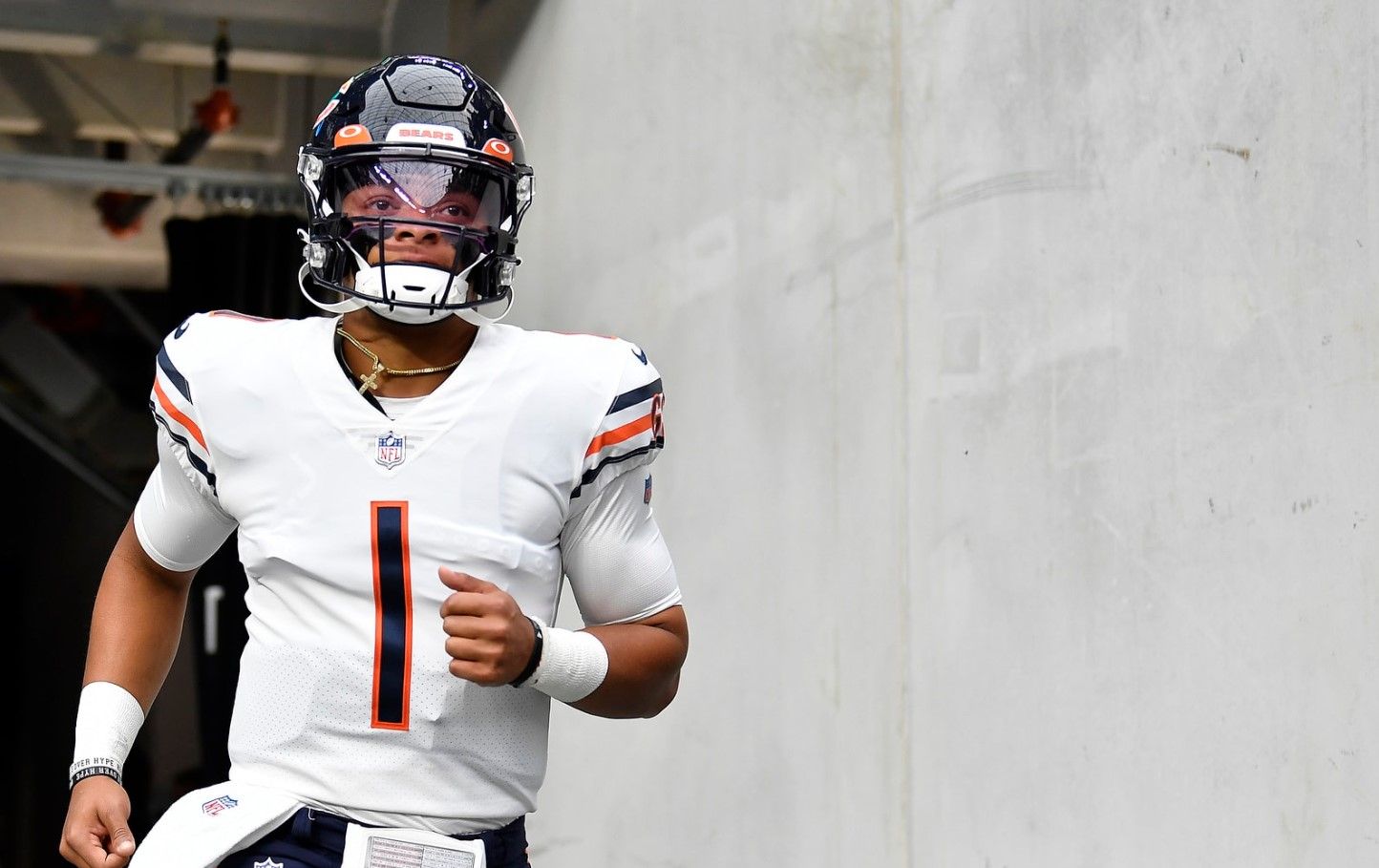 Bears Injury Report
October 24, 2021
Akiem Hicks: Hicks (groin) was downgraded to out for Sunday's game against the Buccaneers, Kevin Fishbain of The Athletic reports.
Jimmy Graham: Graham's placement on the reserve/COVID-19 list earlier Friday was the result of a positive test, Aaron Wilson of Sportstalk 790 Houston reports.
Tayshaun Gipson Sr: Gipson (hip) has been ruled out for Sunday's game against Tampa Bay.
Robert Quinn: Quinn (illness) was moved to reserve/Covid-19 list Tuesday following a positive test, Tom Pelissero of NFL Network reports.
---
---
---
Bucs say Bears' offense better than anemic stats suggest
By FRED GOODALL | AP Sports Writer
October 21, 2021
TAMPA, Fla. (AP) — The Tampa Bay Buccaneers don't trust the numbers when it comes to the struggling Chicago offense.
Coach Bruce Arians likes what he's seen of rookie Justin Fields, noting the young quarterback not only has a strong arm but also the ability to give opposing defenses fits when he decides to tuck the ball and run.
Chicago might rank last in the NFL in total offense and be the only team in the league that averages more yards per game rushing than passing, but Arians says there are talented players around Fields who give the Bears (3-3) the potential to be more productive.
"I don't put any stock in stats," Arians said, looking ahead to Sunday when the defending Super Bowl champions (5-1) aim for a fourth consecutive victory and the best seven-game start in franchise history.
"You never know with a young quarterback what's going to happen. ... He's big, he's athletic, he's got a tremendous arm," the Tampa Bay coach added. "And he's faster than Jalen Hurts. We had a little trouble containing him, so we've got to do a better job of keeping him in the pocket."
The Bucs held off Hurts and the Eagles 28-22 last week in a game that wasn't as close as the final score. They have added incentive to keep tabs on Fields and the Bears after playing poorly last season during a 20-19 loss at Chicago.
Arians said there's plenty the Bucs can take from that game and apply to this meeting.
"Yeah, don't get 13 penalties. And everything else that went on up there — finishing plays, turning the ball over. ... There are a lot of things to learn from that tape," the coach said.
It won't be easy for the Bears, who lead the NFL with 21 sacks, to replicate their success.
Tom Brady, who was still getting acclimated to new surroundings when the teams met a year ago, leads the NFL in passing yards (2,064) and is second in touchdown passes (17) through six games.
The Bears average 129 yards rushing compared to a league-low 117.2 passing. Throw in the fact the Bucs have the league's stingiest run defense (54.8 yards per game) and Chicago faces a tall task Sunday.
"That will be a true test for us. You saw what they did last year when we faced them. They're a stout run defense. They've got a lot of great players on that front line, the second level with their linebackers," Bears coach Matt Nagy said.
"The amount of respect that I have for Todd Bowles as a defensive coordinator and what he does, is real," Nagy added. "So, that combination of how he schemes and then the players they have, I think there is a reason why they are that good."
---
BALANCING ACT
Tampa Bay leads the league in passing but is 28th in rushing. The defending champs don't have a 100-yard rusher this season, however, Leonard Fournette has provided balance by assuming a greater workload and also getting involved in the passing attack the past three games. His 376 total yards from scrimmage over that stretch are the third most in the NFL behind Derrick Henry (463) and Jonathan Taylor (441).
PASSING UP
The Bears rank last in the NFL in total offense even though they are seventh in rushing. Clearly, they have work to do in the passing game.
Fields continues to show promise as well as having room to grow. The No. 11 overall draft pick led 80-yard touchdown drives in the first and fourth quarters against Green Bay, but the offense also stalled for a large part of that game.
Fields has thrown for 632 yards, two touchdowns and three interceptions in six games, including four starts. The former Ohio State star has been sacked 18 times for a league-leading 163 yards.
The Bears are 2-2 with Fields as their starter.
QB PRESSURE
The Bears could be without one of their top pass rushers when they face another all-time great quarterback.
Chicago placed Robert Quinn on the reserve/COVID-19 list on Tuesday, putting the resurgent linebacker's status in question. The two-time Pro Bowl pick is second on the team to Khalil Mack with 5 1/2 sacks after finishing with two last season, his first with the Bears.
Mack (foot) and defensive tackle Akiem Hicks (groin) are banged up, too.
Even at full strength, the Bears would be in for another tough task. Brady may not own the Bears the way Aaron Rodgers has over the years. But the three-time MVP is 5-1 in six games against Chicago.
"One is just a little more mobile than the other one," Bears linebacker Alec Ogletree said. "But they both do things where they make their offense go. When they are both hitting and clicking with their receivers and backs or whoever, they are tough to defend. Obviously, you can see that with the numbers they put up and stuff like that."
---
AP Sports Writer Andrew Seligman contributed to this report.
---
Bears' Fields learning from facing league's best QBs
By GENE CHAMBERLAIN | Associated Press
October 20, 2021
LAKE FOREST, Ill. (AP) — What Justin Fields learns by battling teams with Hall of Fame-caliber quarterbacks takes on less significance than what he learns guiding the Bears offense against NFL defenses.
Sometimes, though, they can be one and the same.
For the second straight week, Fields squares off against an opponent with a quarterback destined for the Pro Football Hall of Fame in Tom Brady, after the Bears rookie passer learned a valuable lesson facing Green Bay's defense last week when Aaron Rodgers and the Packers pulled out a 24-14 win at Soldier Field.
The lesson learned was NFL success stems from repeating good plays and not just producing one on occasion.
"That's one big difference I'm starting to find out is you've got to put drives together rather than just have a good play here, have a good play there," Fields said. "I mean, because if you have a bad play in college, it's easy to get that yardage you just lost the next play. Where in the NFL, it's not as easy.
"So just putting good plays together back to back and just creating more drives that create more momentum and just get us more in a rhythm."
Fields put together a series of strong plays twice last week and coach Matt Nagy saw it as a sign of real progress.
One was on the first Bears possession when Fields completed two passes and then Marquise Goodwin drew a defensive pass interference penalty at the Green Bay 1-yard line.
"When you can play quarterback and play on time and in rhythm you see good things happen and that was awesome, those three plays right there," Nagy said.
---
The other series was a fourth-quarter TD drive when Fields improvised a few times.
"There is an ability of him right now," Nagy said. "I think what we're doing is we're finding some throws that we see he does well within the offense. So what we want to do is be able to do more of those.
"On top of that, his decision-making in general has been pretty good, and that's growing. Once he keeps getting that better and better, the athletic stuff of making plays and making throws is gonna come."
The Bears have won two of the four starts by the former Ohio State standout and another game when he played more than a half in place of the injured Andy Dalton.
The defeats and sacks he has taken have also taught him something.
"You just have to not necessarily accept the fact, but we're not in the Big Ten where Ohio State is most likely more talented than the other teams you play," Fields said. "It's the NFL now. It's a longer season so you just have to bounce back — you get knocked down you just have to keep coming back.
"As long as we do that we will be good and we will continue to grow."
Doing this and winning against Tampa Bay and Brady won't be easy after the Bears surprised the eventual Super Bowl champions 20-19 last year at Soldier Field with Nick Foles at quarterback.
Tampa Bay's defense is No. 1 against the run and forces passing attacks into pressure-packed situations.
Fields saw Rodgers handle a difficult situation against a strong Bears defense last week, and learned from it. What he learned is exactly what he sees from Brady on film, and what he has noticed in his own play.
"I think you can just take away how (veterans) operate their drives and how they operate a game," Fields said. "I think that's one thing I took away from last week is just, like I said before, the drives that you have to put together to consistently score.
"You have to put together a lot of plays on a good drive to score. It just can't be two, three good plays on a drive."
NOTES: Wide receiver Allen Robinson (ankle), linebacker Khalil Mack (foot), defensive end Akiem Hicks (groin), returner Jakeem Grant (ankle) and linebacker Caleb Johnson (knee) missed Wednesday's practice while safety Tashaun Gipson (hip) practiced on a limited basis.
---
---
More AP NFL: https://apnews.com/tag/NFL and https://twitter.com/AP_NFL
Chicago Journal Newsletter
Join the newsletter to receive the latest updates in your inbox.