College Football Week 8: B1G Summary + Notre Dame
Illinois stuns #7 Penn State in Happy Valley, Purdue falls back to earth, and Michigan stays unbeaten to set up a must-watch Paul Bunyan Trophy game in East Lansing.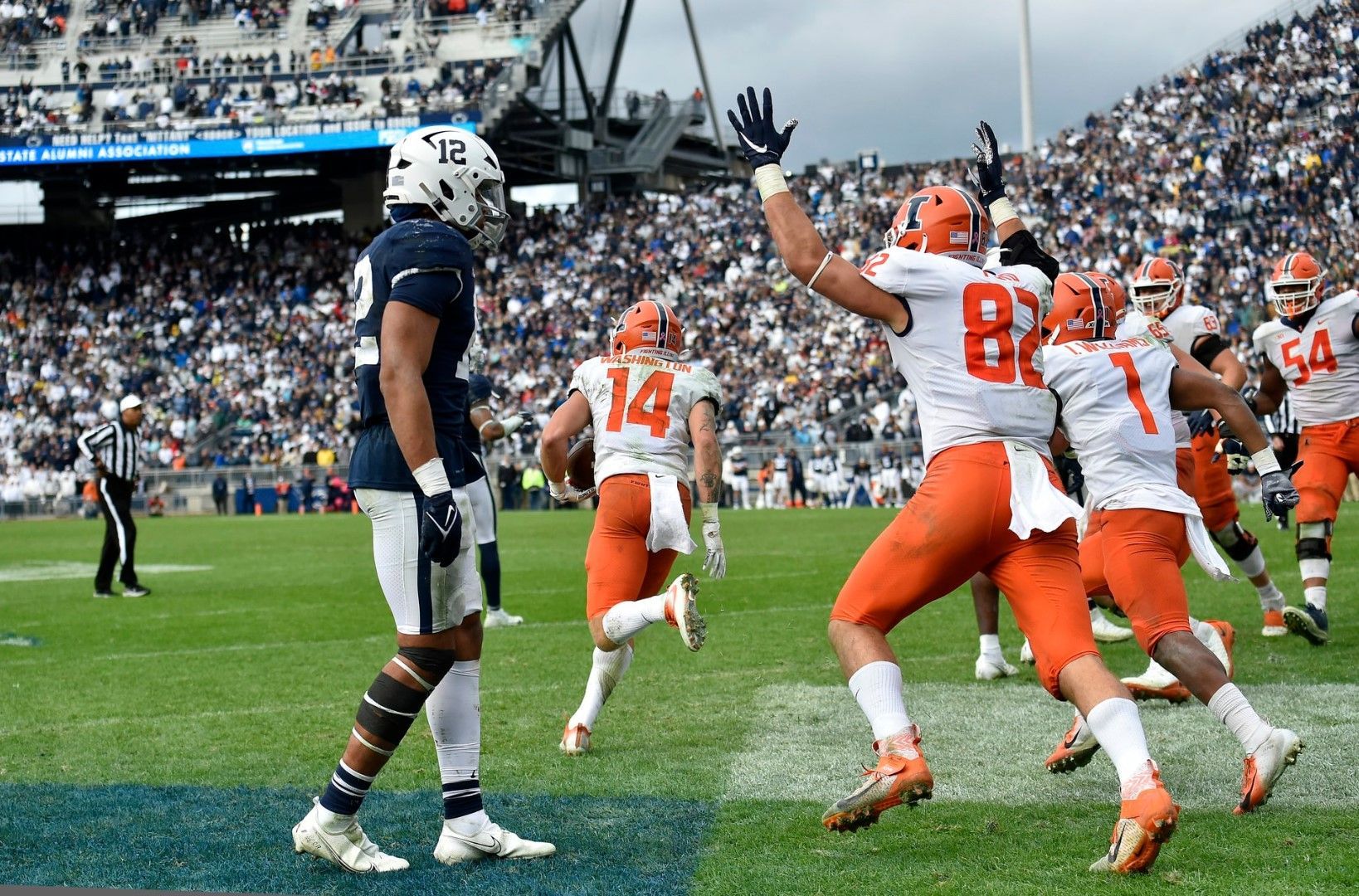 #5 Ohio State vs. Indiana
No. 5 Ohio St extends streak with 54-7 blowout at Indiana
BLOOMINGTON, Ind. -- — C.J. Stroud and TreVeyon Henderson provided Ohio State's offense with a refreshingly familiar look Saturday.
Even a persistently rainy night couldn't derail the Buckeyes' two big stars.
---
---
Stroud threw four touchdown passes, Henderson scored three times and No. 5 Ohio State routed Indiana 54-7 after its bye week, extending the Football Bowl Subdivision's longest active winning streak against one team to 27 in a row.
"It was great to see those guys running around. It looked like they were having fun out there," coach Ryan Day said. "That's good and that's part of the energy we want."
Right now, it seems nothing can stop the Buckeyes (6-1, 4-0 Big Ten).
They've won five straight overall, 25 in a row against conference foes including their Big Ten championship game victories, an FBS-leading 12 consecutive true road games and a conference-record 11 straight road games against league foes by double digits.
And this dominant victory resembled so many others along the way.
After Henderson broke a 7-all tie with a 21-yard TD run late in the first quarter, the short-handed Hoosiers (2-5, 0-4) never had a chance. Ohio State scored the final 37 points of the first half and Day pulled his starters after three quarters.
"When you see things like that, I just think we're hitting and we have the momentum," Stroud said. "Everybody does a great job."
For the Hoosiers, there were more struggles.
Indiana quarterback Jack Tuttle replaced injured starter Michael Penix Jr. for the second straight week but didn't last long. Tuttle left after appearing to injure his right foot while capping Indiana's opening possession with a 7-yard TD pass to Peyton Hendershot.
Tuttle returned briefly in the second quarter after backups Donaven McCulley and Grant Gremel entered for the Hoosiers' second and third series. But Tuttle left again after taking just two more snaps. Coach Tom Allen said Tuttle's X-rays were negative.
"It hurt us, without question," Allen said when asked about the injury. "He needs an MRI. He's in a lot of pain right now."
Stroud was 21 of 28 for 266 yards. Henderson ran nine times for 81 yards and two scores, all in the first half.
THE TAKEAWAY
Ohio State: The Buckeyes have been steamrolling opponents since a Week 2 loss to Oregon — and the trip to Bloomington was no problem. They scored 30 points — in the second quarter — and have won five in a row by an average margin of 41.6 points. It's the second half of the schedule that poses the real obstacle to Ohio State.
Indiana: The Hoosiers have lost three straight — all against top-10 teams — and all five losses this season have come against opponents who started this weekend ranked in the top 11. Fortunately for Indiana, only one top-10 foe, No. 6 Michigan, is still on the schedule. But if Tuttle can't play, navigating the final five games will be difficult.
STAT PACK
Ohio State: Henderson has scored 14 TDs this season, four short of Maurice Clarett's school record for a freshman. He moved past Art Schlichter and Joel Payton (13) for second Saturday. ... Miyan Williams had eight carries for 60 yards and one TD. ... Jeremy Ruckert caught two TD passes, while Henderson and Chris Olave each had one.
Indiana: Hendershot had five receptions for 35 yards and one score, becoming the Hoosiers' top pass-catcher among tight ends. He has 119 receptions, two more than Ted Bolser's previous mark. ... The Hoosiers rushed 37 times for 48 yards. ... Punter James Evans was tackled in the end zone for a safety.
INJURY REPORT
Ohio State: Day listed 14 players as "unavailable" for the game including RB Master Teague. The school did not provide a reason for any of the absences.
Indiana: In addition to Tuttle's two exits, defensive end/linebacker Jalen Handy left late in the third quarter when he walked directly from the field to the locker room with an undisclosed injury.
UP NEXT
Ohio State: Hosts No. 7 Penn State next weekend.
Indiana: Visits Maryland next Saturday.
---
#6 Michigan vs. Northwestern
No. 6 Michigan tops Northwestern 33-7; Michigan State next
By LARRY LAGE | AP Sports Writer
ANN ARBOR, Mich. (AP) — Michigan got off to a sluggish start, perhaps peeking ahead to playing Michigan State. Then the Wolverines used a strong finish to seal a matchup of undefeated rivals.
Blake Corum and Hassan Haskins combined for 229 yards rushing and four touchdowns, carrying No. 6 Michigan to a 33-7 win over Northwestern on Saturday.
Shortly after the victory, Jim Harbaugh's thoughts had already shifted to facing the ninth-ranked Spartans on the road.
"All focus is there," he said.
The Wolverines (7-0, 4-0 Big Ten) led the Wildcats (3-4, 1-3) by just three at halftime. They pulled away by outscoring them 23-0 in the first 16:40 of the second half.
"We played pretty solid in the first half to give ourselves a chance," Northwestern coach Pat Fizgerald said. "And, then we reverted back to some bad habits."
Corum finished with 119 yards rushing and two touchdowns. Haskins ran for 110 yards and two scores.
Corum jukes defenders with shifty moves while Haskins runs through them with power.
"We both bring different things to the table," Corum said. "We feed off each other."
Michigan had 294 yards rushing, nearly 50 yards more than its average.
"They're the best rushing offense in the country for a reason," Fitzgerald said.
Cade McNamara was 20 of 27 for 129 yards for the Wolverines, whose inability to throw the ball downfield might prove to be a problem against tougher teams.
Northwestern quarterback Ryan Hilinski, a South Carolina transfer, completed 14 of 29 passes for 114 yards with an interception. He was replaced early in the fourth quarter by Carl Richardson, who was 2 for 3 for 9 yards.
Evan Hull had a 75-yard touchdown run late in the second quarter, making it 10-7 and nearly doubling the yards the Wildcats had in the game at that point.
Down 17-7 midway through the third, Northwestern's Charlie Kuhbander missed a 39-yard field goal.
"There's a lot of good things we can take from this game, and a lot of things where we let it get away from us," Hilinski said.
---
---
THE TAKEAWAY
Northwestern: The defense, which has improved steadily this season, held a potent offense in check during the first half before wearing down because the Wildcats struggled to sustain drives offensively.
Michigan: Coming off a bye and before playing the Spartans, a lackluster start was understandable even if Harbaugh and his players refused to acknowledge it.
STRONG START
Michigan has won its first seven games for the first time since 2016, Harbaugh's second season, when it started 9-0 and finished 10-3 with a loss to Florida State in the Orange Bowl.
DOING IT ALL
Wide receiver Cornelius Johnson blocked a punt in the third quarter.
"That's the first time he's been put in that position," Harbaugh said.
The block set up Haskins' 13-yard run that gave Michigan a 24-7 lead. Johnson also caught three passes for 30 yards, drew at least one flag for a first down, and had a 6-yard run.
Defensive end Aidan Hutchinson, the Big Ten's top defensive player at midseason, recovered a fumble early in the fourth after sharing a sack, deflecting a pass and getting credit for two quarterback hurries.
YOUNG CATS
The Wildcats, a defending division champion, have alternated between losing and winning each game in a challenging season that Fitzgerald is confident will pay off in the future.
"We have a lot of young guys out there who are getting really valuable experience," he said.
TROPHY GAME
The Wolverines won the newly created George Jewett Trophy, honoring the first Black football player at both schools.
"To play for that was an honor," Fitzgerald said.
Jewett played for Michigan during the 1890 and 1892 seasons, then left Michigan for Northwestern in 1893 to finish his medical degree. He played two seasons for the Wildcats.
POLL IMPLICATIONS
Michigan doesn't have much room to move up, but will close the regular season with plenty of chances against Michigan State, No. 7 Penn State and No. 5 Ohio State.
UP NEXT
Northwestern: Hosts Minnesota.
Michigan: Plays at Spartan Stadium in a highly anticipated matchup of undefeated rivals.
"We're excited," McNamara said. "We're confident."
---
You can view the write up HERE.
---
#13 Notre Dame vs. USC
Williams leads No. 13 Notre Dame past Southern Cal, 31-16
SOUTH BEND, Ind. -- — Kyren Williams and No. 13 Notre Dame's offensive line took a big step forward Saturday night, withstanding Southern California's fourth-quarter rally for a 31-16 victory.
With fellow running back Chris Tyree sidelined by turf toe, Williams had two short touchdown runs and a season-high 138 yards on 25 carries for coach Brian Kelly's 6-1 team, and after the game saluted his offensive linemen for his performance.
"Shoutout to the O-linemen for working hard and making it possible," Williams said about the rebuilt line that lost four starters from last season. "I just had to have the mindset to dominate and not be stopped by anybody."
Williams, a preseason Associated Press All-American who rushed for 1,175 yards last season, entered Saturday's game with just 370 yards. He also gained another 42 yards with a team-high six receptions.
Williams scored on a 5-yard run in the second quarter while helping the Irish to a 17-3 halftime lead and then added a 1-yard run late in the third quarter to put the Irish up 24-3 en route to their fourth straight victory in the 92-game series.
"Kyren ran with an attitude that was just pervasive throughout the entire offense.," Kelly said. "We needed to see our offense mature, and tonight the offense began to come together the way we wanted. We played faster. We put Jack (Coan) in position where the ball came out quick. It gave us the kind of offensive flow we've been looking for."
Coan completed 20 of 28 passes for 189 yards and one TD, a 4-yard scoring pass to Avery Davis that put the Irish up 7-0 in the first quarter. Jonathan Doerer had a 21-yard field goal in the second quarter.
---
---
Freshman Tyler Buchner scored on a 3-yard run with 4:52 remaining to close out the Irish scoring after the Trojans (3-4) had trimmed the Irish lead to 24-16 early in the fourth quarter on short touchdown runs by Keaontay Ingram (4 yards) and Darwin Barlow (3 yards).
USC junior quarterback Kedon Slovis and 6-foot-5 junior wide receiver Drake London kept interim coach Donte Williams' Trojans in it.
"I don't feel like we lost the game," Williams said. "I feel like we ran out of time."
Slovis connected on 27 of 37 passes for 299 yards, 15 of the completions to London for 171 yards, pushing him to 1,003 yards this season on 79 receptions. The Trojans outgained the Irish 424 yards to 383, but Slovis did not throw a touchdown pass, was intercepted once, was sacked three times and fumbled after the last one.
The Irish played the final three quarters without junior All-America free safety Kyle Hamilton, who injured his right knee trying to defend London.
It was Notre Dame's second straight victory and first at home since now No. 2 Cincinnati ended a 26-game home winning streak for the Irish Oct. 2. It was Notre Dame's 50th victory over USC and improved Kelly's record to 8-3 against the Trojans since his arrival in 2010.
THE TAKEAWAY
USC: The Trojans targeted 6-foot-5 junior wide receiver London 12 times in the first half and he caught nine passes for 109 of Slovis' 138 yards on 13-of-18 passing. But a 10-play, 52-yard drive at the end of the first half came up empty when USC couldn't stop the clock from running out after reaching the Irish 25. USC coach Williams was clearly disappointed with the way his Trojans ended the half.
"We made way too many mistakes," Williams said. "We all made mistakes, the whole team, we took turns making them. If we get the same mistakes from the same players, we gotta put different players on the field."
Williams was pleased with the running efforts of Ingram, who rushed for 138 yards on 24 carries.
"He made some guys miss," Williams said. "That's a big-time back."
Notre Dame: The Irish played much of the game without Hamilton, who injured his right knee in the first quarter after a 29-yard Slovis-to-London pass completion to the Irish 13 two plays before the first quarter ended. Hamilton, who has three interceptions this season, did not return. Kelly indicated afterward that Hamilton had sustained a fat pad impingement to his right knee but should be fine going forward.
"His prognosis is really good," Kelly said before saluting his replacement, senior DJ Brown. "He stepped in for Kyle Hamilton and does a really fine job for us. It's time we start recognizing he's a really solid football player."
POLL IMPLICATIONS
Notre Dame could move up after both No. 7 Penn State and No. 8 Oklahoma State lost.
UP NEXT
USC: It's Homecoming for the Trojans on Saturday against Pacific-12 South opponent 0-7 Arizona.
Notre Dame: Irish play second of three straight home games Saturday night against 4-3 North Carolina.
---
#25 Purdue vs. Wisconsin
Mellusi, Allen help Wisconsin run past No. 25 Purdue, 30-13
WEST LAFAYETTE, Ind. -- — Wisconsin freshman running back Braelon Allen figures the Badgers got back to their their strengths.
Graham Mertz completed just 5 of 8 passes for 52 yards. But it didn't matter with the Badgers running for 290 yards on 51 carries.
"That's Wisconsin football, that's what we're known for, imposing our will on defenses," Allen said. "We are finally getting back to our brand of football. It's worked for the longest time."
Chez Mellusi ran for 149 yards and a touchdown and Allen had 140 yards and two scores to help Wisconsin beat No. 25 Purdue 30-13 on Saturday.
Mellusi and Allen both had career highs for yards, with Mellusi carrying 27 carries and Allen 12 for the Badgers (4-3, 2-2 Big Ten) .
Wisconsin has won 15 straight against Purdue (4-3, 2-2 Big Ten).
Allen fumbled in the first quarter but was able to gather himself.
"Everyone was coming up to me and telling me to keep my head up," Allen said. "I knew I had to bounce back, forget about it and hold on to the football."
Wisconsin coach Paul Chryst said it was a matter of doing whatever would move the football.
"We weren't great on third down and we got to be better there, but the running game was going and the way our defense was playing, if we can continue to do that, I thought that might be best," Chryst said.
The Boilermakers took a 13-10 lead on defensive end George Karlaftis' 56-yard fumble return with 6:13 left in the second second quarter.
John Torchio intercepted Aidan O'Connell's pass and returned it 37 yards to the 1. However, Mellusi was stopped for no gain and quarterback Kendric Pryor had a 3-yard loss on third down. Collin Larsh made a 23-yard field goal to tie it at 13.
The Badgers took the lead for good at 20-13 on Mellusi's 20-yard run. Allen's 70-yard run set up the touchdown, putting the ball on the 24.
Wisconsin pushed it to 27-13 on Allen's 14-yard run early in the fourth quarter. Larsh added a 43-yard field goal.
"We have a great 1-2 punch," Allen said. "He had a long run that I ended up punching in and he punched it my long run. We complement each other well."
O'Connell completed 24 of 32 passes for 200 yards with one touchdown and three interceptions, and Jake Plummer was 3 of 6 for 19 yards.
"Aidan is an aggressive passer and tries to fit it into a tight window and those windows weren't big enough," Purdue coach Jeff Brohm said. "They were a lot of disappointing things that happened, starting with myself and continuing to a lot of things. We didn't take care of the ball."
Brohm said said he will evaluate the quarterback situation again this week.
"Aidan has done some good things overall," Brohm said. "It was not a good day for him. Our quarterback has to do a better job. I got to coach better. We got to block better. Our offensive line has to block better. We can't put it all on the quarterback but throwing interceptions can't happen."
---
---
THE TAKEAWAY
Entering the game, Wisconsin was third in the nation in rushing defense allowed at 64.3 yards per game. The Badgers limited Purdue to minus-13 on 24 attempts. In stark contrast, the Badgers finished with 290 rushing yards. Purdue had three interceptions, all by O'Connell, and lost two fumbles. Wisconsin lost two fumbles.
SILENT BELL
Following 11 catches for 240 yards, Purdue receiver David Bell had just six catches for 33 yards. He had three catches for nine yards until late in the third quarter.
"They got up in his face and they challenged him," Purdue coach Jeff Brohm said. "It probably wasn't one of his better days. We tried to throw it to him at times and whether he was not getting open or the protection was not last long enough or we weren't finding him. So it was a combination of a lot of things."
POLL IMPLICATIONS
After being ranked in the Top 25 for the first time since the 2007 season after upsetting then-No. 2 Iowa 24-7 in Iowa City on Oct. 16, Purdue will make a quick exit. At 4-3, Wisconsin is unlikely to move into the Top 25. The Badgers were ranked No. 15 in the preseason.
UP NEXT
Wisconsin: Hosts No. 11 Iowa on Saturday.
Purdue: At Nebraska on Saturday.
---
Minnesota vs. Maryland
Minnesota freshmen run over Maryland in 34-16 romp
MINNEAPOLIS -- — Freshmen Ky Thomas and Mar'Keise Irving became the fourth and fifth different 100-yard rushers for Minnesota this season, as the Gophers gained 326 yards on the ground in a 34-16 trampling of Maryland on Saturday for their third straight victory.
Thomas (21 carries, 139 yards) and Irving (15 carries, 105 yards) each had one of four rushing touchdowns for Minnesota (5-2, 3-1), which moved into a first-place tie with Iowa in the Big Ten West Division. Purdue and Wisconsin are one game back.
"We have a lot of experienced guys up front that take a lot of pride to open a lot of holes and lanes for the talent of the running backs to take over," Gophers coach P.J. Fleck said. "I thought they did a great job blocking."
Taulia Tagovailoa lost a fumble on the opening drive and completed 17 of 27 passes for 189 yards and a late touchdown to Marcus Fleming for the Terrapins (4-3, 1-3), who have dropped three straight games by a combined score of 151-49.
"Guys just have to have pride, be more desperate to win than being OK with losing," wide receiver Rakim Jarrett said.
Thomas, Irving and Bryce Williams, who rushed for 48 yards and a score, are the only healthy scholarship running backs left on the roster for the Gophers, who lost star Mohamed Ibrahim in the opener and backup Trey Potts three weeks ago to season-ending injuries.
Williams took the lead last week in a win over Nebraska, becoming the third player to top the 100-yard rushing mark this year. Thomas and Irving gave the Gophers the first pair of 100-yard rushers in the same game since Rodney Smith and Shannon Brooks on Oct. 5, 2019, against Illinois.
Tanner Morgan went 8 for 12 for 125 yards passing, and backup quarterback Cole Kramer rushed for 30 yards and a touchdown. The Gophers didn't punt until 5:09 remained in the game.
"It's a credit to the entire unit honestly, being able to go out there and finish the game in that fashion," left guard Conner Olson said. "It was a good way to end the game from an offensive lineman standpoint, and I always prefer running it instead of passing it, no offense to Tanner."
---
---
MAJOR IMPROVEMENT
In three losses to the Terrapins since Fleck arrived in 2017, the Gophers allowed an average of 39 points and 286 rushing yards. They beat the Terrapins handily in 2019 when they had six eventual NFL draft picks on their defense.
There was no lower moment for Minnesota in the virus-altered 2020 season than the 45-44 overtime loss at Maryland, when the Terrapins stacked up 675 total yards.
This year? The Gophers entered the game ranked sixth in the FBS and second in the conference in fewest rushing yards allowed.
MOMENTUM SWING
The Terrapins literally kicked away a golden opportunity to make a game of it. After a touchdown run for Maryland by Tayon Fleet-Davis cut the lead to 17-10, the Gophers used their final timeout with 32 seconds left in the first half following a first-down run from the 19-yard line.
Morgan had to spike the ball to stop the clock, but Matthew Trickett's 38-yard field goal attempt was blocked by Tarheeb Still, who booted the ball as he tried to pick it up on the run and dropped it on his second scoop attempt. Ahmad McCollough grabbed it, but he was tackled at the 32.
Fleck said the conservative strategy was based on the Gophers receiving the second-half kickoff.
"It's not just hoping not to lose," Fleck said. "That's actually trying to win the game based on percentages, possessions, points."
FLAG FRUSTRATION
Maryland coach Mike Locksley has lamented all season his team's propensity for penalties, and the sloppiness persisted with eight flags for 79 yards, and many of them were especially costly. The Terrapins even got an illegal substitution penalty during a punt, whistled for having two players wearing No. 99 on the same play.
"It just starts with the accountability," Locksley said. "At some point, pride becomes a big part of it."
THE TAKEAWAY
Maryland: Tagovailoa never found a rhythm after the early turnover. The Terrapins had six drops, including three by tight end Chigoziem Okonkwo, and Tagovailoa was sacked twice. Last year against Minnesota, he passed for a career-high 394 yards and accounted for five touchdowns. Now he's missing top wide receivers Dontay Demus Jr. and Jeshaun Jones to season-ending injuries.
"The next man just has to step up. If they're going to roll the coverage to me, I think maybe I just have to make the play," Jarrett said.
Minnesota: The Gophers have recovered well from their baffling loss here four weeks ago that now stands as Bowling Green's only win over an FBS opponent in 15 tries since Nov. 2, 2019. This team has its limits, but the strength of this offensive line can go a long way toward keeping the Gophers in play for their first Big Ten championship game berth. The eventual winner of the underwhelming West Division could easily wind up with two or three conference losses.
UP NEXT
Maryland: Hosts Indiana next Saturday.
Minnesota: Plays at Northwestern next Saturday.
---
---
More AP college football: https://apnews.com/Collegefootball,
https://www.twitter.com/AP_Top25 and
https://podcasts.apple.com/us/podcast/ap-top-25-college-football-podcast
More AP college football: https://apnews.com/Collegefootball and https://twitter.com/AP_Top25
Chicago Journal Newsletter
Join the newsletter to receive the latest updates in your inbox.