Bears hire Big Ten Commissioner Warren as team president
Warren worked in the NFL for more than two decades, doing stints with the Rams and Lions before settling in with Minnesota in 2005. He was the Vikings' chief operating officer from 2015 to 2019 and played a big role in their construction of U.S. Bank Stadium.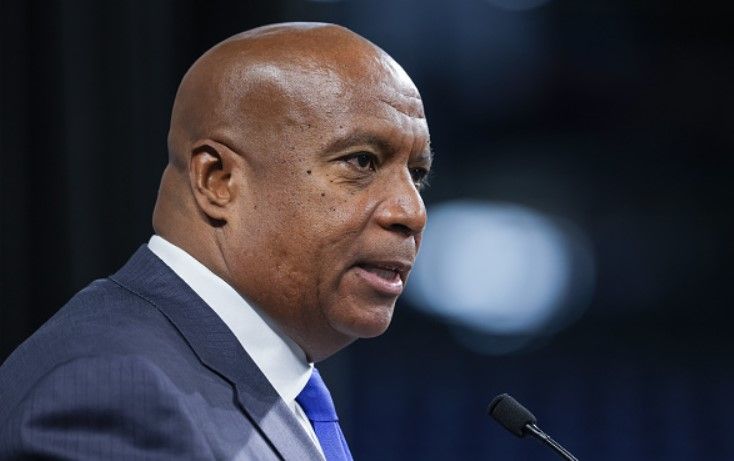 By ANDREW SELIGMAN | AP Sports Writer
CHICAGO (AP) — The Chicago Bears hired Big Ten Commissioner Kevin Warren as their president and CEO on Thursday, bringing him back to the NFL to help lead a founding franchise after three years running one of college athletics' marquee conferences.
Warren, who replaces the retiring Ted Phillips, becomes Chicago's fifth president and the first from outside the organization. He goes from becoming the first Black president of a Power Five conference to the first for the Bears. He is the team's second president that was not part of the Halas-McCaskey family tree, joining Phillips.
Warren's biggest task would be helping the Bears construct a new enclosed stadium, assuming they finalize the purchase of a 326-acre tract of land in suburban Arlington Heights and decide to move.
He also is joining an organization with the No. 1 pick in the draft following one of the worst seasons in franchise history. The Bears went 3-14 and set a franchise record for losses.
"I am honored and recognize the responsibility bestowed upon me to lead the Chicago Bears during this exciting and pivotal time for the franchise," Warren said in a statement. "I join the Chicago Bears with gratitude and drive to carry out and build upon the legacy and spirit of this founding franchise and my predecessors."
Chairman George McCaskey called Warren "a man of integrity, respect and excellence."
"He is a proven leader who has many times stepped outside of his comfort zone to challenge status quo for unconventional growth and prosperity," McCaskey said. "In this role, Warren will serve in the primary leadership position of the franchise to help bring the next Super Bowl championship trophy home to Bears fans."
It wasn't immediately clear how the team's chain of command would be structured. General manager Ryan Poles, who was hired a year ago, currently reports directly to McCaskey. Previous GMs reported to Phillips.
Poles said he looks forward to working with Warren.
"In my time spent with him during the interview process, it quickly became apparent his resume and business acumen will be a powerful asset to helping improve our organization and ultimately reach our goal to be a championship organization," he said.
Warren had spoken with several professional teams going through transitions at the top, including the Denver Broncos, Phoenix Suns and Minnesota Timberwolves during his tenure as Big Ten commissioner, a person familiar with the situation told The Associated Press on Dec. 29.
Warren was hired as Big Ten commissioner in June 2019 out of the Minnesota Vikings' front office to replace the retiring Jim Delany. Now, the conference is searching for a new leader again.
With the Bears' headquarters in Lake Forest about a 25-mile (40-kilometer) drive from the Big Ten's offices in Rosemont, Warren won't have to move.
He worked in the NFL for more than two decades, doing stints with the St. Louis Rams and Detroit Lions before settling in with Minnesota in 2005. He was the Vikings' chief operating officer from 2015 to 2019.
Warren played a big role in their construction of U.S. Bank Stadium, which opened in 2016. The Bears see it as a model for their potential new home, assuming their deal to purchase the site of the shuttered Arlington International Racecourse from Churchill Downs Inc. is completed and they decide to leave their longtime lakefront home at Soldier Field.
The Bears want to turn the Arlington Heights site, once a jewel of thoroughbred racing, into a different kind of gem, anchored by an enclosed stadium and bursting with year-round activity.
They envision restaurants, retail and more on the plot of land some 30 miles (48 kilometers) northwest of Soldier Field — all for about $5 billion, with some taxpayer help. The Bears plan to pay for their stadium but want taxpayer dollars to cover infrastructure costs such as roads and sewers to develop the site.
Soldier Field has been the Bears' home since 1971. The team played at Wrigley Field from 1921 to 1970, and if a new stadium is constructed, the franchise would have its name on the mortgage for the first time since arriving in Chicago.
Phillips, an accountant by trade, joined the Bears as their controller in 1983. He became team president in February 1999.
Warren drew sharp criticism early in his tenure with the Big Ten when the league called off the 2020 fall football season because of the COVID-19 pandemic.
Player parent groups sent letters demanding the conference reverse course. A petition that got 280,000 signatures in three days was started by Ohio State star Justin Fields, now the Bears' quarterback. There were rumblings that some schools, including Nebraska and Ohio State, would create their own schedules for the fall. The conference ultimately reversed course and played an abbreviated schedule.
There also have been some big wins for the Big Ten in recent months.
In July, the Big Ten announced that Southern California and UCLA will join the conference in 2024, giving it a coast-to-coast footprint in the nation's largest markets. A month later, the conference landed about $7 billion in media rights deals with FOX, CBS and NBC to share the rights to football and basketball games. The contracts go into effect in 2023 and expire in 2030.
AP College Football Writer Ralph D. Russo contributed to this report.
More AP NFL: https://apnews.com/hub/nfl and https://twitter.com/AP_NFL
---
The Chicago Journal needs your support.
At just $20/year, your subscription not only helps us grow, it helps maintain our commitment to independent publishing.
If you're already a subscriber and you'd like to send a tip to continue to support the Chicago Journal, which we would greatly appreciate, you can do so at the following link:
Send a tip to the Chicago Journal
---
Chicago Journal Newsletter
Join the newsletter to receive the latest updates in your inbox.