Weekend trips from Chicago to see fall color
The fall season is in full swing and winter is always just around the corner. Here are a few spots for a quick weekend trip from Chicago to see some of the proudest displays nature has to offer.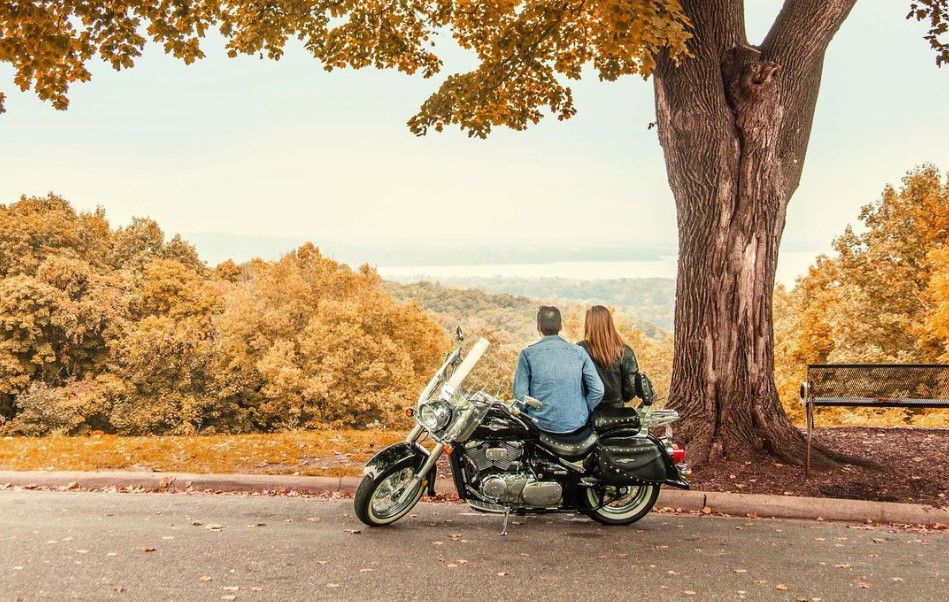 Just like last year, our region had a pretty spectacular September. Following an incredibly mild August, we're not going to speculate on the October weather so we don't jinx anything for any of us.
Still, just like last year, that beautiful weather tends to lull a person into a false sense of time where you almost forgot that the fall season is already in full swing and, before you know it (and lifelong Chicagoans can tell you, it can turn any time), you'll wake up to a crisp dawn and look at the date on the calendar and realize you missed the whole fall season.
The good news is, once again, most foliage peaks seem to be a tad late this year, so there's still time to get away and see some of the proudest displays nature has to offer.
If you want to catch the best of Northern Minnesota and Michigan's Upper Peninsula, well, you should probably plan your trip right away. By right away, we mean you should probably get up there this coming weekend. But you have a little time left to hit the rest on the list below.
So fluff those cozy sweaters, toss all the pumpkin spice gift cards you got from your Aunt on your birthday into your wallet, pick out your favorite autumn photo filter, and hit the road.
You don't even have to go very far...
Door County, Wisconsin
Late September – Mid October
A well known getaway for Chicagoans, Door County in Wisconsin remains one of the best fall getaways in the midwest, period.
But as we said above for Northern Minnesota and Michigan's upper Peninsula, if you want to see the best Door County has to offer you should try to get there soon. It's likely to be near peak color sometime next week, maybe toward the end of next week, so next weekend is likely to be ideal.
We suggest you drive up the west side of the peninsula. Not only will you be greeted by a striking display of color, but the overdose of Americana in the picturesque small towns of Sturgeon Bay, Egg Harbor, Fish Creek, Ephraim, and Sister Bay, will soften even the most turbulent political times.
There will be roadside apple stands selling everything from donuts to pies to fresh apples, and Door County has not one, not two, but five state parks to show off the season's finest.
Michigan's M-22 and State 119
Late September - Late October
A single highway, M-22, offers 116 miles of the dictionary definition of gorgeous. Additional adjectives like dazzling, brilliant, and magnificent do not do it justice.
Fortunately for us procrastinators, the insulating effects of the Great Lakes makes the color show here arrive a little later and linger a little longer than it does in Northern Minnesota and Michigan's Upper Peninsula.
The M-22 highway follows the Lake Michigan shore up from Manistee, weaves around the Leelanau Peninsula, and finally winds back down to Traverse City. You'll experience everything the Great Lakes has to offer, including the 400-foot sand dunes in Sleeping Bear National Lakeshore.
If you're willing to drive a little further and try for Mackinac Island, you'll be rewarded. A trip to Mackinac Island is always a good idea and it can be just as stunning and welcoming in the fall as it is in the summer. But if you ARE going to go for Mackinac Island in the fall, you absolutely MUST do so by way of the Tunnel of Trees.
The Tunnel of Trees is a 20 mile stretch of highway, State 119, that runs along a coastal bluff from Harbor Springs to Cross Village. To tell you it's worth it is an understatement. It's so worth it, you'll drive through and want to switch drivers and do it again...and then switch driver's and do it again.
Wisconsin/Minnesota's Great River Road
Late September – Mid October
The Wisconsin/Minnesota section of the Great River Road can be difficult to include on lists like this simply because it's so long.
Following the Mississippi River, this scenic drive covers a total of 250 miles. It's worth it to drive the full length but, if you'd prefer to relax, you can pick a town or two and choose to be just as wowed.
Towns like La Crosse, Prescott, and Stockholm in Wisconsin or Red Wing, Lake City, Wabasha, and Winona on the Minnesota side of the river all offer stunning opportunities for the season. Locations like La Crosse's Grandad Bluff or a visit to Perrot State Park will be some of your best bets.
We should note, if you want to experience the best of the northern portion of the river road, we highly suggest you plan a trip within the next week or so.
---
---
Lake Geneva
Early October - Late October
We know, we know. If you're a lifelong Chicagoan, Lake Geneva can feel...a little cliché? Sterotypical, maybe? Hackneyed, perhaps? We get it. After all, your ultra-billionaire Governor has one of his many enormous estates there and all his friends have ultra mansions there so you might think it's not exactly "cool."
Truth is, there's a reason it's been one of the easiest go-to getaways and most welcoming destinations for Chicagoans of all classes for nearly 150 years.
It's great. And it's right there.
Many can be there in under an hour and even the furthest of south siders can be there in under two hours. A relaxing short weekend in Lake Geneva almost never disappoints.
There's the Lake Geneva Cruise Line, Kishwauketoe Nature Conservancy, and a 21-mile lakeshore path where the only thing that will cause your jaw to drop more than the autumn foliage are the lavish estates - like your Governor's - whose backyards you're walking through.
Sorry, J.B. won't let you use his toilets...
Galena
Early October – Late October
Galena is not only one of the most charming towns in Illinois it may be one of the most charming towns in all of America, and the surrounding region is filled with not only fall color but also things to do.
Apple River Canyon State Park has five hiking trails. Chestnut Mountain Resort offers stunning views of the Mississippi River and river cruises through the end of October. Each cruise even includes an alpine slide and scenic chair ride before and after. You can zip-line through the changing leaves at Long Hallow Canopy Tours. Cap your weekend with a glass of wine at a local winery or quaint restaurant overlooking the countryside.
Whether you're with family or a love, you're sure to make a lasting memory in the Galena territory.
Parke County, Indiana
Mid October – Late October
Yo dawg, I heard you like covered bridges? Who doesn't, homie!
Parke County has your covered bridges.
Parke County, Indiana, located 55 miles west of Indianapolis in the Wabash River Valley, has 31(!) covered bridges for all the Instagram likes you can muster. You still have time to catch the half-century-old Covered Bridge Festival which runs from Oct. 14-23, 2022.
Shades State Park and Turkey Run State Park are additional highlights, and Amish country stores give you the opportunity to really get away.
Illinois River Road National Scenic Byway
Mid-October – Early November
Now we're beginning to get into the part of the list you late-bloomers will really appreciate.
The Illinois River Road National Scenic Byway is a stretch of road covering 150 miles from Ottawa to Havana, Illinois.
Start along the south side of the Illinois River, one mile south of Utica, at Starved Rock State Park where you'll have 13 miles of hiking trails, 14 waterfalls, and 18 canyons to explore.
Check out the Illinois and Michigan Canal National Heritage Area.
Near Peoria, take the 2.5 mile Grandview Drive which Teddy Roosevelt called the "World's Most Beautiful Drive" after his visit in 1910. Finally, make sure to visit the Chautauqua National Wildlife Refuge near Havana, which offers 4,500 acres of some fantastic bird watching.
NOTE: This area is one of the best spots in the state to almost guarantee the kids a glimpse of a bald eagle.
Brown County, Indiana
Mid October – Early November
Don't worry, we checked the Brown County Fall Leaf Cam for you and it looks like you still have a little time, but don't wait to start planning your visit.
Brown County State Park is where you can find your best opportunity for leaves, particularly at Hesitation Point. Brown County State Park is Indiana's largest state park and spreads over the hills near Nashville (the Indiana Nashville, not to be confused with the one in Tennessee), and offers activities such as horseback-riding, hiking, and mountain bike trails.
Artists were drawn to Brown County a century ago for its rolling hills and natural beauty and you can take the free, self-guided "Back Roads of Brown County Studio Tour" to visit 19 art studios featuring the work of 30 artists.
You can even visit the old village of Story, Indiana, which is comprised of only The Story Inn. The Story Inn includes the town restaurant, the town tavern in the basement, the town general store, and the town Inn including about 14 guest rooms. This old town is at the end of a winding road that dead ends just beyond the Inn, which means there is only one way in and one way out.
At least it'll make a nice story...
Shawnee National Forest
Mid October - Early November
This destination is the furthest travel time on this list (unless you go to Mackinac Island) but you're staying in your home state and it's worth it.
Because of the drive, this place is one of the underappreciated gems of this state - if not THE underappreciated gem of this state - and it's not often talked about way up in the Chicago region. After an easy 5.5 hour drive you'll find, nestled between the Mississippi and Ohio rivers, the Shawnee National Forest.
Featuring oak-hickory forests, rolling hills, rugged bluffs, and lakes over 289,000 acres, you and your family are certain to find something you may not have expected to find in your home state of Illinois and a place where the autumn can rival anywhere.
White Crane Canoe Rentals in Ullin offers two-hour tours, by canoe or kayak, of the Cache River, Illinois' hidden bayou, or you can take a hike through the Little Grand Canyon.
Most everyone will tell you, the Garden of the Gods is a must. And, in this case, most everyone is right. At the Garden of the Gods you'll find 320-million-year-old sandstone rock formations bursting through the trees and northerners may not even believe they're still in Illinois at all.
---
The Chicago Journal needs your support.
At just $20/year, your subscription not only helps us grow, it helps maintain our commitment to independent publishing.
If you're already a subscriber and you'd like to send a tip to continue to support the Chicago Journal, which we would greatly appreciate, you can do so at the following link:
Send a tip to the Chicago Journal
---
Chicago Journal Newsletter
Join the newsletter to receive the latest updates in your inbox.