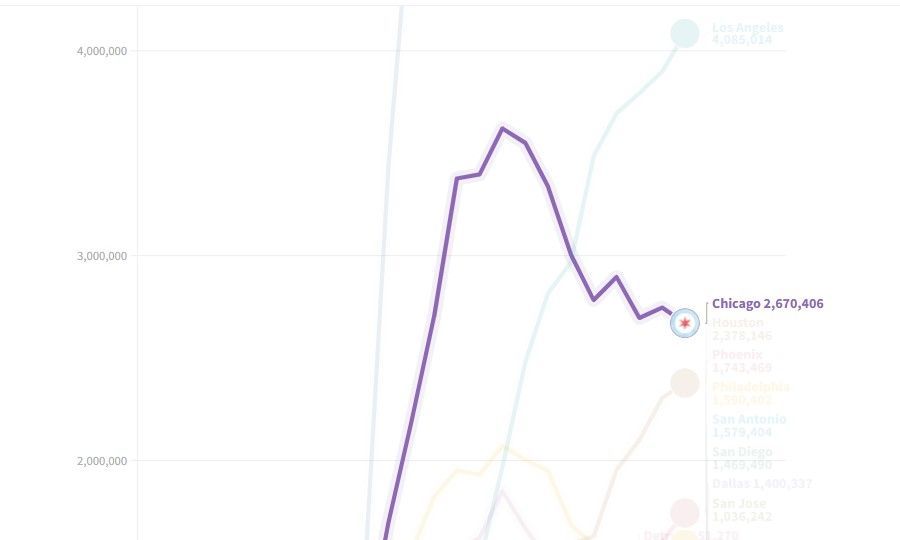 ---
We're dipping our toes into the data visualization game as we try to better understand the City of Chicago and the State of Illinois' population migration patterns.
---
---
Much has already been written about Illinois' recent population loss and there will be much more, but we're not going to include any politics or opinions here. This post is to merely help us better understand and visualize what the data looks like off the charts. For us, and you, to use as a reference point for how our city and state not only relates to others but how we relate to each other.
We'll keep this post up to date as best we can, and you may notice we'll add more towns, neighborhoods, and data over time. In fact, we're currently working on completing a Chicago neighborhoods chart, which will be coming soon.
First, we're looking at the City of Chicago's population history as compared to the other largest American cities. The below chart only shows the Top 10 American cities at every decade. As it progresses, you'll see certain cities drop off and new population centers appear.
Top 10 American Cities by Population since 1790
---
---
Next, we're looking at how the population of the State of Illinois compares to all other 50 States.
Unlike the chart above, all 50 states are included. So while some will obviously appear as time goes on, none will drop off.
American States by Population since 1790
---
---
As most know, Chicago's population dwarfs all the towns in the rest of the state. In fact, Aurora, Illinois, the second biggest city in the state, has only about 7% the population of the City of Chicago.
Since it's such an outlier, we're kicking the city off this next chart and only looking at the state's next 30 largest cities and how their populations have changed over time.
Illinois' Largest Cities (minus Chicago) Population History
---
---
Last (for now), to try and better understand the changes in population with some of the rest of the state, we chose a random selection of 50 small to midsize towns from across the state. You may recognize some town names and may have never seen others, but we're all Illinoisans and our votes and our decisions are linked together.
We will likely add more towns to this chart as this grows and expands.
Random Selection of Small to Midsized Illinois Towns
---
Coming Soon: Chicago Neighborhoods
---
The Chicago Journal needs your support.
At just $20/year, your subscription not only helps us grow, it helps maintain our commitment to independent publishing.
---
---