Timeless Subscription
The Chicago Journal's Timeless Subscription is an annual New Year's Eve giveaway of subscriptions that are free forever.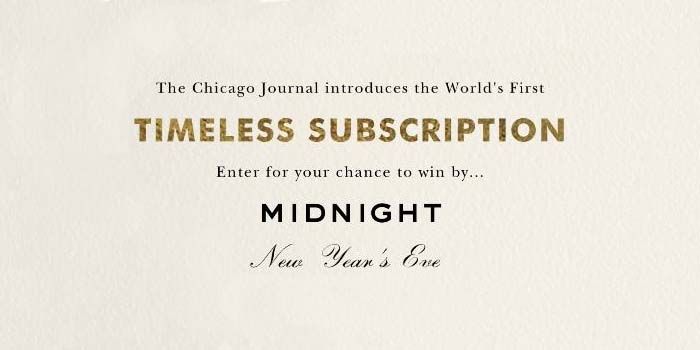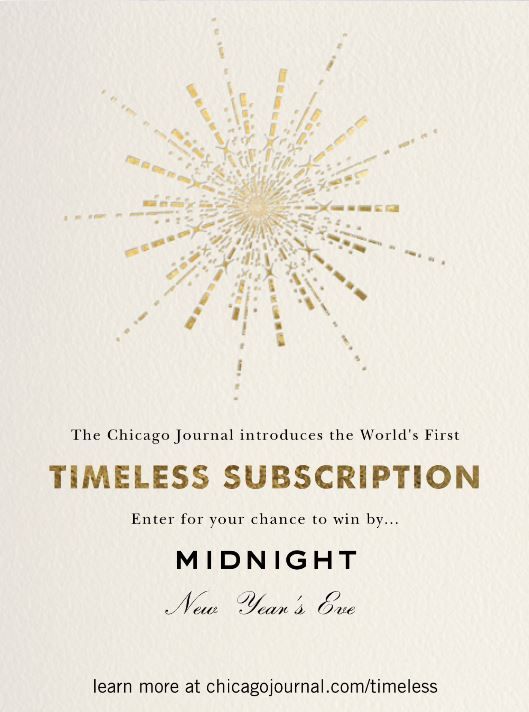 ---
This New Year, we're introducing something that, as far as we can find, is officially the "World's First" of its kind.
Ladies and Gentleman. Boys and girls. We give you...the Timeless Subscription.
What is a Timeless Subscription?
Winners of a Chicago Journal Timeless Subscription will have access to everything we publish for free...forever.
Seriously, we mean it.
Free. Forever.
You're not merely winning a subscription for yourself for the rest of your lifetime. No, you're winning a subscription for the rest of your lifetime plus the generations that come after you.
We know what you're thinking.
"What's the catch? Where's the fine print? You people tryin' to pull a fast one here?"
There is no catch. There's no fine print. No fast ones or slow ones, for that matter.
If you win one of our Timeless Subscriptions, you will win a free subscription to the Chicago Journal forever.[1]
That's it. It's very simple.
How will it work?
Each winner will receive a randomly generated 24 character passcode that will provide them access to everything we publish. This passcode will be attached to their chosen account for as long as the Chicago Journal exists.
That means you can give it to subsequent generations and include the Chicago Journal Timeless Subscription in Wills & Testaments, protect them in Trusts, etc.[2]
The only limitation to this is the passphrase can not be shared by multiple accounts so a Timeless Subscription could not be given to an organization or a charity with multiple users. Each passcode will be provided to only one account and can only be used by one account at a time. Similarly, a Chicago Journal Timeless Subscriber with 5 children will simply have to choose their favorite. Sorry.
And yes, as long as we can verify who you or they are, we will allow each Timeless Subscriber to periodically change their randomly generated 24 character passcode to a passphrase (minimum 24 characters) that is easier for them to remember.
How do I qualify?
If you are already an annual subscriber, you're already entered in the giveaway and there is nothing else you need to do.
If you are not yet an annual subscriber, you must sign up for an annual subscription by Midnight on New Year's Eve because the Chicago Journal's Timeless Subscription can ONLY be won by current annual subscribers at our New Year's Midnight Giveaway.
At just $20/year, your subscription not only helps us grow, it helps maintain our commitment to independent publishing and remain free from influence.
To learn more about why you should sign up, please visit here to learn more about your digital subscription to the Chicago Journal: https://www.chicagojournal.com/subscription/
How will I know if I've won?
When the clock strikes midnight, we'll hold a random drawing of our annual subscribers and 10 current annual subscribers will win a Timeless Subscription.
Winners will be notified via the email they signed up for within 48 hours and, as mentioned above, the winners will be given a 24 character passcode linked to their account. They may also change their passcode to a passphrase, if they so choose.
Winners should be certain to immediately put their passcode or passphrase in a safe place, as that will be the only way to officially verify that they are, in fact, a Timeless Subscriber.
What type of value are we talking about?
It depends on your perspective, of course. We know we're a small little website now but who knows what we could one day become with your support?
We assume that, if you're already here and reading this, you see the value in local, independent publishing, and understand this as, among other things we do, merely a small expression of our gratitude. But if you're still unsure, we ask you to think about it on a long enough timescale.
For local examples, the Chicago Reader has been publishing since 1971 so, at our current annual rates, that's a $1,000 value to you here in 2021. The Chicago Sun-Times officially became the Sun-Times in 1948, which would be $1,460 value. The Chicago Tribune dates back to 1847 or 174 years, so that's a $3,480 value! We're giving away Timeless Subscriptions to 10 winners so we're potentially giving away almost $35,000 if we're able to last as long as the Tribune has been around today!
But that's not all.
What if rates change? What if technology changes? What if we launch a paid podcast or release a documentary series or provide special coverage of a future event?
Your Timeless Subscriber passcode will follow your account and work for all.[3]
At the very least, you're only out $20 for a year's worth of everything we've done and everything we will do in the coming year and we'll be forever grateful for your support.
Thank you for considering a subscription the Chicago Journal. Best of luck in the giveaway and in the New Year!
---
Notes
---
Ostensibly. You know, at least as long as the Chicago Journal exists... ↩︎

The only thing we can not fundamentally protect against is a change in ownership but we are working on it. If we're able to figure out how to legally lock in Timeless Subscribers against even an ownership change, it will be automatically included for all Timeless Subscription winners. ↩︎

We are only able to promise free digital delivery of the things we publish. For example, while we can not include a potential physical copy of a book for free, the contents of the potential book published by us will be free to access to Timeless Subscribers. ↩︎
---