Subscription
What is a digital subscription? How much does it cost? Why is a subscription so important?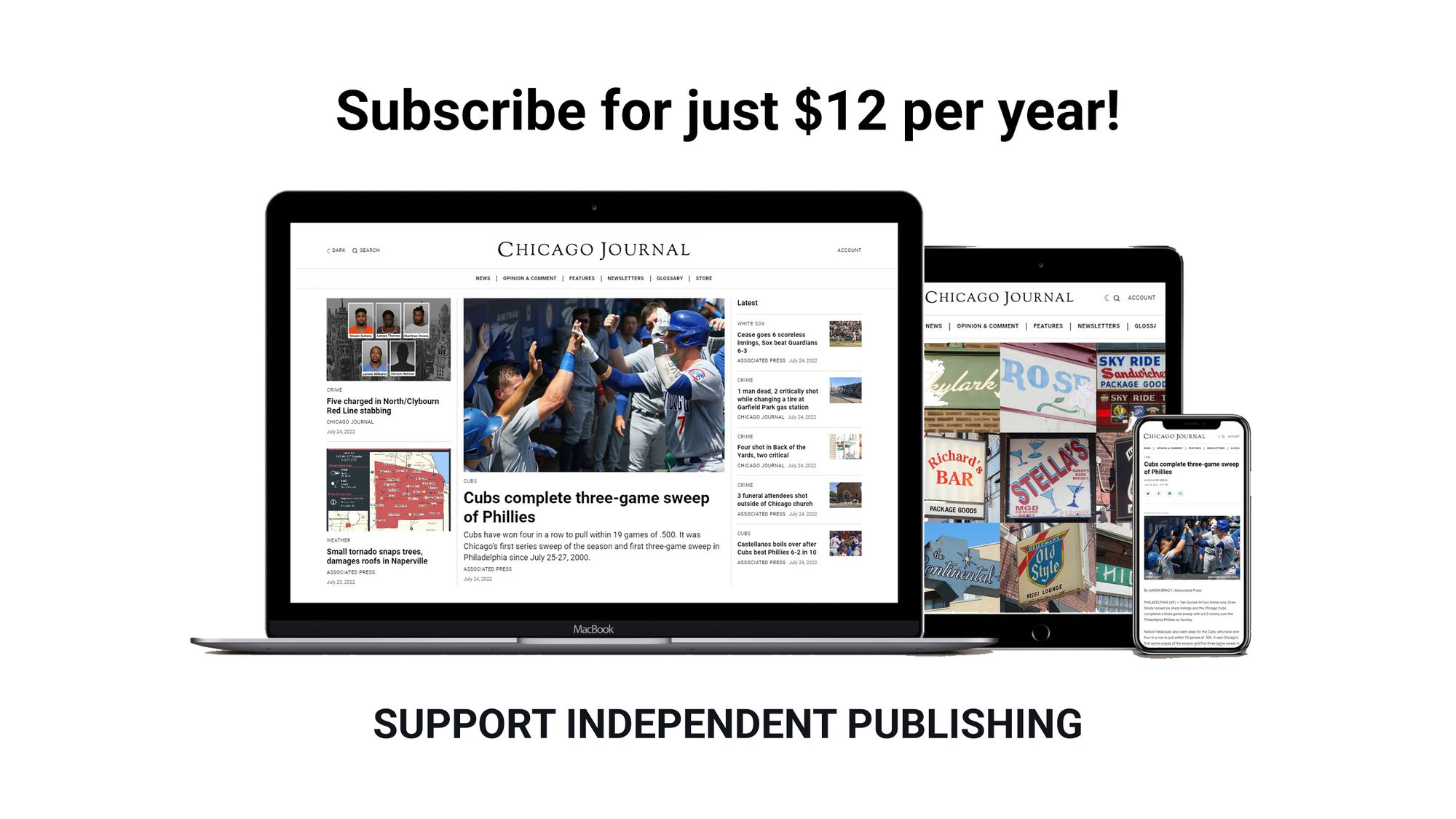 You can find the options to subscribe at the top right of any page on the Chicago Journal, or follow the link below: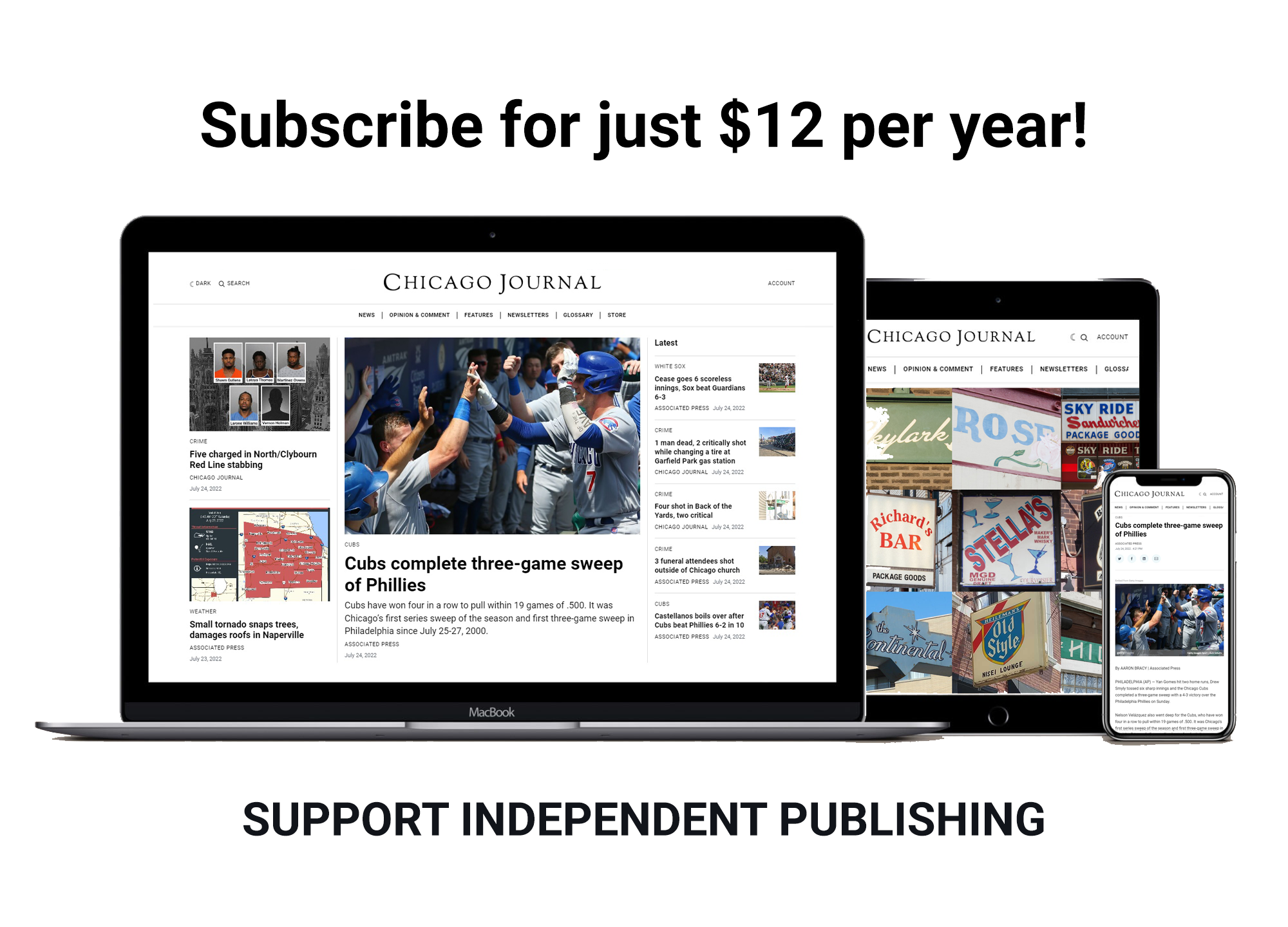 To get a better idea of what a subscription does and why it's so important to us, please continue reading.
If you're already a subscriber and you'd like to send a tip to continue to support the Chicago Journal, which we would greatly appreciate, you can do so at the following link:
Send a tip to the Chicago Journal
---
Why is a subscription so important?
As we also mention on our About Page, we're a small, privately-owned, independent operation that believes in hard work and that Chicago is the Great American City. We're committed to telling the good, the bad, the ugly, and the funny story of this town and it's our goal to, one day, become a digital destination and essential resource in the lives of our readers.
We can't do it without your support. The only way to accomplish this is by a commitment from subscribers.
We now offer a professional Mastodon fediverse server address for all of our subscribers that can be found at chicago.us.org.
We invite you on this journey and we hope that you'll stick with us as we do our best to grow the Chicago Journal into something special.
---
Frequently Asked Questions
1. What is a digital subscription? How much does it cost?
A digital subscription provides access to the Chicago Journal at chicagojournal.com. Currently, the Chicago Journal does not operate any additional official releases but by purchasing a subscription, you help us grow and we thank you.
At just $12/year, an annual subscription is our best value. Alternatively, you can subscribe for just $5/month.
2. What if I don't want to subscribe — can I still read chicagojournal.com for free?
Visitors are able to enjoy the news page, some features and interviews chosen by the editors, the glossary, and real estate sections without a subscription. The site also may publish newsletters from Chicago Journal writers and artists, as well as podcasts, videos, slide shows, interactive graphics, and contests which may be able to be accessed without a subscription. The site also invites its guests to connect on social media where some posts may be accessed for free.
3. How are digital subscriptions billed?
As a digital subscriber, you can pay via debit card, credit card, or Stripe. Your payment method will be charged automatically on a recurring basis. Your subscription will be renewed automatically, and you will be charged in advance of each billing cycle unless you cancel.
Please note: "Challenge Media, LLC." will appear on your billing statement.
4. How can I share my digital subscription?
Unfortunately, you cannot share a digital subscription. We will notify all subscribers in the event this changes in the future.
5. What is the cancellation and refund policy?
You can change or cancel your subscription at any time by contacting Customer Care. When you cancel, we will stop charging your account the following billing cycle.
6. How do I change the email address that's associated with my digital subscription?
To change your email address, visit your account area. In the Account Details section, simply change your email address where it says Email Address*. Enter a new address, and then select Save Changes. If the email address you want to use is already associated with a different chicagojournal.com account, an error message will appear. To resolve this, please contact Customer Care.
7. How do I change my digital subscription?
Currently, you must contact Customer Care to change your digital subscription.
8. Can I give someone a digital subscription as a gift?
Yes.
9. Do you have an education, group, or corporate subscription program? Are there any subscription discounts?
We do not currently offer any type of discount to groups, corporations, or for education. We will notify active subscribers in the event this changes in the future.
---