Summary of recent cases brought by the US Attorney in Northern District of Illinois: May 21, 2022
Ten members of the Four Corner Hustlers are charged, a sex trafficker is sentenced, a Chicago tech executive sells equipment to Pakistan's Nuclear Program, and a member of the Latin Saints is put away.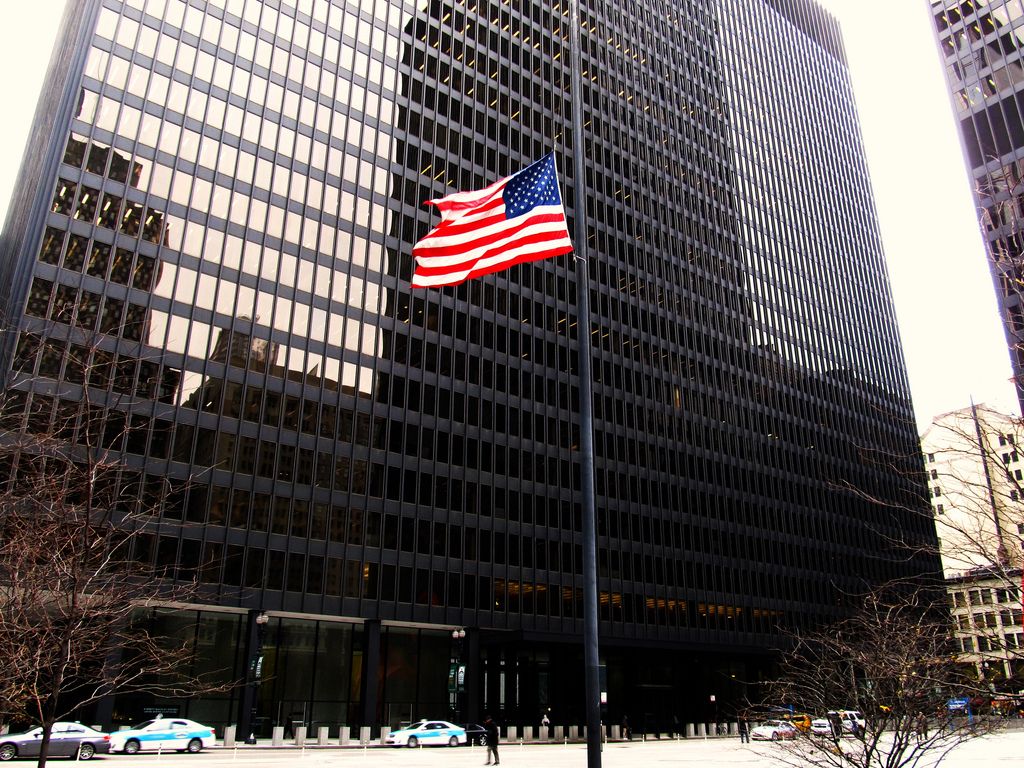 ---
---
Ten Alleged Members or Associates of Chicago Street Gang Charged in Drug Trafficking Probe
May 12, 2022
CHICAGO — A joint federal and local drug trafficking investigation has resulted in federal charges against ten alleged members or associates of a Chicago street gang for conspiring to distribute heroin and cocaine.
During the multi-year probe, law enforcement shut down three open-air drug markets in the West Garfield Park neighborhood on the West Side of Chicago. The investigation, led by Homeland Security Investigations and the Chicago Police Department, utilized extensive undercover and covert surveillance operations and resulted in the seizures of multiple kilograms of suspected heroin, some of which was laced with fentanyl, and cocaine, as well as four rifles, four handguns, a MAC-10 submachine gun, a shotgun, and more than 450 rounds of ammunition. A criminal complaint filed in U.S. District Court in Chicago alleges that the ten federal defendants are members or associates of the Four Corner Hustlers street gang.
The ten federal defendants are in law enforcement custody and have made initial appearances in U.S. District Court in Chicago. In addition to the federal defendants, more than 20 other individuals were charged with state drug offenses in the Circuit Court of Cook County.
Charged with federal drug conspiracy are NATHANIEL EVANS, 38, of Aurora, Ill., JARELLE JONES, 24, of Forest Park, Ill., MARQUIS JONES, 29, of Chicago, DEVONTAY LOGAN, 27, of Chicago, JOSEPH WILLIAMS, 31, of Chicago, DORNELL WILLIAMS, 34, of Chicago, TEREMIUS WEBB, 25, of Chicago, ANTONIO FLETCHER, 40, of Chicago, KYLE LINTON, 25, of Chicago, and MAURICE BELL, 40, of Chicago.
From February 2021 to April 2022, law enforcement officers made numerous undercover purchases of narcotics from various members of the organization. The drugs at the open-air markets were typically packaged in small baggies and sold for $10 each – with discounts for higher quantity sales, the complaint states.
According to the federal charges, Evans directed the drug trafficking operation and supervised the three open-air markets, which were located in the 3900 block of West Jackson Boulevard, 3900 block of West Van Buren Street, and 4000 block of West Maypole Avenue. Jarelle Jones, Marquis Jones, Joseph Williams, and Dornell Williams allegedly worked as "shift managers," overseeing drug sales at the illegal markets at various times of the day. The charges allege that Logan picked up narcotics from suppliers, delivered them to the Jackson Boulevard location, and collected illicit proceeds after the sales. Webb, Fletcher, and Linton allegedly worked as street-level dealers, while the charges accuse Bell of obtaining narcotics for sales at the Maypole Avenue location.
---
---
Federal Judge Sentences Chicago Sex Trafficker to 30 Years in Prison
May 16, 2022
CHICAGO — A federal judge has sentenced a Chicago man to 30 years in federal prison for forcing women and children to engage in commercial sex acts in the city and suburbs.
From 2012 to 2014, CHARLES FEARS and a co-defendant, SAMUEL NICHOLS, operated a sex trafficking business through which they used force, fraud, and coercion to cause multiple women and children to engage in commercial sex acts and turn over the proceeds to Fears and Nichols. The men supplied the victims, some of whom were as young as 13 years old, with drugs and alcohol while coercing them to participate in the commercial sex acts. Fears and Nichols often hit, slapped, and punched the victims who worked for them, including incidents in which Fears put a victim's head into a toilet after she broke his rules. The pair openly flaunted their roles as traffickers, flashing money in social media posts and using the trafficking proceeds to fund a Chicago-area rap group that posted music videos online.
Fears, 28, of Chicago, pleaded guilty in 2018 to federal conspiracy and sex trafficking charges. U.S. District Judge Virginia M. Kendall on Friday imposed the 30-year prison term for Fears and ordered that it be followed by court supervision for life. Judge Kendall also ordered Fears to pay more than $1.6 million in restitution to the victims.
Nichols, 37, of Chicago, was sentenced in 2019 by Judge Kendall to life in prison.
"Fears and Nichols controlled their victims physically and psychologically," Assistant U.S. Attorneys Sarah Streicker, Michelle Petersen, and Elizabeth Pozolo argued in the government's sentencing memorandum. "It is nearly impossible to comprehend the trauma Fears inflicted on his victims."
If you believe you are a victim of sexual exploitation, you are encouraged to contact the National Center for Missing and Exploited Children by logging on to www.missingkids.com/home or by calling 1-800-843-5678. The service is available 24 hours a day, seven days a week.
---
---
Chicago Tech Executive Sentenced to a Year in Federal Prison for Illegally Exporting Computer Equipment to Pakistan
May 18, 2022
CHICAGO — A Chicago technology executive has been sentenced to a year in federal prison for illegally exporting computer equipment from the United States to a nuclear research agency of the Pakistani government.
OBAIDULLAH SYED, 67, of Northbrook, Ill., pleaded guilty last year to conspiring to export goods from the U.S. without a license from the Department of Commerce and to submit false export information. U.S. District Judge Mary M. Rowland on Tuesday sentenced Syed to a year and a day in federal prison. Prior to sentencing, Syed forfeited $247,000 of criminally derived cash to the U.S. government.
We previously wrote about the case involving Obaidullah Syed and Business System International, here: Suburban Northbrook tech executive guilty of illegally exporting computer equipment to Pakistan Government
Syed owned Pakistan-based BUSINESS SYSTEM INTERNATIONAL PVT. LTD., and Chicago-based BSI USA. The companies provided high-performance computing platforms, servers, and software application solutions. Syed admitted in a plea agreement that from 2006 to 2015 he conspired with his company's employees in Pakistan to violate the International Emergency Economic Powers Act by exporting computer equipment from the U.S. to the Pakistan Atomic Energy Commission without obtaining the required authorization from the U.S. Department of Commerce. The PAEC is a Pakistani government agency designated by the U.S. government as an entity which may pose an unusual or extraordinary threat to the national security, foreign policy, or economy of the United States.
Syed further admitted that he and the other conspirators falsely represented to U.S.-based computer manufacturers that the illegal shipments were intended for Pakistan-based universities or Syed's businesses, when, in fact, the conspirators knew that the true end user of each shipment was either the PAEC or a research institute that trained the agency's engineers and scientists. In so doing, Syed and his company caused the U.S.-based computer manufacturers to submit to the U.S. government shipping documents that listed false end-users for the U.S.-origin goods, thereby undermining the U.S. government's ability to stop the illegal shipments.
Business System International Pvt. Ltd. was charged in the conspiracy as a corporate defendant. The company has yet to respond to the charges.
---
---
Loves Park Man Indicted on Drug Trafficking and Firearm Charges
May 19, 2022
ROCKFORD — A federal grand jury in Rockford has indicted a Loves Park man on drug and firearm offenses.
ORENTHO HURD, 27, is charged with possession with intent to distribute cocaine, possession of a firearm by a previously convicted felon, possession of a machine gun, and possession of a firearm in furtherance of a drug trafficking crime. According to the indictment, Hurd illegally possessed the cocaine and machine gun in Loves Park on Aug. 26, 2021. Arraignment in U.S. District Court in Rockford has not yet been scheduled.
The cocaine charge carries a maximum sentence of 20 years in federal prison, while the machine gun and felon-related charges are each punishable by up to ten years. Possession of a firearm in furtherance of a drug trafficking crime carries a mandatory minimum sentence of five years. If convicted, the Court must impose a reasonable sentence under federal sentencing statutes and the advisory U.S. Sentencing Guidelines.
---
---
Chicago Gang Member Sentenced to 35 Years in Federal Prison for Racketeering Offenses Including Murder
May 20, 2022
CHICAGO — A member of a violent Chicago street gang has been sentenced to 35 years in federal prison for engaging in a pattern of racketeering activity that included the murder of a rival gang member.
LUIS CONTRERAS, 42, of Chicago, pleaded guilty earlier this year to a federal charge of conspiracy to commit racketeering activity. U.S. District Judge Matthew F. Kennelly imposed the prison sentence Thursday after a hearing in federal court in Chicago.
Contreras admitted in a plea agreement that he was a member of the Latin Saints street gang, a criminal organization whose members and associates engaged in drug dealing and violence, including murder and assault, to acquire and preserve the gang's territory in the Back of the Yards neighborhood on Chicago's South Side. Contreras further admitted that on Feb. 18, 2018, he and other members of the Latin Saints fired multiple shots at rival gang members who were sitting in a vehicle in the 7700 block of South Kilbourn Avenue in Chicago's Scottsdale neighborhood, which is part of the Ashburn community area. The shots killed Andre Franzell, 23, and wounded another individual. Contreras admitted that the murder of Franzell was committed to further the purposes of the Latin Saints.
When Contreras was arrested at his home by federal law enforcement in October 2018, he was found in possession of two rifles and a handgun.
---
The Chicago Journal needs your support.
At just $20/year, your subscription not only helps us grow, it helps maintain our commitment to independent publishing.
---
---
Chicago Journal Newsletter
Join the newsletter to receive the latest updates in your inbox.