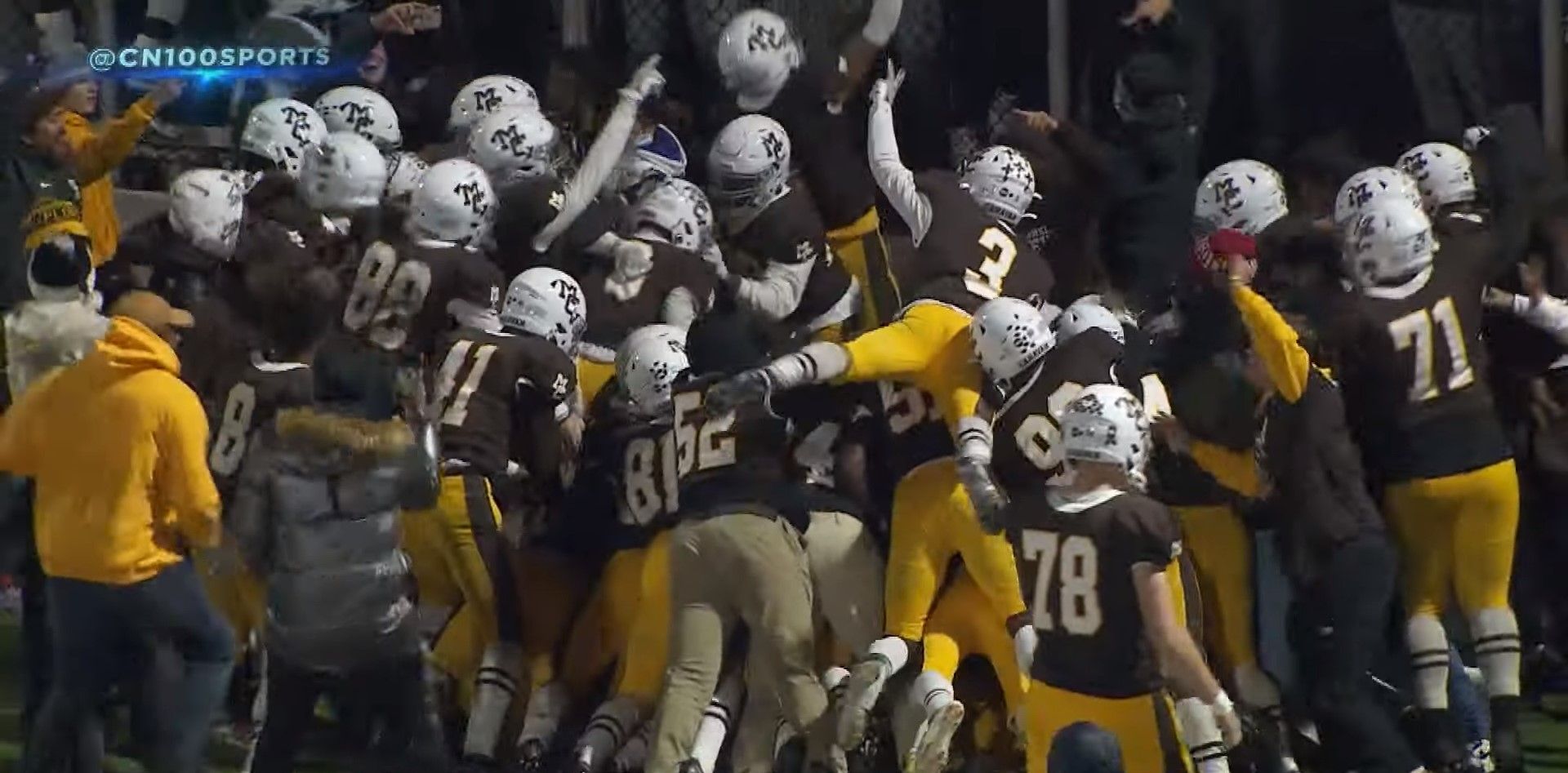 In the second round of the Class 7A playoffs under the Friday night lights, top-ranked Batavia fell to Mount Carmel after junior Dennis Furlong's nine-yard touchdown run on an untimed down after time expired on Friday.
---
---
The first half was a relatively normal affair, with the undefeated #1-seed Batavia Bulldogs (10-1) and the #17-seed Mount Carmel Caravan (8-3) battling to continue their respective runs for the state title.
Batavia's star senior running back Jalen Buckley (15 carries for 43 yards, 1 TD) opened scoring on the opening possession of the game to give the Bulldogs a quick start and a 7-0 lead, but the Caravan countered with Mount Carmel quarterback Blainey Dowling's 21-yard TD pass to sophomore Darrion Gilliam.
Bulldogs sophomore quarterback Ryan Boe (7 for 14 for 115 yards, 1 TD) hit AJ Sanders with a 37-yard touchdown pass to go up 14-7, and Mount Carmel's field goal sent the teams into halftime with a score of 14-10.
In the second half, both defenses dug in and scoring stopped.
Mount Carmel junior defensive lineman Danny Novickas, who finished with two sacks, told the Daily Herald's Jake Bartelson, "Just making sure they don't make it passed us in the secondary. We all play as one. One person messes up, it's everybody's fault..."
The questions for Batavia began when the penalty flags started piling up, particularly when they were hit with three holding calls on big runs.
Batavia was flagged 12 times for 117 yards in penalties while Mount Carmel was flagged 5 times for 25 yards.
Batavia Coach Dennis Piron told Michael J. O'Brien of the Chicago Sun-Times:
"Any play that we had in the second half that was substantial on runs, we got called holding calls," Piron said. "I don't know what the [penalty] numbers were; they were bad. They were bad ... I just felt like we were playing against two teams. I think that's what I'll use. It [was] like we were playing against two teams ... I never seen that in my life."[1]
But the real confusion for Coach Piron and the Bulldogs came in the game's final moments.
On 4th-and-13 with under two minutes left and the ball at midfield, Mount Carmel quarterback Blainey Dowling chucked a pass that landed nowhere near his Caravan receiver. The Batavia sideline thought they were about to close out the win but the referees threw another flag and called Batavia for defensive pass interference to keep Mt. Carmel's drive alive.
---
---
Mount Carmel continued to drive until 0:04 seconds remained with the ball on the Batavia 7-yard line.
Time expired on an incomplete pass into the end zone where both the Batavia defender and Mount Carmel receiver fell to the ground.
Another defensive pass interference flag. If the flag had been against Mount Carmel or there was no flag, the game would have been over.
The ball was moved to the Batavia 3-yard line and, with no time on the clock, Mount Carmel was given one more play to win.
---
---
After a timeout, Mount Carmel was hit with a delay of game penalty and backed up to the Batavia 8-yard line. Still with no time on the clock, they were given another play.
Dowling took the snap and handed the ball off to Caravan junior Dennis Furlong. Furlong swept around the right side and made a great move to cause a Batavia tackler to miss and get himself into the endzone where he was mobbed by teammates, sending Mount Carmel into Round 3 of the IHSA Class 7A playoffs with the 16-14 victory.
---
---
Emotions were high and the two teams didn't shake hands.
The Caravan's junior quarterback Blainey Dowling (7 for 13 for 96 yards, 1 TD) told Michael J. O'Brien of the Chicago Sun-Times after the game the win was all his defense, "They are the reason we won this game. Awesome job by them."[2]
Batavia coach Dennis Piron had a lot to say to reporters.[2:1][1:1]
"[The refs] didn't tell me anything the whole game," Piron told reporters. "I didn't get a single clarification on a call hardly ever the entire game. It was very confusing. It was very confusing. They were confused on calls. I asked them for clarification and they were just like 'move the ball.' I felt like it was in a practice or something. I don't know. It was very confusing. The entire game. Beginning until end."
"I'm not a person that says things like this," Coach Piron continued. "I can't make these kids feel better. It isn't the loss. I don't mind losing games. This is going to sound horrible in the paper tomorrow, but whatever."
Coach Piron also spoke with the Daily Herald's Jake Bartelson to clarify the lack of handshakes:
---
OK. I did a follow-up call with Coach Piron. On the no-handshakes: "I did shake Lynch's hand at midfield. It wasn't a sportsmanship issue. It was a safety issue at that point at time. Things never got to a level of calmness [at the game's end] for either team [for it to happen]."

— Jake Bartelson (@JakeBartelson) November 6, 2021
---
This game is scheduled to be replayed on Comcast SportsNet at noon and 4 p.m. on Saturday.
Mount Carmel advances to play the winner of Saturday's Brother Rice-Yorkville game in Round 3.
---
---
Notes & References
---