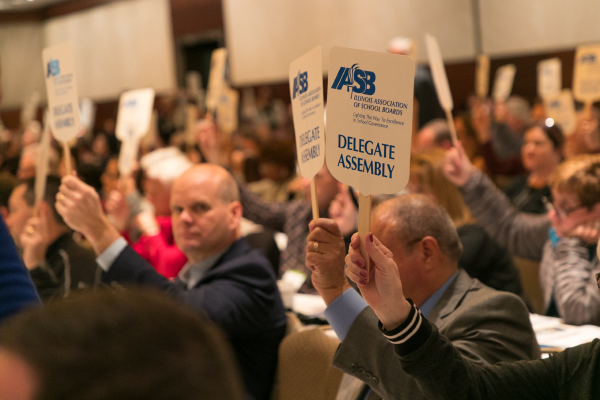 After the National School Boards Association sent a letter to President Joe Biden in September asking for federal intervention to investigate parents who protest at local school board meetings, the Illinois Association of School Boards decided Thursday to join a growing group of other states and withdraw its membership with the national association, effective immediately.
---
---
"In September, the NSBA sent a letter to President Biden calling for federal assistance, without knowledge or support of its state association members," the Illinois Association of School Boards said in a statement.
"The Board recognizes the need for a healthy national organization that can provide training, federal advocacy, shared resources, and networking opportunities," the IASB continued. "IASB communicated to NSBA that 'IASB no longer believes that NSBA can fill this important role.'
The letter in reference, dated September 29, 2021, from NSBA CEO Chip Slaven and President Viola Garcia, caused a national uproar after it floated the idea that verbal confrontations and other incidents at local school board meetings across the US constituted "acts of malice, violence, and threats against public school officials."
"The classification of these heinous actions could be the equivalent to a form of domestic terrorism and hate crimes," read the letter, which went on to ask the administration to "examine appropriate enforceable actions" under a raft of legislation — including the post-9/11 Patriot Act.
In response to the NSBA's September letter, the U.S. Justice Department headed by Merrick Garland instructed the FBI to monitor and investigate parents allegedly making threats at local school board meetings over COVID-19 restrictions and curriculum that includes critical race theory.
Internal FBI documents revealed by Republican members of Congress appeared to indicate the FBI was "tagging" American parents protesting their local school boards.[1]
After concerns of First Amendment violations were raised from both sides of the aisle, the FBI has stated it is not actively investigating any parents.
This week, the Illinois Association of School Boards took action and voted to join 12 other states and withdraw its membership with the NSBA, effective immediately, November 18, 2021.
In the time since the National School Boards Association sent out the inflammatory communication, it has lost support of 26 state school boards' organizations. Thirteen state school board associations so far have left or stopped paying membership fees to it altogether.
---
---
The White House has also been dragged into the growing scandal as additional information discovered has shown that the White House was "actively engaged" with the National School Boards Association letter and knew about the letter ahead of time.[2]
The extent of the White House's involvment is still not 100% clear but a memo, made public by the group Parents Defending Education and first reported by the Washington Free Beacon, detailed at least one specific meeting with White House staff on Sept. 14, just over two weeks before the NSBA sent their letter to President Biden.[3]
"In the September 14, 2021 meeting of the OSAED (Organization of State Association Executive Directors) liaison group, they were informed there had been a meeting with White House staff that morning and that NSBA was preparing to send a letter to the President," the memo reads. "Subsequently, on September 17, 2021, the interim Executive Director emailed notice to the state association executive directors that indicated a letter requesting federal assistance would be sent."
Written by NSBA president Viola Garcia the memo also details that the organization was "actively engaged with the White House, Department of Justice, Department of Homeland Security, Department of Education, Surgeon General, and other federal agencies on pandemic related issues."
Garcia also noted that, "In response to the letter sent by NSBA, on October 4, 2021 the Attorney General announced in a memorandum widely shared throughout the U.S. Department of Justice that he was ordering all U.S. Attorney Offices and local FBI offices to reach out to local and state law enforcement officials to coordinate efforts on this problem within 30 days of the memorandum."
This statement appears to contradict Attorney General Merrick Garland's testimony to Congress on Oct. 27. Sen. Dick Durbin, D-Ill., asked Garland if he had "second thoughts" following NSBA's apology for the letter, and he responded that the DOJ memorandum did not rely upon the letter.
---
---
Notes & References
---