College Football Week 6: B1G Summary + Notre Dame
Iowa beats Penn State and have best ranking since 1985, Ohio State and Wisconsin roll over Maryland and Illinois respectively, Michigan and Notre Dame both need late field goals to lift them to wins. Here are the B1G stories of the week.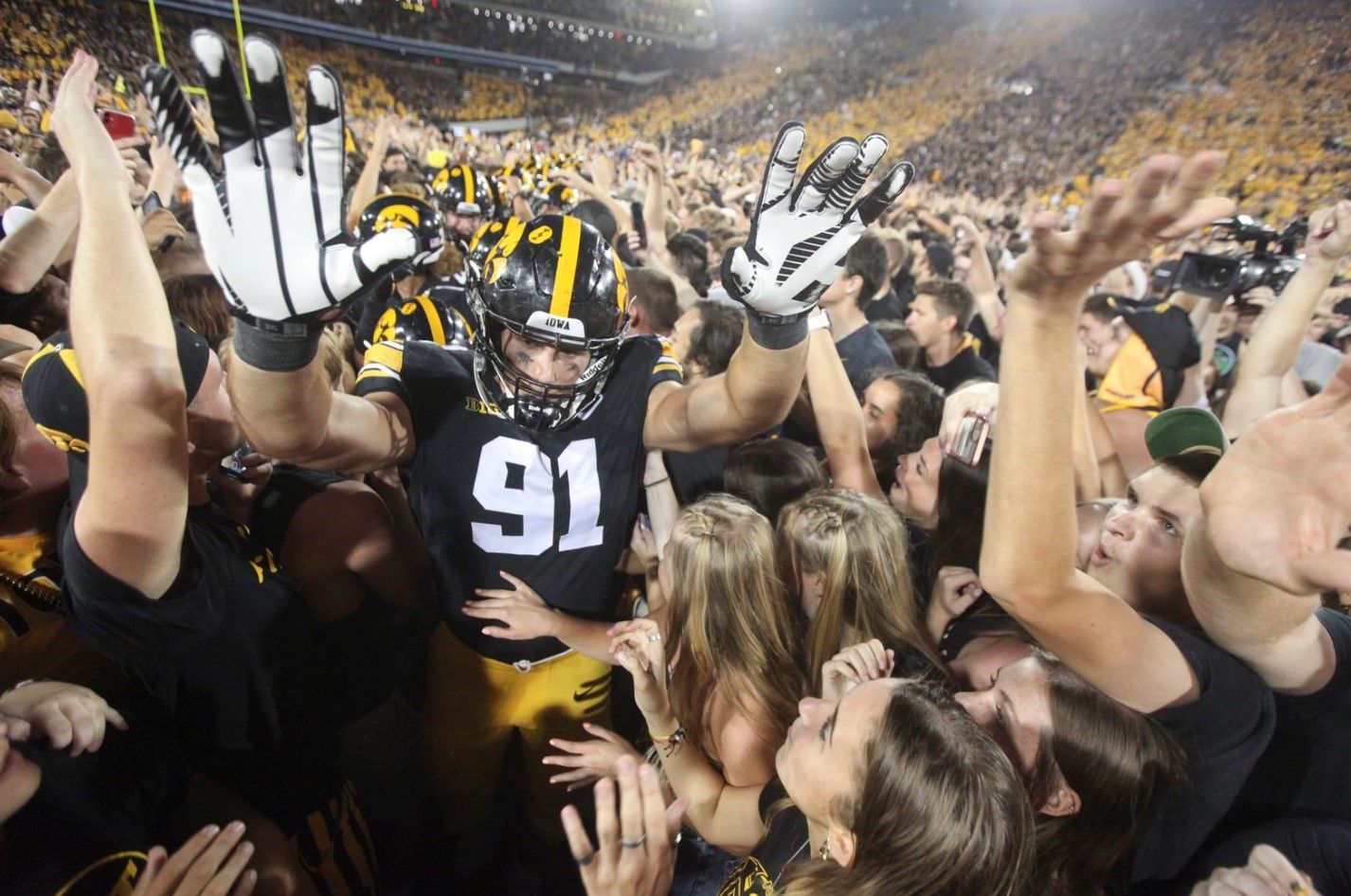 #3 Iowa vs. #4 Penn State
No. 3 Iowa beats No. 4 Penn State 23-20, fans storm field
IOWA CITY, Iowa (AP) — Iowa was in victory formation and the emotion was about to spill over as dusk settled over Kinnick Stadium.
---
---
Spencer Petras took the last snap, took a knee and took off, apparently thinking he could get off the field before the students and other fans pouring out of the end zone seats could catch him.
He barely made it to midfield. That's where he and his teammates were swarmed and the mosh pit formed on the Hawkeyes logo to celebrate No. 3 Iowa's hard-earned 23-20 victory over fourth-ranked Penn State on Saturday.
"It's a pretty special place when the lights go on and the sun goes down," Iowa coach Kirk Ferentz said.
Petras threw a 44-yard touchdown pass to Nico Ragaini to complete Iowa's comeback from a two-touchdown deficit, all accomplished while Penn State's offense did next to nothing after quarterback Sean Clifford was knocked out of the game.
The Hawkeyes (6-0, 3-0) took control of the Big Ten West with their 12th straight victory and thrust themselves into the College Football Playoff conversation.
"This was like the biggest of the big-time, which was pretty awesome," Ragaini said. "You don't get moments like this every day, taking advantage of the opportunity. It was a mentally draining game for sure, and physically draining.
"On the sideline I was so emotionally drained that I almost teared up out there because we care about each other so much. We all want each other to succeed."
An hour after the game, Ferentz choked up as he reflected on his players' locker room celebration.
"It's fun," he said, pausing. "That's what they're supposed to do."
Penn State (5-1, 2-1) lost for the first time in 10 games and headed back to Happy Valley with a list of injuries that could make its path through the rest of the season difficult.
"It's just a bump in the road," Lions defensive end Arnole Ebiketie said. "We have to get better."
The Hawkeyes' grinding offense isn't built to play from behind, but it managed to come back in the biggest game at Kinnick Stadium since then-No. 1 Iowa beat then-No. 2 Michigan in 1985.
Iowa won the field-position battle thanks to the work of punter Tory Taylor, who repeatedly pinned Penn State deep in its own end after Clifford went out in the second quarter.
Iowa chipped away with field goals by Caleb Shudak to cut it to 20-16. The winning play came on the first play after the Hawkeyes got the ball at the Penn State 44 with 6:35 left.
Petras rolled to his right and found Ragaini alone on the left side. Linebacker Curtis Jacobs knocked him out of bounds, but not before he got the ball over the goal line. All-America center Tyler Linderbaum was the first man to greet him in the end zone.
Penn State coach James Franklin didn't disclose the nature of Clifford's injury. He was hurt with the Lions leading 17-3 when he took a big hit from linebacker Jack Campbell, and he was out of uniform on the sideline in the second half.
After Ta'Quan Roberson took over for Clifford in the middle of the second quarter, Penn State managed just 50 yards on 46 plays the rest of the way.
"We talk about all of the important statistics all of the time, and we didn't do a good job on any of them," Franklin said. "We did not win the field position battle, we did not win the turnover battle, we did not win the penalty battle, we didn't win the explosive play battle."
Five of Roberson's series started inside the Penn State 10, and a sixth began at the 11. The sellout crowd of 70,000 had a major impact when the Lions were in their own end, their roars forcing numerous false starts as Roberson's claps for the snap went unheard by his linemen.
On the Nittany Lions' last three possessions, they turned over the ball on downs, Matt Hankins came up with Iowa's fourth interception of the game and they turned it over on downs again.
"We weren't counting on the interceptions but that was a great job there," Ferntz said. "We played physical, knocked their quarterback out — hope he's fine. That's the team we have."
THE TAKEAWAY
Penn State: Franklin did not disclose the nature of Clifford's injury. The Lions also lost a couple of key defensive players. P.J. Mustipher, their 326-pound run stopper, went out less than two minutes after kickoff with a left knee injury and didn't return. Neither did safety Jonathan Sutherland, who left in the second quarter with an undisclosed injury.
Iowa: It continues to be all about defense with this team. The offense responded when it had to in the second half, but defense was special throughout. Four more interceptions gave the Hawkeyes a nation-leading 16. The only sour note was an injury to cornerback Riley Moss, who appeared to injure his left knee after an interception.
KNOCKING OFF THE RANKED
Iowa beat a Top 25 team for the third time this season and has won six in a row against ranked opponents for the first time since 1960. It was Iowa's first win over a top-five team since beating then-No. 3 Ohio State in 2017.
UP NEXT
Iowa hosts Purdue on Oct. 16. The Hawkeyes have lost three of the last four in the series.
Penn State has an open date before hosting Illinois on Oct. 23.
---
---
#6 Ohio State vs. Maryland
Stroud throws 5 TDs, No. 7 Buckeyes bury Maryland 66-17
COLUMBUS, Ohio — C.J. Stroud, who didn't throw a pass in a college football game until five weeks ago, says he's getting better at relaxing amid the chaos.
With his sore shoulder feeling better and some early wobbles behind him, Stroud is beginning to look less like an inexperienced freshman and more like Justin Fields, his unflappable predecessor at quarterback who led Ohio State to the College Football Playoff in both years as a starter.
"I'm just being more comfortable," Stroud said after throwing five touchdowns in the No. 7 Buckeyes' 66-17 pounding of Maryland on Saturday. "I mean, being myself. I'm really just relaxing back there, andI think my teammates have really helped me. AndI feel like we're starting to roll, get momentum."
Coach Ryan Day sees it, too.
"I think his preparation has been excellent," Day said. "I think he sees the field well. He's got some good players around him, but he's also making really good throws. His timing is right, he's seeing the field, making good decisions. And so that is allowing us to run the offense and to be very efficient."
Ohio State scored on nine straight possessions and piled up 598 yards of offense as the Buckeyes (5-1, 3-0 Big Ten) had their way with the Terps (4-2, 1-2).
Stroud threw for 406 yards, including two touchdown passes each to star wideouts Chris Olave and Garrett Wilson against a depleted Maryland secondary.
"Last week and this week, we were damn near perfect," Olave said.
Buckeyes freshman TreVeyon Henderson, after managing just 17 yards rushing in the first half, finished with 102 and two touchdowns. He also caught a 26-yard TD pass in the first half. Master Teague had a touchdown plunge as Ohio State beat Maryland for the seventh consecutive time.
It wasn't until the Buckeyes' 10th and final drive of the game, when the regulars were all out of the game, that the Terps managed to stop them on downs.
Ohio State "had guys look like they fell out of airplanes, they were so wide open," Terps coach Mike Locksley said.
TWO TOUGH ONES, TERPS
Maryland was routed for the second straight week. Taulia Tagovailoa threw five interceptions last week as Iowa upended the Terps 51-14. Tagovailoa threw two late picks against the Buckeyes on Saturday, but turnovers weren't really the problem. The Terps offense couldn't string together enough positive plays — and their defense just couldn't stop Ohio State.
Tagovailoa, who came in the game leading the Big Ten in completion percentage, was 28 for 39 for 279 yards and two touchdowns for Maryland.
"I made some bad decisions," he said.
THE TAKEAWAY
Maryland: After reeling off three straight wins to start the season and Tagovailoa putting up big numbers, the Terps were full of confidence. That was until they ran into two straight Top-10 teams that showed Locksley's squad that it still has a long way to go in the rugged Big Ten East.
Ohio State: Stroud has been spectacular the last few couple weeks, and the Buckeyes are picking up steam with each game. They have an open week before traveling to Indiana and hope to peak before a critical showdown with Penn State on Oct. 30.
PROPS FOR DEFENSE
Ohio State defensive coordinator Kerry Coombs, who was stripped of play-calling duties after his unit struggled early, was awarded a game ball Saturday, Day said. The defense limited Maryland to 4.5 yards per play and had five sacks.
POLL IMPLICATIONS
Ohio State's flashy offensive display should garner some attention and maybe a few more poll points.
INJURIES
Maryland: The Terps were without their leading receiver, Dontay Demus Jr., who suffered a season-ending knee injury last week. And then WR Jeshaun Jones went out with an injury on the second play of Saturday's game and didn't return. ... CBs Kenny Bennett and Jakorian Bennett also didn't play.
Ohio State: DT Haskell Garrett limped off the field with an apparent leg injury in the third quarter. There was no update after the game. ... Miyan Williams, who started the season as the No. 1 running back, was listed as unavailable for the second straight week. Ohio State has not provided a reason.
UP NEXT
Maryland: After a week off, the Terps host Minnesota.
Ohio State: The Buckeyes play at Indiana on Oct. 23.
---
---
#9 Michigan vs. Nebraska
Moody's late FG lifts No. 9 Michigan past Nebraska 32-29
LINCOLN, Neb. — Michigan coach Jim Harbaugh called the ninth-ranked Wolverines' come-from-behind victory over Nebraska a "Clint Eastwood win."
Jake Moody hit a 39-yard field goal with 1:24 remaining to lift Michigan to a 32-29 win over upset-minded Nebraska on Saturday night.
"It was a tremendous, tremendous game, incredible really,' Harbaugh said after watching Nebraska come back from a 13-0 halftime deficit and take the lead only to see Michigan rally for the win with two late field goals. "We're enjoying it, we're enjoying the incredible."
Moody's fourth field goal came after Wolverines defensive back Brad Hawkins forced Cornhuskers quarterback Adrian Martinez to fumble, returning it 19 yards to the Nebraska 18 to set up the game-winner.
"We practice pushing out the ball, stripping the ball, hitting the ball," Hawkins said. " That moment just touching the ball, striking the ball came through."
Martinez said he thought the play was over when Hawkins took the ball away from him.
"I'm not going to stand up here and make excuses for myself," Martinez said. "I thought the play was over.I was standing likeI am now and thought the play was over. I've got to take care of the ball. That hurt our team."
Michigan (6-0, 3-0 Big Ten) has won its first six games for the first time since starting 9-0 in 2016.
Nebraska (3-4, 1-3) has lost three games in four weeks to ranked teams — No. 6 Oklahoma on Sept. 18, No. 11 Michigan State two weeks ago and Michigan — by a total of 13 points. The Huskers have now lost 14 straight games against ranked opponents, nine of them under coach Scott Frost.
"I can't imagine the things happening to us all happening to us," Frost said. "I thought tonight was the night. We'll get there. We've got a really good team. I'm so proud of them."
Nebraska came storming back to take the lead in the third quarter after cornerback Deontai Williams picked off the first interception of Michigan quarterback Cade McNamara's career.
Martinez hit Levi Faulk on a 13-yard swing pass, then ran the two-point conversion to put Nebraska up 22-19 entering the final period.
Michigan countered with 10-play 75 yard drive capped by Blake Corum's 29-yard touchdown run only to be matched by an eight-play, 75-yard Nebraska drive that saw Martinez score from the 5 to make the score 29-26.
The Wolverines moved down the field again, going 69 yard before the drive stalled and Moody hit a 31-yarder to knot the score.
Michigan's resilience in highly charged Memorial Stadium filled with 87,000 screaming Husker fans impressed Harbaugh.
"In this environment, that showed a lot of poise and moxie by our guys," Harbaugh said. "There's no doubt that they wanted to storm the field, tear down the goalposts. Not on our guy's watch tonight. That was pretty cool."
Nebraska scored on its first drive of the second half, with Martinez hitting tight end Austin Allen with a 46-yard touchdown pass and, after Michigan went up 19-7 on a Hassan Haskin's 3-yard run, scored again on a Rahmir Johnson's 41-yard reception.
"When we got that first touchdown, it was the flood gates are open," Martinez said. "We can score on these guys."
Martinez finished 18 for 28 passing with three touchdowns and an interception.
Michigan's Hassan Hawkins finished with 123 yards rushing and two touchdowns, including a 3-yard dive that gave the Wolverines a 13-0 halftime lead.
TAKEAWAYS
Michigan hadn't trailed this season until Faulk's touchdown gave Nebraska the lead. McNamara's interception was just the second turnover of the year by the Wolverines.
Saturday's win was Michigan's first in Lincoln. The Wolverines tied the Huskers 6-6 in 1911 and lost to the Huskers in Memorial Stadium in 2012.
Nebraska miscues returned to haunt the Huskers In addition to Martinez's late fumble, Oliver Martin's fair catch in the first trapped Nebraska at its 6. On the next play, Martinez threw an interception that led to Moody's first field goal. Hawkins' half-ending touchdown came on the play after a pass interference penalty on Nebraska's JoJo Domann.
UP NEXT
Michigan hosts Northwestern on Oct. 23.
Nebraska is at Minnesota on Saturday.
---
---
#11 Michigan State vs. Rutgers
Nailor catches 3 TDs, No. 11 Michigan State tops Rutgers
PISCATAWAY, N.J. — After turning the ball over seven times in a loss to Rutgers last year, No. 11 Michigan State turned to the the big-play approach with its new cast of players. It worked to perfection.
Jalen Nailor caught touchdown passes of 63, 63 and 65 yards from Payton Thorne and transfer Kenneth Walker scored on a school-record 94-yard run as the Spartans remained unbeaten with a 31-13 victory over the reeling Scarlet Knights on Saturday.
Michigan State (6-0, 3-0 Big Ten) is off to its best start since it won its first eight games in 2015, when it reached the College Football Playoff.
"We still have multiple playmakers that y'all haven't seen yet," said Nailor, who finished with five catches for a career-best 221 yards, a stadium record. "We have a lot of young guys that are emerging, but it's just getting more in tune with the playbook and we've just been working hard, just trying to get everybody on the same page so far."
The loss was the third straight for Rutgers (3-3), all against ranked opponents. The Scarlet Knights fell to No. 9 Michigan two weeks ago and No. 7 Ohio State last week. Overall, Rutgers has dropped 33 straight to ranked teams since beating then-No. 23 South Florida 31-0 on Nov. 12, 2009.
"I look at this game, we gave up big plays," Rutgers coach Greg Schiano said. "We gave up four big plays. We haven't done that. We haven't given up big plays. You give up big plays, it's going to be hard to do anything, right? You're behind the 8-ball."
Michigan State, which lost to Rutgers 38-27 at home in Mel Tucker's debut as coach, rewrote part of its record book in the game, and one for SHI Stadium, Rutgers home.
The run by Walker, who came into the game leading all Football Bowl Subdivision players in rushing, was the longest offensive play in Michigan State history. The previous long run for the Spartans was 90 yards by Lynn Chandnois in 1949 against Arizona; their longest pass play is a 93-yarder from Tony Banks to Nigea Carter against Indiana in 1994.
Walker finished with 233 yards rushing, his second 200-yard game of the season. He has 913 yards this season, an average of 152.2 per game.
Nailor's 221 receiving snapped the stadium mark of 207 set by Larry Fitzgerald of Pittsburgh in 2003.
Thorne finished 16 of 27 for a career-best 339 yards and the three long TDs.
It was the fifth time in FBS history a team has had a 300-yard passer, a 200-yard rusher and a 200-yard receiver in the same game.
"It's one word. Explosive," Walker said of the Michigan State offense, which finished with 588 yards to 377 for Rutgers.
The Scarlet Knights twice had the lead early. They took a 7-0 edge on a 4-yard pass from Johnny Langan to Aron Cruickshank after their defense thwarted a fake field goal attempt on the opening series.
After the first 63-yard TD to a wide-open Nailor tied the game, Val Ambrosio kicked a 26-yard field goal to put the Scarlet Knights ahead 10-7.
Michigan State needed only five plays to retake the lead, with Nailor making an over-the-shoulder catch at the Rutgers 35 and cutting across the field to score.
A turnover set up Ambroio's second short field goal and cut the lead to one, but Thorne and Nailor hooked up on a flea-flicker on the Spartans' first play of their next drive for a 21-13 lead. Thorne handed off to Walker, who pitched back to the quarterback for the long scoring pass. The three TD receptions tied a school record, last matched by Cody White against Rutgers two years ago.
Walker blew the game open midway through the third quarter with his 94-yard run. He went through a huge hole, broke a couple of tackles in front the Michigan State bench and glided to the end zone, exchanging a fist pump with Nailor near the end zone.
MISSING COACH
Not only was Rutgers missing leading receiver Bo Melton with a shoulder injury, receivers coach Tiquan Underwood was not at the game because he was in COVID-19 protocol.
END-OF-HALF FOLLIES
Michigan State cost itself points at the end of the first half. A holding penalty nullified a 10-yard TD run by Walker with 47 seconds to go. After a short completion, the Spartans let the clock run and Thorne threw an incompletion to the end zone as time expired. Referee Larry Smith reviewed the videotape and put a second on the clock.
With Matt Coghlin lined up for a 35-yard field goal attempt, Schiano called two timeouts. Coghlin missed the kick.
INDUCTION
Eric LeGrand, who was paralyzed in a football game against Army in 2010, and four other athletes were inducted into the Rutgers Hall of Fame during a halftime ceremony.
UP NEXT
Michigan State: At Indiana next Saturday.
"The team is hungry," Tucker said. "We still have a lot to prove and we haven't played our best football."
Rutgers: At Northwestern next Saturday.
---
---
#14 Notre Dame vs. Virginia Tech
Doerer makes late FG, No. 14 Irish beat Hokies 32-29
BLACKSBURG, Va. — Jack Coan's play in the first quarter for No. 14 Notre Dame on Saturday night got him benched. What he did in the fourth quarter made the Fighting Irish winners, and left coach Brian Kelly gushing about his senior quarterback.
Jonathan Doerer kicked a 48-yard field goal with 17 seconds remaining, capping a dramatic rally to give the Fighting Irish a 32-29 victory over Virginia Tech.
"I've been in a lot of games, coached in a lot of games, butI don't know thatI've ever coached a group of guys that had such resolve and mental toughness, that regardless of the situation, they just kept playing," Kelly said. "Unfazed by the circumstances."
The Fighting Irish (5-1) tied it at 29 on Coan's 4-yard pass to Avery Davis and a two-point conversion completion to Kevin Austin with 2:26 left. After Notre Dame forced the Hokies to punt, Coan drove them 45 yards in seven plays, and Doerer split the uprights, sparing the Fighting Irish a second straight loss.
Coan "prepared himself mentally to go back in the game and lead two drives," Kelly said. "You guys should be thinking about great things to write about that guy because that doesn't happen very often."
Kelly knew there were things his team didn't do well against the Hokies, but said he'll brush off any negatives written because of how it finished.
"WhatI take from these games is watching a guy like Jack Coan come in under those circumstances and rise above it. It was just, for me, incredibly enjoyable to watch him play," Kelly said.
The Hokies (3-2) had taken command with an interception return for a touchdown by Jermaine Waller late in the third quarter and another touchdown drive started by an Nasir People's interception. That drive finished 19-yard run by Braxton Burmeister with 3:55 to play, making it 29-21.
"Obviously, that's a tough locker room. What a football game," Hokies coach Justin Fuente said. "It's a tough one, obviously, to swallow."
Freshman Tyler Buchner ran for a touchdown and threw for another for Notre Dame (4-2) after replacing Coan to start the second quarter, but his two second half interceptions both turned into Virginia Tech touchdowns.
Kyren Williams ran for 81 yards and one touchdown and caught an 8-yard pass from Buchner for another score the Irish.
Raheem Blackshear also ran for a touchdown for the Hokies and John Parker Romo kicked three field goals.
THE TAKEAWAY
Notre Dame: Buchner likely earned himself more playing time among the three QBs the Irish have used this season. Notre Dame ran 13 plays and managed just 27 yards with Coan behind center in the first quarter. Buchner led a 75-yard touchdown drive in is first series in the second quarter.
"He did some nice things like you saw, he's young. He's going to be really good," Kelly said.
Virginia Tech: Connor Blumrick replaced Burmeister in the fourth quarter after Burmeister appeared to hurt his throwing hand late in the third quarter. Burmeister was able to throw on the sideline. Blumrick's second pass attempt was intercepted when the Hokies tried for a two-point conversion. Blumrick later got hurt on a running play and Burmeister returned to the game.
UP NEXT
The Fighting Irish have a week of before facing Southern California in South Bend.
The Hokies face Pittsburgh in their third of four straight home games.
---
---
Illinois vs. Wisconsin
Wisconsin uses running game to roll over Illinois 24-0
By Terry Towery | Associated Press
CHAMPAIGN, Ill. (AP) — Chez Mellusi ran for 145 yards and a touchdown and Wisconsin beat Illinois 24-0 on Saturday.
Braelon Allen rushed for 131 yards and a touchdown on 18 carries and John Chenal carried nine times for 38 yards and a touchdown for the Badgers.
Wisconsin quarterback Graham Mertz was 10-of-19 passing for 100 yards with an interception. The Badgers (2-3, 1-2 Big Ten Conference) outgained Illinois 491-93 yards in total offense.
Coming into the game, Wisconsin ranked third in the nation and led the Big Ten in total defense, allowing just 249 yards per game and allowing just 4.3 yards per play. Illinois (2-5, 1-3) had been showing progress in its running game.
Something had to give. On Saturday, it was the Illinois running game.
"Our defensive coaches put together a good plan to counter the running game," Wisconsin coach Paul Chryst said. "But the kids bring it to life."
Chase Brown led all Illinois rushers with 35 yards on eight carries. Brown rushed for 257 yards against Charlotte last week and tied his career high with two rushing touchdowns.
Illinois starting quarterback Brandon Peters was 3-of-7 passing for 30 yards before sustaining an unknown injury while being sacked in the second quarter. Artur Sitkowski replaced him and went 8 of 27 for 55 yards.
After the game, Illinois coach Bret Bielema said he had no update on Peters or star linebacker Jake Hansen, who also left the game in the first half due to an unknown injury.
BORN TO RUN
The Badgers established the run early, scoring on a 17-yard Collin Larsh field goal late in the first quarter to cap an 18-play, 67-yard drive that featured just three passes.
Wisconsin boasts one of the toughest run defenses in the country, and Illinois has one of the best run offenses. But the Illini didn't run the ball until the first series of the second quarter when Josh McCray rushed for no gain near the Illinois goal line following a Kerby Joseph interception that prevented a Wisconsin touchdown.
"They're a good defensive team, I get that," Bielema said. "We have some work to do. This was another step in the process. It's not pleasant, but we have to own it."
Wisconsin outgained Illinois 206-33 in the first half despite Mertz going 3-of-9 passing for 15 yards. Illinois rushed for 21 yards and passed for just 12 before intermission.
Wisconsin led 10-0 at the break.
SCHOOL RECORD
Wisconsin tight end Jake Ferguson caught a pass in his 39th straight game, breaking the school record for consecutive games with a reception previously held by wide receiver Lee Evans, who played for the Badgers from 2000-03.
THE BIG PICTURE
The Badgers won the game on the scoreboard, but it's clear this is a team struggling to find itself offensively. Chryst and his staff will have to rectify that if Wisconsin wants to compete in the Big Ten West.
"It's obvious we have some things to clean up," Chryst said. "We'll be working on that this week."
Illinois coach Bielema was facing his old team and trying for his 100th career coaching win, but his team was listless and ineffective from the opening kickoff. Since the Illini offense didn't show up, it was up to the defense to try to entertain a large homecoming crowd. The crowd cheered derisively when Illinois got its fifth first down of the game – early in the fourth quarter.
"Gotta give credit to Wisconsin," Bielema said. "They executed their game plan very well. We have some things to work on."
UP NEXT
Wisconsin: Hosts Army on Saturday.
Illinois: After a bye week, travels to No. 4 Penn State on Oct. 23.
---
---
More AP college football: https://apnews.com/Collegefootball,
https://www.twitter.com/AP_Top25 and
https://podcasts.apple.com/us/podcast/ap-top-25-college-football-podcast
More AP college football: https://apnews.com/Collegefootball and https://twitter.com/AP_Top25
Chicago Journal Newsletter
Join the newsletter to receive the latest updates in your inbox.