College Football Week 12: B1G Summary + Notre Dame
Michigan State took a good ol' fashioned beating from Ohio State, Michigan beats Maryland to prep for next week, and Purdue beats Northwestern at Wrigley. Here are the B1G stories of the week.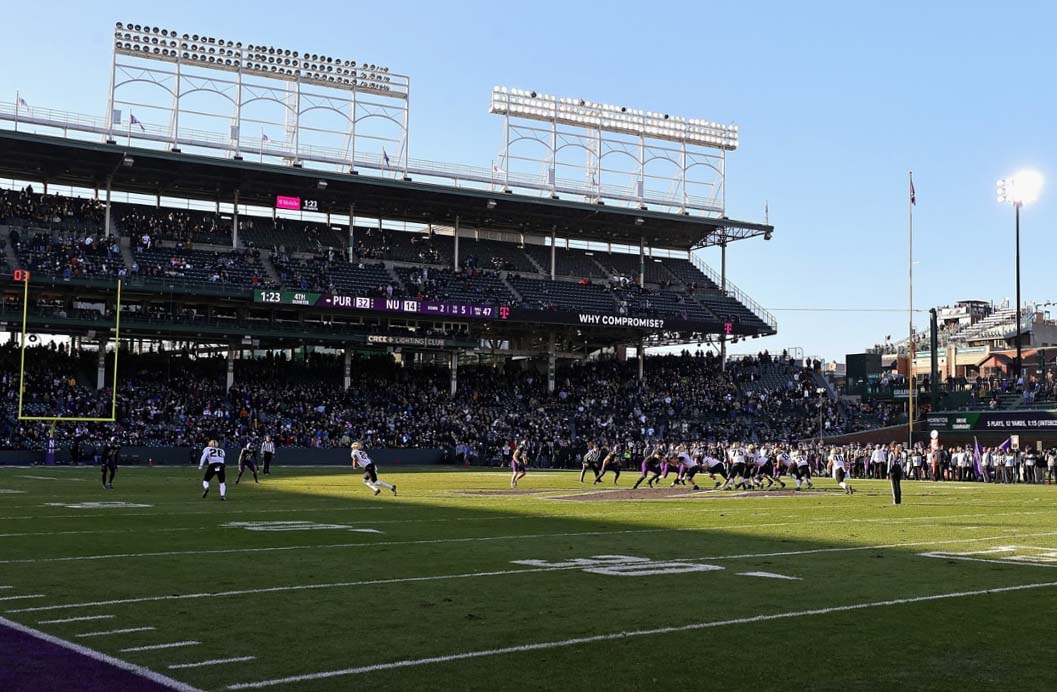 #5 Ohio State vs. #7 Michigan State
Stroud tosses 6 TDs, No. 5 Ohio St blows out No. 7 Mich St
COLUMBUS, Ohio -- — C.J. Stroud lit up No. 7 Michigan State early and gave his coach the rare luxury of being able to let his mind wander to next week's showdown with Michigan.
---
---
Stroud tied a school record with six touchdown passes -- all in the first half -- as No. 5 Ohio State bolted out to a 49-point halftime lead on the way to a startling 56-7 rout Saturday that eliminated the Spartans (9-2, 6-2 Big Ten, No. 7 CFP) from the Big Ten East race.
Next up for the Buckeyes (10-1, 8-0, No. 4 ) is the annual rivalry game and hatefest against No. 8 Michigan that carries even greater meaning this year — the winner will claim the division, advance to the conference championship game on Dec. 4 and stay alive for the College Football Playoff.
"We've got everything riding on this thing coming up right around the corner," Ohio State coach Ryan Day said. "And I got to tell you, the game wasn't even over yet and I was thinking about it. There's just so much going on here."
Day should savor this one for at least a minute.
Stroud, who threw his first collegiate football pass less than three months ago, was 32 for 35 for 432 yards against the Spartans' sketchy pass defense, which had allowed more yards through the air than any in major college football.
The redshirt freshman completed 17 straight passes, setting an Ohio State record, and positioned himself as maybe the Heisman Trophy favorite heading into the championship stretch of the season.
"My O-line did a great job the whole game," he said. "I was back there chilling, in a sense."
This is Stroud's third 400-yard game in 10 career starts and his fourth game with at least five touchdown passes.
"You can see our capability," Day said. "We're playing really good football, clean football. We have a high ceiling."
The Buckeyes scored on all seven first-half possession before backing off.
"We got blasted," Michigan State coach Mel Tucker said. "We were not able to eliminate the explosive plays on defense and were not able to execute on offense."
Michigan State Heisman hopeful Kenneth Walker III, the nation's leading rusher, was turned into a nonfactor by the Buckeyes. Walker, who rolled his ankle in last week's win over Maryland, had just six carries for 25 yards.
"He's a little banged up right now, so we're going to use the guys who can go," Tucker said.
100-YARD TRIO
The Buckeyes' top three receivers eclipsed the 100-yard mark and caught touchdown passes. Chris Olave had seven catches for 140 yards and two touchdowns. Garrett Wilson grabbed seven for 126 and a pair of scores, and Jaxon Smith-Njigba had 10 receptions for 105 yards and a TD.
Olave, a senior who played his last game in Ohio Stadium, broke the school record for career touchdowns with 35, one more than David Boston (1996-98).
"I came in a three-star (recruit), the lowest in my class, I think," Olave said. "I didn't know it would come to this day, but I just kept my head down and kept working to try and maximize my potential here, and I feel like I've done that."
THE TAKEAWAY
Michigan State: The Spartans, who knocked off top-10 rival Michigan three weeks ago, weren't just sent tumbling from the Big Ten East playoff picture, they were demoralized. They've shown great improvement this season under second-year coach Tucker, but are not yet in Ohio State's class.
Ohio State: Can anybody slow down the Buckeyes? The offense scored touchdowns on all seven first-half possessions, until Day called off the charge. The defense forced a couple of first-half turnovers that aided the avalanche. The Buckeyes scored 50 points for the sixth time this season.
QUOTABLE
"You always can remember days like this," Michigan State quarterback Payton Thorne said. "I'll remember the feeling for a long time, coming in here and playing like we did."
POLL IMPLICATIONS
The impressive win could bump the Buckeyes up the rankings, with another spotlight game next week in Ann Arbor. Michigan State, with a second loss, will tumble.
UP NEXT
Michigan State: Hosts Penn State in season finale.
Ohio State: Wraps up the season with the annual clash with Michigan.
---
#6 Notre Dame vs. Georgia Tech
Coan, No. 6 Irish dominate Yellow Jackets in 55-0 victory
SOUTH BEND, Ind. (AP) — On a day when No. 6 Notre Dame did little wrong in a 55-0 shutout of beleaguered Georgia Tech on Saturday, coach Brian Kelly made a pitch for his team's postseason aspirations in the College Football Playoff.
"It's an improving team that continues to do the little things the right way," Kelly said.
Jack Coan threw for 285 yards and two touchdowns in a little more than a half and the Fighting Irish (CFP No. 8) had two defensive touchdowns for the second time this season in winning their sixth straight game since a 24-13 home loss to No. 3 Cincinnati Oct. 2.
Coan, a grad transfer from Wisconsin, completed 15 of 20 passes. He had first-half touchdown strikes of 52 yards to Michael Mayer and 20 yards to Logan Diggs as the Irish took a 45-0 halftime. Coan exited after one series in the third quarter and was replaced by true freshman Tyler Buchner, who ripped off a 68-yard run on his first play.
With Coan directing the offense, and the Irish defense hounding Georgia Tech quarterback Jordan Yates all afternoon, Notre Dame improved to 10-1, reaching the 10-win level for the fifth straight season by outgaining coach Geoff Collins' Yellow Jackets (3-8) by a 514-224 yardage margin.
"That's a really good football team," Collins said "We got outcoached, out-executed and out-physicalled throughout the game."
The shutout was the first at Notre Dame for first-year defensive coordinator Marcus Freeman and first by the Irish since a 52-0 whitewash of South Florida on Sept. 19 of last season when the Irish reached the College Football Playoff for the second time in three seasons. The Irish have now gone three games without allowing a touchdown.
"We've been in control of games," Kelly said. "The quarterback is efficient and pushes the ball down the field, we have one of the best tight ends in college football and an improving running game. This is a really good football team."
Linebacker Jack Kiser had a 43-yard interception return for a touchdown to give the Irish a 10-0 lead after the first of two field goals by Jonathan Doerer. The Irish then added a 9-yard touchdown run by Kyren Williams, his first of two rushing touchdowns, and Coan's TD pass to Mayer for a 24-0 lead after the first quarter. Freshman running back Logan Diggs had two touchdowns in the second quarter, the second on a reception from Coan, as Notre Dame opened a 45-0 halftime lead.
Grad defensive end Myron Tagovailoa-Amosa returned Yates' fumble caused by defensive end Isaiah Foskey 70 yards in the third quarter as the Irish led 55-0 after three quarters. Notre Dame had two interception returns for touchdowns in a 41-13 victory over Wisconsin earlier this season.
Yates threw for 96 yards on 14-of-28 passing as Foskey and company had six sacks, nine quarterback hurries and forced two fumbles.
---
---
THE TAKEAWAY
Georgia Tech: The Yellow Jackets couldn't get out of their own way in the first half, totaling just 117 yards as Notre Dame harassed Yates and limited freshman running back Jahmyr Gibbs, who was second nationally in all-purpose yards at 168 coming into the game, to just 40 rushing yards in the first half. He finished with 58 rushing yards and 122 all-purpose yards.
"Obviously, that's a hurting team in there," Collins said. "That's not the kind of football we've played the last couple of weeks. We've got to be better and it starts with me. We've got to find a way. We've got the No. 1 team in the country (Georgia) coming to town next Saturday."
Notre Dame: The Irish couldn't have played much better than they did in the first half, scoring on all six of their offensive possessions and adding the 43-yard interception return by Kiser, who had one of the two interception returns for touchdowns against Wisconsin. Kiser, however, left the game in the second quarter with an ankle injury that Kelly didn't think was serious.
The 45 first-half points was the most by the Irish since they scored 45 points against visiting Miami (Ohio) in a 52-17 victory in 2017. The Irish defensive line had seven of its quarterback hurries by halftime.
"The defense loves a shutout," Foskey said after Notre Dame's third straight game without yielding a touchdown. Navy had two field goals and Virginia one in the previous games. "After the last couple of weeks, it was great to see a zero on the board."
CELEBRATING WITH MYRON
Defensive end Myron Tagovailoa-Amosa was one of several players who missed the 28-3 victory at Virginia because of a flu outbreak on the Notre Dame campus. But he wasn't going to miss the final home game of his Notre Dame, and he went out in style with his 70-yard fumble return for a touchdown in the third quarter.
"The entire defensive line jumped out of their seats immediately," defensive tackle Howard Cross III said. "He's a great role model."
OFFENSE IMPROVING
Mayer was one of 11 players to make a reception. His three receptions for 86 yards and one touchdown give him 55 catches for 663 yards and five touchdowns. The Irish finished with 514 yards in total offense, 302 through the air and 212 on the ground as Buchner led the way with 67 rushing yards, freshman running back Audric Estime had 61 yards and Williams finished 56 yards on the ground and added 31 receiving yards and 33 more yards on punt returns.
"I think we've definitely found our identity," the 6-foot-4 1/2, 251-pound sophomore said. "Coan's been throwing the ball great. Kyren's been running the ball great. ... Our offense is really coming together."
POLLS IMPLICATIONS
Depending on the outcome of later games, Notre Dame likely solidified its No. 6 ranking in The Associated Press ranking and probably would move up a spot Tuesday in the College Football Rankings with Ohio State's 56-7 thrashing of No. 7 Michigan State.
UP NEXT
Georgia Tech: Host No. 1 Georgia on Saturday.
Notre Dame: At Stanford on Saturday.
---
#8 Michigan vs. Maryland
No. 8 Michigan tunes up for Ohio State, routs Terps 59-18
COLLEGE PARK, Md. (AP) — By the time the fourth quarter began, it was OK for Cade McNamara and Michigan to look ahead.
McNamara threw for two touchdowns, Hassan Haskins ran for two, and the No. 8 Wolverines did their part to raise the stakes of next weekend's showdown with Ohio State, routing Maryland 59-18 on Saturday.
Mike Sainristil made a one-handed catch in the end zone for a second-quarter TD, and Donovan Edwards had 10 catches for 170 yards and a touchdown. That all helped make this a relatively stress-free game for the Wolverines — a week before the big one.
"I think we're ready," McNamara said. "I mean, it's hard not to think about that team when you're so close, but I'm glad that we came out of this game with a win. We did what we had to do."
The Wolverines (10-1, 7-1, No. 6 CFP) host the Buckeyes next week, and the winner will go to the Big Ten title game. Michigan hasn't won the conference since 2004 and hasn't beaten Ohio State since 2011.
"We want to win all the marbles," Wolverines coach Jim Harbaugh said. "We're in the position we want to be in. We've been preparing for this, really the entire year, and now bring that preparation to life this week — play for it all."
If the Wolverines were distracted by that looming matchup, it didn't affect their play much this weekend. Maryland (5-6, 2-6) didn't reach the end zone until Michigan was up 31-3 in the third quarter.
McNamara opened the scoring with a 2-yard touchdown pass to Luke Schoonmaker. Then Haskins made it 14-0 with a 1-yard scoring run later in the first quarter.
Sainristil reached out with one arm to pull in J.J. McCarthy's pass in the back corner of the end zone, then secured the ball for a 13-yard TD that made it 21-3.
Haskins scored on another 1-yard run in the third, and when Maryland finally scored a touchdown on a 7-yard pass from Taulia Tagovailoa to Carlos Carriere, Michigan pulled off a trick play on the ensuing kickoff. Michael Barrett caught the kick near his own 20 and tossed the ball backward across the field to A.J. Henning, who ran all the way down the sideline for a TD to make it 38-10.
"They do that cross-field kick once or twice a game," Harbaugh said. "Our plan was, the first time they did it, we'd activate the throwback."
---
---
Tagovailoa ran for a 17-yard touchdown, but Michigan answered with a 77-yard scoring strike from McNamara to Edwards. Then DJ Turner intercepted a pass and ran it back 42 yards for a TD to make it 52-18 — and give the Wolverines touchdowns on offense, defense and special teams in a span of 4:04.
McCarthy closed out the scoring with a 5-yard TD run in the fourth.
THE TAKEAWAY
Michigan: So, here the Wolverines are again. They've won 10 games in a season when not much was expected of them, and now they'll try to break through against Ohio State. The Buckeyes hardly ever lose when they're on their game — and recently, they always seem to be on their game against Michigan.
Maryland: The Terps have had several chances to show they could match up with the top teams in the Big Ten, and they clearly weren't ready to do that. Maryland will now face Rutgers in its regular-season finale next weekend, with the winner becoming bowl eligible.
"I told our team we can't hang our heads," Terps coach Michael Locksley said. "We have to flush this one pretty quickly because we still have a lot to play for next week going up to New Jersey with the opportunity to win six, which we haven't done since 2016."
MILESTONES
Haskins ran for 78 yards, surpassing 1,000 for the season.
Tagovailoa broke Maryland's single-season record for completions. He had 19 on Saturday to bring his total to 287, one more than John Kaleo had in 1992.
"Great with the ball and a good teammate," Carriere said. "The biggest thing has been his leadership and the energy he brings to the whole team. He's going to continue to grow and get better and the sky's the limit. I'm excited to see what he'll do in the future."
POLL IMPLICATIONS
No. 7 Michigan State handed Michigan its lone loss this season, but now the Spartans have two defeats after losing to Ohio State in blowout fashion on Saturday, so the Wolverines will likely move up.
UP NEXT
Michigan: Hosts Ohio State on Saturday.
Maryland: At Rutgers on Saturday.
---
#18 Iowa vs. Illinois
Jones' return lifts No. 18 Iowa past Illinois 33-23
IOWA CITY, Iowa -- — Charlie Jones had a 100-yard kickoff return for No. 18 Iowa's first touchdown and the Hawkeyes went on to beat Illinois 33-23 on Saturday.
Iowa (9-2, 6-2 Big Ten) was trailing 10-0 in the first quarter when Jones took the kick near the right corner of the end zone and ran through a hole on the left side for the score.
"I knew I had a great block to the left, so I just cut inside," Jones said. "Then I saw guys blocking downfield. So it was just me and some grass. Guys were just working along the way."
Jones said it was a designed return the Hawkeyes had been working on the past week.
"It was great blocking, just like we drew it up, just like we saw on film," Jones said.
"Thank goodness we practiced that," Iowa coach Kirk Ferentz said. "When you get a play like that, boy, it helps."
Iowa wide receiver Arland Bruce IV had a 2-yard run for a touchdown and Caleb Shudak kicked four field goals, including a 51-yarder in the second quarter. Linebacker Jack Campbell's 32-yard interception return for a touchdown with 1:36 to play closed the Hawkeyes' scoring.
Iowa was outgained 312-255, but the Hawkeyes had enough offense for the win.
"The real common bond there is we find a way to win," Ferentz said. "It's still what the game's about. You talk about style points, and that's important at some point maybe. But to me, it's about trying to be successful, whatever the given situations are."
Illinois' Brandon Peters threw a 13-yard touchdown pass to tight end Luke Ford to end a 12-play, 75-yard drive that took 6:23 to start the game. But the Illini (4-7, 3-5) had just 9 yards on 10 plays in their next three possessions.
James McCourt had three field goals for the Illini.
Tyler Goodson ran for 132 yards for the Hawkeyes, his third 100-yard game of the season. Alex Padilla, making his second start, was just 6 of 17 for 83 yards.
"We grind it out," Padilla said. "Just playing complimentary football. We know it's going to be a fist fight every time we go out."
Peters, who threw a 16-yard touchdown pass to Isaiah Williams in the closing seconds, was 16 of 36 for 248 yards. Illinois' Chase Brown, who was averaging 106.4 rushing yards per game, was held to 42 yards on 13 carries.
"We kind of saw them as a running team, and we wanted to shut that down and make them one-dimensional," said Iowa safety Dane Belton, who had his Big Ten-leading fifth interception.
---
---
Iowa extended its winning streak against the Illini to eight games. The Hawkeyes have won 13 of the last 14 in the series.
"They tried to make us play one-handed," said Illinois assistant head coach George McDonald, who was the interim head coach for the game. "They tried to stop the run."
Illinois was playing without head coach Bret Bielema, who tested positive for COVID-19 earlier in the week.
"I'm disappointed, because I wanted to give him the game ball," McDonald said. "There's a lot of people in there who are hurting because we wanted to get this done. We had chances to get it done, and we didn't. So we've got to get better."
HISTORIC RETURN
Jones' kickoff return was the fourth 100-yard kickoff return in Iowa history. The last one was by C.J. Jones to open the 2003 Orange Bowl against USC.
Charlie Jones is the third player in program history to return a kickoff and a punt for a touchdown in a career.
The last Iowa player to return a kickoff for a touchdown was Ihmir Smith-Marsette, who had a 98-yarder in the 2019 Holiday Bowl.
FAMILY MOMENT
Iowa defensive back Henry Marchese was greeted by more than just his parents during the pregame Senior Day ceremony. Marchese's twin brother, Michael, a senior tight end for Illinois, was also there. The two hugged to a loud ovation from the crowd.
Henry Marchese, who plays on special teams, had a key block on Jones' kickoff return.
THE TAKEAWAY
Iowa's conservative offense drew scattered boos at times from the home fans, especially on a second-quarter possession inside Illinois territory when the Hawkeyes ran three consecutive running plays for minus-4 yards, leading to a Shudak field goal. Still, Iowa stayed in the Big Ten West Division title race heading into the final weekend of the season. "It seemed like it was a game of missed opportunities out there," Ferentz said.
POLL IMPLICATIONS
The Hawkeyes, who have been in the rankings all season, likely hold their position with the win.
UP NEXT
Illinois: Hosts Northwestern on Saturday.
Iowa: Visits Nebraska on Friday.
---
#19 Wisconsin vs. Nebraska
Allen carries No. 19 Wisconsin to 35-28 win over Nebraska
MADISON, Wis. -- — Braelon Allen continued a tradition of Wisconsin running backs steamrolling Nebraska defenses.
Allen rushed for 228 yards and three touchdowns – including a tiebreaking 53-yarder with 3:50 remaining – to help No. 19 Wisconsin outlast Nebraska 35-28 for its seventh consecutive victory Saturday.
Wisconsin has beaten Nebraska eight straight times and typically has done it with dominant rushing performances, starting with the night when Melvin Gordon and Montee Ball each ran for over 200 yards in the 2012 Big Ten championship game. Gordon rushed for a school-record 408 yards against Nebraska in 2014. Jonathan Taylor exceeded 200 yards against Nebraska three separate times.
"All week I heard about the yards and touchdowns that we have put up on Nebraska every year," Allen said. "It's cool to kind of continue the tradition."
The Badgers (8-3, 6-2 Big Ten, No. 15 CFP) handed Nebraska (3-8, 1-7) its fifth straight loss and moved a step closer to playing for a conference title.
Wisconsin will clinch its fourth Big Ten championship game appearance in the last six years if it wins its regular-season finale at Minnesota. Wisconsin is tied with No. 18 Iowa for first place in the West but owns the tiebreaker advantage because it beat the Hawkeyes 27-7 on Oct. 30.
The Badgers kept their winning streak alive Saturday because Allen was spectacular on a day when their top-ranked defense wasn't as effective as usual.
Allen's performance came with Gordon watching as an honorary captain. Allen, who considers the Denver Broncos running back an idol and an inspiration, said it was surreal to shake his hand and talk to him before the game.
"It started with the 408 against Nebraska," Allen said. "At the time, I was just finishing up my fifth-grade season. I honestly didn't know if I even liked football at that point. I saw that game and that's kind of what sparked it all for me, trying to be like him one day."
Allen, who had 22 carries, has rushed for over 100 yards in each of Wisconsin's last seven games. The 17-year-old had totaled 12 carries during Wisconsin's 1/3 start.
He has rushed for a total of 401 yards and six touchdowns in the two games since fellow running back Chez Mellusi suffered a season-ending knee injury. Mellusi was Wisconsin's leading rusher at the time he got hurt.
---
---
"He wants to do it for the guy next to him," offensive tackle Tyler Beach said. "I think that's where his maturity is right now. It's on a whole different level for a guy as young as he is."
He had a career-long 71-yard touchdown in the first quarter and a 3-yard score late in the third quarter. After Nebraska tied the game with 6:27 left in the game on Marvin Scott's 3-yard touchdown, Allen put Wisconsin ahead again with one more breakaway.
Allen went through the right side of the line, headed toward the sideline and easily shed safety Myles Farmer's tackle attempt inside the 30.
"He's a special guy," Nebraska defensive end Garrett Nelson said. "He's going to be a problem for the Big Ten for a long time."
Nebraska nearly found a way to win anyhow.
The Cornhuskers drove to Wisconsin's 11-yard line in the final minute but ended up losing the ball on downs at the 21.
After right tackle Bryce Benhart committed a holding penalty that pushed the Cornhuskers back 10 yards, Adrian Martinez threw four straight incompletions. Faion Hicks broke up the fourth-down pass to Zavier Betts with four seconds left.
Nebraska coach Scott Frost received an unsportsmanlike conduct penalty after the fourth-down incompletion, apparently believing Hicks made contact with the receiver before the throw arrived.
"I didn't get an explanation," Frost said. "I was too angry to ask for one."
Martinez went 23 of 35 for 351 yards with one touchdown and two interceptions, both by Collin Wilder. He became Nebraska's all-time leader in career total offense with 10,792 yards. Tommy Armstrong Jr. had 10,690 yards in total offense with 10,690.
THE TAKEAWAY
Nebraska: In its first game since Frost fired four offensive assistants, the Cornhuskers gained 452 yards, including 143 yards in receptions by Austin Allen, a school record for tight ends. The Huskers' total was the highest this season against Wisconsin's top-ranked defense. But it still added up to one more close loss against a quality team. "We had a really good game plan, and the team executed it well," Frost said. "We kind of stopped ourselves as much as we got stopped."
Nebraska is 5-19 in one-score games in Frost's four seasons.
Wisconsin: The Badgers had three scoreless trips inside Nebraska's 35-yard line but still showed their offense is good enough to win games when their defense isn't dominant.
POLL IMPLICATIONS
Wisconsin could move up a few spots but probably won't get into the top 15.
UP NEXT
Nebraska: Hosts Iowa on Friday.
Wisconsin: Visits Minnesota on Saturday.
---
Rutgers vs. Penn State
Veilleux steps in to lead Penn State over Rutgers, 28-0
STATE COLLEGE, Pa. -- — Christian Veilleux used the biggest opportunity of his young college career to make up for a lost time on Saturday.
Penn State's freshman quarterback, who was out of football a year ago when his high school canceled the season due to the coronavirus pandemic, stepped in for an ailing Sean Clifford and shook off the rust.
Veilleux sparked what had been a lifeless Penn State offense with three touchdowns in a 28-0 win over Rutgers on Saturday.
Veilleux was not available for comment after the game as Penn State does not allow freshmen to speak to reporters.
"We faced as much adversity in this game as I've been around," Penn State coach James Franklin said.
Jahan Dotson, Parker Washington and Malick Meiga caught touchdown passes and Keyvone Lee ran for a score for the Nittany Lions who snapped a two-game skid at Beaver Stadium.
The Nittany Lions (7-4, 4-4 Big Ten) did so with 35 players battling flu-like symptoms through the week and up to kickoff. Clifford, who left the game midway through the first quarter, was among them.
The three-year starter missed warm-ups as he was receiving fluids in the locker room. Afterward, Clifford told Franklin he felt like he could play. It didn't last. Clifford was just 2-for-8 passing with 23 yards before he returned to the locker room for more treatment.
Although he had never played a collegiate down and took a while to find his rhythm, Veilleux settled in and the rest of Penn State's offense did enough in the second half to beat the Scarlet Knights (5-6, 2-6) for the 15th straight time.
Veilleux completed 15 of 24 passes for 235 yards. His eight-yard pass to Dotson with 1:03 to play in the second quarter broke a scoreless tie and was the lone highlight to that point in a game that had been without any.
"That led to more confidence and more eagerness to make plays like he did today," Washington said.
Both offenses traded punts and just-missed turnovers in the first quarter. They combined for just 53 yards on 31 plays in the opening 15 minutes before Penn State managed the 10-play drive capped by Dotson's 10th touchdown catch of the year.
Penn State was much more efficient in the second half where Veilleux ended a pair of quick third-quarter drives with big plays.
He dropped a 17-yard pass in to Washington in the end zone with 3:32 to play in the third, then hit an uncovered Meiga over the middle for a 67-yard score two minutes later.
Penn State's defense did the rest.
---
---
Rutgers was held to 165 yards, forced to punt 10 times, converted just 4 of 15 third downs and crossed midfield just once — in the opening minute of the fourth quarter.
Noah Vedral led the Scarlet Knights with 91 yards on 12-of-23 passing.
"That defense is Top 10 for a reason," Rutgers coach Greg Schiano said. "Without watching it I can't tell you why we couldn't run the football even a little bit."
BOWL BOUND?
Rutgers hasn't played in a bowl game in seven seasons and will need to win against Maryland next week to punch its postseason ticket.
While Schiano was subdued and disappointed in the visiting team media room, he still thinks the Scarlet Knights can end their postseason drought if they can clean up a few mistakes against five-win Maryland.
"We still, in the last game of the year, have the pen in our hand and we have a chance to write it," Schiano said. "And so does the team we're playing."
THE TAKEAWAY
Rutgers: The Scarlet Knights played hard on defense, but had no help on the other side. Penn State's defense was a big part of their struggles, but the Scarlet Knights still dropped balls, committed penalties and got very little push with their running game. They'll need to be a lot better next week if they want to make their first bowl appearance since 2014.
Penn State: Veilleux gave Penn State fans some hope after Clifford, who's been banged up all year, was unable to continue. The Nittany Lions still need more from players not named Dotson, however.
UP NEXT
Rutgers: Hosts Maryland.
Penn State: Visits No. 7 Michigan State.
---
Purdue vs. Northwestern
Purdue rolls in second half to top Northwestern at Wrigley
CHICAGO -- — Aidan O'Connell threw three touchdown passes to Milton Wright on Saturday to lead Purdue to a 32-14 victory over Northwestern at Wrigley Field.
O'Connell was 29 for 39 for 423 yards and Wright had 213 yards on eight catches — both career highs — to help the Boilermakers (7-4, 5-3 Big Ten) erase memories of last weekend's 59-31 drubbing at Ohio State.
"Today was my day and I had to execute," Wright said. "(O'Connell) is a great quarterback and I'm happy I could make the plays."
Evan Hull had 96 yards and a touchdown on 25 carries as the Wildcats (3-8, 1-7) dropped their fifth straight.
The Boilermakers never trailed and scored touchdowns on their first two possessions of the second half to give themselves some breathing room. Wright, who'd never caught more than one touchdown before Saturday, had scoring catches of 17 and 45 yards in the third quarter to cap his best game.
David Bell had 12 receptions for 101 yards and seemed to draw more attention from the Wildcats. It left Wright in frequent mismatches on the left side of the field.
"They were covering David and it left a lot of one-on-one opportunities on that side of the field," O'Connell said. "We had to take advantage of those."
Up 6-0 midway through the second quarter, O'Connell found Wright streaking down the sideline for a 53-yard touchdown pass. Northwestern answered with a long touchdown drive in the final 1:45 to go to intermission down 13-7.
"We lost the one-on-one matchups," Wildcats coach Pat Fitzgerald said. "When we tackled them, we held them to field goals."
Mitchell Fineran kicked four field goals for the Boilermakers, who ended their road season 4-2. The two losses were at Notre Dame and Ohio State.
Andrew Marty was 10 for 14 for 93 yards and a touchdown for Northwestern, which played its home finale at the famed home of the Chicago Cubs.
---
---
JUST LIKE THEY DREW IT UP
Purdue's Chris Van Eekeren lost his footing as he made contact with the second-half kickoff and sent the ball dribbling into the middle of the field. Things still went the Boilermakers' way: Purdue recovered the unintentional onside kick and turned the possession into its second touchdown of the day.
"It wasn't by design," coach Jeff Brohm said. "We had some luck on our side and we took advantage of it.
"It was huge. They had some momentum after scoring at the end of the first half and they were going to get the ball back."
STEALING SIGNS?
The south end of the field ran along the right-field line of the ballpark but a few stretches of the warning track were the only patches of dirt. Both the mound and base paths were covered with sod for the game and the teams shared the north sideline due to a lack of space on the south end.
Each team had a couple of people holding up banners at either 45-yard line throughout the game to keep the opposition from getting nosy.
WRIGLEY RETURN
Saturday's game was the second football game at the historic ballpark since the NFL's Bears moved to Soldier Field after the 1970 season. The Wildcats, who lost to Illinois here in 2010, will play three future games at the park under an agreement with baseball's Chicago Cubs.
Saturday's game wasn't a sellout — 31,500 tickets were sold — but O'Connell, who prepped in Chicago's northern suburbs, still won't forget it.
"It was an amazing atmosphere," he said. "I'm so lucky to get a chance to play here and have a good performance here."
THE TAKEAWAY
Purdue: A long opening drive ended with a missed field goal try and the second went three and out, but the offense was fine after that. The Boilermakers scored on their next seven possessions and Northwestern rarely had an answer when O'Connell targeted Wright. The aerial attack should continue next weekend against an Indiana defense that started Saturday 74th in passing yards allowed.
Northwestern: Marty was briefly replaced by Ryan Hilinski in the second quarter and seemed to respond positively, but the Wildcats' inability to sustain most of their first-half drives — one ended with a blocked field goal try — left them playing catch-up the rest of the day. Northwestern hasn't scored more than 14 points during the five-game skid.
UP NEXT
Purdue: Hosts Indiana on Nov. 27.
Northwestern: Visits Illinois the same day.
---
Minnesota vs. Indiana
Gophers knock out Hoosiers with 1st-half flurry, win 35-14
BLOOMINGTON, Ind. -- — Tyler Nubin's interception gave Minnesota a chance to swing Saturday's game.
Tanner Morgan and Ky Thomas cashed in.
Thomas ran for two scores, Morgan threw for two more and Minnesota produced two touchdowns in the final 46 seconds of the first half before pulling away from Indiana 35-14.
"It's been a long few weeks," coach P.J. Fleck said. "This game was going to be really short, it felt like. Whatever happens, I just like the way our guys have responded."
Minnesota (7-4, 5-3 Big Ten) reinforced Fleck's point after losing its previous two.
This time the Golden Gophers found some offensive punch behind Thomas, who ran 26 times for 105 yards, and Morgan, who threw more TD passes in four quarters than the previous four games.
But Nubin's big play changed everything.
After Thomas tied the score at 7 midway through the second quarter and broke the tie with a 1-yard TD run with 46 seconds to go, Nubin picked off Donaven McCulley's floater and returned it to Indiana's 31-yard line. Three plays later, Morgan hooked up with Chris Autman-Bell on a 14-yard TD pass that made it 21-7 — after a replay review overturned the incompletion call on the field.
Indiana (2-9, 0-8) never recovered, losing its seventh straight.
"That's on me," Indiana coach Tom Allen said. "I'm not going to be conservative, so that's on me. We're not going to be scared, we're going to throw the football."
Indiana started fast, capping an impressive opening drive with McCulley scooping up a fumbled snap and scoring from 11 yards out.
But Morgan didn't fret. He let the ground game keep them in the contest and then connected with Autman-Bell twice for scores to seal it.
"He's the all-time winningest quarterback in the history of our school," Fleck said after giving Morgan a game ball. ""That's a long time. Winners find ways to win."
---
---
THE TAKEAWAY
Minnesota: The Golden Gophers needed something to go right and a trip to Indiana did the trick. Minnesota played more like the team that won four straight in October than the one that struggled to score against Illinois and then No. 19 Iowa. Next week's game will dictate the Gophers' postseason fate — and perhaps the West Division championship.
Indiana: The Hoosiers added another dubious chapter to an already lost season by going winless at home in conference play for the first time since 2015 and just the third time since 2011. One goal still remains: Keeping the Old Oaken Bucket with a win next weekend.
RECORD-BREAKER
Minnesota left guard Conner Olson became the Big Ten's career leader in games started Saturday. Olson broke a tie with former Ohio State center Billy Price by making his 56th consecutive start — every game since coach P.J. Fleck arrived in 2017. Olson took advantage of the extra year of eligibility the NCAA granted from last year's COVID-19 shortened season. Olson hopes to attend medical school after his football career ends.
STAT PACK
Minnesota: Thomas has four 100-yard games this season -- all since Oct. 23. ... Tight end Brevyn Spann-Ford caught three passes for a career-best 67 yards. He nearly surpassed his previous career high (49 yards) on a 48-yard completion in the first half. ... Autman-Bell had four catches for 44 yards. ... Morgan threw more TD passes Saturday than he had in his previous four games (one).
Indiana: The Hoosiers managed just 218 total yards and have now scored nine TDs in conference play. They've produced more than one touchdown in just twice against Big Ten foes this season. .. McCulley was three of seven with 17 yards and two interceptions and rushed 16 times for 72 yards. ... Safety Devon Matthews did not return after injuring his left shoulder in the first half.
UP NEXT
Minnesota: Faces No. 15 Wisconsin for Paul Bunyan's Axe next Saturday.
Indiana: Will renew its rivalry at Purdue next Saturday after the series was canceled twice last season.
Chicago Journal Newsletter
Join the newsletter to receive the latest updates in your inbox.