College Football 2022, Week 3: B1G Summary + Notre Dame
Notre Dame's high hopes are dashed, Wisconsin loses in Camp Randall, Iowa State holds off Iowa, Nebraska loses to Georgia Southern as a 3 TD favorite. Here are the B1G stories of the week.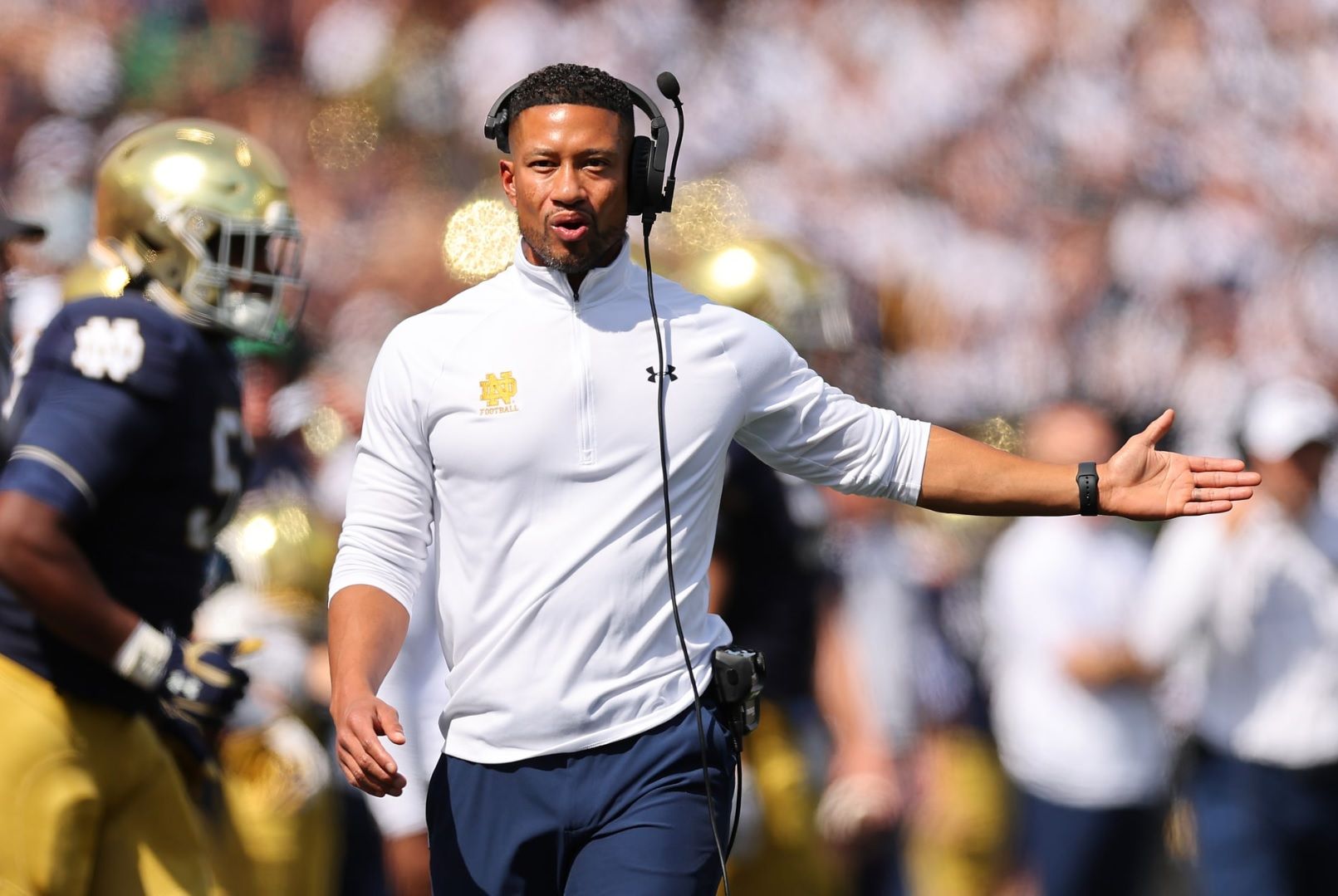 Duke vs. Northwestern
Waters rushes for 2 TDs, Duke beats Northwestern 31-23
EVANSTON, Ill. — Jordan Waters had a pair of touchdowns on the ground, Riley Leonard threw for a score and Duke beat Northwestern 31-23 on Saturday.
Leonard, who was 13 of 24 for 240 yards and an interception, found Jordan Moore with a short scoring pass early in the fourth quarter to give Duke a 28-16 lead and Brandon Johnson had a late interception in Wildcat territory to set up a field goal with 1:18 remaining.
Johnson finished the game by pouncing on Evan Hull's fumble with 12 seconds left.
"So many times you see that play turn into a touchdown because your guys don't finish the play," Duke coach Mike Elko said of the recovery in the end zone. "It's just a credit to the effort our kids are playing with now."
Waters rushed for a career-best 91 yards, including a 42-yard scoring run for the Blue Devils (2-0). Jaylen Coleman added 83 yards and a short touchdown run.
Hull caught 14 passes for a career-best 213 yards and a touchdown, and added 65 yards and a score on the ground for the Wildcats (1-1), who trailed 21-0 in the opening 16 minutes. Ryan Hilinski was 36 of 60 for a personal-high 435 yards with two scores and an interception.
"He probably doesn't throw the ball 60 times if the game didn't start out the way it did," Wildcats coach Pat Fitzgerald said. "Our guys had great resolve and kept battling, but to sum it up there was a lot of self-inflicted wounds."
Northwestern got within 21-10 by halftime and twice cut the lead to five points in the second half.
Elko won his first road game with Duke despite being penalized seven times for 85 yards. Jalon Calhoun had six catches for 108 yards and Eli Pancol added two for 102.
"We were up and we were down," Duke safety Darius Joiner said. "We just kept saying not to look at the scoreboard and keep playing."
THE TAKEAWAY
Duke: Elko wished his team would've built on the early 21-0 advantage, but his first road trip ended well. The Blue Devils watched Northwestern creep back into the game but the defense got stingy when it needed to and the offense shook off some bad luck and bad possessions to turn the game into a two-score affair in the fourth quarter. A 4-0 start before the Oct. 1 ACC opener against Virginia looks realistic.
Northwestern: The Wildcats bounced back from a rough first quarter but the defense came away looking even worse than it did in a season-opening win over Nebraska. The Blue Devils evenly split their 463 yards between the ground and air and averaged more than 8 yards per play. There's a lot to shore up before an Oct. 1 Big Ten road trip to Penn State.
"We can't allow that to continue to happen," Fitzgerald said. "That's a recipe for disaster in the long term."
SHIFT/DOWNSHIFT
The Wildcats went for it on fourth-and-3 from the Duke 39 late in the third and cashed in when Hilinski found Hull with a short pass. Hull sailed down the sideline for a touchdown and a failed two-point try left the score 21-16.
Duke took the momentum right back on the ensuing possession; a long drive that ended with Leonard's short scoring pass to Moore.
"Biggest drive of the game," Elko said. "They had all the momentum going and that's the time your guys have to answer back. That's a critical four-point play we had to convert."
GREAT ESCAPE
Duke was facing third-and-6 from its own 14 on the final play of the first quarter when Leonard connected with a streaking Pancol for an 81-yard gain up the middle. It set the Blue Devils up for a 21-0 lead early in the second and ended an opening quarter that saw the visitors outgain Northwestern 237-76.
UP NEXT
Duke: The Blue Devils host North Carolina A&T next Saturday.
Northwestern: The Wildcats welcome Southern Illinois next Saturday.
---
Illinois vs. Virginia
Illinois defense locks down Virginia for 24-3 victory
By GAVIN GOOD | Associated Press
CHAMPAIGN, Ill. — Chase Brown rushed for 146 yards on 20 carries, Tommy DeVito threw for 196 yards and two scores and the Illinois defense stifled Virginia's once-potent attack to lead the Fighting Illini to a 24-3 victory on Saturday.
Things looked dicey for Illinois (2-1) after DeVito threw an interception on his first pass attempt of the day and when Brown fumbled after a first-down run.
However, a dominant defense cleared the path to victory as the Illini held Virginia (1-1) to 1 of 16 on third-down conversions.
"This was a big statement to me about where we were a year ago to where we are now," Illinois coach Bret Bielema said. "Obviously, they've got new coaches and everything, but the majority of a lot of there players were there, some of ours are back and I wanted to see where we are as a program."
Cornerback Devon Witherspoon shined with seven tackles and three pass breakups and defensive end Keith Randolph came up with 2.5 tackles for loss, a sack and seven tackles.
DeVito bounced back to complete 17 of 25 passes, including 39- and 2-yard touchdown throws to tight ends Michael Marchese and Tip Reiman, respectively, to help the Illini take a 21-3 lead into halftime.
"We have a lot of trust in everybody that's out there, but to see them flourish and really be able to move the chains, get some touchdowns and keep that going was awesome," DeVito said.
True freshman Matthew Bailey put Illinois ahead 7-3 by recovering a muffed punt that bounced into the end zone for a touchdown with 5:38 left in the opening quarter.
"I had goosebumps everywhere, to be honest," Bailey said. "Running, looking at all the fans, the band ... it was a crazy feeling."
Virginia quarterback Brennan Armstrong struggled to find his receivers, completing just 13 of 32 passes for 180 yards with two interceptions. He threw for 405 yards and five touchdowns in a 42-14 win against the Illini in 2021.
"They just flat out beat us on every one-on-one, that's all I can really say," Armstrong said.
Cavaliers running backs combined for 42 rushing yards on 29 carries.
Brendan Farrell put Virginia ahead in the first quarter with a 42-yard field goal for the Cavaliers' lone score.
Virginia's Tony Elliott shouldered the blame for a "rough day at the office" in his first loss and first road trip as a head coach.
"Hopefully this will be the catalyst that sparks us to make sure that we don't take anything for granted," Elliott said. "I also said last week, especially after halftime of the (Richmond win) offensively, 'Don't look at the stats.' We have a lot of room to improve, we've got to get better and can we handle success? Offensively, we did not handle success well."
Bailey and safety Kendall Smith intercepted Armstrong twice in the fourth quarter to halt a pair of Virginia drives.
Illinois converted on 5 of 14 third-down attempts and out-gained Virginia by 172 yards.
The defense bailed Illinois out repeatedly as Ryan Walters' crew allowed just three points off four first-half turnovers. Virginia gained 11 yards on two drives that started in Illinois territory after takeaways.
"Defense gave us the ball in plus territory twice," Armstrong said. "What else could you ask for?"
Bielema credited his defense for standing up the Cavaliers when put in some precarious positions.
"When we threw that first pick, to me, that's a defensive opportunity," Bielema said. "We want to put out a fire and they did that exact deal."
Caleb Griffin tacked on a 23-yard field goal in the third quarter for Illinois.
DEVITO DELIVERS
Don't look now, but Illinois might finally have a capable quarterback after cycling through mediocre and subpar talent at the position over the last decade.
"Any way shape or form, I have to find a way to give the team a chance to move the ball and keep the sticks moving on third down," DeVito said.
DeVito has completed 67% of his passes for 622 yards, six touchdowns and two interceptions through three games.
Those numbers are a massive improvement for a program that hasn't seen a quarterback surpass 2,000 passing yards in a season since Wes Lunt threw for 2,761 yards in 2015.
THE TAKEAWAY
Elliott has a talented quarterback and capable receivers, but the Cavaliers will need to improve along its offensive line throughout the season to compete in the ACC.
He said he would have to "challenge the staff, myself and the players" to make sure Virginia can right the ship before conference play begins with away games at Syracuse and Duke.
"All the things I saw in the game are correctable," Elliott said. "It's just a matter of making sure throughout the course of the week that you have a right mindset from a preparation standpoint. Understand that the separation is in the preparation."
The Illini look like they won't be a pushover in a Big Ten West division that saw normal front-runners like Wisconsin and Iowa lose on Saturday.
Brown and DeVito have breathed new life into the offense and the defense has held Wyoming, Indiana and Virginia to a combined 29 points.
UP NEXT
Virginia: The Cavaliers welcome Old Dominion to Scott Stadium next Saturday.
Illinois: The Illini have a bye next week before hosting FCS opponent Chattanooga on Thursday, Sept. 22 in Champaign.
---
Minnesota vs. Western Illinois
Morgan, Minnesota air it out in 62-10 romp past W. Illinois
By DAVE CAMPBELL | AP Sports Writer
MINNEAPOLIS — Minnesota never let up against another overmatched opponent, from start to finish and top to bottom — all the way down to the furry maroon and gold mascot.
Tanner Morgan passed for 287 yards and a score over 2 1/2 quarters and had one of Minnesota's seven rushing touchdowns in a 62-10 victory over Western Illinois on Saturday.
Mohamed Ibrahim (23 carries for 130 yards) and Trey Potts (10 carries for 79 yards) kept their comeback from injuries going strong with two scores apiece on the ground for the Gophers (2-0), whose 679 total yards were the third most in program history.
"This team has their own external expectations and the style of play they want to play with, and it really doesn't matter the opponent," coach P.J. Fleck said.
Morgan went 14 for 18 passing without a turnover before yielding to backups Athan Kaliakmanis and Cole Kramer for the bulk of the second half. The Gophers posted their highest score in Fleck's six seasons and their most since a 63-26 victory over Indiana in 2006.
Goldy Gopher's customary commitment to one pushup per point became quite the struggle after the final touchdown, a 30-yard run by reserve Preston Jelen for his first career score. Those costume-covered arms barely squeezed out the last couple of those 63 repetitions while the students remaining in the stadium boisterously cheered him on. For the afternoon, he logged 353 pushups.
Morgan had his most passing yards since the late-season loss to Wisconsin in 2019. He hit fellow sixth-year standout Chris Autman-Bell five times for 118 yards and tight end Brevyn Spann-Ford for a 45-yard touchdown while crisply spreading the ball all over the field on deep posts, quick outs and of course his trademark slants.
"It's not a secret formula. It's about understanding the plays we have and what we want to accomplish on that play," Morgan said. "We've got a lot of dudes around on our offense who can make plays, and that makes my job a lot easier. Every guy on the field I trust wholeheartedly."
After a quick kick by Western Illinois quarterback Nick Davenport that produced a 64-yard punt in the second quarter, Morgan went 3 for 3 for 88 yards — all to Autman-Bell — on a 96-yard scoring drive that made it 28-3.
"It's all a huge trust thing," Autman-Bell said. "I appreciate the love from the guys."
Davenport's 33-yard pass to Naseim Brantley for the Leathernecks (0-2) with 4:26 left marked the first touchdown given up by the Gophers this year. They beat New Mexico State 38-0 last week.
The Gophers gave the Leathernecks a golden opportunity to stay close for a little bit. Michael Brown-Stephens lost a fumble after a short reception on the second snap of the game, when the ball was forced out by nose tackle Tre Henry and recovered at the Minnesota 45.
Western Illinois failed to move the chains, though, and Ogala's swing pass to Jafar Armstrong on fourth and 3 was smothered by safety Jordan Howden for a 2-yard loss.
Howden later had a diving interception among the highlights for Minnesota's defense, which limited the Leathernecks to 35 yards on 19 rushing attempts.
LEVEL UP
The Gophers, who beat Western Illinois 29-12 in 2013 in the only previous meeting, are 61-4 all-time against teams currently in the FCS. Their last such loss was to North Dakota State in 2011.
THE TAKEAWAY
Western Illinois: Picked to finish last in their 11-team league that's perhaps the best in the FCS, the Leathernecks have started over this year under new head coach Myers Hendrickson.
Minnesota: The return of offensive coordinator Kirk Ciarrocca after two seasons elsewhere has sparked a revival of Minnesota's passing attack that lagged in his absence and after wide receivers Tyler Johnson and Rashod Bateman departed to the NFL. Morgan struggled at times in 2021 during a difficult year marked by the death of his father, but he's been as sharp as ever this season.
"I think he looks poised. I think he looks confident. I think he's earned the right to be confident," Fleck said. "I think what you see is he always knows where to go with the ball, and I think that's a compliment to Kirk."
UP NEXT
Western Illinois plays Southern Utah next Saturday, the home opener and last nonconference game.
Minnesota hosts Colorado next Saturday. The Gophers beat the Buffaloes 30-0 on the road in 2021.
---
#3 Ohio State vs. Arkansas State
Harrison grabs 3 TDs, No. 3 Buckeyes rout Arkansas St 45-12
COLUMBUS, Ohio — With two Ohio State starting receivers sidelined with injuries, Marvin Harrison Jr. got another prime chance to shine on a team loaded with great wideouts.
Harrison, the son of a former NFL star, caught three touchdown passes from C.J. Stroud as the No. 3 Buckeyes beat Arkansas State 45-12 on Saturday.
With Jaxon Smith-Njigba and Julian Fleming unavailable, Harrison became Stroud's go-to guy, grabbing a career-high seven passes for 184 yards, including a pair of in-stride 42-yard touchdowns in the first half, and a leaping, 30-yard scoring grab with two defenders draped on him in the third quarter.
"He can put it wherever he wants to," Harrison said of Stroud. "He's a great player – it's like he handed me the ball."
Coupled with his three-touchdown performance as a first-year player in the Rose Bowl last season, Harrison became only the second Ohio State player to have a pair of three-touchdown receiving games in his career. Joey Galloway had multiple touchdown games in 1993 and '94.
"Marvin's route running is very mature for his age," Ohio State coach Ryan Day said. "When you see somebody who has played as much as he had with the high level of route running, it's pretty remarkable."
TreVeyon Henderson ran for another two scores and Emeka Egbuka had a 51-yard TD reception for the Buckeyes (2-0)
Stroud, a Heisman Trophy favorite, finished 16 for 24 for 351 yards and four touchdowns as Ohio State gained 538 yards.
Henderson busted through for an 8-yard scoring run in the first quarter and a 23-yard romp to open the second half. He finished with 10 carries for 87 yards.
Ohio State had a large margin of error with the Sunbelt Conference team, and it was necessary in the first half.
Kicker Dominic Zvada was responsible for all of Arkansas State's scoring, but Ohio State miscues set up the first two field goals.
Penalties helped put the Red Wolves in range for a 30-yard Zvada boot in the first quarter. Blown coverage and a missed tackle on a long James Blackman pass to Champ Flemings got them in range for another.
"We got in the red zone a couple of times, but we've got to find ways to finish," said Blackman, who threw for 188 yards. Flemings had 10 catches for 105 yards.
THE TAKEWAY
Arkansas State: The Red Wolves looked for a short time like they might keep up, but once Ohio State cleaned up its mistakes the rout was on. The Arkansas State offense couldn't get any traction against unpredictable Ohio State defensive looks.
"When you play a team like Ohio State, every mistake is magnified," Arkansas State coach Butch Jones said.
Ohio State: Stroud, who was still trying to shake off the preseason rust in last week's 21-10 win over Notre Dame, showed that he's regained his touch. It will be interesting to see if Stroud and Harrison can keep up their chemistry as the quality of opponents improves.
"We're playing with toughness, we're playing with an edge, we're taking care of the football and all those are positive things," Day said. "But the negative things get us off schedule, and we don't quite execute at a high level, and then it throws you off."
YOU CAN'T DO THAT
The Buckeyes were penalized nine times for 85 yards, after drawing seven flags costing 75 yards last week against Notre Dame.
Cornerback Denzel Ward drew two pass-interference flags in the same series in the first half. Defensive tackle Taron Vincent was called for unsportsmanlike conduct for something he did as the first half ended and was benched in the second half.
"That's unacceptable," Day said. "We've got to get that cleaned up."
POLL IMPLICATIONS
A flashy offensive showing in the rout of a heavy underdog should keep the Buckeyes where they are.
UP NEXT
Arkansas State: At Memphis next Saturday night.
Ohio State: Hosts Toledo next Saturday.
---
Hawai'i vs. #4 Michigan
J.J. McCarthy becomes QB1, No. 4 Michigan tops Hawaii 56-10
ANN ARBOR, Mich. — J.J. McCarthy did enough to win the job.
McCarthy was sharp in his first start, throwing for three touchdowns to help No. 4 Michigan overwhelm Hawaii 56-10 on Saturday night.
Wolverines coach Jim Harbaugh said McCarthy will be the team's first-string quarterback next week against Connecticut.
"He's earned it," Harbaugh said.
McCarthy had his turn to take the first snap after Big Ten championship-winning quarterback Cade McNamara had a lackluster performance in the season-opening win over Colorado State as the starter.
The sophomore made the most of his opportunity against the Rainbow Warriors, throwing a 42-yard touchdown pass to Roman Wilson on his second snap and 13-yard pass to Ronnie Bell early in the second quarter to give the Wolverines (2-0) a four-touchdown lead.
"It was a near-flawless performance," Harbaugh said. "He was 11 for 12, and one was dropped."
McNamara entered the game with 6:22 left in the first half and took a sack to end his first possession.
McCarthy went back in and threw for his third score, dropping back and stepping up in the pocket before connecting with Cornelius Johnson for a 17-yard touchdown late in the first half to give Michigan a 42-0 lead.
"I can't remember having one like that myself," said Harbaugh, a former Michigan and NFL quarterback.
McCarthy, a former five-star recruit, finished 11 of 12 for 229 yards without a turnover.
"He controlled the game," said Blake Corum, who ran for 88 yards and a touchdown on nine carries. "He was confident. I expected nothing less."
McNamara started the second half and the senior finished 4 of 6 for 26 yards with an interception.
"He's got gravel in his guts," Harbaugh said. "He'll be ready for his next opportunity."
The Rainbow Warriors (0-3) were scoreless until late in the third quarter when Matthew Shipley made a 26-yard field goal, taking advantage of favorable field position following their second sack of McNamara.
With Michigan backups getting a chance to play, freshman Tylan Hines ran for a 54-yard score to make it 49-10.
"What an experience for these guys that get to play here, and play an opponent like that," Hawaii first-year coach Timmy Chang said. "I'm proud of them. I'm proud of how they played four quarters, but it was a tall task for us."
HONOLULU GUY
Wilson, who hails from Honolulu, caught a touchdown pass on McCarthy's first throw and ran for a 21-yard score after the quarterback casually flipped it to him on an end-around.
"I think he knew almost everybody over there," Bell said. "He probably had a big weight on his shoulders and to play the way he did is awesome against his hometown."
INJURY REPORT
Harbaugh said he did not have an update on running back Donovan Edwards, who was injured in the first half after he had 26 yards rushing and a score on three carries along with a 33-yard reception while lining up as a wide receiver.
LATE START
The game was scheduled to start at 8 p.m., but lightning in the area cleared the stadium before the game and led to a 1-hour delay.
THE TAKEAWAY
Hawaii: Chang, a former star quarterback at the school, is facing quite a challenge. The Rainbow Warriors opened the season with two home games and lost 63-10 to Vanderbilt and 49-17 to Western Kentucky. Chang is following Todd Graham, who resigned as coach in January after former players and some parents criticized his management style and relationships with players.
Michigan: Before the season began, Harbaugh said he would decide on his Week 3 starter after both McCarthy and McNamara had a shot to start a game. McCarthy's talent as a passer and runner gave him an edge in the competition. McNamara accomplished a lot last year, but he has struggled this season and that has led to him losing his role as starter.
POLL IMPLICATIONS
The Wolverines will likely remain ranked No. 4 because the teams ahead of them in the AP Top 25 also won their games.
UP NEXT
Hawaii: Hosts Duquesne, a second-tier college football program that beat NAIA-level Thomas More after opening with two losses.
Michigan: Hosts Jim Mora-led Connecticut (1-2) in the third of four straight home games to open season.
---
#14 Michigan State vs. Akron
No. 14 Michigan State runs for 6 TDs in 52-0 rout of Akron
EAST LANSING, Mich. — Jalen Berger ran for 107 yards and three touchdowns and Michigan State's defense forced four fumbles Saturday to help the 14th ranked Spartans to a 52-0 victory over Akron.
It was the largest margin of victory for Michigan State (2-0) since beating Eastern Michigan by 59 points in 2014.
"Our focus was better, our intensity throughout was better," Michigan State coach Mel Tucker said. "There was a lot of good things for us to build upon with our team in all three phases. And we have some things to clean up if we expect to go on the road and get anything done."
Kendell Brooks, filling in for injured starting safety Xavier Henderson, forced the ball out twice in the first quarter. He has forced three fumbles in the Spartans' first two games.
"KB, he's getting better," Tucker said. "We have confidence in him to go in the game and get the job done and make plays and be physical and knock the ball off people. I think as he gains more experience he's going to continue to get better. That's good when guys can go in, execute and make plays."
On Akron's opening drive, the senior safety knocked the ball loose from tight end TJ Banks and linebacker Cal Haladay picked up the ball and ran 22 yards to the Michigan State 41. Six plays later, Jarek Broussard scored on a 1-yard run. Haladay later forced a fumble in the second half when he sacked backup quarterback Jeff Undercuffler.
"I was just reading my keys," said Brooks who was making his first career start at Michigan State. "It was cover 3 so I was reading the quarterback. I saw him take his hand off the ball and throw. So I kind of just broke and I glanced over to the tight end to see where he was throwing, and I just ran through contact."
Brooks also punched the ball out from receiver Shocky Jacques-Louis, leading to a 1-yard touchdown run by Berger.
Jacoby Windmon, who had four sacks against Western Michigan last week and another one and vs. Akron, forced his second fumble in two games when he pounced on a bobbled pitch to Jonzell Norrils and Berger followed with his second score on another 1-yard run.
Michigan State closed the first-half scoring with Jack Stone's 43-yard field goal to make it 24-0.
The Spartans continued the scoring in the second half with a 16-yard touchdown pass from backup quarterback Noah Kim to Tre Mosley, 2-yard touchdown runs by Broussard and Berger, and a 1-yard run by Elijah Collins.
Broussard said he doesn't mind sharing the workload with Berger. In addition to the five touchdowns, the pair accounted for 188 of Michigan State's 260 rushing yards.
"I feel like we complement each other really well running the ball," Broussard said. "There's no drop-off from my point of view."
Akron coach Joe Moorhead said the turnovers killed any hope of pulling off an upset.
"Can't turn it over once against a team like this, let alone four times and expect to win," he said. "You can't put your defense in adverse situations like that. Two or three of the turnovers resulted in scores for the other team. ... You can't let a team like Michigan State that's big and physical get extra possessions and wear you down."
INJURY REPORT
Akron (1-1) starting quarterback DJ Irons was knocked out of the game with just over six minutes left in the first half. The Big Ten Network broadcast reported that he was taken to a hospital with a lower body injury. Moorhead did not have an update on Irons' condition after the game.
Michigan State's leading receiver Jayden Reed suffered a cut on his back late in the first half when he was pushed out of bounds and was held out of the second half.
STREAKING SPARTANS
Michigan State has now won eight straight home games and also 14 straight games against Mid-American Conference teams. The last loss was to a MAC foe was to Central Michigan in 2009.
THE TAKEAWAY
Akron: With Irons knocked out of the game after completing 9 of 13 passes for 123 yards and running for 31 yards, the Zips could not move the ball much.
Michigan State: Even though he completed 18 of 28 passes for 212 yards, quarterback Payton Thorne continued to miss open receivers for the second straight game and threw two interceptions.
POLL IMPLICATIONS
The Spartans were expected to win convincingly against the Zips and may actually move up slightly in the poll.
UP NEXT
Akron: Stays on the road and will play at No. 24 Tennessee on Sept. 17 and at Liberty on Sept. 24.
Michigan State: Goes on the road Sept. 17 to play Washington and hosts Minnesota on Sept. 24 in both teams' Big Ten openers.
---
Washington State vs. #19 Wisconsin
Watson helps Washington State beat No. 19 Wisconsin 17-14
MADISON, Wis. — Nakia Watson acknowledged having extra motivation this week facing his former team.
No wonder he was a little more emotional than usual afterward.
Watson scored both of Washington State's touchdowns as the Cougars upset No. 19 Wisconsin 17-14 on Saturday. Watson rushed for 522 yards and five touchdowns at Wisconsin from 2019-20 before transferring.
"Normally, I'm not a person that cries," Watson said afterward. "But I cried a little bit, I'm not going to lie."
Watson scored on a 2-yard run in the second quarter and put the Cougars ahead for good by turning a short completion into a 31-yard score with 5:12 left in the third period. Watson said he followed the counsel of running backs coach Mark Atuaia, who reminded him to maintain his poise at all times.
He only let his emotions out once the game ended while thanking Atuaia for the advice.
"The fireworks were going in my head when the clock hit zero," said Watson, who had 10 carries for 33 yards.
Washington State (2-0) was about a 17-point underdog but survived a game that featured multiple bizarre plays and produced a happy homecoming for Watson and Cougars coach Jake Dickert.
Dickert was born in the Milwaukee suburb of Waukesha, Wisconsin, about 65 miles east of Camp Randall Stadium. Dickert played for Wisconsin-Stevens Point from 2002-06, and about 200 friends and relatives gathered for a pregame tailgate.
Several of them hung around for a postgame celebration around the visitors' locker room.
"I think a few of the are looking for some beers in the fridge that aren't there," Dickert quipped. "Just Gatorades and water."
This game featured two separate plays in which one team intercepted a pass and then fumbled the ball away, creating a first down for the team that threw the pick.
Wisconsin (1-1) trailed 17-14 and faced third-and-6 from the Washington State 9 midway through the fourth quarter when defensive tackle Christian Mejia picked off a Graham Mertz pass before losing the ball. Mertz recovered the fumble at the Washington State 20, but a personal foul on tight end Clay Cundiff pushed Wisconsin back to the 35.
Cundiff then caught a 24-yard pass, but Quinn Roff forced a fumble that Sam Lockett III recovered at the 12 with 5:14 left.
Washington State never gave up possession the rest of the way.
Those two mistakes spoiled Cundiff's day after he had caught two touchdown passes from Mertz in the second quarter, a 17-yarder and a 10-yarder. Those were Cundiff's first touchdowns since the tight end dislocated his right ankle, broke a fibula and tore a foot ligament in a victory over Iowa last October.
"I had a good first half, but none of that will matter unless you finish on the right foot," Cundiff said. "I didn't do that today."
There was plenty of blame to go around for Wisconsin.
The Badgers were penalized 11 times for 106 yards. Vito Calvaruso sent a 51-yard field goal wide right in the first quarter and was well short on a potential tying 43-yard attempt to start the final period.
"We did some things today that make it hard to win," Wisconsin coach Paul Chryst said.
Another interception-turned-fumble led to Washington State's go-ahead score.
The Cougars trailed 14-10 and had third and 10 from their 47 when quarterback Cameron Ward was hit by Kamo'i Latu just as he threw a pass that Wisconsin's Jay Shaw picked off. Washington State receiver Lincoln Victor then applied a hit that knocked the ball loose, and center Konner Gomness recovered the fumble at the Wisconsin 49.
"I take this one on me, to be completely honest with you," Shaw said.
Six plays later, Watson caught a pass just beyond the line of scrimmage, made a spin move to get past Latu at the 30 and raced untouched the rest of the way.
"There was most definitely a chip on my shoulder, just playing against my old boys, a couple of roommates," Watson said. "I feel like that's the type of mentality that you have to have when you're playing against people you know, just having that chip on your shoulder, that edge, fighting to the echo of the whistle."
Washington State hung on from there and gave Watson and Dickert moments they'll never forget.
"My grandma told me something today. She was like, 'Your grandpa would be so proud,' if my grandpa was still here," Dickert said. "That's a special moment. Special people that just know me as Jake Dickert. That's always what we've been. I'm just proud to be able to win this game with all of them here cheering us on."
THE TAKEAWAY
Washington State: Ward went 17 of 28 for 200 yards but threw two interceptions. The Cougars still won thanks to a defense that limited Wisconsin's vaunted rushing attack to 174 yards on 44 carries. Wisconsin's Braelon Allen had 21 carries for 98 yards, just the second time in his last 11 games that he's been held below 100.
Wisconsin: The Badgers controlled the ball for over 38 minutes, ran 25 more plays than Washington State and outgained the Cougars 401-253. But those penalties proved costly. Wisconsin had its highest totals in penalties and yardage since getting flagged 13 times for 125 yards in a 47-44 victory over Purdue in 2018.
POLL IMPLICATIONS
Wisconsin figures to fall out of the poll, while Washington State should at least get some votes.
UP NEXT
Washington State: Hosts Colorado State on Saturday.
Wisconsin: Hosts New Mexico State on Saturday.
---
Ohio vs. Penn State
Singleton's running leads Penn State over Ohio 46-10
STATE COLLEGE, Pa. — Before freshman running back Nick Singleton got past the first line of defenders, teammate Ji'Ayir Brown knew he was going to score.
Penn State's veteran safety bounced up and down on the sideline, pointing toward the end zone just as Singleton slipped through blocks and burst down the sideline for a 70-yard score to spark Penn State's 46-10 over Ohio on Saturday.
Brown had seen this dash and burn from the former No. 1 recruit before.
"Once he got that edge, nobody was catching him," Brown said. "I don't think they were prepared for Nick's game-breaking speed."
The Nittany Lions (1-0) sure need it.
They've been one-dimensional for quite a while, having not had a 100-yard rusher since late in the 2020 season and have regularly finished among the worst rushing offenses in the country.
"He's explosive, he's fast, he sees it well," quarterback Sean Clifford said. "I think it was just a matter of time."
Singleton carried the ball 10 times for 179 yards, added a 44-yard touchdown in the third and Penn State's defense dominated the Bobcats.
In between, Clifford and Drew Allar played clean enough and the Nittany Lion defense bore down to force eight punts, a safety and a turnover on downs.
Ohio (0-2) crossed midfield just three times.
Meanwhile, Penn State's offense continued to blossom.
Clifford completed 19-of-27 passes for 213 yards, ran for a score and threw for another as Penn State scored on three of its first five possessions.
The sixth-year quarterback capped a 12-play opening drive with a 1-yard scoring plunge before Singleton dashed down the sideline on the Nittany Lions' second possession to make it 14-0 late in the first quarter. Clifford threw a 7-yard touchdown pass to Mitchell Tinsley in the third before yielding to Allar.
The Nittany Lions didn't miss a beat with the freshman running the offense, and more than 107,000 fans who packed Beaver Stadium cheered loudly when he entered.
Allar was 6 of 8 for 88 yards with touchdown passes to Omari Evans and Khalil Dinkins early in the third and fourth quarters.
Ohio broke the shutout just before halftime.
Trailing 19-0, Sieh Bangura leaned in from 1-yard out to cap an eight-play, 75-yard drive. But the Bobcats didn't score again until Nathanial Vakos booted a 21-yard field goal with 6:50 to play.
"We came in to win the football game and it didn't go our way," Ohio coach Tim Albin said. "As a staff, we need to take 24 hours and get a few guys' bumps and bruises cleaned up. Next week on the next stage we're going to look better."
THE TAKEAWAY
Ohio: Picked to finish in the lower half of the MAC standings by conference coaches, the Bobcats played hard on defense. They sacked Clifford three times in the first half but couldn't hang with Penn State's speed.
Penn State: Offensive coordinator Mike Yurcich has built a solid foundation in the first two weeks. More importantly, the running game came alive in this one as Singleton looked quick bouncing runs outside. A bonus? Fellow freshman back Kaytron Allen looked capable too with seven touches for 45 yards.
NO QB CONTROVERSY
Penn State coach James Franklin said the plan was to not only play Clifford and Allar, but third-stringer Christian Veilleux as well.
All three did play and Clifford was adamant afterwards that that was a best case scenario. He enjoyed watching both his understudies play well.
"I want to be out there with my guys as much as possible," Clifford said. "But the one thing I will say, is if it means giving up some time to get guys prepared, I want to win more than anything. I have no ego in that. And I know how important it is to get those guys reps because if anything happens to me, I want to win games."
UP NEXT
Ohio: Visits Iowa State on Saturday.
Penn State: Visits Auburn on Saturday.
---
Maryland vs. Charlotte
Tagovailoa's 4 TD passes lead Maryland past Charlotte 56-21
CHARLOTTE, N.C. — Taulia Tagovailoa wasn't happy with himself after failing to throw a touchdown pass in Maryland's season opener.
He made up for it in Week 2 — and then some.
Tagovailoa threw for 391 yards and a career-high four touchdowns, and the high-powered Maryland Terrapins defeated the Charlotte 49ers 56-21 on Saturday to improve to 2-0 for the third time in four seasons under head coach Michael Locksley.
Tagovailoa connected on TD passes of 39 and 45 yards to Jacob Copeland and 14 and 16 yards to Jeshaun Jones in the first half as the Terrapins scored touchdowns on their first five possessions to build a 35-14 lead. The redshirt junior also ran for a score in the second half.
"I feel like we made most of our opportunities count, not just myself but our O-line, our receivers and tight ends," Tagovailoa said. "And we won the game, that's the biggest thing."
Antwaine Littleton ran for a 59-yard touchdown and Colby McDonald scored on a 49-yard burst as Maryland outgained Charlotte 617-388.
"It was efficient, which is what we want to see out of our offense," Locksley said. "I thought (Tagovailoa) played really well. "A week ago he came into the locker room and didn't feel like he played well because he didn't throw any touchdowns. ... Today he did a really good job with the ball location on the deep shots."
Third-string quarterback Xavier Williams threw for 191 yards and two touchdowns for Charlotte (0-3). Williams was pressed into his first college start with Chris Reynolds and James Foster out with injuries.
The 5-foot-11, 200-pound Tagovailoa used his elusiveness to extend plays, completing 20 of his first 21 passes for 305 yards and four TDs before throwing an interception in the end zone with 1 minute left in the first half.
By then, the damage had already been done.
The Terrapins were able to get whatever they wanted early on through the air and on the ground, needing only 4 minutes, 37 seconds to score their first four touchdowns.
Charlotte coach Will Healy pulled out all of the stops, calling for an onside kick, a double-reverse pass and going for it repeatedly on fourth downs in an effort to steal some points.
But he could do little to stop the bleeding on defense.
"These dudes are different and I think they are a top 10 team in the country offensively," Healy said. "They are really, really good and they exposed us. There wasn't a whole lot of bright spots for us besides the pick at the end of the first half. So it's hard to gain confidence playing those dudes."
Copeland, who finished with four catches for 110 yards, twice got behind the defense for wide-open scores on post routes helping the Terrapins roll up 403 yards of offense at halftime, averaging 12.6 yards per play.
There was a scary moment early in the third quarter after Tagovailoa sprinted out to his right and scored on a 4-yard touchdown run before slipping on the artificial surface and grabbing his right leg.
"Throughout the drive I was cramping and then I had to run the ball," Tagovailoa said. "Everything just locked up. I'm happy I got in the end zone before it did."
He was taken to the locker room for an IV and returned a short while later jogging on the sideline and waving to Maryland fans.
"To keep it PG, I was like, 'holy ...," Locksley said when he saw his QB go down.
But Tagovailoa returned for one play — a 25-yard pass completion — before leaving the game for good.
THE TAKEAWAY
Maryland: The Terrapins are 8-1 against nonconference opponents overall under Locksley. Tagovailoa appears to be picking up where he left off last season when he broke five school records, throwing for 3,860 yards while completing 69.2% of his passes. The Terrapins have a brutal schedule coming up beginning later this month at Michigan, but certainly look formidable on offense after scoring TDs on seven of their first eight possessions.
Charlotte: The 49ers defense is a mess. Charlotte came into the game having allowed a combined 84 points to Florida Atlantic and William & Mary, an FBC team, and were overpowered by the bigger Terrapins. They've now allowed 140 points in three games. "We are close on a lot of plays," Healy said. "If just some of those can go our ways." Healy said he should know by mid-week if Reynolds will be able to return at QB for next week.
UP NEXT
Maryland: Host Southern Methodist on Saturday night.
Charlotte: Visit Georgia State on Saturday night.
---
Iowa vs. Iowa State
Iowa St. uses long drive to hold off Iowa, 10-7
IOWA CITY, Iowa — Xavier Hutchinson caught an 8-yard touchdown pass from Hunter Dekkers in the fourth quarter, completing a 99-yard drive to lead Iowa State past Iowa, 10-7, on Saturday.
The 21-play possession that started in the third quarter took 11 minutes, 49 seconds off the clock, and helped the Cyclones (2-0) end a six-game losing streak to the Hawkeyes (1-1).
"Our whole mindset was, 'One play at a time,'" Hutchinson said. "When the ball comes to you, just make a play."
Iowa State survived three turnovers and two blocked punts to gain their first road win in the in-state rivalry since 2014, forcing three Iowa turnovers and holding the Hawkeyes to 150 yards of offense.
"It's a game of imperfection," Iowa State coach Matt Campbell said. "For our kids to have the character and resiliency to keep playing, those are traits that will continue to serve us well."
Still, the Hawkeyes had a chance to tie the game in the final seconds. Two penalties on Iowa State after what appeared to be a game-ending turnover by the Hawkeyes gave Iowa the ball at the Cyclones' 39-yard line with nine seconds left. Quarterback Spencer Petras threw a 9-yard pass to tight end Sam LaPorta to get Iowa into field-goal range, but Aaron Blom's 48-yard field goal attempt was wide left as time expired.
The Cyclones' winning drive came after Iowa fullback Monte Pottebaum fumbled inside the Iowa State 1-yard line. Iowa State converted six third downs on the drive, the last one coming on Dekkers' pass to Hutchinson for the touchdown.
"It was simple — get the first first down and then it will come together," Hutchinson said. "Boy, did it come together. It was pretty intense to have that happen in such a critical moment. It just showed how everyone was dialed in."
"We knew we would probably be backed up at some point in the game like this," Dekkers said. "We prepared for it."
Dekkers was 25 of 38 passing for 184 yards. Running back Jirehl Brock rushed for 100 yards.
Iowa, which had two safeties and a field goal in last Saturday's 7-3 win over South Dakota State, got its first touchdown of the season on its opening possession of the game. Leshon Williams had a 9-yard scoring run two plays after defensive end Lukas Van Ness blocked a punt — he would block another one in the third quarter — and the Hawkeyes recovered the ball at the Iowa State 16-yard line.
"I thought we got off to a good start, a really positive start," Iowa coach Kirk Ferentz said. "From there, things didn't work so well, obviously. ... We're not going to win moving forward scoring points like that."
The Cyclones got inside Iowa's 15-yard line three times in the first half, but turned the ball over twice. Brock fumbled into the end zone for a touchback, and Dekkers threw an interception in the end zone.
CREDIT THE SOFTBALL TEAM
Campbell said he gave a "revolutionary" speech at halftime, when he referred to the sixth-grade girls softball team in Gilbert, Iowa that he coached over the summer because his daughter was on the team. Campbell told how his team won the championship game against a team from Roland-Story, which had its varsity high school team cheering in the dugout.
"We were down 4-2 after the third inning," Campbell said, smiling. "We came up to bat, and we scored three runs. We got up 5-4, and then went on a run. I said to our team (in the locker room), 'Listen, if our sixth-grade girls can do this against Roland-Story for a championship, you guys can get this thing figured out in the second half."
THE TAKEAWAY
Iowa State's offense, which had 313 yards, moved the ball on the Hawkeyes all day, but the Cyclones were done in by their own mistakes until the second-half drive to win the game.
The Hawkeyes struggled again offensively. Petras completed just 12 of 26 passes for 92 yards, which led to questions to Ferentz again about his status as the starter. "It's not going well for (Petras) right now," Ferentz said. "It's not going well for anybody in the offense, quite frankly. If making the change is the best thing, we'll consider it. If not, we'll keep pushing forward, see what we can do."
UP NEXT
Iowa State: Hosts Ohio on September 17.
Iowa: Hosts Nevada on September 17.
---
Purdue vs. Indiana State
O'Connell, Jones help Purdue take easy route past Sycamores
WEST LAFAYETTE, Ind. — Purdue quarterback Aidan O'Connell and receiver Charlie Jones appear to be in perfect sync.
The childhood friends hooked up for three first-half touchdowns in their second college game together, and then watched the rest of the Boilermakers' 56-0 victory over Indiana State on Saturday.
Jones caught nine passes for 133 yards in his second straight 100-yard game since transferring to Purdue from Iowa. O'Connell went 17 of 19 for 211 yards and four scores while moving past Scott Campbell and into sixth on the school list for passing TDs. The first walk-on to earn Purdue's starting quarterback job now has 48 TD passes.
The combination of O'Connell and Jones has looked virtually unstoppable so far, connecting 21 times for 286 yards and four scores this season.
"I came here, obviously, for the offense and I like what I'm seeing so far," said Jones, who has already matched last season's reception total. "Definitely, it was a good move."
The Sycamores (1-1) fell to 0-6 all-time against the Boilermakers (1-1), and it didn't Purdue long to take control.
Cam Allen recovered a fumble on the game's first snap and four plays later King Doerue scored on a 4-yard TD run. Jones stiff-armed a defender on his way to a 7-yard TD catch and O'Connell found Paul Piferi for a 26-yard score on the next two series. O'Connell closed out the half with TD passes of 36 and 5 yards to Jones to make it 35-0.
"We had three turnovers and you can't turn the ball over like we did today and expect to win," Sycamores coach Curt Mallory said. "We weren't able to stop the run and we weren't able to run."
Purdue coach Jeff Brohm pulled O'Connell, Doerue and Jones at the start of the second half. The Boilermakers tacked on two more touchdowns in the third quarter and another in the fourth.
Indiana State finished with 145 total yards.
"We needed to come out there and take care of business," Brohm said. "And we did that."
THE TAKEAWAY
Indiana State: This was no surprise. Indiana State is 0-18 all-time against current Big Ten members. Dante Hendrix had an impressive season debut with five receptions for 90 yards. Now the Sycamores must prepare for the traditional Missouri Valley Football Conference gauntlet.
Purdue: O'Connell and Jones helped the Boilermakers bounce back after a demoralizing loss to Penn State in the season opener. The 56-point margin was the largest in Brohm's six-year tenure and it was also the second shutout in his Purdue career. The Boilermakers beat UConn 49-0 last year. Now Purdue can build some momentum for the resumption of conference play in three weeks.
BIG PLAY D
First, Allen recovered the fumble. Then he zig-zagged across the field in the third quarter for a 65-yard interception return that made it 49-0.
Purdue now has two TDs off interceptions in two weeks. Chris Jefferson scored on a 72-yard interception in the season-opening loss to Penn State.
WORTH WATCHING
Brohm announced playmaking safety-linebacker Jalen Graham would miss an "extended" amount of time with an undisclosed injury after they got MRI results back Friday. Brohm also said he expects receiver Broc Thompson to miss some time with a knee injury.
MEMORABLE MOMENT
Purdue held a pregame moment of silence in memory of the three Indiana State students who were killed in a fiery car crash Aug. 21.
First-year football players Caleb VanHooser and Christian Eubanks died. Two other football players, John Moore and Omarion Dixon, were seriously injured in the crash but were released from the hospital this week. Dixon was a high school star at nearby Lafayette Harrison.
The Sycamores also had a moment of silence before last week's home opener, but Mallory and three of the team captains thanked Purdue for its gesture earlier this week.
---
Rutgers vs. Wagner
Rutgers jumps out early, routs Wagner 66-7
PISCATAWAY, N.J. — Tight end Johnny Langan threw and caught a touchdown pass as Rutgers rolled to a 66-7 rout of Wagner on Saturday.
Highly-touted recruit Gavin Wimsatt made his first career start at quarterback, but Rutgers coach Greg Schiano continued to jockey the position between the redshirt freshman and third-year sophomore Evan Simon. Veteran signal caller Noah Vedral remained out with an upper-body injury.
"They both did some really good things. I think there's some things that we've really got to get better, fast, because time is our enemy right now," Schiano said. "Now we have two tapes to teach from, two game tapes, and we'll do a lot of things with cut ups and putting those games together and showing them."
After Wagner opened the game with a 31-yard pass play, Rutgers' defense tightened and stopped the Seahawks on fourth-and-4. Rutgers proceeded to go down the field on an 11-play, 62-yard drive spanning 4:27, capped by a Kyle Monangai 2-yard touchdown run to take an early lead.
Simon later threw a 40-yard touchdown pass, Wimsatt added a 41-yarder and Langan, a former quarterback, connected with Isaiah Washington on a 43-yard touchdown pass as the Scarlet Knights (2-0) scored on their first four possessions.
"I was really happy for him because no matter how far he goes in football playing tight end, he's a quarterback at heart," Schiano said. "So he enjoys that."
For Simon and Wimsatt, the touchdown passes were the first of their careers. "It was awesome. Long time coming," Simon said. "AC (Aron Cruickshank) is a great player, and he made a heck of a catch."
Simon threw a 10-yard touchdown pass to Langan late in the second quarter to stretch the Scarlet Knights' lead to 38-7 at halftime.
Both signal callers said the quarterback carousel doesn't affect their rhythm.
"Honestly, I don't think it affects it at all really," Wimsatt said. "Whatever coach needs us to win the game, and I feel like we pick up each other's energy, which is great, you know, he threw a touchdown. Happy for him on the sidelines and then I went out there and did that one and he's right there to greet me when I get back on the sideline."
Nick Kargman found Jayvin Little in the back of the end zone for a 8-yard touchdown pass-and-catch to cap an eight-play, 75-yard drive early in the second quarter for Wagner (0-2).
Rutgers finished with 585 yards of offense that included 323 yards on the ground. Simon threw for 156 yards on 10-of-13 passing. Wimsatt completed 4 of 11 passes for 63 yards. Samuel Brown had a pair of touchdown runs for the Scarlet Knights.
Al-Shadee Salaam and Rashad Rochelle each ran for scores.
Wagner was held to just 19 yards rushing and 111 yards overall.
THE TAKEAWAY
Rutgers did what it was supposed to do against the overmatched team from the Northeast Conference. Traveling to Temple next week serves as a bit more of a test, but the Scarlet Knights have a chance to be 3-0 when they host Iowa on Sept. 24.
HISTORY MAKER
Rutgers coach Greg Schiano is in his third season back "on the banks" and fourteenth overall leading the Scarlet Knights. The win against Wagner tied him with Frank Burns (78) for most wins in the program.
The 66 points were the most points Rutgers has scored under Schiano. The Scarlet Knights scored 63 against Louisville in 2008 during Schiano's first stint.
UP NEXT
Wagner: Hosts St. Francis (PA) on Saturday.
Rutgers: At Temple on Saturday.
---
Nebraska vs. Georgia Southern
Nebraska students chant 'Fire Frost' after Ga. Southern win
LINCOLN, Neb. -- — Georgia Southern's players sprinted into the south end zone in celebration after the Eagles finished their 45-42 upset of three-touchdown-favorite Nebraska on Saturday night.
Meanwhile, in the southeast corner of Memorial Stadium, the student section was chanting "Fire Frost, Fire Frost, Fire Frost."
Kyle Vantrease scored on an 8-yard run with 36 seconds left after Nebraska had taken its first lead, and after Casey Thompson moved the Huskers into field-goal range, Timmy Bleekrode was wide left with a 52-yard attempt as time ran out.
The victory, the Eagles' first in 13 games against Power Five opponents, came with a $1.423 million guarantee paid by Nebraska. And it happened almost a year to the day that Southern California fired Clay Helton two games into his seventh season. Helton was hired last November to take over a Georgia Southern program that went 3-9 and lost six of its last seven games last season.
"What a special night," Helton said. "So proud of our kids, especially when you come off the season where you just win three games and you've got a new collection of people. You watch them come together and watch them starting to believe in themselves and believe in each other."
The loss again turns up the pressure on embattled Nebraska coach Scott Frost, who faces a home game next week against No. 7 Oklahoma.
The Huskers (1-2) had come into the Georgia Southern game 214-0 when scoring at least 35 points at Memorial Stadium.
Frost lost to a Sun Belt Conference team for the second time in his five seasons, and he and his players are bracing for a week of negativity from one of college football's most ardent fan bases.
"Got to make sure it doesn't seep into players. I haven't listened to any of it for a long time. Got to make sure they don't," Frost said. "There are a lot of games left in the season and this group can do well."
The Eagles (2-0) piled up 642 yards, none bigger than the 75 they moved in 11 plays for the winning touchdown.
Kyle Vantrease converted a fourth-and-2 pass and threw 27 yards to Khaleb Hood before he took off up the middle on a designed quarterback run for the go-ahead score.
Thompson moved the Huskers from their 23 to the Eagles' 34 before Bleekrode pulled his field-goal try to the left.
"We kind of felt that it might be a shootout and that whoever had the ball last, it might go their way," Helton said. "We had just enough time left on that clock to be able to score, and I was holding my breath on their last drive when they had. The good Lord was watching after us."
Nebraska had taken the lead on Thompson's 1-yard run with 3:05 left after Marques Buford's second interception of the game turned back the Eagles as they tried to build on a three-point lead.
Thompson led the Huskers 98 yards in 15 plays. Thompson and Anthony Grant churned out yards on the ground and Marcus Washington made a catch at the 1 that was upheld on video review before Thompson went over the pile at the goal line.
Vantrease, who was quarterback for Buffalo when it lost at Nebraska last year, was 37 of 56 for 409 yards. Gerald Green ran for 132 yards and two touchdowns and Jalen Allen had 85 yards and two scores.
Thompson ran for three touchdowns and was 23 of 34 for 318 yards and a score. Grant carried 27 times for 138 yards and a score.
"We win together and lose together," Frost said. "All of us are frustrated after that one. Give them credit, give Clay credit. We can't let it divide us."
THE TAKEAWAY
Georgia Southern: The Eagles began their transition from the Championship Subdivision to the Bowl Subdivision in 2013, the same year they beat Florida for their only other win over a Power Five team.
Nebraska: Frost's hot seat is hotter than ever. His contract buyout drops from $15 million to $7.5 million on Oct. 1.
EAGLE INJURIES
Georgia Southern lost two players to injury. Receiver Sam Kenerson injured his right leg late in the first half and was taken off the field on a cart, and defensive back Wylan Free left the game in the middle of the third quarter after making helmet-to-helmet contact while tackling Grant.
Kenerson had gone over the middle to make a catch, turned and was running when Marques Buford Jr. hit him. Kenerson went down writhing in pain and holding his leg and went off the field wearing an air cast.
Grant ran into Free head-on on a run. Free wobbled when he got up and was helped off the field.
UP NEXT
Georgia Southern: Visits UAB on Saturday.
Nebraska: Hosts No. 7 Oklahoma on Saturday in a meeting of old Big Eight/Big 12 rivals.
---
Indiana vs. Idaho
Indiana dominates third quarter, rallies past Idaho 35-22
BLOOMINGTON, Ind. — Indiana scored 29 consecutive points, including 23 in the third quarter, to rebound from a sluggish start in a 35-22 victory over FCS-member Idaho on a rainy Saturday night.
The game was delayed 35 minutes by a lightning warning, and the Hoosiers didn't show up at the outset against the three-touchdown underdog Vandals, who led 10-0 at halftime.
Then everything clicked, and rather quickly, for Indiana.
Backup quarterback Donaven McCulley started the comeback with a 4-yard TD rush. After a bad Idaho snap resulted in a safety, Connor Bazelak threw touchdown passes of 43 yards to A.J. Barner and 26 yards to D.J. Matthews Jr. The latter three scores came in a span of 5:10.
"I got after 'em at halftime," Indiana coach Tom Allen said. "I told the coaches to get after 'em at halftime. But it was also just, 'Hey guys, just play football.'"
Much like his team, Bazelak improved dramatically after the break. The junior transfer quarterback completed 10 of 12 throws for 148 yards and two TDs in the third quarter. He connected on just 6 of 17 passes for 49 yards with an interception before the break.
"It's hard not to be frustrated, but I think the main message is just 'stay the course,'" Bazelak said. "That's what I was telling everyone."
Indiana amassed 239 yards in the third period after gaining just 110 in the first half.
"That's not acceptable in my mind, as far as the standard with which we have to play," Allen said. "Too many mistakes. It's not good enough. ... We know this is not the standard we have to have as a football team."
The Vandals, who dominated time of possession with 170 first-half yards, managed just 10 yards in the quarter.
"Give credit to Indiana. They made some good adjustments at halftime," Idaho coach Jason Eck said. "They came back and played better in the second half and kicked their butts into gear. We've got to go with them. We've got to up our game."
Josh Henderson scored on an 8-yard TD run to push Indiana's lead to 29-10 just 5 seconds into the final quarter.
Hoosiers running back Shaun Shivers rushed for 155 yards and one score.
"I think we got wore down a little bit up front on our D-line by their O-line," Eck said. "They've got a good O-line, a Big Ten O-line. Look at warm-ups. They're a lot bigger team than us."
Idaho's Gevani McCoy threw TD passes to Jordan Dwyer, Roshaun Johnson and Michael Graves.
"We just have to work on our finish," Johnson said. "Our guys battled their butts off."
THE TAKEAWAY
Idaho: One week after blowing a 10-0 lead in a 24-17 loss at Washington State, the Vandals suffered a similar collapse. The visitors dominated the first half with a goal-line stand at the 1-yard line and two forced turnovers. Once again, there were positives to build upon, albeit in a loss.
Indiana: At least the Hoosiers didn't wait until the final minute to prevail, as was the case in an opening home win over Illinois. Whatever the reason for the lousy opening half against a team Indiana dominated 56-14 on the same field last year, the Hoosiers finally rebounded. The last time Indiana scored 35 points in a half was against Idaho last year, although those were before halftime.
IT'S RAINING AGAIN
Just as warm-ups were about to start, Memorial Stadium was hit by a torrential downpour with lightning that not only drove players and fans to shelter but caused the kickoff to be pushed back to 8:35 p.m. (EST). The steady rain continued as the game began. The skies flickered with lightning for a moment during halftime, but this time, no delay.
TWO GAMES, TWO SCORES
Dwyer, a true freshman, has scored in his first two college games for Idaho. He debuted with a 23-yard TD reception at Washington State and had a 1-yard scoring grab to start the scoring against Indiana.
UP NEXT
Idaho: The Vandals host Drake on Saturday.
Indiana: The Hoosiers host Western Kentucky on Saturday.
---
Marshall vs. Notre Dame
Marshall upsets No. 8 ND 26-21; Freeman to 0-3 for Irish
SOUTH BEND, Ind. (AP) — Notre Dame fans could live with the Fighting Irish being overpowered in the fourth quarter against then-No. 2 Ohio State. Being pushed around by Marshall is a different story.
Notre Dame Stadium is supposed to be a place to shake down the thunder, not where the Thundering Herd celebrate a 26-21 victory.
The eighth-ranked Irish led 15-12 when Tyler Buchner ran in for a 1-yard run to open the fourth quarter Saturday, then added a 2-point conversion. It all went downhill from there for Notre Dame (0-2). Marcus Freeman is now the first Irish coach to open his career 0-3.
Freeman, the 36-year-old, first-time head coach, was asked whether his inexperience coaching was a factor in the poor start.
"If it's my experience as head coach, and I don't know if that's a reason why, or the lack of execution? But it starts with me, right? It starts with me as the head coach and looking at myself and saying, 'What do I have to do to help this football team and really look at everything we're doing?' Because the performance isn't where we needed to be," he said.
Steven Gilmore returned an interception 37 yards for a touchdown late in the fourth quarter and Khalan Labron ran for 163 yards as Marshall shocked the Irish. Gilmore, the brother of Stephon Gilmore of the Indianapolis Colts, picked off a pass by Tyler Buchner with 4:35 left, raced to the end zone and then jumped into the stands where Marshall fans were already celebrating the victory.
"Obviously, a phenomenal day," second-year Marshall coach Charlie Huff said. "I'm really proud of the way they competed. I'm really proud of their competitive spirit, the consistency of what we needed to do to come out with a win."
Marshall (2-0), the first Sun Belt Conference team to play at Notre Dame Stadium, beat a team ranked in the top 10 for just the second time in school history. The Thundering Herd beat No. 6 Kansas State 27-20 in 2003.
Huff tried to downplay the significance of the win.
"In house, no disrespect to Notre Dame, in house, we expected it. Because we talked about this summer being a team that expects to win every time we touch the field," Huff said.
Freeman, who was promoted from defensive coordinator after Brian Kelly left for LSU, had lost a bowl game to Oklahoma State and at Ohio State last week. This one will go down much differently.
The Irish had a streak of 42 straight wins against unranked opponents snapped. Freeman also said after the game Buchner was replaced in the closing minutes because of a shoulder injury. He said he didn't know how severe it was.
The Herd took a 19-15 lead with 5:16 remaining when Henry Colombi completed a 3-yard touchdown pass to Devin Miller to cap that 94-yard drive. The score was set up by a 42-yard run by Laborn, who broke a tackle at the line of scrimmage and juked Irish safety Brandon Joseph before breaking free.
Any hope for a comeback by the Irish (0-2) ended when Owen Porter intercepted a pass by backup Irish quarterback Drew Pyne with three minutes remaining. Pyne threw a TD pass with 14 second left to cut the lead to five points.
Colombi was 16-of-21 passing for 145 yards and the Thundering Herd rushed for 219 yards on 50 carries.
The Irish, who struggled offensively a week earlier in a 21-10 loss to Ohio State with a play-it-safe, ball-control game plan, opened the playbook against the Herd but still struggled to get much going.
Buchner was 18-of-32 passing for 201 yards with two interceptions. Buchner also led the Irish in rushing with 44 yards on 13 carries, Michael Mayer had eight catches for 103 yards.
Freeman said it's time for self-examination.
"I just told the team that we all have to look at ourselves, starting with the head coach on down and say, 'Okay, what do I have to do? What do we have to do to fix the issues that we're having, and not just focus on the end result.' We have to look at the lack of executions in all phases of our team and where we can improve that," Freeman said.
THE TAKEAWAY
Marshall: Huff, a former Alabama and Penn State assistant, assembled a roster heavy on Power Five transfers such as Labron from Florida State for the school's first season in the Sun Belt. It paid off with one of the biggest victories in school history.
Notre Dame: The Irish offense showed it still has a lot of work to do, and the honeymoon period for Freeman is probably over.
KILLER DRIVE
Freeman said the Irish can't allow an opponent to drive 94 yards for a touchdown like the Herd did to take a 19-15 lead.
"The biggest thing was the lack of tackling. It's too many times where, run or pass, we didn't get the ball carrier down. You can't let an offense drive it 95 yards at any moment, but especially not in the fourth quarter when the game's on the line and you're up and you're trying to put the game away," he said.
SLOW STARTS
Freeman is the first Notre Dame coach to open his career 0-3. Kelly opened his stint with the Irish 1-2 and lost three of his first four. The last Irish coach to open with two straight losses was Lou Holtz in 1986, opening his career 1-4.
Freeman might have been a bit too confident before the game.
"There's no better place in this country to get our first win of this new era but here at Notre Dame Stadium," Freeman said to fans before the game.
POLL IMPLICATIONS
The respect the Irish gained by playing Ohio State won't be enough to overcome this poor showing.
NEXT UP
Marshall: The Thundering Herd play at Bowling Green on Saturday, their first meeting since 2010.
Notre Dame: The Irish will wear green jerseys when they host Cal on Saturday. It will be the first time the Irish have worn green since 2018. The Irish were 4-0 wearing green during the Brian Kelly era — and will be looking to snap a three-game losing streak in them this time.
---
The Chicago Journal needs your support.
At just $12/year, your subscription not only helps us grow, it helps maintain our commitment to independent publishing.
If you're already a subscriber and you'd like to send a tip to continue to support the Chicago Journal, which we would greatly appreciate, you can do so at the following link:
Send a tip to the Chicago Journal
---
Chicago Journal Newsletter
Join the newsletter to receive the latest updates in your inbox.