Opinion: Less than 24 Hours into Free Agency, the Bulls Became a Competitor
Apparently, Artūras Karnišovas and Marc Eversley like to work quickly.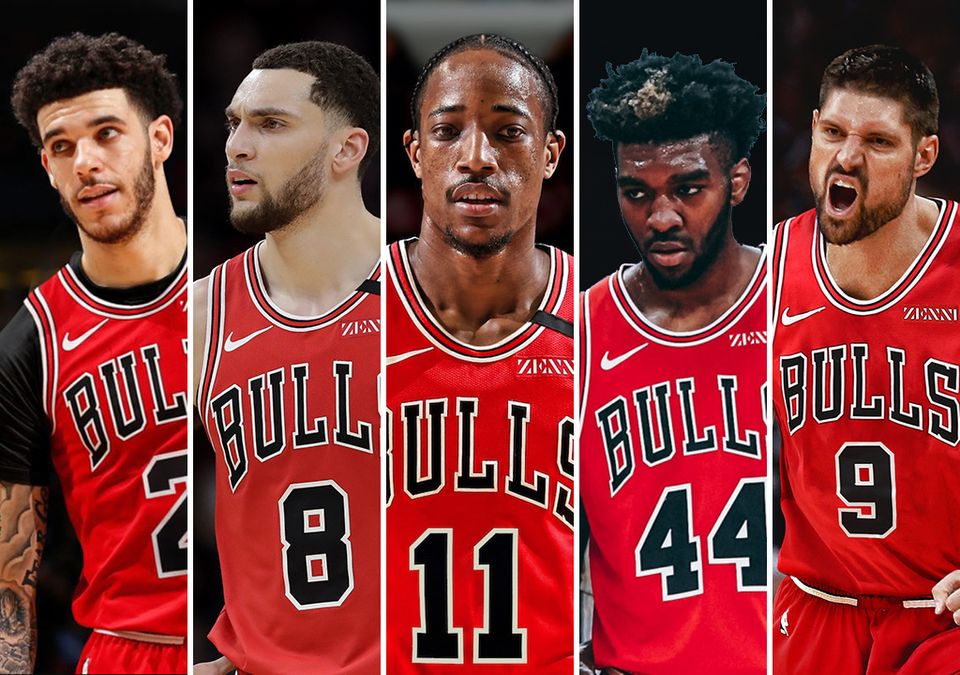 GarPax did some nice things in their twilight years with the Bulls.
Their crowning achievement was trading for and then signing restricted free agent, Zach Lavine, in 2018. They also drafted future NBA Champion for the Milwaukee Bucks, Bobby Portis. They did more for Iowa State University than Abraham Lincoln signing the Morrill Act. And they gave the aging and luckless journeyman veteran, Dwayne Wade, a big check so he could retire comfortably and live out the remainder of his days as an NBA consultant in Miami.
Okay, we'll stop.
---
---
Beginning of the AKME Era
Fans have been frustrated. The biggest frustrations often came year after yet another year of comatose free agency signing periods. Sure, the Bulls of the '90s were the greatest basketball team of all-time and, sure, the shadow of His Airness always lingers over the United Center, but the third biggest market in the United States should not have had the trouble signing the bigger available free agent names to their franchise. Los Angeles and the Lakers have had and continue to have generational success. Same with the Boston Celtics. It's never made sense that the Jordan excuse was enough to hold the Chicago Bulls franchise back and the backlash against management got so bad that even the notoriously patient and loyal-to-his-office-guys owner, Jerry Reinsdorf, finally had to say enough was enough.
Listen, GarPax have taken enough of a beating in this town and it's time to move on. Let's just say that, aside from signing Zach LaVine, the last few years of NBA Free Agency for the Chicago Bulls have been...well...less than inspiring.
GarPax are gone and, as of today, it's officially the Artūras Karnišovas and Marc Eversley era. The AKME era, for short. And the AKME era is beginning to look pretty damned exciting.
---
---
New Phone, Who Dis?
While Zach LaVine was over in Tokyo playing for USA Basketball in the Olympics, earning high marks from analysts and Team USA teammates like Kevin Durant, the Bulls front office was working at home to give him some help.
Lonzo
Everyone had been talking about the Chicago Bulls point guard position for well over a year so, less than 3 minutes into free agency (and likely to force a we-have-to-pretend-we're-going-through-the-motions conversation in an NBA tampering investigation), the team brought in 23-year-old Lonzo Ball via sign-and-trade with the New Orleans Pelicans.
Lonzo was a highly-touted recruit out of high school and second overall pick in the 2017 NBA Draft but, due to some of his family's antics of the court (cough Dad cough), many thought Lonzo would bring a lot of baggage with him everywhere he went and the investment wouldn't be worth the trouble. Fortunately, the baggage proved to be all with his entourage rather than him as a player, and he's maintained a surprisingly humble focus, continued to improve his all-around game every year, and grow amidst the circus swirling around him.
A lot of NBA guys speak highly of him and how much they like to play with him which, to me, has always been an underrated characteristic of players, especially young players.
Carushow
Following the Lonzo newsbreaker that kicked off NBA Free Agency day but was a well-known and long flirty courtship of "will-they or won't they," AKME shocked everyone by stealing Alex Caruso away from of the Los Angeles Lakers. Based on the reaction, I don't think a single hot-take artist or "insider" saw this one coming.
It was a silent coup by AKME, as the Lakers were high on him and it wasn't hard to see why.
In the unwritten rules handed down by the gods of basketball, every good NBA team needs the small, scrappy, energetic, "high-IQ," if-you-saw-him-on-the-street-you-would-never-think-he-played-in-the-NBA guy. It only enhances your sacrificial offerings to the basketball gods if he's slightly balding,[1] wears a headband, and gets arrested for marijuana possession at an airport. In almost any city in America and definitely in Chicago, Alex Caruso immediately becomes half the Bulls fanbase's "guy." Because, like, that could be meeeeee, man!
He also happens to have a lot of experience under his belt, including a ring with the Lakers in 2019-2020, despite only being 27 years old. And, again, everyone talks about him as a great teammate.
DRoze 2.0
Picking the Carushow out of Los Angeles was a shock, but AKME followed it up with another headline grabber by picking up four-time All-Star DeMar DeRozan in a sign-and-trade with the San Antonio Spurs.
At 3-years, $85 million deal, DeRozan came at a price. A big price. Especially considering he's already 32-years-old. However...
We've heard all the criticism that he can't/won't shoot 3-pointers, but he's averaged over 20+ per game since the 2013-2014 season. And he's put up those same numbers in the playoffs 6 times since that same season. He's an experienced NBA vet who spent many of his prime years stuck in boring ol' San Antonio.
Don't get me wrong, I like San Antonio's traditional brand of basketball. When I say boring I mean that unless they're winning/competing for championships, you're not going to hear about anything from their best players because the only one allowed any attention in San Antonio is Coach Popovich when he decides to get on his eye-rolling political soapbox.
A little under the radar bit of info to this trade, is DeRozan played with Nikola Vučević at USC in 2008-2009, and I have a feeling AKME hopes some of that old familiarity will help quicken the team's fit. And, while he doesn't shoot the three, he can get to the line and his 7.2 free-throw attempts last season would have led the Bulls, something AKME stated was a spot they were looking to improve.
---
---
Fan Demands
At the very least, they're beginning to look like a genuine competitor and a competitor is all Bulls fans really want.
Bulls fans are not stupid. They know championships are hard to come by but they know good basketball and they want to watch good basketball. They know they were multi-generationally spoiled by Michael Jordan. They know the greatest player of a generation only comes around once and they know that the G.O.A.T. is the rarest of them all.
They just want to see their team compete.
Derrick Rose doesn't remain loved in Chicago only because he was a hometown kid, though that's part of Rose's story, too. Rose never brought a championship but he was and is still loved because of how hard he played in and for Chicago. Granted, that hard play and the injuries that come with it likely cost him valuable time on the court in his prime but, Bulls fans loved him and still love him for all he put on the floor.
Don't worry. We're not going to start the AKME era with crazy talk. We're not going to try to convince you the new look Chicago Bulls are genuine contenders for a ring. We're not even going to declare them genuine contenders in the Eastern Conference, all right?
We wouldn't dare suggest something like that because we would never be such complete and totally unashamed Chicago homers that we would ever imply or entertain such crazy talk...
The Bulls Are a Playoff Team
Just kidding. We're complete and totally shameless Chicago homers.
We won't argue that the new look Chicago Bulls are better than the reigning NBA Champions, the Milwaukee Bucks, and we won't argue that they're better than the Brooklyn Nets. Both teams have arguably the two best players currently in the league (in Giannis Antetokounmpo and Kevin Durant, respectively).
In truth, there's so much talent in the NBA these days that it's near impossible to judge where any team will ultimately fall at the end of the season. If this season plays out with minimal injuries and this group can bond quickly, they could be a low seed playoff team in the Eastern Conference.
But all you have to do is get in because, once in the playoffs, anything can happen. Barring catastrophe, we think this team is a lock to be a playoff team.
In fact, if we had to gamble on it we'd put them at the 5 seed in the Eastern Conference, right this moment. If all gels nicely and they look good together early, we'd probably upgrade that to the 4 seed.
To be the 4 seed, that'd require a 10 game swing over last season. After the additions of Lonzo, the Carushow, and DRoze 2.0, pairing them with Zach, Vuc, and a growing Williams, we don't think that's out of reach.
But, honestly, we're just happy to watch a competitor again.
---
---
Notes & References
---
It's okay, Alex, I am, too. ↩︎