Opinion: It's Not the McCaskey Family Chicago Officials Have to Worry About
For the right buyer, the old racetrack property could be the hypothetical dollar sign eyeball bulge for the most storied franchise in the NFL.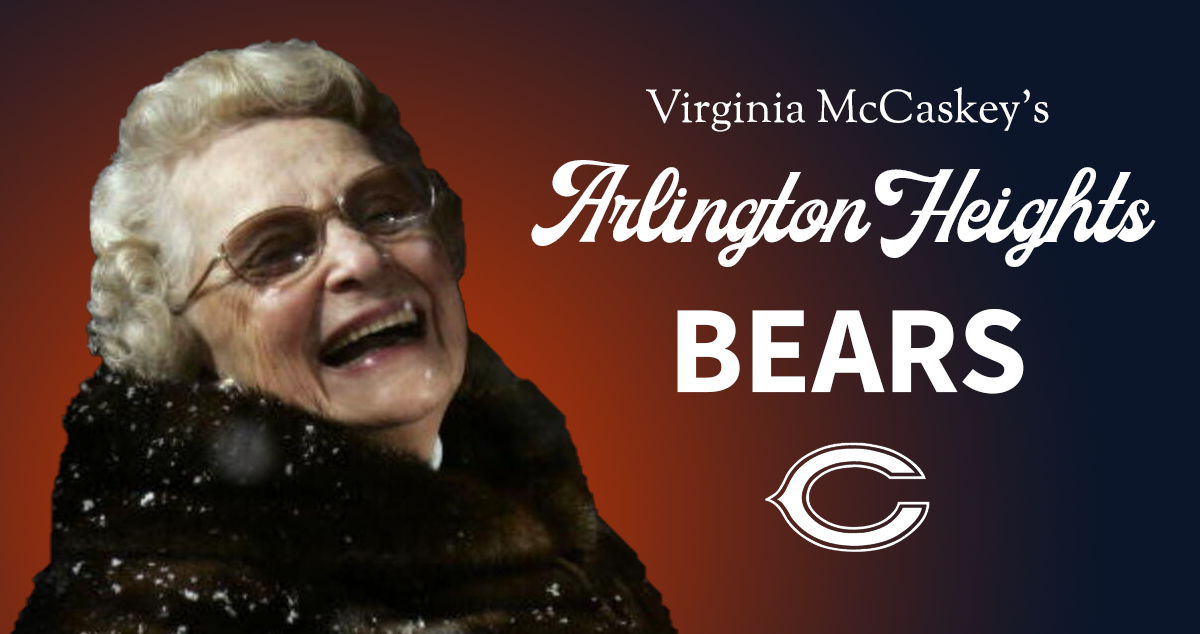 I know, I know. You've heard it all before. Every few years or so, one or more of the professional Chicago sports teams threatens to move out to the suburbs or parts unknown and they never do.
"They're bluffing..." they say with an eyeroll. "It's all just empty threats..." they say with a scoff. "Those rich bastards are just trying to fleece the city and get us to pay for it..." they say with a sneer.
'They' are not always wrong and I've lost count how many times the bluff has been called.
But, sometimes, 'they' are wrong...
---
---
I know all the stories.
Bill Wirtz was said to have explored a Blackhawks move to Quebec City but no one believed him because of his reputation as a legendary cheapskate. Reinsdorf's White Sox seem to have one foot perennially out the Southside's backdoor and famously almost became the St. Petersburg White Sox of Florida. The suburb of Rosemont has wanted and continues to want the Chicago Cubs so bad they still look at Tom Ricketts the way a Marshall College freshman girl's archaeology class looks at Professor Henry "Indiana" Jones, Jr.
The Bears organization themeselves have flirted with Elk Grove Village, West Chicago and some land near DuPage County Airport, Waukegan, Hoffman Estates, Aurora, and spots in Northwest Indiana. They've even had their eyes on Arlington Heights as far back as the mid-1970s, to which former Mayor Richard J. Daley replied:
"Like hell they will. They can use the name Arlington Heights Bears, but they'll never use the name of Chicago if I'm the mayor."

Mayor Richard J. Daley, 1975
I get it. The Chicago Mayor's office's talent for dismissiveness toward the suburbs is impressive and you're not convinced the Bears will ever move. Neither am I.
However...
---
---
The Bid
The Chicago Bears did make a bid for the old equestrian racetrack property in Arlington Heights. There very well could be other suitors and better bids for the property where we've all spent at least one afternoon getting day drunk on mint juleps and chasing trifectas, but the Chicago Bears did make a bid. George McCaskey and Ted Phillips can give all the platitudes and vague "we have to explore what's in the best interests of the organization" type of answers they want, but they did make a bid. No, we don't know what that bid was, but they did make a bid.
So what does it all really mean? Let's read the tea leaves...
First, let's dispel with this nonsense that the current contract to stay at Soldier Field through 2033 is a problem or even a minor hindrance, in any sense of the words. In fact, it's the opposite. The Arlington Heights property likely became available at the perfect time to help the team layout their future plans.
I admit, 2033 seems like a date from some far off science-fiction future, but it's only 12 years away. Multi-billion dollar entertainment complexes with state of the art super-lux-stadiums don't just get thrown together in a flash, you know?
Look to the new stadium in Los Angeles for the most recent comparison. Owner Stan Kroenke officially purchased the land in January of 2014, broke ground in November of 2016, and didn't open the facility until September of 2020. A full 6.5 years from date of purchase to open doors.[1]
And, God knows, in a town like Chicago where construction season is less than half that in southern California's ideal climate and in a town like Chicago where construction is notoriously..."complicated"...that 12 years doesn't look so far away anymore, does it?
If you don't believe me, just ask Jane Byrne and how things are going with her interchange, which has been going on so long it feels like it was started while she was actually the Mayor...
Does the franchise putting in a bid for the old Arlington racetrack site necessitate and make certain the move? No. Of course not. They've done significant investigation into other sites before.
Still, 12 years is not far away when we're talking about mega real estate development deals.
---
---
Have the Bears Plateaued on the Lakefront?
Regardless of the financials and general time it would take for inital development and planning, settling all the deals into place, and the final construction, the question needs to be asked, have the Chicago Bears value as a franchise plateaued by being located on the lakefront?
The Chicago Park District owns and manages[2] Soldier Field and the Bears miss out on a lot of what other teams can and do offer. We can argue the aesthetics of the renovations another time but after the franchise was able to convince the city to remove landmark status to help renovate 20 years ago, the city did them no favors by not immediately focusing on developing the area near where the field is located or providing other outlets for fans and families to do.
The trend for many professional sports teams is to take advantage of revenue opportunities by owning/operating neighboring facilities. Space for both practices and offices, as well as other entertainment and parking revenue sources.
The museum campus is beautiful, to be sure, and it's not and never could be Wrigleyville-esque as that's nearly impossible to replicate, but it's not exactly an entertainment destination before and after football games unless you're there to tailgate. Before and after a four-hour football game that's relatively difficult to get to, both in public and private transportation, there's simply not much to do. One has to imagine that, over the years, the Bears' have had to watch with envy as they've seen the successes of franchises elsewhere and their ability to create and build, in essence, their own mini-neighborhoods or mini-city based around their teams. It's attractive, for obvious reasons.
As pretty as it is, the lakefront simply doesn't offer those additional revenue opportunities for the Chicago Bears. In Arlington Heights, they would have a blank slate to create and build upon the franchise as more than just a football team but as an entertainment destination business.
But that's not all...
---
---
Additional Revenues
It's not just the lack of neighborhood holding these revenue streams back.
At 61,500 seating capacity, Soldier Field is the smallest stadium in the NFL. The NFL refuses to grant a Super Bowl to any stadium with seating capacity less than 70,000 and, I don't know if you're aware of this or not, the big game is big money. More than that, no matter how interesting we think it would be to watch a Super Bowl in BearWeather™️, the NFL will never grant a non-dome Super Bowl to Chicago in the first week of February. Never. A dome would presumably be one of the first things on the list for the Arlington Heights facility and open not only the opportunity for the Bears and the region to host a Super Bowl but for other events that could be held year round.
Another underrated or underappreciated part of this decision, that hasn't been there at any point prior to 2021, is gambling on sports is legal now. Which, I also don't know if you're aware of this or not, sports betting is HUGE money.
Current American estimates range anywhere from $150-$250 billion spent annually on legal sports betting. A number that is growing. Can the Bears maximize those revenues while at the Soldier Field and museum campus site? Maybe?
Sure, there are many ways to gamble electronically and different approaches they could ostensibly take while staying in place, but I'm also sure there are almost unlimited posibilities for the various ways they could be on the ground floor of sports gambling and all that comes with it at a brand new, state-of-the-art site in Arlington Heights.
Again, legalized sports gambling was simply not a factor in previous bluffs, threats, and negotiations, but it is now here and it is no minor thing for sports based businesses to consider. It could be the thing that pushes one way or another.
But what about the history?
---
---
The History
Chicago is a passionate sports town that has great respect for those that came before and, like all good midwesterners but especially in an era of disposability and a time when some stadiums don't last longer than a generation, they like tradition and to see things that last. Particularly regarding architecture or places where special days with family or events occurred that hold a place in their heart.
Hell, this town has two(!) current stadium foundations older than two states and both saw the previous roaring '20s and great depression that followed. The former Comiskey Park lasted 80 years before its rebuild. The old Chicago Stadium made it 65 years.
But the United Center, the house that MJ built, now has some great memories in it, too, no? Post-MJ, the Blackhawks have won 3 fresh new championship in their fresh new stadium that's now going on 27 years old itself. There's now a full generation of White Sox fans that have grown up going to games at Comiskey/The Cell/The G-Spot and they have a 2005 Championship under them. While Wrigley remains 107 years old, it's gone through not only significant stadium redevelopment but the whole neighborhood has been developed around the team and experienced drastic change even in the last 20 years.
We suspect, in their mind's eye, some get confused and have all the old Chicago Bears images in their head and envision Soldier Field as the backdrop for the Bears franchise history and that they played there since it opened. That's not the case. Soldier Field opened in 1924 but the Bears didn't begin playing there until 1971. When they won all those titles in the '30s and '40s, and had those great battles against the Packers in the '60s, they were playing on the North Side at Wrigley Field.
So, while we appreciate history as much as the next, there's much less Chicago Bears specific history at Soldier Field than many realize.
That said, is this time really all that different?
---
---
Is This Time Really Different?
I'm not going to pretend I have inside information into the inner workings of the McCaskey family and they're notoriously private, but let's look at the rest of this as objectively and as fair as we can.
Some would argue, and I'll save the full argument for another piece another day, we've reached "peak" American Football. Some would argue that, largely due to increasing awareness of concussions and general damage to the body the game requires but also a generalized fan fatigue from a game that has attempted to get bigger and bigger and bigger and insert itself into sports fan's lives 24/7/365, the meteoric growth the NFL has experienced over the last couple of decades is impossible to sustain and will eventually level off and even decline.
Now might be the best time the McCaskey family could sell the team.
And there's no good way to say it but there are certain realities to life that, sooner or later, must be acknowledged. One is taxes and the other is...well, one is taxes and the other is that Virginia McCaskey is 98 years old.
Does the family want to keep the team?
"Don't be stupid," you just said in your head.
I get it.
You and I and everyone we know would love to be gifted a professional football team, right? Who wouldn't? Every heir is always interested in the family business, right?
Let's just discuss it...
According to Forbes,[1:1] the Chicago Bears are the 18th most valuable sports franchise in the world, valued at a little more than $3.5 billion. That's without all the revenue sources we listed above that they lack. Personally, I still think that number is a little low considering the fan base and the importance to the foundation of the game, but it's a handsome return on George Halas' initial investment of $100 in 1920, regardless.
For those wondering, that $100 investment in 1920 would be the equivalent of $1,350 in 2021.
Sure, a sale of the team would mean a helluva lot of commas in bank accounts but, if trying to determine the best time to sell, the aformentioned taxes have to be considered, particularly with President Joe Biden proposing an increase in long-term capital gains taxes from the current 20% to 39.6%.
Let's use a nice round number like $4 billion, for example's sake. If the family were to sell the Bears' asset before the capital gains changes take place, that'd be a difference of nearly $800 million in taxes alone. I've lost count how many McCaskey family heirs there are and I'm sure the family loves the team in a way that no fan can truly understand but, even if the number of heirs were in the single digits, that's a helluva lot of taxes for an already large and growing family tree to lose out on.
Do I have a tough time believing Virginia would move the team or allow the team to be moved from Chicago before they sell or while she's alive? Yes. There is simply too much history in the city. And again, as an outsider, I think Virginia has too much pride and/or respect to move the team away from the lake and I get the impression her family loves and respects her too much to ever consider going against her wishes. Plus, Virginia McCaskey's Arlington Heights Bears just doesn't have the same ring to it.
But she's not dumb. And, despite your favorite local Sunday barfly's pronouncements, the family is not dumb. They're certainly talented enough and smart enough to see a business opportunity that is presenting itself, nay a business opportunity that is almost falling over itself to fall at their feet.
Do Virginia and the family deserve some criticism for how they've handled the product on the football field? Yes. Unequivocally, yes. But lack of success on the football field aside, all things considered, Virginia McCaskey has not only handled herself as a model stateswoman and face of the NFL's founding franchise for nearly 40 years but she raised a family, a large one, that carried themselves admirably in George Halas's shadow off the field and almost miraculously managed to behave and stay out of trouble and the all-seeing public eye. A significant achievement in itself, in our modern times.
The question becomes, after 100 years, does the rest of the family need all the...headache? From the press? Do any of them really have anything left they need to prove to Bears fans? With multi-billions of dollars on the table?
If the Bears' bid for Arlington is successful, it's a significant asset to include in a sale. The franchise doesn't need a hook but it may need a closer to ask for that little extra on the asking price. Everyone with the capital would be interested and it doesn't need a dangle but, to the right buyer, tossing in a sweetener might make an extra few hundred million or even an extra billion go down a lot smoother.
No, the McCaskey's would never need to worry about selling the Chicago Bears, but with the help of a good salesman, how much could the Arlington Heights property bump that $3.5 billion dollar valuation? I don't know. $4 billion? $4.5 billion? $5 billion? Who knows?
But, for the right buyer, the old racetrack property would be the icing on the cake. The cherry on top of the sundae. The hypothetical dollar sign eyeball bulge for the potential buyer of the most storied franchise in the NFL, which just so happens to be America's biggest sports cash-cow and sports gambling only became legal yesterday...figuratively speaking, of course.
No, it's not the McCaskey family that Chicago officials need to worry about. It's the buyer. It's the person out there who wants that franchise and the completely blank slate to go along with their blank check and to do with what they please to make them as much money as their little heart desires.
If they were going to walk away, the "Arlington Heights" Bears, so to speak, may provide the best possible opportunity for the McCaskey family to walk away, free and clear. For all of the above reasons, to hold their heads high with their conscience clear that they didn't move the team out of town. That they held on to George's team as long as they possibly could until the opportunity was undeniable. When they turn over the keys, they can say they remained honorable stewards and whatever happened afterwards is not their fault.
And then they can be just another fan hoping to get a signed Justin Fields jersey.
---
Notes & References
---
Before you say it was COVID delayed, the original opening was supposed to be a Taylor Swift concert in July that was postponed only 2 months earlier. ↩︎ ↩︎

cough Poorly cough ↩︎