You're invited to join our new Mastodon instance in the fediverse
Become a subscriber to the Chicago Journal and included in your subscription is a new home address on the fediverse at https://chicago.us.org.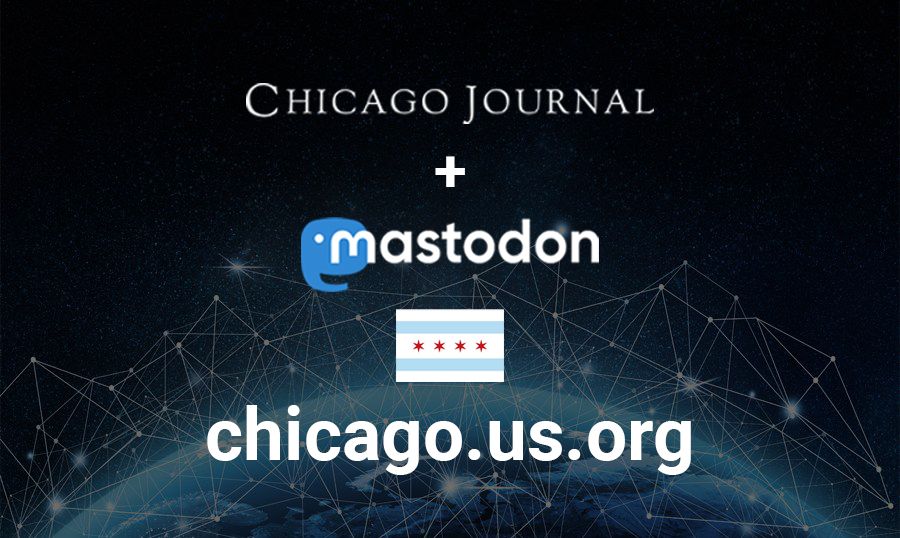 Hello, again!
It's been a while since I last wrote but there were a few major life events that happened all at once and some changes that needed to be made to the Chicago Journal behind the scenes.
After an extended deep dive into all the new tech tools they're calling Artificial General Intelligence,[1] and a long period meditating on the future of journalism and human communication, both literary and otherwise,[2] we're settling back in now and will return to action shortly, albeit with a slightly different mission that's more in line with our original conception of this site.
There are many changes coming but one that I'm excited to tell you about is we're taking another step in our efforts to provide more value to our subscribers.
If you've been keeping an eye on internet development and drama over the past few years, particularly the whirlwind surrounding social media, you may already be familiar with the fediverse and the ActivityPub protocol - its most popular software being Mastodon, among others. If you've already tried Mastodon and its alternatives, you probably understand that, while the infrastructure is there, one of the more frustrating aspects is choosing a server.
We, too, found a dearth of professional URLs and places that felt like home, and the more we thought about the ever-changing social media and technological landscape of the future, the more we felt it was necessary to just build something of our own.
So we are launching a fediverse instance for Chicagoans using Mastodon, and you're invited to join us!
Become a subscriber to the Chicago Journal and included in your subscription is a new home server address on Mastodon and the fediverse at https://chicago.us.org. Existing subscribers don't need to do anything, just sign up with the email you used for your subscription. Individuals, businesses, and organizations looking to grow their own networks are all welcome to join us and will receive their choice of @username@chicago.us.org.
---
---
We aim to create a dedicated space where our readers can interact not just with our content, but also with each other, across a variety of platforms, without the algorithms imposed by mainstream social media platforms.
By joining our instance, you will be able to:
Engage with our content in a more intimate and interactive manner.
Participate in exclusive discussions and Q&As with contributors and experts.
Build your own network of like-minded individuals.
Share your own insights and ideas, and contribute to the larger discussion on topics you're passionate about.
Our venture into the fediverse is about nurturing our local community. We're certainly not Luddites and we love the incredible technological breakthroughs that now seem to come almost daily but, at the same time, we want to provide a digital space where the human can still find others and be found. Hopefully, it leads to greater connections offline in our real world.
As always, we invite your thoughts and questions, so feel free to Contact Us.
Thank you for being a part of our community. There's more to come.
---
The Chicago Journal needs your support.
At just $12/year, your subscription not only helps us grow, it helps maintain our commitment to independent publishing.
If you're already a subscriber and you'd like to donate to continue to support the Chicago Journal, which we would greatly appreciate, you can do so at the following link:
---
Notes & References
---
Chicago Journal Newsletter
Join the newsletter to receive the latest updates in your inbox.